The Aspire Club
A fixture on Bangkok's fitness scene since 2002, Aspire dishes out the full range of muscle-busting options, from CrossFit to weight training and HIIT. A lot of the HIIT training here comes in the form of small group sessions. The club also offers free HIIT classes for those looking to dip their toes in, and its blog has a wealth of knowledge on training methods if you are looking to learn more.
348/2 Sukhumvit Rd., 02 229 4114, 080 188 4114. Open Mon-Fri 6am-9pm, Sat-Sun 8am-6pm. BTS Asok
Wesbite: theaspireclub.com
IG: @theaspireclub
Credit: www.facebook.com/NewMovesBKK
NewMoves
This fitness facility focuses on what it calls the "three pillars of success": training, nutrition and lifestyle. There is no traditional weight equipment here, which the brand says helps free you up to move naturally. Instead, you'll find the more abstract stuff—monkey bars, battle ropes, gymnast rings and the like. There is a lot going on here, but HIIT classes take place throughout the day, everyday.
2/F, Maneeya Center (North Building) Ploenchit Rd, 02 652 0539. Open Mon-Fri 7am-9pm, Sat-Sun 9am-4pm. BTS Chit Lom
Wesbite: newmovesbkk.com
IG: @newmovesbkk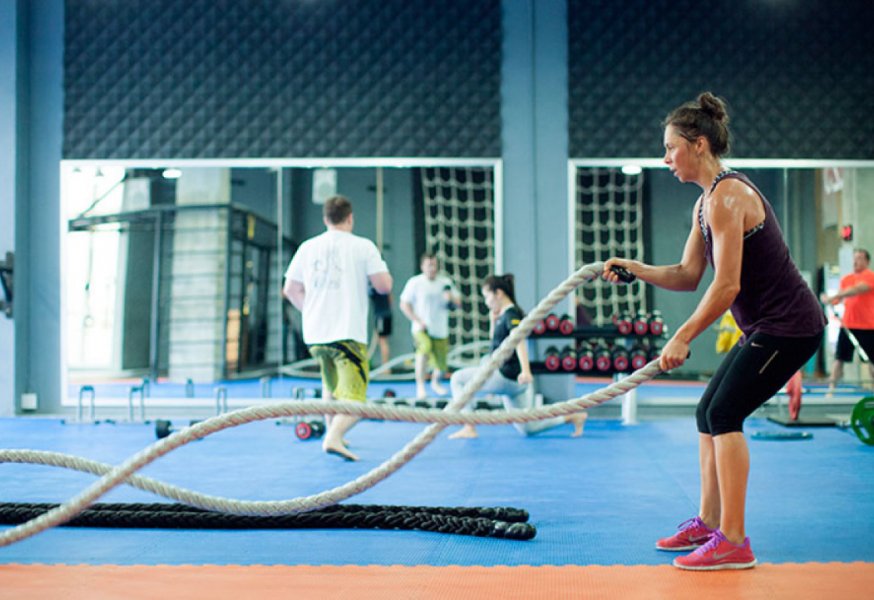 The LAB
Bangkok's most serious body-image freaks head here to get kicked into shape by some of the best trainers in the city. This isn't your usual drop-in gym, rather training under the guidance of a coach for HIIT. Burn some fat or sculpt those perfect pecks either as part of a group class or with a personal trainer (also available for private groups). If you're staying on Sukhumvit then there's a branch beside BTS Phrom Phong, too.
The LAB (Silom), 2/F, NST One Building, Silom Soi 1, 02-662-1618. BTS Sala Daeng
The LAB (Sukhumvit) 2/F, RSU Tower, Sukhumvit soi 31, 02-662-1618. BTS Phrom Phong
All locations open Mon-Thu 6:45am-9pm; Fri 6:45am-7pm; Sat 9am-6pm.
Wesbite: thelabbangkok.com
IG: @thelabbkk
Credit: www.facebook.com/theedgeboutiquegym
The Edge Boutique Gym
Edge focuses mainly on functional training (designed to help you in your daily life, not necessarily get shredded) and HIIT (definitely good for getting shredded), but there are also yoga classes and a wellness program. The HIIT programs focus on everything from toning exercises, fat burners and a program called "H.I.I.T IT HARDER".
725 The Metropolis Building, Sukhumvit Rd., 089 780 1191. Open Mon-Fri 7:15am-9pm, Sat 8:30am-7pm, Sun 8:30am-12:00pm
Wesbite: theedgeboutiquegym.com

Base Bangkok
Want to know just how unfit you really are? Head to the BASE Bangkok, where they'll motivate you into action with a data-driven assessment of your fitness levels and body composition (fat vs muscle). Trainers will then create a program tailored especially for you, focusing on HIIT and strength-based workouts, along with a nutrition regimen.
772/208 Noble Remix, Sukhumvit Rd., 083-838-5810. Open Mon-Thu 6:30am-9pm; Fri 6:30am-7pm; Sat 8am-5pm; Sun 10am-5pm. BTS Thong Lo
2/F, Sathorn Thani 2, Sathorn Rd., 021-099-578. Open daily 6:30am-9pm. BTS Chong Nonsi
Wesbite: basebangkok.com
IG: @basebangkok
---

Get access to all of the above facilities and more with GuavaPass
GuavaPass curates an elite list of fitness classes in Bangkok and Asia. Empowering you with an unlimited variety of classes from yoga to kickboxing, spinning to dance, CrossFit to Pilates. There's a new way to sweat everyday! Reserve classes with one click. The platform is designed to find the classes that fit your schedule and interests.
Wake Up. Sweat. Feel Good. Repeat.
Get up to 25% off a GuavaPass membership here
Sponsored by: