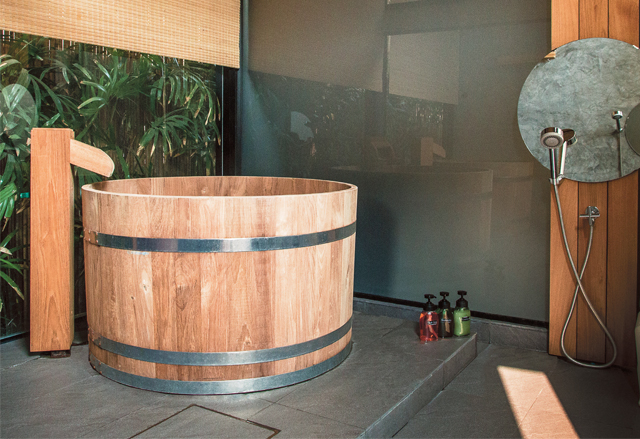 Too shy for the naked shared baths at regular onsen? Located a little bit out of town, this spa offers private onsen tubs and a full line of spa treatments, from traditional Thai massage to body scrubs, manicures and pedicures. It's designed to look like a traditional bath-house and imports all the equipment and onsen salt from Japan. Packages start at B750 for a 30-minute onsen and 30-minute head-and-shoulder massage. There is also aromatherapy and body scrub services that start from B750 (60 mins) and Thai massage at B400 (60 mins). They formulate their own bathing products, which are also for sale, including body lotion (B270), shampoo (B125) and body scrub (B400). The owner also visits Japan regularly, where she picks up new and interesting wellness products, too. There's also another branch on
Sukhumvit Soi 49
.
For its 18th branch, Thai spa empire Let's Relax targets Thonglor's Japanese expat crowd with this high-end bathhouse that's a picture of blond-wood serenity—and that's before you even leave the lobby. The baths themselves are separated into men's and women's zones where, amid a mix of bamboo, dark stone and the sort of dim lighting where you can't tell night from day, you'll find five pools of different temperatures, all said to offer different health benefits. The supposed highlight features "onsen concentrate" brought over from Japan's renowned Gero hot springs (42 degrees Celsius), while you can also take a tub in the milky-textured silk bath (40 degrees), soda bath (38 degrees) or standup whirlpool bath (36 degrees), before cooling off in the cold bath (a bracing 18 degrees). A few added goodies differentiate this from the other onsens in town, namely the hot stonebed room and 12-degree-Celsius cool-down zone. Unlimited onsen is B650 and packages start at B850 for foot and hand reflexology and 30 minutes back and shoulder massage.
5/F, Grande Centre Point Hotel, 300 Sukhumvit Soi 55 (Thonglor), 02-042-8045-6. Open daily 10am-midnight. www.letsrelaxspaonsen.com
Instead of water, this spa offers hot sand tubs which use volcanic Japanese sand selected for its larger than average grains. The spa claims that the 50 essential vitamins and minerals contained within this sand will improve your immune system, stave off signs of aging, detoxify your system and improve blood circulation. Prices start from B2,500 for a one-hour session of sand bathing (15 minutes sand bath followed by a scrub and shower). The therapist will check your pulse before bathing to analyse the proper duration your body can handle. While the experience is super-relaxing, you should be prepared to sweat... a lot. The default temperature for the tub is 55 degrees Celsius, and you shouldn't reall stay longer than 20 minutes. In fact, the owners compare it to rigorously excercising for one-and-a-half-hours. Aside from the sand onsen, the spa also offers aromatherapy (from B800/60 mins) and Thai massage (from B500/60 mins).
The One Residence, 319 Sri Nakarin Rd., 02-185-6364, 085-140-5454. Open daily 1-9pm. www.fb.com/theonesandbath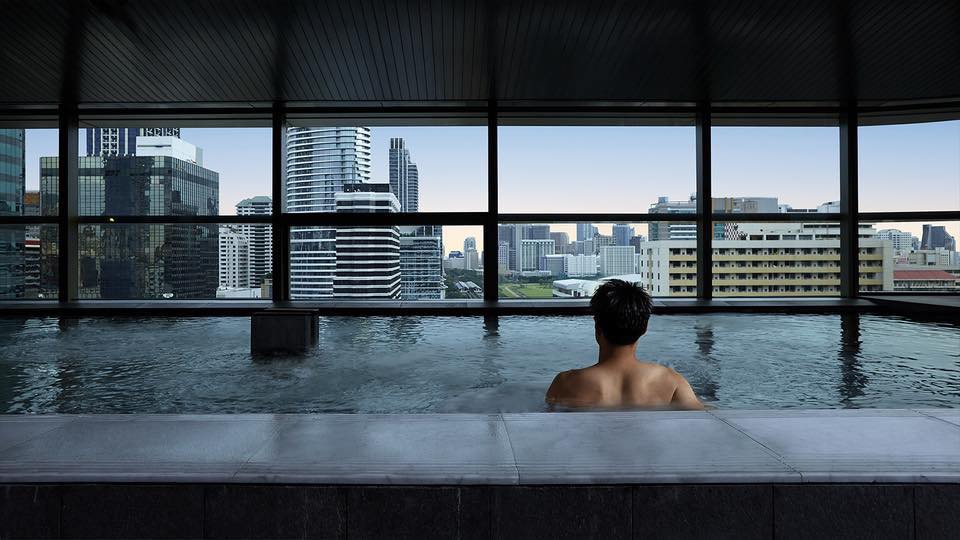 This spectacular spa looks out over the bustling Ratchaprasong district from the 12th-floor of Gaysorn Village, where its five mineral-rich onsen pools (separated into men's and women's zones) offer rest and relaxation from all the surrounding retail. The all-day entry fee of B750 (B450 for kids aged 6-16) puts it a step up in exclusivity from Yunomori or Let's Relax, but does guarantee bathers a wealth of options—and some stunning views. The signature Kusatsu pool features waters sourced from one of Japan's onsen resort towns. There's also a soda bath, vitality pool, cold plunge pool and another bath that changes according to the season. Guys must take their kit off, but women are provided with underwear and tank tops. For those seeking more privacy, you can get your own room at B1,800/30 minutes. Additional facilities include a steam room, Himalayan salt sauna and relaxation room, while Akasuri scrub is B900. Massages start at B1,600 for 60 minutes.
Opened back in 2012, this was Thailand's first onsen and it's the real deal. That means men must go commando, while women get the option of disposable undies (men and women bathe in separate sections). If this thing is new to you, fear not, there are cartoons detailing the whole procedure. The water is said to be sourced from a hot spring in Ranong; choose from carbonated, hot, cold or jet-equipped baths to increase blood flow and rejuvenate your skin. Rates start from B450 for all-day onsen, and B650 for Thai massage (90 mins). There are also aromatherapy body massage starting from B1,050 (90mins)-B1,250 (120 mins) and body scrub for B1,000 (60 mins). They've also got a
branch in Pattaya
.