Heading North? These are some hot dates for your calendar.
---

Aisle of Art
When: Nov 29-Jan 14
The biggest art exhibition yet at Chiang Mai's popular gallery-cum-cafe Woo Cafe and Art Gallery. The exhibition features the works of three renowned artists, Aranya Khunchawattichai, Paitoon Jumee and Attasit Pokpong, one of the founders of the sadly-closed art hub V64 in Bangkok. Keep updated at
www.fb.com/Woochiangmai
Place: Woo Cafe and Art Gallery, 80 Charoen Raj Rd., 052-003-717

Sawasdee Craft
When: Dec 5-10, 11am-8pm
The craft-focused market will focus on hand-made products and environmentally-conscious food. There will also be demonstrations and workshops. See more info
here
.
Place: Baan Kang Wat, Opposite Wat Ram Poeng, 095-691-0888, 090-056-9042. Open daily 10am-6pm
NAP 16th LES POPS
When: Dec 5-10, 10am-10pm
This popular annual event transforms Nimmanhaemin Soi 1 into a boutique flea market for six days. Expect all the hipster clutter from local boutiques and craftspeople, plus food and nightly jazz, pop and bossa music.
www.fb.com/nimmansoi1
Place: Nimmanhaemin Soi 1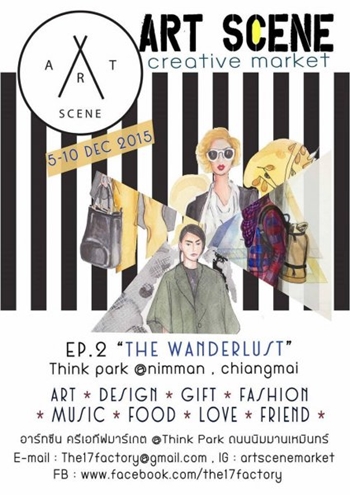 Art Scene Creative Market
When: Dec 5-10
Around the corner from NAP, Think Park hosts six days of local designer shops, food from the likes of C'Nual and drinks along with live music and screenings of indie short films.
www.fb.com/thinkparkchiangmai
.
Place: Think Park, Nimmanhaemin Rd., Rimkham Junction, open daily 10-1am
Little Art Market
When: Dec 5-10, 10:30am-7:30pm
Another six-day market gathering hand-made items, from ceramic goods to baked goods. Lots of activities for kids too. For more information
here
.
Place: Sitive Noodle, 36/18 Moo 10, Suthep, 081-420-6167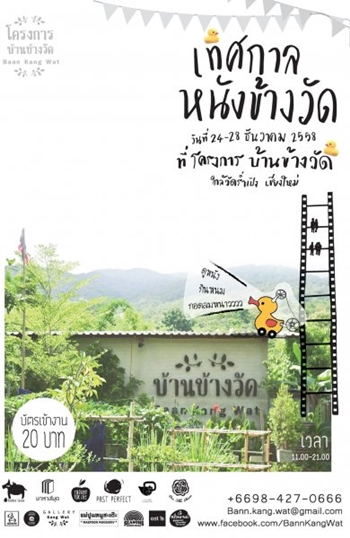 Nang Khang Wat
When: Dec 24-28, 11am-9pm
The art community Baan Khang Wat will hold its second open-air Nang Khang Wat film festival, along with a mini-market. Film schedule TBA, keep an eye on
www.fb.com/BannKangWat
Place: Baan Kang Wat, Opposite Wat Ram Poeng, 095-691-0888, 090-056-9042. Open daily 10am-6pm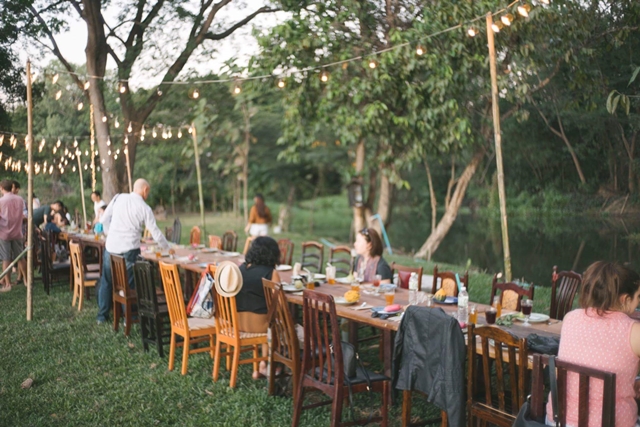 Christmas Farm Dinner
When: Dec 25-26, 5:30pm-9:30pm
Missed Rustic & Blues annual Winter Feast? Fear not, here's another chance to taste five courses of dishes made with seasonal local produce, along with local craft beers, wines and more. There will also be live music. Oh yeah, it all takes place in an open field under a clear night sky. B1,500/person. For more information, see here.
Place: Rustic & Blue Farm, Sankhampaeng, 2nd Ring Road between Payap University and Promenada Mall

Chiang Mai Jazz Festival
When: Dec 26-27
Now in its fifth year, this festival is dedicated to the country's best jazz musicians along with a series of international guests. This year's lineup includes Pomelo Town, Jonathan Frizten & Camilla Lunstedt, Los Romberos, Chiang Mai Jazz All-stars, Mads Mathias, Funktion & Pod Modern Dog and Jun Abe & J Super Band. B750-1,300 from Thaiticketmajor.
www.chiangmaijazzfestival.com
Place: Promenada Resort Mall, 192-193 Moo 2, Tasala, Muang Chiang Mai. 053-107-888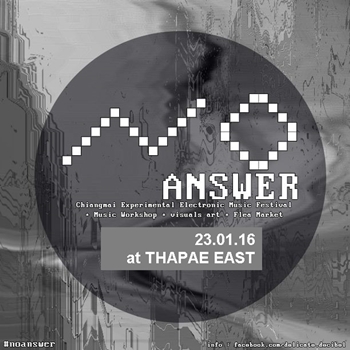 No Answer at Thapae East
When: 23rd January 2016
This experimental electronic music festival will also include workshops, visuals arts and a flea market. Confirmed acts include Broken YaakBeat and Thom AJ. Madson, guitarist of rockers Assajan Jakkawan. For more information, see www.fb.com/noanswer.cnx.
Place: Thapae East, 88 Thapae Rd., 081-765-5246, www.fb.com/ThapaeEast
Chiang Mai Galleries' Night 2016
When: Jan 29-30, 2016
Co-organized by TCDC and Chiang Mai Art Conversation group, this sister event to Bangkok's popular Galleries' Night will see more than 30 galleries around town stay open later for a range of special art exhibitions, workshops, seminars and experimental performances. Participating venuies include Scene Scape, Thapae East and Woo Art Gallery. The highlight includes film-print workshop at Ung Gallery and Siam Through the Lens of John Thomson 1865-66 at Chiang Mai City Arts and Cultural Centre. There will be talks, too. For more info at www.tcdc.or.th/chiangmai.
TEDx Chiang Mai
When: Jan 30, 2016, 8am-6:45pm
Under the theme " Dare to...dream, do, be," this TEDx event will feature about 20 speakers, including the first Thai in training to become an astronaut, Pirada "Mink" Techavijit. There will be English translation. You can even win free return flights and tickets; find out more
here
. Tickets start from B800-5,000. See more at
www.tedxchiangmai.com
Place: Le Meridien Convention Hall, 108 Chang Klan Rd., 053-253-666