Far enough from the craziness of central Bangkok, On Nut is a laid-back hub of restaurants, bars and friendly faces. You can find all these places and more within around 10 minutes' walk of the BTS.

---
---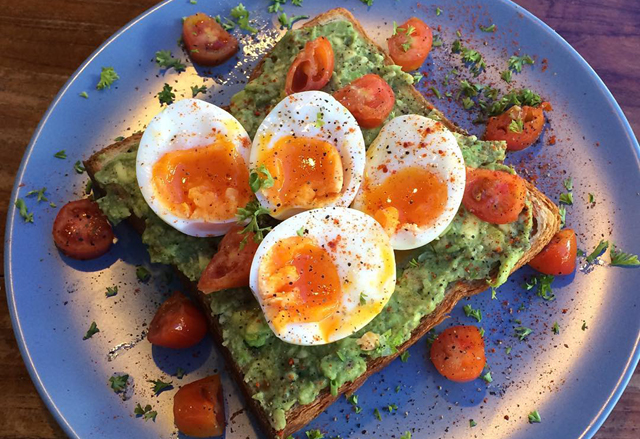 Oh La La Cafe
LAFF Cafe
Coffee & Breakfast
Wake up with an espresso (B55) at DNA Coffee (On Nut Soi 2, 084-111-4151) before hopping over Sukhumvit to Oh La La Cafe (200/003 Sukhumvit Soi 50, 02-742-9255) for a filling full English breakfast (B350) or deviled eggs (B250). For something greener, check out health-conscious bistro Yakkin Pak (734/3 Sukhumvit Soi 50, 062-693-9936) for wholesome dishes like their orange cranberry chicken salad (B170) and spicy salmon sashimi with mango (B295). Hungry for something sweet? Head to the photogenic LAFF Cafe (199/1, Soi Bunthom, Sukhumvit 50 Rd., 092-929-8384) for their signature coffee and passionfruit drink, My Passion (B180), paired with a slice of their indulgent Madam carrot cake (B165).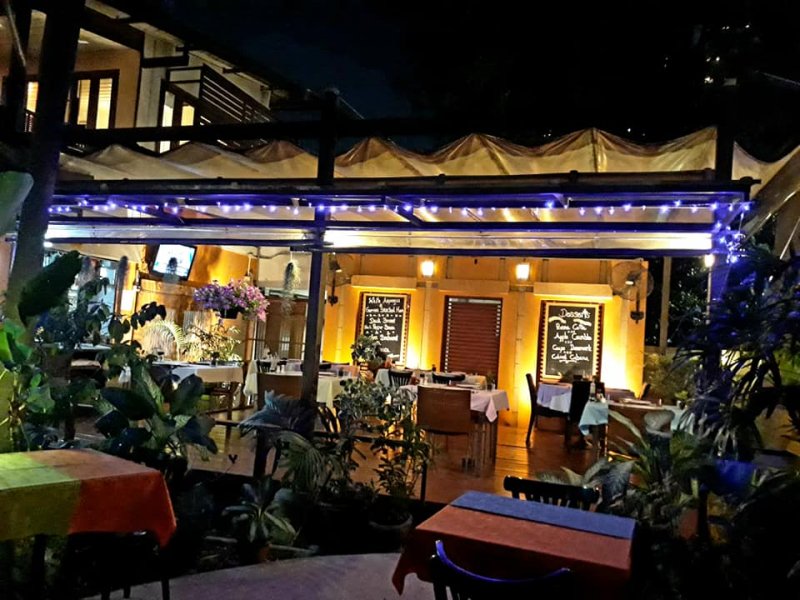 Cabana Garden credit: www.facebook.com/agcabanarestaurant
Lunch & Dinner
If you're in the mood for ramen, don't miss Sapporo Ramen Donchan (233/8 On Nut Soi 1, 02-716-2929), where you'll find pocket-friendly miso (B90) and shoyu varieties (B90). For more Japanese fare, Fukuichi (235/12 Sukhumvit Soi 77, 062-998-6192) serves Osaka-style dishes, such as motsunabe (offal hotpot, B350) and Harami steak (B291). For continental flavors, check out Cabana Garden (75/1 On Nut Soi 2, 02-742-6405), where homemade pasta in traditional amatriciana sauce (B250), ravioli (B280) and linguine alla pescatore (B290) are served in a two-story house with a leafy garden. If pizza is more your thing, drop by Rolling Stone Pizza, starting at B260 for a margarita (The Beacon Place, Sukhumvit Soi 50, 088-950-4164).
Cheap Charlie's Bar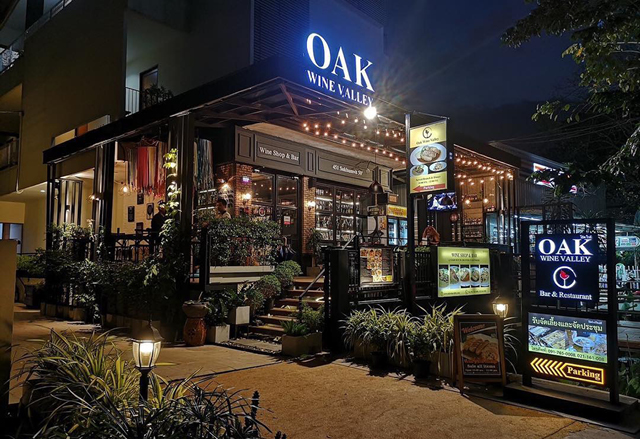 Oak Wine Valley
Drinks
On Nut has no shortage of watering holes, from the fairylit garden at Smitr Cafe (Soi Luea Suk, 092-424-9691) for chicken wings (B155) and beers (Oettinger beer, B190), to the new incarnation of former Soi 11 stronghold, Cheap Charlie's Bar (The Beacon Place, Sukhumvit Soi 50). For homemade German sausages (B119) and craft beers (Xsansuk, B220), head to Dog Step (Soi Sukhumvit 50, 094-695-4619), or for a classy evening of wine (Silveroak Alexander Carbernet Sauvignon, B3,000/bottle) and dishes like roast duck in orange sauce (B480), check out Oak Wine Valley (451 Sukhumvit Soi 50, 091-765-0008).
Transport
BTS On Nut is within 10 minutes' walk of most venues.
Accommodation
Rhythm Condo Onnut by Kwan's (8/199 Sukhumvit Soi 50) units run from B17,000-B77,000/month; Blocs 77 by Sansiri's (291 Sukhumvit Soi 77) from B12,000/month; and The Base Sukhumvit 77's (289 Sukhumvit Soi 77, 02-740-3506) from B10,500/month.
Hubba-to
Visit
On Nut Market (On Nut Soi 1, 0-2742-6891) is great for grocery shopping. De-stress at Orchid Spa and Massage (204 Sukhumvit Soi 77, 02-332-4899) or Arati Yoga Center (455 Sukhumvit Soi 50, 081-618-3802). Habito Mall (45/19 Sukhumvit Soi 77, 02-136-5932) houses Hubba-to (02-118-0839) co-working space, Vietnamese restaurant Muine (092-959-4629) and Korean fried chicken specialist Choi Choi (02-062-2935), among others.
---
BK Asks
What do you love about On Nut?
Arny McIntyre, owner of Rolling Stone Pizza
The charm of this area is its simplicity. It's filled with people from different cultures, blended perfectly together. There are also lots of outdoor bars and restaurants to chill out at with great prices.

Kaimook Asawisaraporn, owner of Dog Step
In this area, the charming mix of local and trendy atmospheres will make you want to stay forever.
Soraya Pongppitak, owner of Oh La La Cafe
The people who live here are super friendly. If you are looking for a relaxed neighborhood, this is your spot!