After a quarter of the year spent in quarantine, Thailand is open for business again. At least, it is if you live here. Aching to get out of town but wondering what that means mid-pandemic? The BK team hit the road this June to tell you what to expect when you travel. This report details our trip along the leafy canals of Thonburi—the fourth in our five-part series exploring destinations close to Bangkok.
The journey
Leaving Bangkok's skyscrapers and bustling streets behind, we head out on a mission to unearth the city's calmer, quieter alterego on a local canal tour. We're greeted by the amicable and down-to-earth Uncle Jeab, our "backyard guide" for the day, in front of his lovely abode tucked away on Charan Sanitwong Soi 27. His backyard happens to be a canal of historical significance that dates to the Thonburi period. We're a special case, though: normally, Uncle Jeab would be driving his aqua-green Subaru to pick you up at BTS Bang Wa station. Knowing how hot Bangkok can be, he would usually have some cool water for you before boarding the canal boat, too.
The vessel
At the canal, we meet Brother Mote, a middle-aged man who owns and drives a long-tail boat with a Skittles-colored roof. Once we hop aboard, Uncle Jeab hands us some liquid refreshment in the form of a classic Thai lager (which he generously refills every time we finish a can). We can tell he has pegged us perfectly. Not a fan of alcohol? Don't worry: there's OJ stocked in the ice cooler, too. As we scuttle along the water and get doused with canal spray, sipping cold drinks, taking the obligatory photo or two, we start to get a taste of what guidebooks might describe as "authentic" canal life.
The sights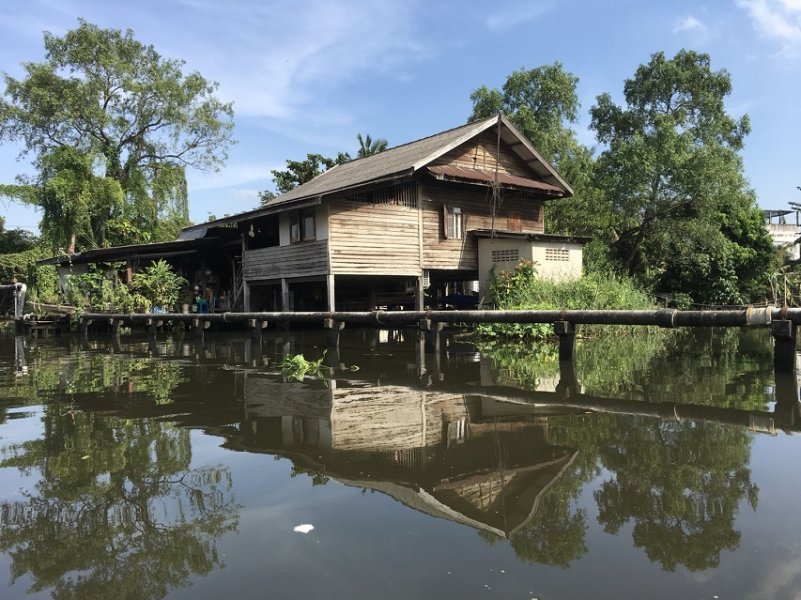 We start at the Khlong Bang Luang community, where we spot locals hanging out on their canalside terraces and fellow boatmen making their way along the water. Vegetable and herb gardens line the shore. We dock at one of said gardens, where Uncle Jeab escorts us down a rickety wooden jetty. Here, we're greeted by the smiling homeowners, who are more than happy for us to check out the bounty in their backyard: kaffir limes, pomelos, banana plants. They even let us take some fresh greens home for dinner after the trip.
We make our way to Wat Ratcha Orosaram, built during the reign of King Rama III with a mix of Thai and Chinese temple architecture, before we make a grand entrance by the pier at Poomjai Garden, a tranquil cafe and green space in Thonburi famous for its lychee trees.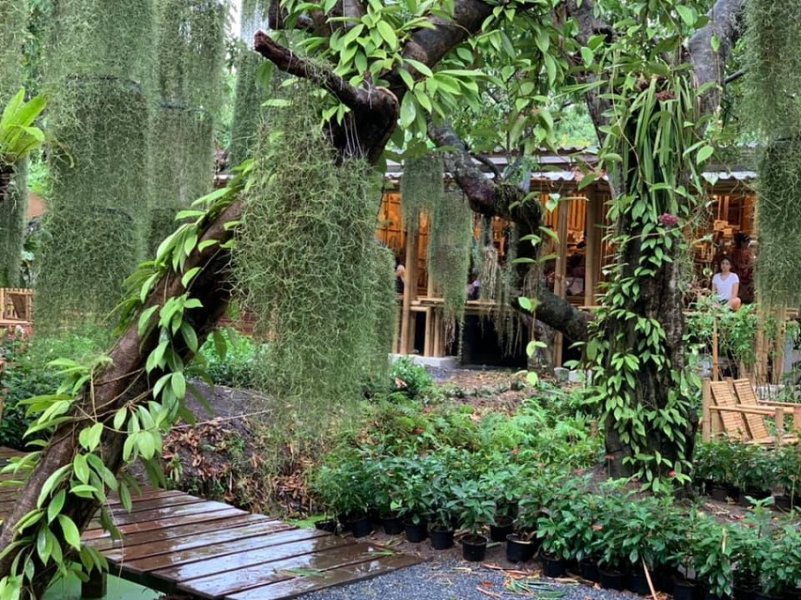 Their take on the orange Americano (B130) is a pleasant late afternoon pick-me-up before we shuttle over to Wat Paknam Phasi Charoen, one of Thonburi's most prominent and historic landmarks, to check out its collection of rare antiques and historical artifacts dating back to the late Ayutthaya period.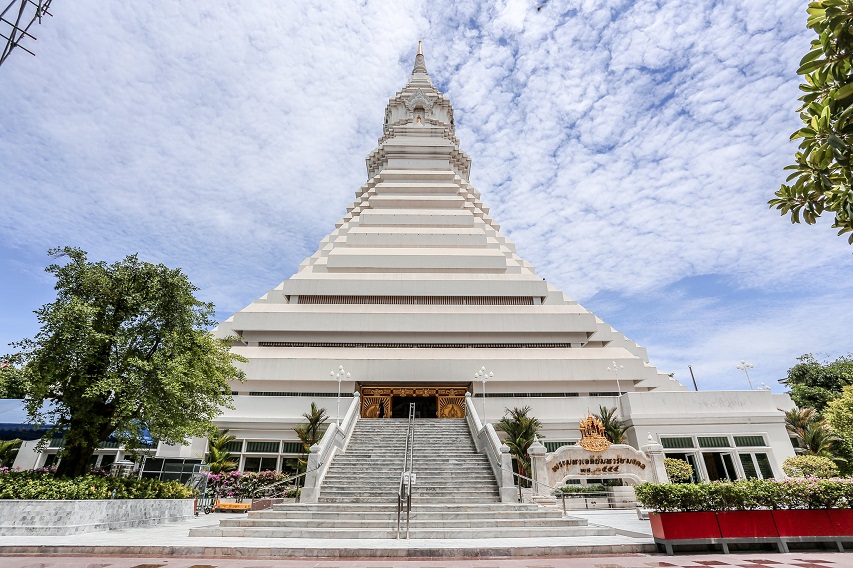 Here, we make merit and have our fortunes told by siem si (Chinese fortune sticks). As we leisurely cruise back to the starting point, we're admittedly thrilled to find a boatman selling boat noodles—real and legitimate boat noodles in the context. We order a bowl for B40 and slurp away at our floating dinner table.
The vibe
This experience is very local, educational without feeling aggressively so, and spontaneous—to say that we got more than we bargained for would be an understatement. The leafy canals of Thonburi definitely provide some much-needed respite from the sweaty office worker crowds, the nightmarish traffic, and all the other hustle and bustle of downtown Bangkok. From the charming riverside houses and their welcoming occupants to the slow pace of life, this feels like a completely different city.
The local community seems to thoroughly enjoy Uncle Jeab's presence, and Uncle Jeab, who has lived in the area for a better part of three decades, looks like he genuinely loves what he's doing, too. He also has bags of historical knowledge, so you might learn something new. All in all, it feels very wholesome to kick back and relax along the water while discovering a different side to Bangkok.
Not to bury the lede or anything, but there is one downside: dual pricing. Thai citizens pay B900 while our foreign friends are charged B1,500. You will have to contact Uncle Jeab to find out if this rule applies to tourists only or if it includes expats, too.
To book a trip with Uncle Jeab, head to his Facebook page or call 081-812-4019.
---
Read more: What it's like to travel to Hua Hin and Kanchanaburi now, and why now is the perfect time to check into a wellness retreat.