Bhutan is one of our top travel destinations in 2020. Most visitors from Bangkok—one of just 10 cities with airports that offer service to Bhutan—fly into Paro and flock to the country's busier western region. But with Bhutan knocking nearly 70 percent off the daily fee for those who travel to the lesser-visited eastern region, writer Keith Mundy tells you why now is the best time to pack your bags and jet off for the Himalayan mountain kingdom.
Getting there
Getting to Bhutan from Bangkok, you have two choices. One is to fly into Paro in the west on an expensive Druk Air or Bhutan Airlines flight, taking a chance on a connecting flight to Yongphula Airport in the east, a strip of tarmac perched achingly close to the edge of a cliff, or taking the long two-day grind overland. Much better is the cheap and easy way: fly to Guwahati in India on the budget airline IndiGo and take a two-hour taxi ride to the border at Samdrup Jongkhar, where your guide and driver will meet you.
Every visitor to Bhutan has to use a local agent for the whole stay, from entry to exit, with every tour sporting an English-speaking guide and a driver with the right vehicle for the job. Our guide, Phuntsho Dorji, turns out to be a master of both jobs, with a memory full of excellent information.
We head into a drama of mountain scenery on the northbound road. The peaks are high, with rocky summits above thickly forested slopes, and they sometimes disappear as we drive into a cloud. Halfway, we make a pitstop at the tiny village of Wamrong and tuck into momos, delicious dumplings filled with meat, cheese or vegetables.
After six hours on the road, we cruise down into the market town of Trashigang, the base for visiting the eastern region. Wooden-balconied shops and winding streets squeeze into a narrow river valley at this centuries-old crossroads of trading routes. Most days, you'll find locals in national dress chatting on doorsteps and in shops decorated with traditional carved wood.
Here you'll also find the region's best hotel, the Druk Deothjung (+975-1711-9909), located on a hillside above the town, boasting very large rooms and excellent catering aimed at Western and Asian tastes. Buddhist symbolism—including a large image of the holy, evil-fighting phallus, a common sight in Bhutan—adds some color to each side of the entrance, while the four-story atrium sports wood balustrades carved and painted in the traditional style.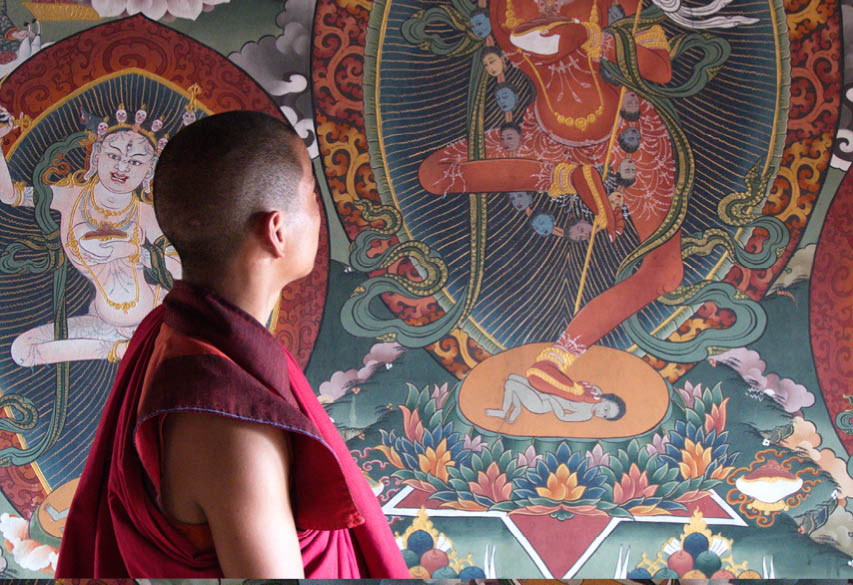 A young monk in Dakini Dorje Phagmo. Photo by Keith Mundy.
Bhutanese masked dance. Picture courtesy of Ugyen Tshewang.
The entrance to Trashigang Dzong. Photo by Keith Mundy.
In the Dzong
On a mountain ridge above the town stands Trashigang Dzong, a fortress-monastery erected as both a military and spiritual redoubt back in 1659. Vibrant murals line the long archway leading to the dzong's spectacular central courtyard, lined with wooden galleries along its four-storied facades, carved and painted in yellow, red and brown designs. Inside and upstairs, a monk shows us a small chapel—the holiest place of the dzong—covered with old ornate murals depicting gods, demons and tales from the Tibetan Buddhist scriptures.
The next day, we head to one of Bhutan's most important religious sites—a mountaintop temple home to the masked drum dance, effectively Bhutan's national dance. We turn onto a country lane that switchbacks through pine forests and maize terraces, finally reaching a plateau 2,100 meters high. A straggle of traditional wooden houses stands around the recently renovated Drametse Monastery, which is home to about 200 monks. The main building has brilliantly repainted murals around three walls, depicting florid gods and angry demons with smaller figures flying around them in a dream-like painting of religious imagination.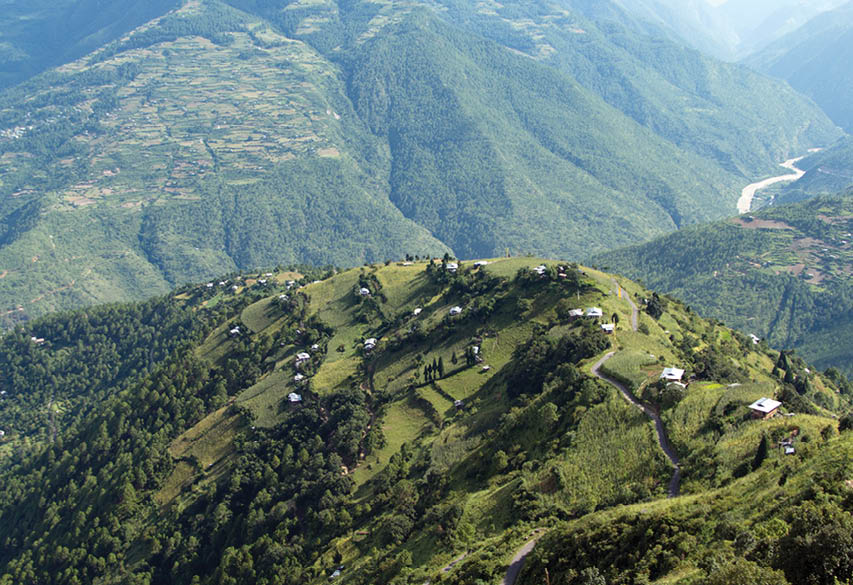 Hilltop village and river valley below Drametse. Photo by Keith Mundy.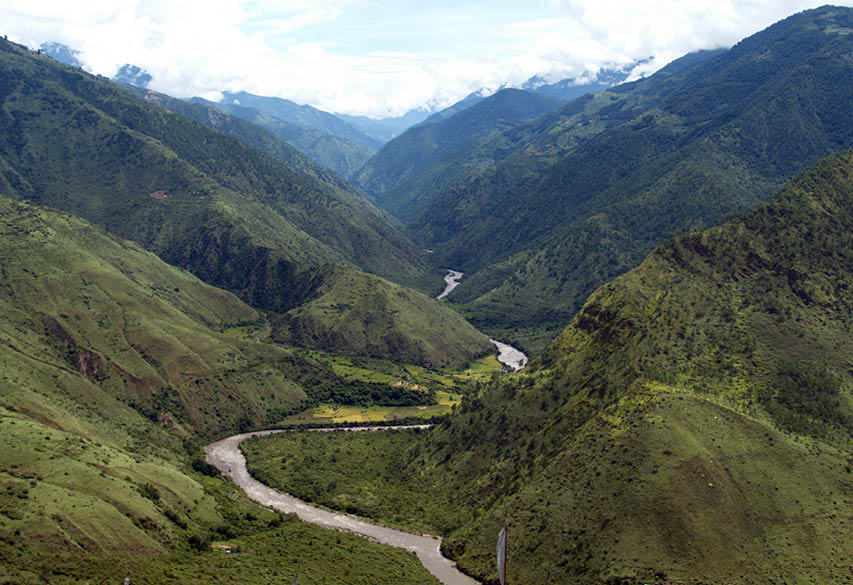 Trashiyangtse province. Photo by Keith Mundy.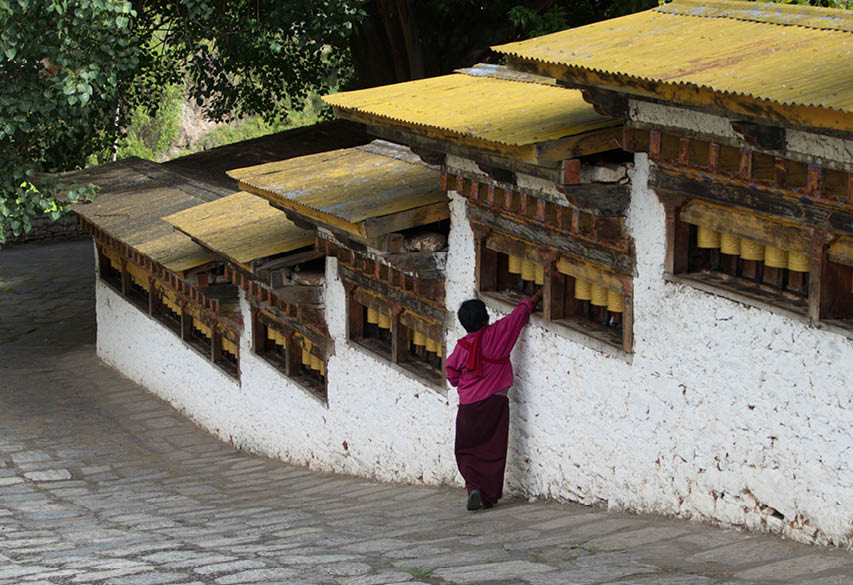 Prayer wheels outside the Gom Kora shrine. Photo by Keith Mundy.
Mountain views and yeti trails
To the north of Trashigang lies Trashiyangtse province, which extends to the high-peak border with Tibet, historically a major cultural influence on Bhutan. Taking a narrow road winding alongside a river roiling in fast flow, we spot a golden rooftop glinting in the valley below.
Gom Kora is a holy site that draws pilgrims to a huge black rock where, legend has it, the revered Guru Rinpoche—an important Tibetan Buddhist figure—meditated inside a cave in the 8th century and vanquished a demon. Locals regularly circle the site with rosaries in hand and spin the small prayer wheels set in the walls. Further along the narrow river valley is Chorten Kora, a whitewashed stupa patterned after the popular Boudhanath in Kathmandu, Nepal, and the site of major festivals held each April.
In the far north of Trashiyangtse lies Bumdeling Wildlife Sanctuary, covering 1,520 sq km at heights of 1,500-6,400m, up to the snow-capped peaks bordering Tibet. The reserve features glacial lakes and alpine pastures. Among its 100-plus mammal species are black bears, snow leopards, Bengal tigers and red pandas. In the winter, if you're lucky, you might even spot the rare and legally protected black-necked crane here. Opt for a trekking route like Dongla, which threads through this sanctuary, yielding some truly breathtaking mountain views.
The country road leading east from Trashigang brings you to Radhi, a village famed for its silk weaving. Here, you can pick up beautiful handmade tapestries. Seeing a backstrap loom outside a cottage, we step inside and meet Aum Sena, a veteran weaver and canny businesswoman, who sells us a beautiful scarf in muted greens and blues for about B500.
Thegchog Kunzang Chhoedon Nunnery. Photo by Keith Mundy.
From this village, a road winds along hillsides of bright green rice and yellow maize, with stunning views of villages clinging to a mountainside across the valley, leading to the remote Thegchog Kunzang Chhoedon Nunnery. A shy young nun shows us into the prayer hall, which is brilliantly painted with murals along its walls and geometrical patterns on its ceiling.
Carry on east and you arrive at Sakteng Wildlife Sanctuary. It's quite small at 741 sq km, but with an amazing attraction: the yeti. Yes, the locals swear the abominable snowman, known as the migoi, lives here. What's for sure is that Sakteng offers fine trekking in a wild, temperate ecosystem, and it at least includes encounters with the Brokpa yak herders who call this home.
---
Visitor Rules

By law, all tourists must use a local tour operator, taking a pre-arranged tour with a fixed minimum price (US$250/B7,900 per night from Mar-May and Sep-Nov; US$200/B6,300 per night from Jun-Aug and Dec-Feb), which covers accommodation, meals, ground transport, a licensed guide, taxes and charges.
Special price for the eastern region: Throughout 2020, the mandatory tariff will be lowered US$65/B2,000 per person per night to encourage tourism in the least-visited part of the country.
Recommended Agent

Front-rank operator Bridge To Bhutan offers both off-the-rack and tailored tours. Bridge To Bhutan is run by two US-educated brothers who employ highly-skilled English-speaking guides to lead their tours, using experienced and careful drivers. Visit bridgetobhutan.com for more information.
---