Plagued with over-tourism, the baht's soaring value and a string of tragic catastrophes, Thailand's tourism industry is experiencing turbulent times. On the flip side,
plummeting resort prices at home
coupled with increased spending power abroad means there's never been a better time for you to jet set. With the help of travel influencers and industry pros, we reveal the trends that will shape the way you travel the world in 2020 and tell you the hottest places you need to visit next year.
Been there, done that
A thirst for new and unique experiences is seeing a wave of travelers looking to emerging destinations for inspiration, leaving us to wonder, is Thailand's heyday over? "Asia has been on the rise for more than 10 years as a tourist destination, while the entire Middle East and East and North Africa were largely closed or avoided by the leisure traveler. The agents tell us that up to 15 countries—such as Ethiopia, Tunisia, Lebanon and Iran—from these once closed regions are now attracting tourists in good numbers," says Stephane Junca, managing director of Asia-based travel site Secret Retreats (secret-retreats.com).
Reflecting this, Monthon "Mint" Kasantikul, founder of hit travel blog and vlog I Roam Alone (fb.com/IRoamAlone), tells us "My fans respond best to exciting things—things they've never seen before. My latest episode is about Iraq and they like it! The media always covers the bad side, so I like to go to controversial places and show the good parts." Similarly, Bangkok-based Ric Gazarian of travel blog GlobalGaz (globalgaz.com) tells us, "I recently visited Japan and Pakistan, and people were much more interested in Pakistan—they like to hear about unknown destinations."
According to Kitsana Kaewtumrong, executive director of the Tourism Authority of Thailand's (TAT) advertising and PR department, there's hope yet for the local industry. "International visitor arrivals to Thailand are up by 4.29 percent over the same period of 2018—arrivals are continuing to grow, albeit at a slower pace, " he tells us, acknowledging the damaging impact of "the trade war between the US and China, the Brexit issue in the UK, tensions in the Middle East and the strength of the baht" on global travel.
Along with looking to new demographics for glimmers of hope—arrivals to Thailand from India have soared by almost 27 percent over the past year—a shift in line with trends for sustainable, experiential travel could be Thailand's saving grace.

Going Local

Across the globe, a yearning for meaningful travel is fueling interest in impactful local experiences. "Nowadays, the destination or the property is less important than the experiences [visitors are] able to have...travelers want to feel immersed, they want to meet locals from different walks of life, and they want their trip to leave a meaningful impression on them," says Sidney Jhingran, a destination expert at Bangkok-based adventure travel company Smiling Albino (smilingalbino.com).
There's also a strengthening desire to give back, notes Junca, with travelers asking themselves "Who is benefiting from the money I spend? What impact am I having on the environment and local communities?" For 2020, Gazarian predicts "the proliferation of websites connecting you to locals, such as Airbnb experiences and trip.me—it's the movement of connecting real people to people for genuine experiences." And where better to start than on home soil?
In 2020, TAT will mark its 60th anniversary with a nationwide campaign that's set to encourage responsible tourism and sustainability among the public and the local tourism industry. However, as noted by Jhingran, it's not always easy for community-based tourism initiatives. "Many are struggling to maintain a viable business, as they don't have the capacity to reach distribution channels that filter in a steady stream of tourists," he explains.
To combat this, TAT is utilizing Local Kit (localkit.app), an online tourism management system that generates bookings for community-based tourism hosts. Through this approach, they hope to streamline the often haphazard booking process, while at the same time promoting sustainable tourism that will preserve the local identity of less well-trodden destinations. Ready to give it a go? Check out our round-up of the top 20 destinations for Thai travelers on the next page.
---
Check Into These Eco-Friendly Hotels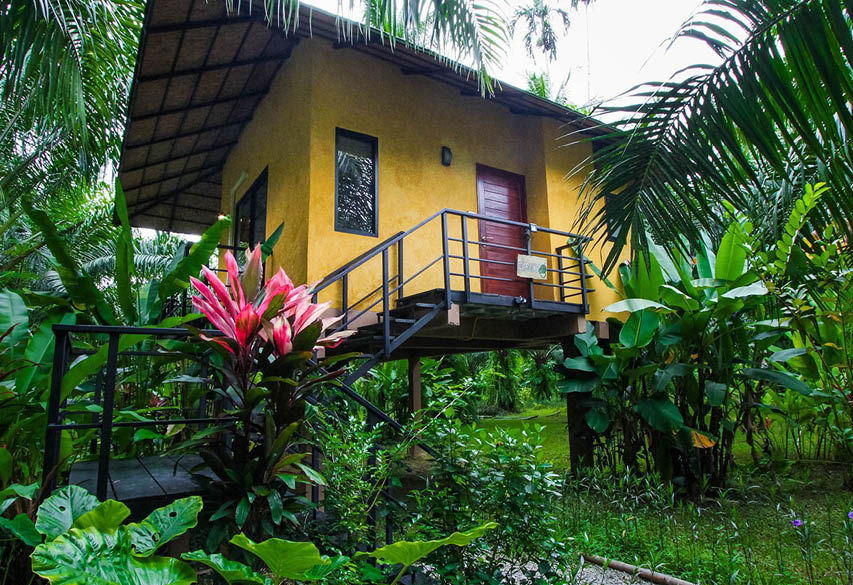 Anurak Community Lodge, Khao Sok

"A great eco-hotel that just earned Travelife Gold certification, with bungalows that are seemingly etched into the lush jungle canopy," says Jhingran.
Price: Rooms from B1,315/night.
anuraklodge.com

Anana Ecological Resort, Krabi

"A real trendsetter in terms of a holistic approach to eco-conscious hotel management," says Jhingran.
Price: Rooms from B2,300/night.
ananakrabi.com


Rolling together eco-conscious living; organic, vegetarian food grown on their own farm; yoga; and a Himalayan crystal salt pool, this Zen, lakeside sanctuary offers the full restorative package.
Price: Rooms from B2,470/night.
museflowerretreat.com