Holidaying in style no longer means checking into an opulent, soulless, five star monster. Although the word "boutique" is nowadays bandied about a little too freely—enough with calling your windowless hellhole a boutique just because it has less than 10 rooms—the trend for smaller hotels, boasting striking designs, personalized service and real character shows no sign of letting up. The best of them offer you one-of-a-kind experiences that you'll still be talking about when you're old and grey. With so many opening up across Asia in recent months, we figure we'd undertake the arduous task of finding out which of them are really worth a visit. You're quite welcome.
Cultural Exchange
Luxe retreats in the region's finest heritage towns
Heritage Suites Hotel, Siem Reap
Wat Polanka, Slokram Village, (855) 6 396-9100, www.heritagesuiteshotel.com.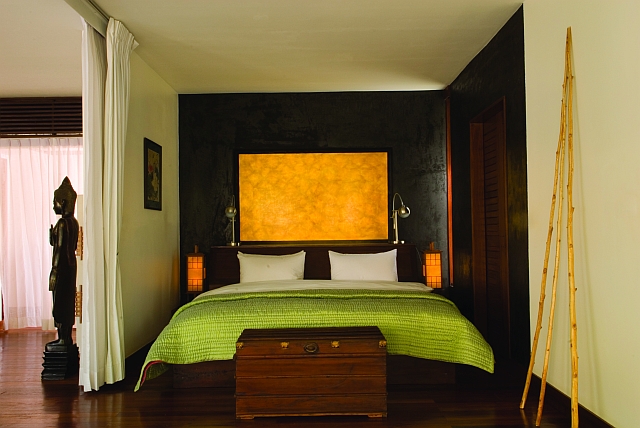 With Angkor Wat on your doorstep, it's hard to argue in favor of a lie-in and lounge–about in your hotel. But this kind of luxury really is something to be savored—perhaps Lara Croft's stomping ground can wait a while. This is a boutique hotel in every sense of the word; the service is attentive to a fault (you'll even get a goodnight gift) and the 26 rooms (20 of which are suites) come in the boutique hotel uniform of dark paneling contrasted with light walls, bedding and curtains. Some of the pricier options come with steam baths and private gardens with open air showers. The only Relais & Châteaux hotel in Cambodia, this little colonial outpost is away from the popular tourist haunts, tucked snugly in a posh residential neighborhood.
Amenities/facilities: An excellent spa and free WiFi throughout the hotel. Rooms
come with incense, free bottled water and iPod docks. Elsewhere, the Lobby Bar is a cozy haunt for a digestif.
You'll remember it for: Being a palatial (yet calm and intimate) pitstop from the hustle and bustle of booming Siem Reap.
Rates start at: US$150 ($195) per night.
Elsewhere in Cambodia: For an understated, value-for-money boutique experience in the Cambodian capital try the River 108 (#2, Street 108, Sankat Vat Phnom, Phnom Penh, (855) 23 218-785, www.river108.com) which overlooks the Tonle Sap. The rooms (some sport Art Deco themes) are comfy, clean and come equipped with sleek mod cons.
Courtyard @ Heeren, Malacca
91 Jalan Tun Tan Cheng Lock, (60) 6 281-0088, www.courtyardatheeren.com.

Smack in the heart of Malacca's historic Jonker Street enclave (it's a couple of minutes' walk from the popular Geographer Café) is this gem of an inn; proof that boutique doesn't always mean pricey. A little over a year old, this intimate Peranakan-style boutique hotel is situated in an old shophouse on a street that once housed wealthy Chinese merchants and businessmen. Don't be deceived by its narrow street level frontage; the hotel extends some 80-100 meters to the back, allowing for some nice quiet rooms. You'll love the old-world-meets-new-world vibe here, with its individually decorated rooms that boast dark floors, gorgeous bedposts and wooden chest drawers, tastefully complementing the sleek mod cons present.
Amenities/facilities: Fourteen rooms and suites; including flat-screen TV, free WiFi, free parking and a limousine service (airport transfers to Kuala Lumpur or Singapore).
You'll remember it for: Its antique collection at the lobby, spacious showers with rainfall showerheads, comfy beds and its ultra-personalized service; although breakfast is a straightforward affair, they'll cook you anything you ask for!
Rates start at: RM200 ($85) per night.
Elsewhere in Malaysia: If you want something away from the madding crowds, how about a quaint island retreat. The Bon Ton Restaurant & Retreat (Pantai Cenang, Langkawi, (60) 4 955-1688, www.bontonresort.com) in Langkawi is a rustic kampong-style getaway with just eight villas that's nestled in between lush hills and the Andaman Sea.
Travel expert Simon Westcott of Mr & Mrs Smith talks boutique hotels
Amantaka, Luang Prabang
55/3 Kingkitsarath Rd., Ban Thongchaleun, (856) 71 860-333, www.amanresorts.com.
Mr & Mrs Smith, purveyors of all things boutique, describes the Laotian capital
Luang Prabang as "the best preserved and most authentic small town in the whole of former Indochina." And we couldn't agree more. This UNESCO World Heritage site is a quaint, modern-day Shangri-La and has one of the best new boutique resorts around. Housed in a former Catholic hospital, Amantaka has 24 suites (16 with private pools) decked out in dark wooden furniture, boasting spacious rooms complete with luxurious trimmings. It is sophisticated yet tastefully sparse and minimal, with lots of privacy to be had.
Amenities/facilities: Charming hotel bar, spa and a yoga studio among others. Free Wifi throughout and rooms come with Bose speakers and iPod docks, ensuring a kind of aural utopia.
You'll remember it for: The unsurpassable romance of it all; perfect for rejuvenating stressed out bodies and minds.
Rates start at: US$700 ($900) per night.
Elsewhere in Laos: Heads up on an upcoming magical mystery tour. Combining jungle treks near the Namno mountains and through the Nam Khan river, Shangri Lao (www.shangri-lao.com) is Laos's first 5-star tented experience. The luxurious camps will boast teak furniture, bathtubs and even a Jacuzzi. Opens in October.