In this uncertain time,
Dr. Tinnapat "Boom" Srithawatpong
created the Facebook page
Mhorkrub
as a platform to provide fun and useful information and health tips. In just a month, the page has garnered thousands of likes, and the doctor has become a social figure as well as a frontline medical worker. Now, he tells us how his life, as a doctor, has changed since the outbreak.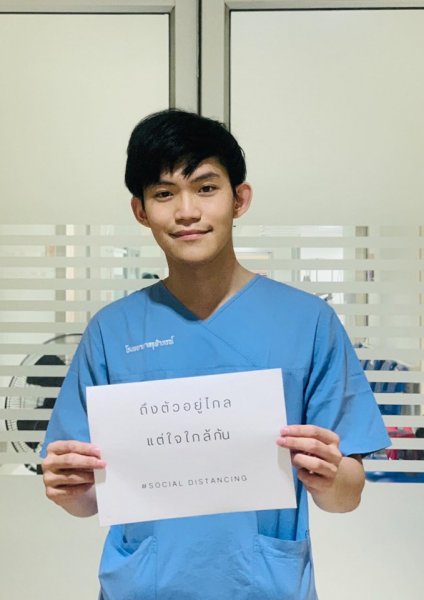 When will this situation get better?
We are seeing some light at the end of the tunnel. The number of infected cases in Thailand has now decreased significantly, while the number in many other countries are still on the rise. It might take another six to nine months. It's not just going to be gone completely one day. But I think the number will continue decreasing every day and covid-19 will just become a disease, not a pandemic anymore.
As for the vaccine, it's in the experimental phase. Many companies worldwide are working very hard to produce one.
How are Thais coping with the pandemic?
I think Thai people have a good awareness of the outbreak. The measures to cope with the virus have been taken in stride, with cooperation between people. I guess it's because we've seen some terrifying examples in other countries, like Italy, as well.
And what is interesting is that Thais tend to wear masks with or without symptoms, while Westerners are often told not to wear them unless they show critical signs. Even the WHO first suggested that before they later changed their guidelines.
On the other hand, we're flooded with fake news. Covid-19 is a very new thing, so there's not much information about it. Some even believe that the fa thalai chon herb, or andrographis paniculata, can cure the disease, but there's no scientific evidence to prove it. If people eat too much of it, many side effects will follow. And there are many more strange and funny beliefs, like going outside in the sun or taking antibiotics to kill the virus which, of course, aren't true. So I want to encourage everyone to watch or read the news very carefully, especially in a time like this.
What are your suggestions for staying healthy now?
Wear a face mask. The best one is a surgical mask, but if you can't find it, the cloth mask will do just fine. Also, don't touch your face and wash your hands often.
What I want to add is that when you buy an alcohol gel, please check the label very carefully. There's a fake one using methanol which is lethal and can make you blind. Also, stay home!
How has the outbreak affected your life as a doctor?
It might seem like we all have to work extra hard, but that's not always the case. Some other specialist doctors outside the virus field are seeing fewer patients in the hospital, so some of us actually work less. However, specialists in fields like lung and infectious diseases are facing a very hard and exhausting time. Nurses are also in high risk.
As for myself, there have been some changes. For example, the heart disease ward in my hospital is closed in order to accommodate patients with covid-19. And there are several measures planned out which keep us busy all day. We also have had to move out from the hospital dorm to accommodate staff who are in close contact with covid patients. They have to stay there and can't go back to their family just yet.
How do you think the Thai medical industry will change after this?
I don't know what the future will hold, but from what I see, covid-19 has led to many changes for us in the medical industry so far. We've been admitting fewer patients, who aren't urgent cases. We now have a call center, an official Line account and video call for patients to contact us directly. This will definitely alter patients' behavior in the long term. They might visit the hospital less frequently, thanks to the use of technology. I also think and hope that people will pay more attention to their health and body after this is all over.