Who lives in a pineapple under the sea? SpongeBob SquarePants! And who's coming to SiamParagon, Siam Center, and Siam Discovery for this Songkran? Also SpongeBob SquarePants!
That's right, the downtown Bangkok shopping complexes of ONESIAM (Siam Paragon, Siam Center, and Siam Discovery!) have partnered with Nickelodeon's SpongeBob Squarepants to provide some fun-filled experiences of Bikini Bottom, and playgrounds as whimsical as Goo Lagoon throughout this April for Thais, tourists, and expats alike. If you're looking to escape the sweltering heat and cool off, this limited-time Bangkok SpongeBob SquarePants is for you.
First off, Siam Paragon is holding the Siam Paragon Summer Ultrasonic 'Feel the waves and beats' event from April 12 to 23, featuring some fun installation art of SpongeBob SquarePants, Patrick Star, and the whole gang. The exhibit will include a thrilling 7-meter-high giant slide for visitors to get those Goo Lagoon vibes. The installation at Parc Paragon is themed as "Colorful DAY Playful NIGHT" — so polish your Krab claws and strike a Sponge-tastic pose, and snap some pics, day or night!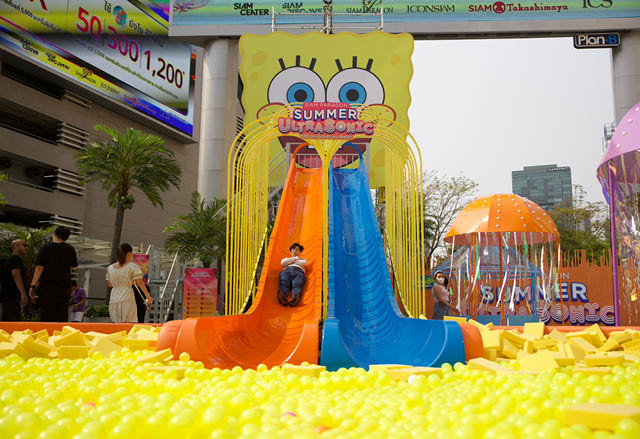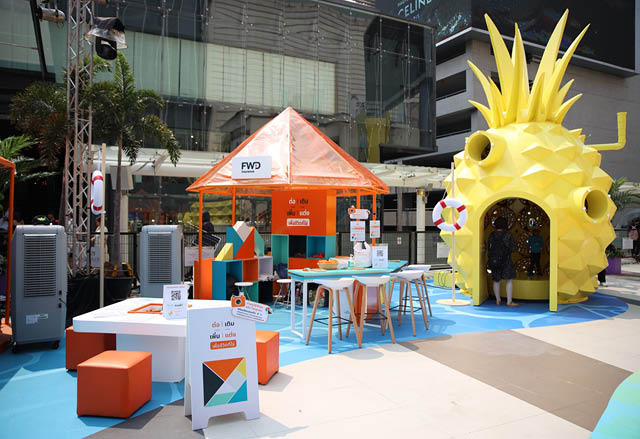 Want a little more Thainess during your Songkran celebration at Paragon? Just step over in your squeaky shoes from the SpongeBob stuff to the Thai New Year celebration at Fashion Gallery, 1F by the Ministry of Culture's Fine Arts Department and the Department of Cultural Promotion from today to April 16. You can also join the Buhddha bathing activity to pour water over images of the Buddha as part of a tradition for an auspicious Thai New Year. (Maybe you can pray for your Mr. Krabs-like boss to give you a raise for Songkran?) Ancient Buddha statues from the National Museum are also being showcased for the first time at the exhibition. Yes, Bangkok is THAT multicultural!
Next door at Siam Center is the "Siam Center SpongeBob SquarePants Summer Splash" event, where the tropical fun continues, full of engaging SpongeBob themed activities and displays, until May 7.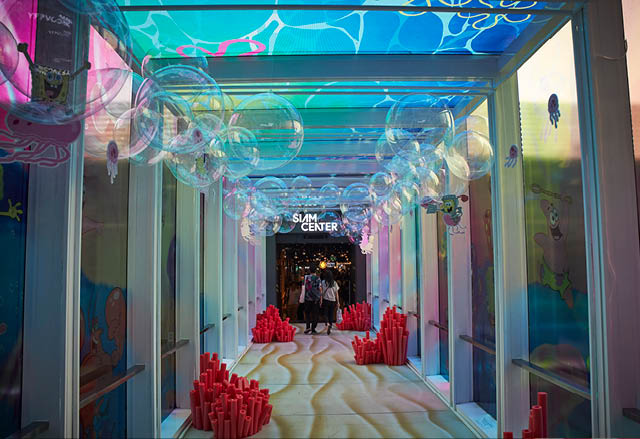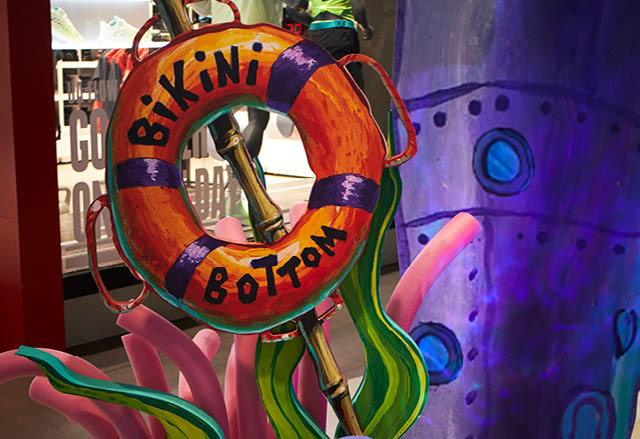 And yes, it's a triple event! Siam Discovery is hosting the "Siam Discovery The Summer Exploratorium - Discovery Playground," an interactive playground full of SpongeBob themed decorations to get you as photogenic as Patrick Star and excited as a jumping jellyfish, until May 30.
(The Siam Discovery mall also has activities for both jocks and gamers during this time. Think you can beat Squidward at basketball? Try your hand at the "Hoops Basketball Festival" taking place from April 7 to 16 at Discovery Plaza, or head up to the fourth floor's newly-opened "True 5G PRO HUB" for some esports sweetness.)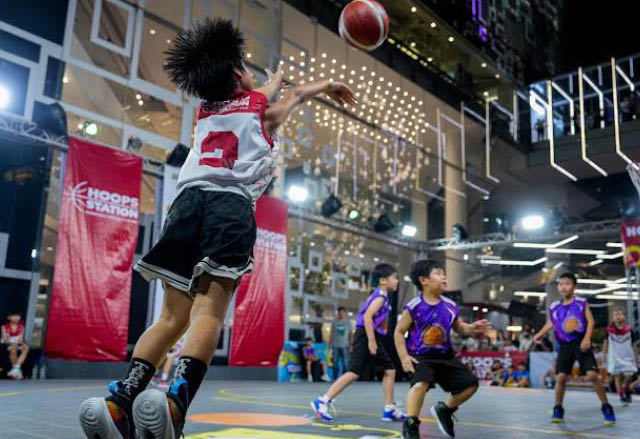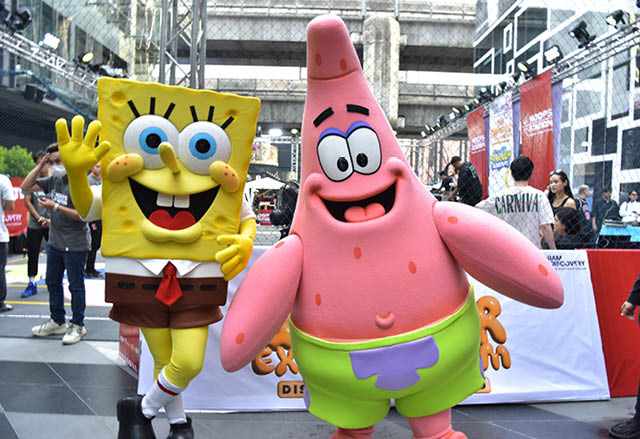 Of course, it wouldn't be a SpongeBob-themed mall event without promotions that would make Mr. Krabs' eyes light up with dollar signs. There's a special "Get Your Summer Glow On" campaign, specially for international customers. Spend B20,000 or more per receipt at Siam Paragon, Siam Center, or Siam Discovery and get a free B800 Siam Gift Card* (limited to one voucher per person)! Hot tip for credit card holders: MasterCard, VISA, and JCB are running special promotions from today until April 23, 2023.
Here's another promotion as juicy as a Krabby Patty: all international shoppers can receive up to 6% VAT refunds* with the "Downtown VAT Refund" service. It's delicious cashback that's even off-limits to Thai residents! Just apply for a VAT refund at the dedicated VAT refund counters located on the G Floor of both Siam Paragon and Siam Discovery, and holy fish paste, you'll get your VAT served right back!
And you know what's tastier than Mr. Krab's Kelp Shake? A cool, milky glass of Thai iced tea, of course! All foreign visitors can present a receipt from stores or restaurants in Siam Paragon, Siam Center, or Siam Discovery, or just show their Bangkok Airways boarding pass at the Tourist Service Center on G Floor of Siam Paragon to get a complimentary glass. And it's not any old iced tea, either — it'll be a rich, silky award-winning glass of Thai iced tea from KARUN Thai Tea, which won 7th Best Non-alcoholic Drink in the World! Mr. Krabs could only wish that Krusty Krab got such awards. But heads up, the promo is limited to 1,000 glasses.
And hot tip: don't forget to apply for a ONESIAM Tourist Card to get up to 30% off* + a 5% discount at department stores: click here to apply now.
A side note for the uninitiated: SpongeBob Squarepants is the most-watched animated series for 20 consecutive years since its launch in 1999, and is a property of Paramount International. SpongeBob Squarepants is seen in more than 170 countries, translated into 29 languages, averaging more than 100 million total viewers every quarter. Talk about F.U.N.!
Sponsored by: