Bangkok is a booming metropolis and international business hub. The tidal waves of immigrants and visitors who have arrived since its founding have lifted it to the forefront of global capitals.
Phranakorn is the historic heart of the city's old town, and it is a growing center of cosmopolitan life. It is one of Asia's most famous neighborhoods, and with a blend of old and new, ancient and technologically modern, it is the perfect place to study international culture and business today. With new transportation options opening and multiple thriving nightlife districts, students here have tremendous opportunities to learn at top flight institutions, in the very heart of a 21st century capital, surrounded by rich Thai history.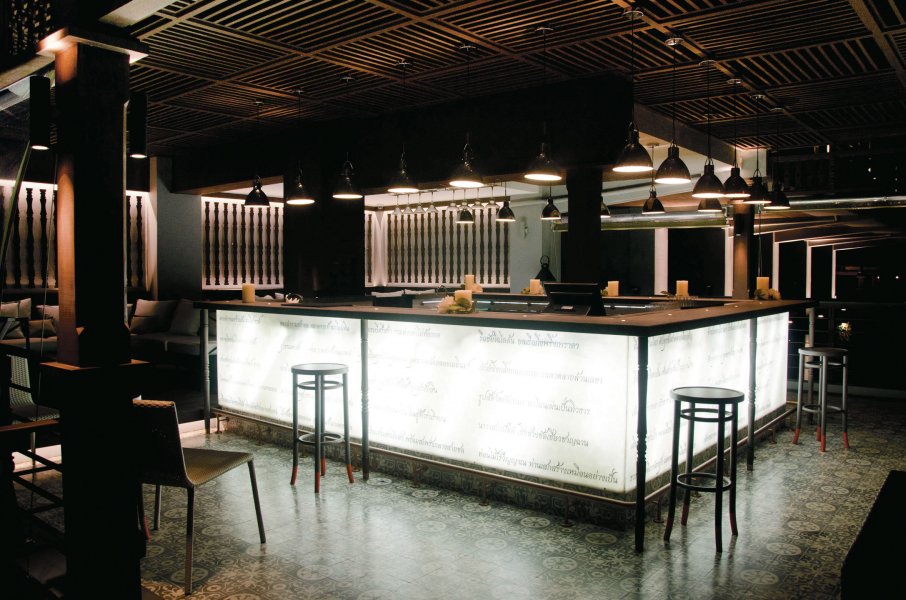 There is a booming food and nightlife scene
There's nothing quite like catching sunsets over the river, from the rooftops near Wat Pho. The Deck, Above Riva, and Eagle's Nest all offer spectacular, and even breathtaking views. Phra Arthit Road—which runs alongside the river, adjacent Thammasat University—is a perfect spot for extracurricular student life. It has abundant dining options, including Italian, Vietnamese, Indian and vegetarian. Bars and clubs are also prevalent, and include Jazz Happens!, babble & rum, and beer specialist Good Story. And if you're tired of Khaosan Road, neighboring Rambutri and Samsen Road are both growing into nightlife destinations in their own right. Both stay lively deep into the night.
There are tons of awesome museums and galleries around
Because Bangkok is a national capital, a wealth of cultural institutions abound. One of the best places to dive into local history is actually a palace. King Rama IV's former estate is now the Bangkok National Museum. It is one of Southeast Asia's largest, with galleries dating to Neolithic history. One treasure not to miss: King Ramkamhaeng's first royal inscription of the Thai language on a stone stele. Nearby Wat Thepthidaram is also worth visiting, if you haven't been recently. It has redeveloped an onsite museum dedicated to Sunthorn Phu. The UNESCO recognized poet wrote some of Thailand's most famous literature, while a monk there, and the museum is excellent. Other cultural attractions include: the National Gallery—which displays works from royal collections and pieces by national artists—and the National Theatre, which is famous for classical masked dance dramas. Less-frequented venues include: the Queen Sirikit Gallery, a permanent exhibition space dedicated to promoting Thai artists (opened 2003); the Queen Sirikit Museum of Textiles, Museum Siam, and even the Coin Museum.
Some of Thailand's top education is found here
Phranakorn has been an educational hub for more than 200 years, and that legacy continues today. Thammasat University is perhaps the nation's finest institution of higher learning. It counts more than 300,000 alums—including the Royal Family, prime ministers, and a host of public figures and artists.
Tucked right in the heart of Phranakorn along the Chao Phraya River, Thammasat offers students both great Thai tradition and a wealth of international opportunities. The classrooms are multicultural, and the campus is a hub of multinational diversity. It comes as no surprise then, that Thammasat is also home to the nation's top international business program— Global Business Management (GEMBA). The in-depth program explores the best of east-meets-west business strategies in a range of fields—including management, finance, marketing, digital enterprises and innovation.
Students here explore case studies in global business, Asian markets, and AEC (the ASEAN Economic Community) and the university is internationally accredited by AACSB, EQUIS & AMBA. GEMBA includes three semesters of study, spread over 17 months and is only open to students with bachelor's degrees, who have at least three years of professional experience. (Apply here before the end of October, to enroll for the January 2020 semester).
Amazing landmarks all over the place
When people think of Thailand, the splendor of Wat Phra Kaew and the grandeur of Wat Pho and Wat Arun rising over the Chao Phraya River are often the first things they think of. And rightly so. But because of Phranakorn's deep royal history, there are a host of lesser-visited landmarks perfect for students of history. For instance, no structure may be "more Bangkok" than the hlak mueang City Pillar. Many people miss it, but it was one of the first things King Rama I built when he founded Bangkok. Ditto for the Giant Swing. The importance of the red teak Brahmin structure is hard to overstate. For hundreds of years it was believed the swing controlled the kingdom's agricultural fates. It too was one of the first things King Rama I built—and he also added Wat Suthat next door. More beautiful symbols of the modern kingdom lie nearby in Phranakorn, including Sanam Luang—the "Royal Turf"—and the 1930s era Democracy Monument—holding a copy of the constitution amidst four wings, on a pair of golden bowls.
Connected to all of Bangkok
Getting to and from Phranakorn has never been easier. New subway stations recently opened at Sam Yot and Sanam Chai, on the MRT's Blue Line. Both underground stations boast world-class design and architecture. And, of course, there are also many traditional river transit options on the Chao Phraya—all of which help international visitors and students explore and experience the larger city. More stations are coming soon, too. The MRT Orange Line will eventually stop at Democracy Monument and Sanam Luang. And further down the line, the MRT Purple Line will open stations at Samsen Road, the Thai Parliament, the National Library and the Golden Mount.
Website: www.gemba.tbs.tu.ac.th
Facebook: GEMBA TBS
Sponsored by: