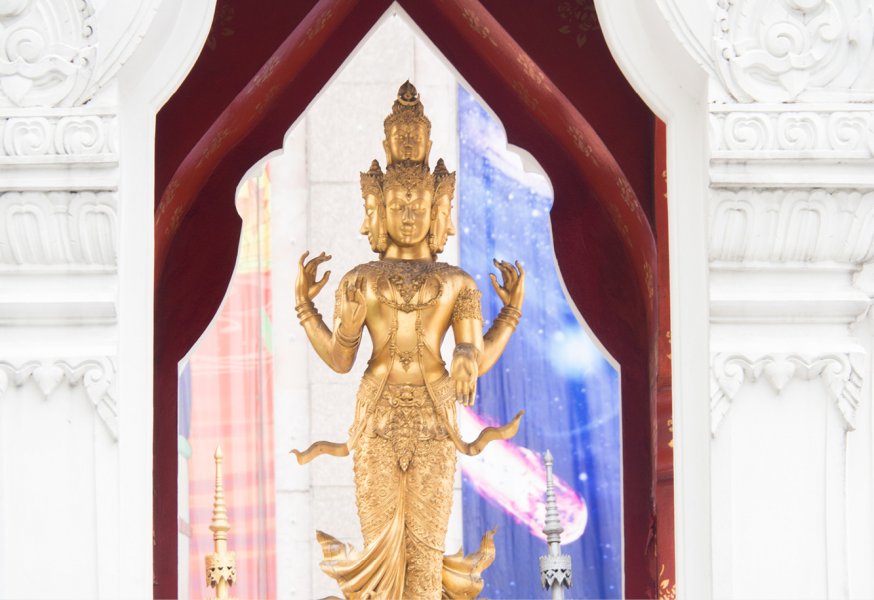 You can (maybe) change your fortunes at some of Bangkok's best-known shrines
Central Bangkok has a ton of shrines to see, and there's more to do here than take pics for the Gram. Visit the Trimurti Shrine (the one at CentralWorld) if you're struggling with your dating life (check out BK's Tinderspeak breakdown here). The shrine has long been associated with matchmaking. The tradition is pretty simple: prepare nine red roses, nine red incense sticks, and one red candle before sitting down to pray in front of the shrine. While we can't say that you'll meet the love of your life after visiting (we've met people who say this), it's a neat bit of fun nonetheless. The Erawan Shine (in front of the Grand Hyatt Erawan) is all about prosperity. Be prepared to be generous, though. The shrine has four sides, so you're expected to bring four times the offerings!



You can easily get around
Bangkok isn't Tokyo or Taiwan, sure, but we're getting better in terms of transportation. For our money, Central Bangkok has the best transportation in the city. The main Siam transfer zone is here to link the main lines, and it's easy to zip around Central Bangkok (between the likes of Ploen Chit, Chit Lom or Siam), or even to some of the city's more far-flung places. The BTS Skytrain can connect you to boat services at the river—some of which even have a tour guide for visiting traditional temples. But if temples aren't your thing, you can still access all the upscale department stores via BTS, such as Central Embassy, CentralWorld, Central Chidlom and many others. These areas are also home to many of Bangkok's biggest flagship stores, like Uniqlo, Topshop, Coach, and Polo Ralph Lauren.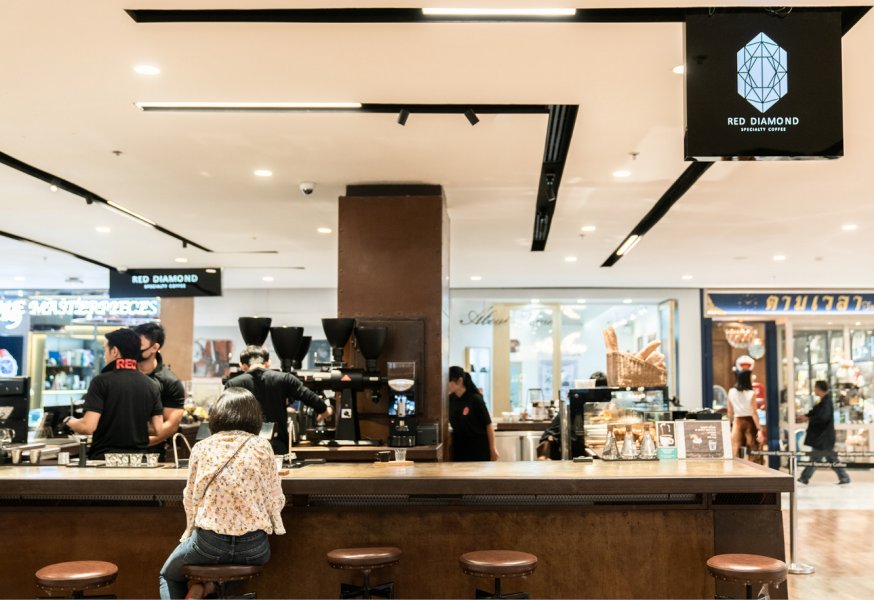 It's a cradle for cafe culture
The Instagram era has made Bangkok's cafe scene explode in recent years, but these beautiful facades have something more to offer than just pretty exteriors. Over the years, more and more cafes and coffee bars are dedicating themselves to pushing the Thai coffee scene forward. Some established coffee bars, like Red Diamond (5/F, CentralWorld) have abandoned the longstanding practice of picking inauthentic, poorly roasted beans and have started utilizing special roasts and blends from notable sources. If you've avoided quality coffee because of its bitterness, Red Diamond's cafe latte (B150) should change your mind. Using a cutting-edge Mavam Machine, the carbon dioxide that escapes beans after roasting (and can ruin their flavors) is completely removed in advance. The result is a clean and flavorful body—perfect with hot steamed milk. Looking for something lighter? There is a plethora of tea house here as well. Inside Central Embassy's famous OPENHOUSE co-living space is Kay's—an all-day breakfast cafe focusing on light meals like avocado toast (B255) and french toast (B230). On the third floor of CentralWorld is a cafe that finds a pleasant balance between tasty and healthy, Ditto Modern Tea. Here, you can indulge in your favorite milk teas without worry—all of their drinks are low in sugar. If the idea of ordering typical babao tea doesn't wow you, head to ATM Tea Bar (Central Embassy), where your order arrives in an ATM-like machine. Try the "Taste of Hokkaido" (B100) for a mixture of Taiwanese black tea and silky milk from Hokkaido. There is also the new Starbucks Reserve—the biggest branch in Thailand so far—which boasts premium options like special draft coffees and nitro concoctions. The Reserve store also acts as a co-working space, so take note if you are one of those people who like the Starbucks working vibe.
Bar spots that both lightweight and heavy drinkers can enjoy
Workaholics in Bangkok take after work drinks seriously. Still, you don't have to be a heavy drinker to indulge in the city's bar culture. Central Bangkok has basically every type of bar you could hope for, ranging from specialty bars like Waldorf's Champagne Bar and Centara's Cru Champagne Bar, hidden spots like Hair of the Dog, and everyday drinking dens like Taproom. One of the most crowded and lively spots is Kenshin Izakaya (Groove, CentralWorld), a hotspot for the after work crowd. They have a ton of Japanese beer (in crazy flavors like Sakura and Popcorn). The side dishes aren't too shabby, either. Do try their Okinawa cream cheese (B98), whose mellow creaminess really matches well with the tuna on top. If you're one of those people who love hopping on the latest events, head to Siwilai City Club (Central Embassy), where the ongoing Siwilai Tour regularly brings some of the city's best to perform—some international names, too. (Check the previous events here and here.). Located on Park Hyatt's rooftop, Penthouse Bar + Grill is an elegant space that can accommodate up to 80 guests. Try one of their special whiskies and champagnes or order some of their 127 wine labels (B340/glass). Another big name among rooftop bars' scene is Centara's Red Sky Bar where late drinkers can dig into dishes like the smoked lamb meatballs (B695) or live oysters (B,1055) to share.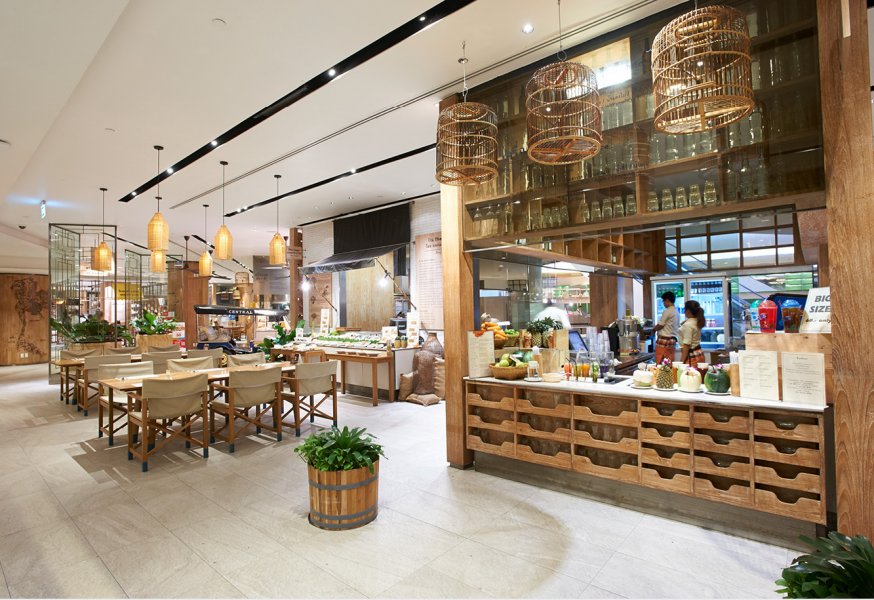 Food, food, food
Forget the old days of aimless trekking under Bangkok's heat and smog for good food, you can sample dishes from prominent street food stalls in air-conditioned coziness. Central Embassy's Eathai (Central Embassy)—a large food market catering regional dishes to local and tourists alike—is great for provincial Thai tastes. Tuck into mantis shrimp noodles from Rayong's Kang Baan Phe, pad Thai from Pad Thai Savoey on Ladprao Soi 71, and grilled squid from Ang Sila. Craving for something more unique? Try one of the best Middle Eastern restaurants in Bangkok, Beirut (Foodloft, Central Chidlom). Here, nan breads are made fresh, the falafels come out crunchy true to its origin. But the highlight is mankoushe (B100): a kind of Lebanese pizza made from moist pita bread which at Beirut comes topped with dried thyme, drizzled with olive oil and sesame seeds. Fans of Spanish food can head to the tapas bar operated by Uno Mas (Foodhall Central Chidlom) for raw Galician razor clam ceviche (B490) or what the chef calls "Mock Tuna" (B290); cubes of Sangria-drenched watermelon on ice—perfect to cut through the fatty profile of some of the other tapas. Looking for a taste of Italy? For the regional flavors of Naples, visit OPENHOUSE, the award-winning co-living space, is also a perfect hub for dining thanks to places like Peppina, whose authentic Neapolitan-style pizzas are considered by many to be the gold standard by which pizzas are judged.
---
Central Bangkok—The heart of the city
Central Bangkok is arguably the city's most illustrious destination — for travelers and locals alike. There's a higher concentration of restaurants, bars, shrines and shops across Ploen Chit, Ratchadamri, Wireless Road and Rama IV then almost any other spot in the city. Central Bangkok also includes a ton of luxury hotels, restaurants and high-end residences. Among these are some of the biggest names in the hospitality, such as Park Hyatt Bangkok, Centara Grand at CentralWorld, Conrad, Waldorf Astoria Bangkok and The Athenee Bangkok.
At a glance, Central's original flagship property, Central Chidlom, has long been the preferred shopping destination for people of all ages and lifestyles. For more sophisticated aficionados, head to the retail beacon of Bangkok, Central Embassy, which meets the standards of high-end lifestyles with its beyond excellent service. The mall also received three awards under the 2018 ICSC Asia-Pacific Shopping Centre Awards from the International Council Shopping Centres. But if you're talking about everyone's favorite, heading to CentralWorld is always is a choice that can't go wrong—it basically has it all when it comes to shopping and is a hub of events as well.
These places come together to form the "Heart of Bangkok" — the cultural and lifestyle centerpiece of this great city. It's also the scene of some of the city's best events, including a massive NYE celebration at the flagship CentralWorld, and others like the Tastes of The World Festival and Flower Festival. With 30,000 visitors per day, Central Bangkok is truly one of the world's great bustling metro centers.
FB / IG: centralbangkok
---
This native ad was created by Asia City Studio. We use storytelling to help brands of all sizes influence and connect with people who matter. Visit us online: studio.asia-city.com

Sponsored by: