Nightlife
If you missed your chance at the sold out Holi Cruise on Friday, join the Pride Cruise on Saturday. The third iteration of the Pride Cruise, if you know Bangkok Island, you know what sort of party you're in for: music, food, drinks, and performances. Pay B800 for the early bird, B1,000 normally, or 1,200 at the door.
Mar 19, Bangkok Dock Yanawa (opposite Soi 57), Charoen Krung
Start your weekend early at Smalls. B300 will get you into Bangkok's cooler than cool bar for a listen to the progressive jazz of saxophonist Jakob Dinesen from Denmark, accompanied by a quartet of local talent.
Mar 17, 8-11pm. Smalls, 186, 3-4 Suan Phlu 1 Alley
Photo by Jay Simonetto (@jaygrapher.th)
Poets, troubadours, raconteurs, and lyricists, we're talking to you. Lylu Open Mic is a chance to express your inner bard and get some "Tom Yum Soup for the Soul''. Learn, listen, and—well, it's SpeakerBox, so get blasted and have some fun too. B300 gets you in the door and the venue's kitchen is open.
Mar 17, 7-11pm. 1000 40 Thonglor Rd., Khlong Tan Nuea, 086 809 2617
If you missed ladies night on Thursday, pop around Friday and Saturday from 5pm to catch DJ Pepe and Pableroy spinning at Havana Social, Bangkok's favorite Cuban cocktail bar. You can usually catch these two every weekend.
Mar 18-19, 5-11pm, 41, 3 Sukhumvit Rd., 080 467 7409
Pool parties are back, baby! Get to the Amari Watergate early for an hour of freeflow, and ladies get in free before 6pm. B900 will get you three drinks and in the door for tech and house DJ's rotating every hour.
Mar 19, 4-11pm, 47 Phetchaburi Rd, Thanon Phaya Thai, 02 653 9000
Food
Brunchilicious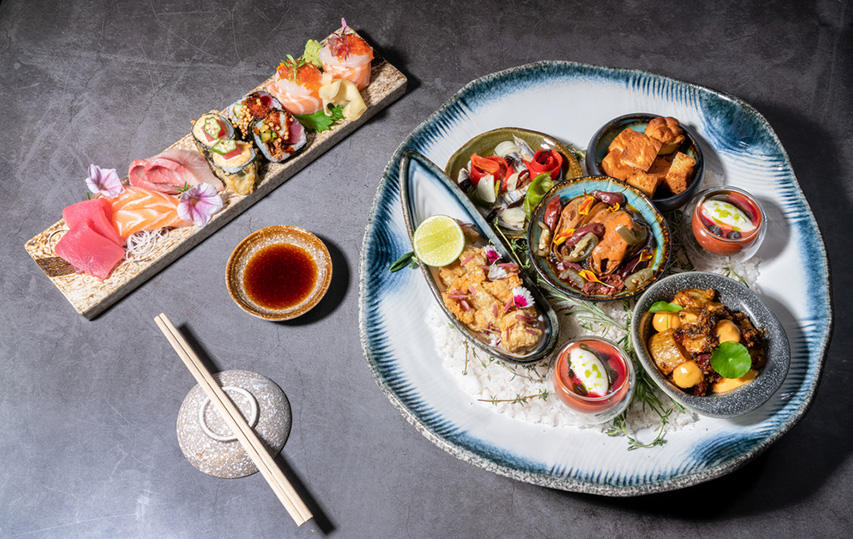 Slam three hours of brunching into the posh Seen restaurant from Avani+ Riverside on the Chaophraya, a new brunch launch from the brand. Expect fried chicken chicharron and mussel escabeche alongside sushi and sashimi for appetizers and duck confit, crispy lechon belly, and roasted rib-eye for mains. It's B2,499++ per person for food, 3,499++ with drinks, and B4,999++ for champers.
Mar 19, 12-5pm. 257 Charoen Nakhon Rd., Samre, 02 431 9100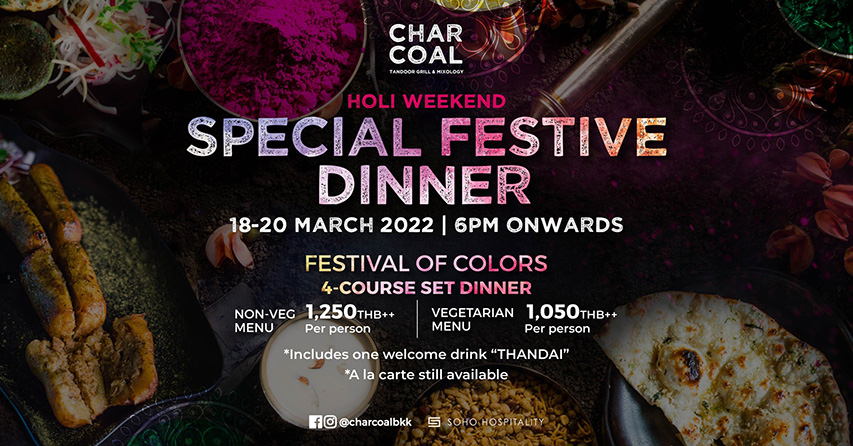 Charcoal Tandoor Grill is doing it up for Holi with a celebration of murgh korma, tawa fish tikka, pindi chole masala, and nihari gosht. With a veg (B1,050) and non-veg (B1,250) menu, expect the party to go late—and expect some Bollywood dancing.
Mar 18-20, 6pm. Fraser Suites Sukhumvit, 38/8 Sukhumvit Rd. Soi 11, 089 307 1111
Running for more than a month now, Gigi Dining Hall & Bar is featuring their aperitivo club for Sunday brunch, including B1,200++ free flow for two hours and Italian bites for B100++.
Mar 20, 5pm-8pm Gigi Dining Hall & Bar, 4 Sukhumvit 45 Alley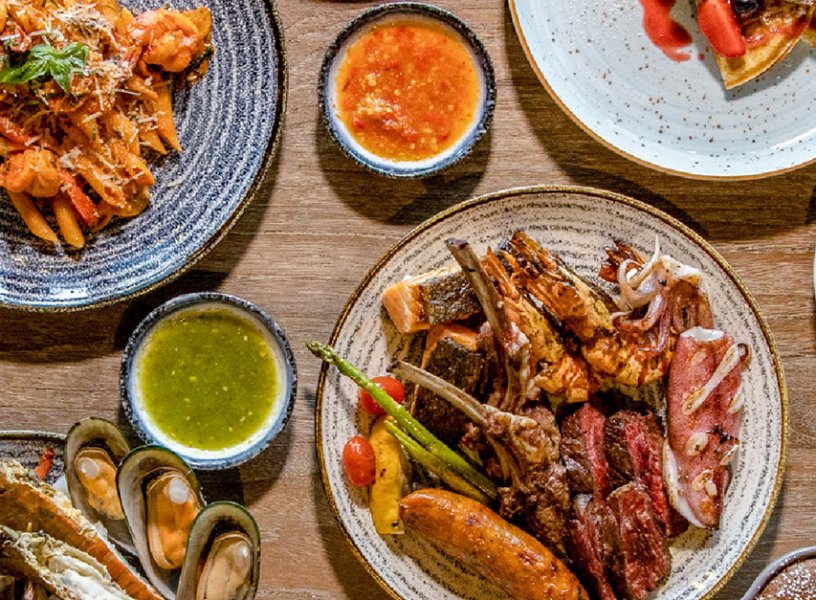 Brunch it up at the Kimpton Maa-Lai Bangkok's swanky Stock.Room—we're talking lobster and caviar eggs benny and Kobe beef. To get a little boozy on your Sunday brunch, opt for the B 2,800++ per person deal.
Mar 20, 12pm-3pm, Soi Ton Son, Khwaeng Lumphini, 02 056 9999
This is a first Sunday brunch for 12x12, with food from Arisa Nakkerd and homemade "high quality" desserts from Leaf Cannabis Cafe. With music from Chamapoo Chamapy, the affair lasts until 7pm.
Mar 20, 1-7pm. 810, 22 Thara Rom 2 Alley, Khlong Tan Nuea, 094 260 4713
Events
This weekend at P.J. O'Brien's in Phra Khanong, comedians will be taking the stage to support the town of Mykolaiv, complete with a Ukrainian comedian, booze, and finger food. Co-organized by Lex Morales, founder of Bangkok Comedy, and the Beyond Binary Thinking Podcast, tickets go for B300 and the event will begin around 6pm. Afterward, there will be a DJ and time for people to discuss and learn more with attendants and performers.
Mar 19, 6pm. 1108, 46-47 Sukhumvit Rd., Phra Khanong, 082 163 3382
Get ready for street art, theft, and clashing cultures at River City. Directed by Marc Proserpio and with subtitles in Thai, run down to the second floor of RCB Forum to see what all the fuss is about. Tickets run B150, and if you miss your chance, don't worry, there's another showing next week.
Mar 19, 2pm. 3 Soi Charoen Krung 24, Talat Noi, 02 237 0077
Networking events don't usually make it onto our weekend round ups, but this one has a bit of an…air…to it. Drinks, pizza, and the leading ladies of CBD will be discussing the legalization of weed and the future of the industry with Bloom, Chanabis, and Ganjita & Co at MINT Worklounge. Doors open at 4pm.
Mar 18, 4-7:30pm. 283, 66 Thonglor Rd., Khwaeng Khlong Tan Nuea
Exhibitions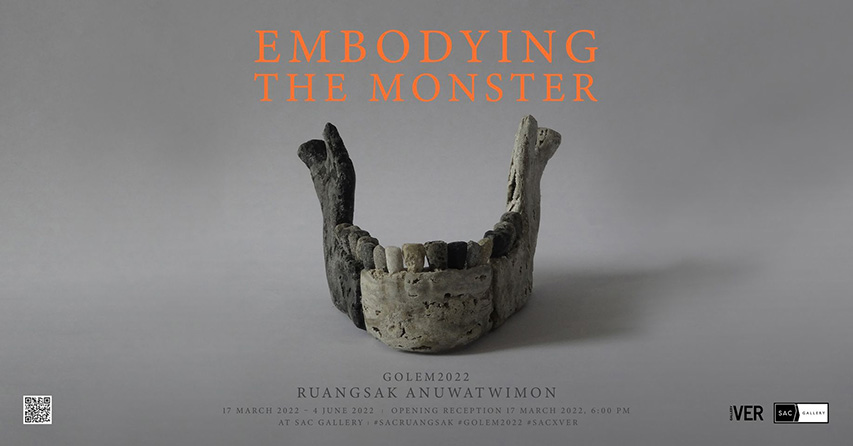 This isn't your everyday exhibition at SAC. The solo exhibition from Ruangsak Anuwatwimon's "Golem" series in cooperation with VER gets into dark, reflective exploration of the artist's very meta-human, otherworldly style. Bare, bleak, and stark, doors open at 10am.
Mar 17, 10am-6pm. 60, 3 Soi Sukhumvit 39, Khlong Tan Nuea, 02 258 5580 ext. 401