While we're all used to the instant gratification of snapping a shot with our smartphones, shooting film requires more effort and patience. But that's the charm of it. Now, film photography is making a massive comeback, with pretty much everyone from your next door neighbor to your grandma getting in on the game. Here's what you need to know to enter the same hipster orbit.
Best shops to buy film cameras

Credit: www.facebook.com/SiamTLR.Shop/

Good for: Beginners.
What: Siam TLR offers various secondhand models at all price points, from TLR, SLR and RF to Lomo, compact, half-frame and toy. All cameras here are of certified quality—the knowledgeable owner, Surasak Wannasri, will help clean and check the camera's system to make sure they're ready to use. Novices with a limited budget are more than welcome to drop by and talk to Surasak for advice on how to get started—you can spend up to an hour chatting about which cameras suit you best or even get a crash course in film photography. This guy's an expert.
Prices: B3,500 for Olympus Trip 35; B6,500 for Yashica Electro 35 GX Black; B8,000 for Rollei 35 T Black; B36,00 for Leica CL.
G/F, Mahatun Plaza Building, Phloen Chit Rd., 081-431-0351. Open Mon-Sat noon-7pm. BTS Ploen Chit.


Photo Gallery

Good for: Pro-level camera seekers.
What: This shop stocks only high-quality German models like Leica, Hasselblad and Rolleiflex, as well as some top-tier Japanese brands like Mamiya, Nikon and Olympus. They also offer camera repairs, plus a great range of films and accessories including Kodak Portra 400, Fujicolor C200, Billingham Hadley Pro camera bags and Leica Summilux 1.4/80 mm lenses. The owner, Boonlue, is really knowledgeable and happy to dish out advice.
Prices: Ask in-store.
4/F, Thaniya Plaza, Silom Rd., 081-459-3607. Open Mon-Sat 11am-6pm. BTS Sala Daeng.


Chai Photo Supply

Good for: Everything film-camera related.
What: Located about a two-minute walk from MRT Wat Mangkon, Chai Photo Supply has been open for the last 26 years and sells everything related to film photography. Cameras, accessories, films, light meters, batteries, cleaning kits—you name it. The old-school shop may look overwhelming to rookies, but don't be afraid to ask for help or advice from the ah-gong and ah-ma shop owners. Even if you're new to film photography, the elderly couple is more than happy to give you tips on what cameras are good for beginners, as well as the type of film you should use.
Prices: B1,840 for Goko Macromax FR-350; B4,600 for Nikon AF220; B4,800 for Goko Macromax Mac-10 Z3000.
461 Charoenkrung Rd., 02-222-3185. Open Mon-Sat 9am-6pm. MRT Wat Mangkon.

Credit: www.facebook.com/gibgaefilm/

Good for: All things compact camera.
What: So you've watched Ter Nawapol's indie-romance "Happy Old Year" (How To Ting) and now you want to get your hands on the Olympus Mju-1 Panorama, just like the one Jean uses. But thanks to the movie's cult following, this compact snapper has become the "must-have" film camera this year—meaning it's pretty much sold out everywhere. Except for here. This camera shop stocks a ton of high-quality compact film cameras, whether it's the Contax T3, the Yashica J-mini or, of course, the Olympus Mju-1 and 2. They also offer various Rollei 35 models including the Ss and SEs, as well as a wide range of film from Kodak Pro Image 100 (B230) to Dubblefilm Jelly (B450).
Prices: B4,900 for Kyocera P Mini 2; B13,500 for Rollei 35 SE; B60,000 for Leica M4-2 Canada Black Chrome.
2/F, Blue Dye Cafe, Sukhumvit Soi 36, 093-539-1426. Open daily 1-6:30pm. BTS Thong Lo.

Nuad Glong Film (FilmCamera101)

Good for: Classic models.
What: If you're a frequent visitor of film markets like Around The Film and Kraft Kraft Market at Lido Connect, then you're probably familiar with Nuad Glong Film—or FilmCamera101, according to their Instagram handle. Although these guys stock an impressive selection of top-tier classic models like the Konica Eye 3 and the Minolta AL-E, as well as some compact choices like the Contax T2, the Olympus Mju and the Canon AF 35 ML, the real highlight is the Nikons. Take your pick from the Nikon 35Ti and Nikon FM3A to the all-black Nikon FM2N8 and Nikon FE2. All cameras come with a warranty, and they also deliver.
Prices: B4,500 for Konica Eye 3; B8,000 for Olympus XA; B22,000 for Konica Hexar AF; B27,000 for Nikon FM2N8.
Charoen Rat Rd., 089-128-7796. Open Tue-Wed 1-7:30pm; Thu 11am-7:30pm; Fri 1-7:30pm; Sat-Sun 11am-8pm. BTS Surasak.

Mango Film

Good for: Secondhand cameras.
What: This online store offers some of the best-looking secondhand models in Bangkok. The owner does a superb job of cleaning and restoring the cameras to tip-top shape, plus most of the models come equipped with cases, leather straps and lenses—all in mint condition. Expect lots of Yashica Electro 35, Nikon F and Konica II B-m. Based on the glittering reviews on the shop's Facebook page, you can expect excellent service, knowledgeable advice and fast delivery. The shop also offers custom and repair services.
Prices: B3,900 for Konica II B-m; B5,300 for Nikomat FT2 (black); B7,300 for Yashica Electro 35; B7,900-9,000 for Nikon F.
Order at www.fb.com/Mangophotographer
---
Best for film processing

Good for: Rush-job processing.
What: This Lat Phrao institution is a favorite among film junkies for its super affordable prices. Developing and scanning for a 135 color negative film will take only one or two hours, and it costs a dirt-cheap B100­—an absolute bargain! You can even mail these guys your film, which usually takes no more than a week to process. This shop is also one of the cheapest places to buy film. While you're there, stock up on Kodak ColorPlus 200 (B135), Kodak Gold 200 (B175), Kodak Ultramax 400 (B175) and Fuji C 200 (B180).
Film formats: Color and black-and-white negatives, slides and motion picture films in 135 and 120.
Prices: B100 for dev+scan 135 color negative film; B140 for dev+scan 135 black-and-white.
1152/3 Phahon Yothin Rd. (opposite Central Lat Phrao), 02-511-3498. Open daily 8am-midnight. BTS Ha Yaek Lat Phrao.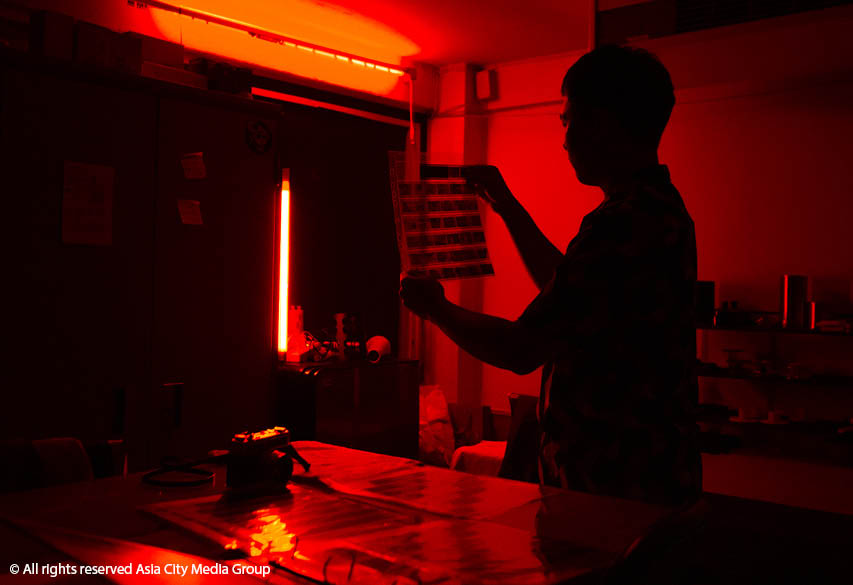 Good for: An all-in-one experience.
What: Nestled inside a small alley in the Plubplachai neighborhood, Akirart transforms a once-famous production house into an uber-hip, retro office-themed studio and cafe. Step inside and it's like you're in an '80s time capsule—from old working desks decked out with vintage Mac computers to steel filing cabinets you probably last saw when you were 10. Besides developing and scanning services for color and black-and-white film, Akirart also offers a rental photo studio on the second floor (B2,500/four hours, B4,500/eight hours), while the third floor features a slow bar serving drinks like passion fruit espressos (B120) and apple crumble lattes (B140).
Film formats: Color and black-and-white negatives in 135 and 120.
Prices: B150 for dev+scan 135 color negative film; B150 for developing 135 black-and-white.
Anuson Soi 1, 084-106-6333. Open Mon-Tue 10am-7pm; Thu-Sun 10am-7pm. MRT Wat Mangkon.

Credit: www.facebook.com/xanap.filmlab/

Good for: Tips, advice and friendly service.
What: After closing up shop in Sam Yan, Xanap has found a new home at Lido Connect. These guys offer film developing and scanning services for both color and black-and-white film. They also sell cameras, film rolls and other photography-related gadgets. Black-and-white negative film is usually developed in seven-to-10 days, while color negative film is developed in one or two hours. However, since it's a hub for university students, the queue can take up to four-to-six days to develop color film and up to a week for black-and-white. Customers are also welcome to drop by and talk to the owners for advice about film photography.
Film formats: Color and black-and-white negatives in 135 and 120.
Prices: B160 for dev+scan 135 color negative film; B260 for black-and-white; B100 for scan only.
2/F, Lido Connect, Rama 1 Rd., 02-001-4636. Open Mon-Tue noon-8pm; Fri-Sun noon-8pm. BTS Siam.


Good for: Quality processing and scanning.
What: Located in Chinatown's Soi Nana, this quaint film lab takes the analog printing process very seriously. Owner Tawatchai "Tae" Pattanaporn manually processes film by hand alongside machines—meaning, he can pretty much customize your pictures, from processing motion picture films such as Cinestill 800T to experimenting with the density of light and shadows with Kodak Ektachrome 100. Apart from negative film processing, Patani Studio also offers color and black-and-white handprints on various types of paper including fiber base paper (from B200 for glossy/matte black-and-white) and resin coated paper (from B150 for glossy/pearl black-and-white), as well as Fuji crystal paper (from B300 for glossy color).
Film formats: Color and black-and-white negatives, slides and motion picture films in 135, 120 and 4x5.
Prices: B150 for developing 135 color negative film; B250 for developing 135 slide films.
59, Soi Nana, Charoenkrung Rd., 092-926-6216. Open Wed-Sun 10am-6pm. MRT Hua Lamphong.

Credit: www.facebook.com/HusbandandWifeShop/

Good for: The truly devoted.
What: Run by Artyt "Sun" Lerdrakmongkol—one of Thailand's most renowned street photographers—and his wife, this shop is pretty much an oasis for film photography enthusiasts. Located in a small compound in Chaengwattana that comprises a cafe (Rynn Kaffe Specialty Coffee) and a contemporary art school (Brick By Brick), Husband and Wife offers developing and scanning services for both color and black-and-white 135 negative film. The shop also stocks a ton of camera equipment, film, accessories, imported photography books and zines, as well as development equipment, chemicals and other darkroom materials for those who want to develop film at home. Check out their online store, (husbandandwifeshop.com) if you don't want to trek all the way out of town.
Film formats: Color and black-and-white negatives in 135 and 120.
Prices: B180 for dev+scan 135 color negative film; B250 for black-and-white.
59/859 Moo Baan Mueng Thong Thani Krongkan 1 Soi 3, 020-116-126. Open Tue-Sun 11am-8pm.

IQ Lab

Good for: Processing black-and-white film and printing.
What: This professional lab only develops black-and-white film and offers one of the best high-quality printing services in Bangkok. They can produce prints in a wide range of formats and sizes, from desktop calendars and face-mounted acrylic prints to an A3-size photobook and matte surface lamination. If you're looking for the place to develop your special roll of film, IQ Lab is it. Apart from specializing in C-41 negative film processing, they also offer a full range of Leica products at their Silom branch.
Film formats: 135, 120, 220, 4x5, 8x10.
Prices: B490 for dev+scan 135 film; B740 for dev+scan 220 film.
35 ITF-Silom Palace Building, 02-266-4080. Open Mon-Fri 8:30am-6pm; Sat 8:30am-noon. BTS Chong Nonsi.
---
Expert talk
A film photographer with a CV spanning many international street photography festivals, Artyt "Sun" Lerdrakmongkol is the owner of film photography shop and bookstore Husband and Wife and founder of street photography website Siam Street Nerds.

What makes film photography so fun?
When it comes to convenience, digital cameras easily take the cake. What makes analog so special is it allows us to be in the moment instead of instantly checking the images on the monitor. Having to wait to see the images is also a big part of the charm.
Which film cameras do you recommend for beginners?
For something that's easy and fuss-free, compact ones like the Olympus Mju or the Pentax Espio are great, as they're automatic, point-and-shoot cameras.
How long do you think this trend will last?
It has been going off for about six years now. Marketers say that the revival is due to the younger generation seeing analog photography as an exciting challenge. I think the market will grow another one or two years and then start to stabilize. But I believe film photography will have a lasting impact.
---
The film photography starter pack
Camera
Olympus Trip 35
Budget-friendly and very easy to use.

Film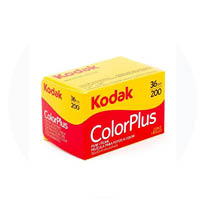 Kodak ColorPlus 200 or Kodak Gold 200
Cheap color films that give great results.

Location, location, location

The Old Town
Head to Charoenkrung, Phra Athit Road or The Giant Swing for beautiful cultural landmarks, riverside bars and quaint cafes to shoot.
---
The BK Gallery
Kentmere Pan 400 with Yashica Electro 35
By @thanawat.photography
Kodak Ultramax 400 with Olympus Trip 35
By @hippie.trip35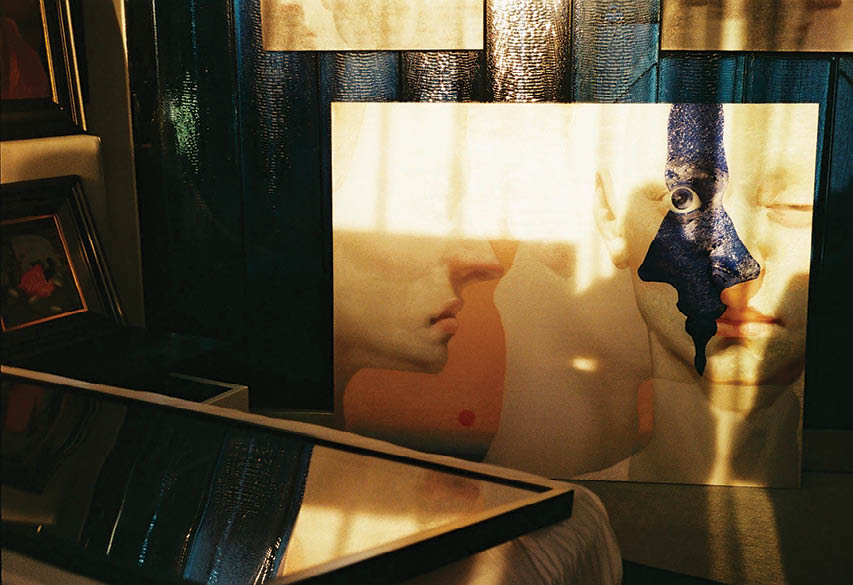 Film Never Die with Canon Autoboy Tele
By @maywiwi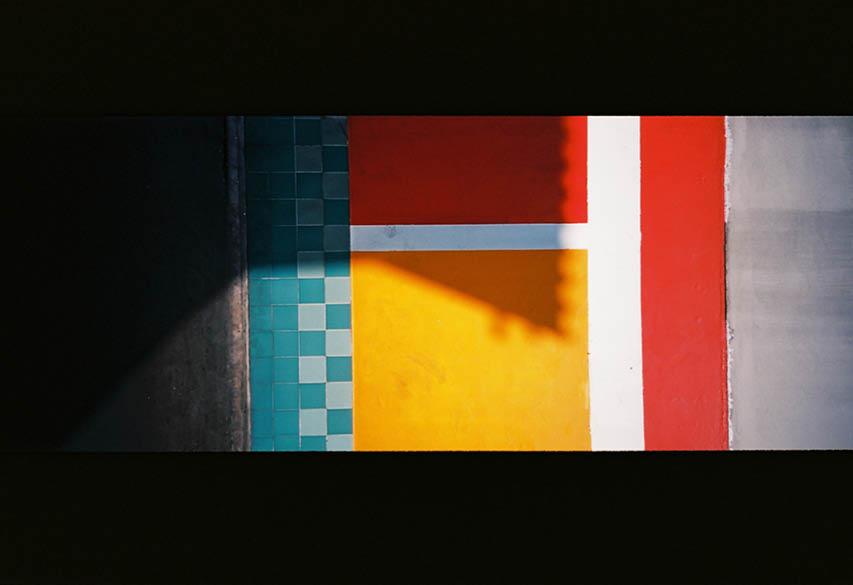 Kodak Ektar 100 with Minolta P's
By Poonsawat Suttama
Agfa Vista 200 with Nikon AF600
By Assaya Dejkong