Whether it's an oozing grilled cheese, a meaty pulled pork sub or a decadent BLT, the humble sandwich has potential to make an incredible meal. Now, a meaty new craze has hit Bangkok and it's elevating the simple lunch staple to new heights.
Say hello to the "wagyu sando," an extravagant marriage of high and low hailing from the very best steakhouses in Japan. Over the past year, the wagyu sando has swept the States, too, where bank accounts have been choked by price tags as high as US$180 (roughly B5,700) at New York's dedicated restaurant for everything-wagyu, Don Wagyu. Outrageous? Yes, but people are buying it. Here's why.
Imagine a juicy hunk of well-marbled beef that's been breaded and fried till its surface has turned crisp and golden. Now, place that inside two crustless slices of fluffy white bread for a bite that combines soft, crunchy and succulent all in one. The pampering care that goes into raising the cattle is instrumental in creating an intense marbling effect that makes for amazingly soft and juicy meat. A schmear of sauce adds the final flourish to this indulgent treat.
Though it's no newcomer to foodie Instagram feeds, the trend has just recently started to scratch Bangkok's gastronomy surface, with a few restaurants featuring the sandwich on their menus, each offering a twist of their own.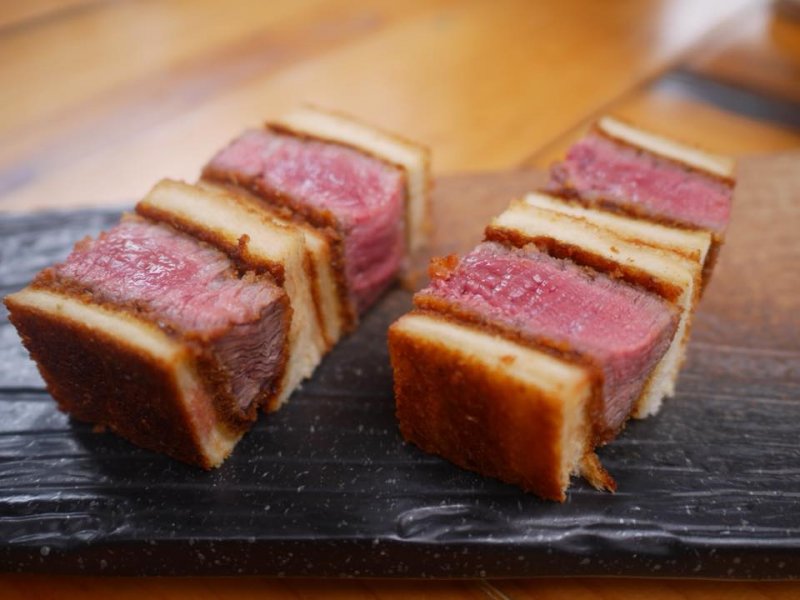 First on the scene was butcher-slash-restaurant KRBB (Habito, Sukhumvit Soi 77 [On Nut], 086-386-4915), whose Japanophile owner Ittichai "Big" Benjathanasombat decided to add the wagyu sando to his menu after having spent B6,000 on one in Tokyo. Here, the prices are more palatable and customers can choose from a variety of meats from across Thailand and Japan. Big recommends the Thai Himawari Gyu Striploin (B320/100g), which has a similar fragrance to Japanese wagyu but a texture more akin to Angus. The meat is placed between homemade bread, with a secret sauce—all he would tell us is that it's not tomato-based.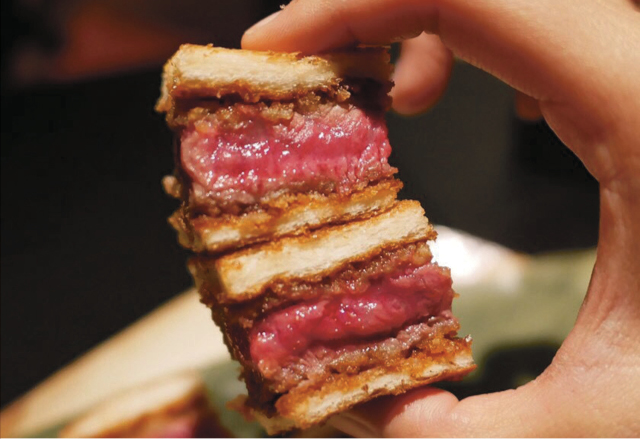 The folks at Bambino (1045/4 Soi Nai Loet, 097-028-1493) watched as the craze took the social media world by storm and were immediately drawn to it. On seeing the wagyu sando for the first time (made with beef from the meat master Kentaro Nakahara of Tokyo's next-level yakiniku restaurant Sumibiyakiniku Nakahara), Bambino's co-owner Bye Atcha Wongchindawest tells us, "I was so obsessed that I took a flight to Japan to eat it!"
Now they, too, are bringing the craze to Bangkok. The best part? They want to ensure that it's (relatively) affordable, which means their prices start at B550. Here, they make use of an Australian wagyu striploin with a perfect balance of meat and fat. "It's so soft, you can easily bite into it with your teeth," Bye tells us. The meat gets a coat of panko bread crumbs before taking a short journey into a sizzling tub of hot oil. As for the bread, they to go for a milk-butter variety with a light and airy texture, toasted until crisp and paired with a thick spread of house-made tomato jam. In the near future, they're planning on adding premium Iberican pork sandos to the menu too, to accommodate those who don't eat beef.
Over at Sumi Tei Yakiniku (323/3 Thonglor Soi 13, 091-770-7747), where they're known for melt-in-your-mouth A5-grade wagyu, it took them almost six months to perfect their own version of the wagyu sando. Using a beautifully marbled sirloin cut, rather than the meatier tenderloin favored by many other places, they claim their wagyu sando has a more tender texture and buttery taste. The Japanese milk bread they use is neither too thick nor too thin, lightly toasted on the outside while remaining soft and pillowy within, where it holds an exacting spread of their special sauce that tastes a little more tangy with saltier note than sweet tonkatsu sauce. The sandwich is priced at B2,180, though you'll need to head there quick as it's only part of a temporary menu that is soon to change.
Yes, it might make a pricy lunch, but thanks to these restaurants we no longer have to take a flight to Japan to sample the meaty craze. Whether the trend will catch on is yet to be determined, but it's certainly worth a payday splurge—even if that means eating street food for the rest of the month.