Since 2017, 100 Mahaseth has set the standard for adventurous, nose-to-tail Isaan food. It's menu of courage-testing dishes, like the beef entrail in spicy soup (B240), are often so delicious that you feel silly for doubting a bowl of cow's guts would taste so good. You'll walk away from here feeling that the fuss over premium meats in Bangkok is very overrated. The venue ticks so many different boxes (delicious food, unpretentious atmosphere, daring concept, sustainable focus) that you can't put it in one.
100 Mahaset Rd., 02-235-0023. Open Mon-Fri 5-11pm; Sat-Sun 11am-11pm
Exclusively for Citi credit card members:
Get a complimentary The Northerner Hot Dog valued THB 190 when spending THB 1,000 or more /sales slip or get a complimentary Bavette with Braised Seablite in Coconut Cream valued THB 390 when spending THB 1,000 or more /sales slip (limit 1 dish /card /table /sales slip)
1 Mar '20 – 28 Feb '21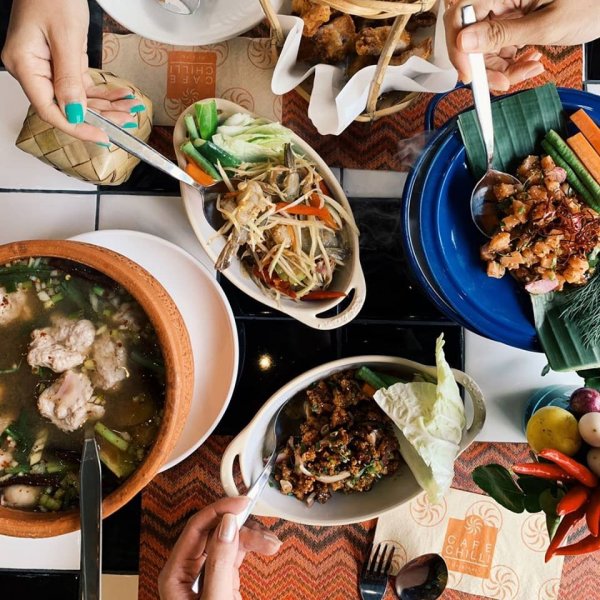 This longstanding Isaan chain doesn't pull any flavor punches for the hi-so crowd. The grilled chicken (B300) is set alight at the table with a shot of rum, sending wisps of smoke to awaken your appetite. Old favorites come with premium substitutes like the laab with New Zealand mussels (B250), and spicy Australian beef salad (B360). The drink menu includes some inventive stuff as well, like the Bang-Fai cocktail (Mekhong rum, Cointreau, Thai anchovy, egg whites, basil, mint, and pepper, B400).
G/F, IconSiam, Charoennakorn Soi 5, 02-030-1848. Open daily 10am-10pm. Other branch: EmQuartier
Exclusively for Citi credit card members:
Get 10% discount on food only 1 Aug '19 – 31 Jul '20
Aside from the long list of Isaan classics, Lay Lao also specializes in fresh seafood dishes from around Hua Hin. Step inside the lofty dining room with concrete floors, natural treated wood, and quaint, curvy dining chairs, to enjoy the likes of tum tard (somtam served on tray with boiled eggs, fermented sausages, rice vermicelli, crispy pork, and vegetables, B195), and yum pu talay khai (B545)—a spicy Thai salad with black crab and crab roe.
65-67 Paholyothin Soi 7, 02-023-4521. Open daily 10am-9pm. BTS Ari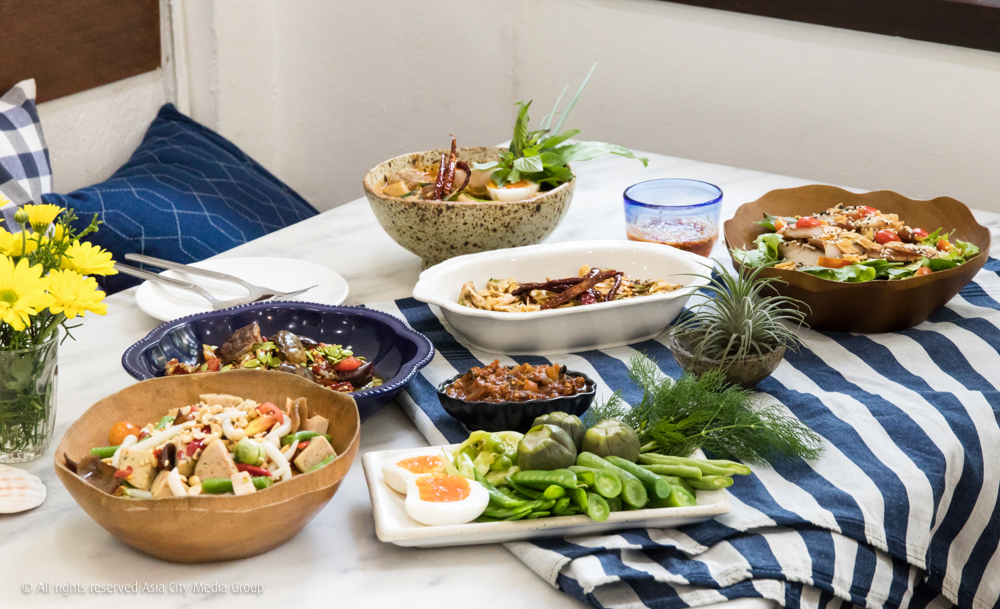 Phed Phed is one of the most buzzing Isaan restaurants in town for its well-priced and authentic food that stands at odds with the chic decor of cool blue tones, marble tabletops and plantlife. There is more than 20 varieties of somtam here—all with an eight-chili-pepper heat level as the baseline—including the local favorites like somtam pu plara (B60) topped with plentiful kratin beans for a burst of freshness to balance out the fermented fish.
Phahon Yothin Soi 8, 097-918-1175. Open daily 10:30am-7pm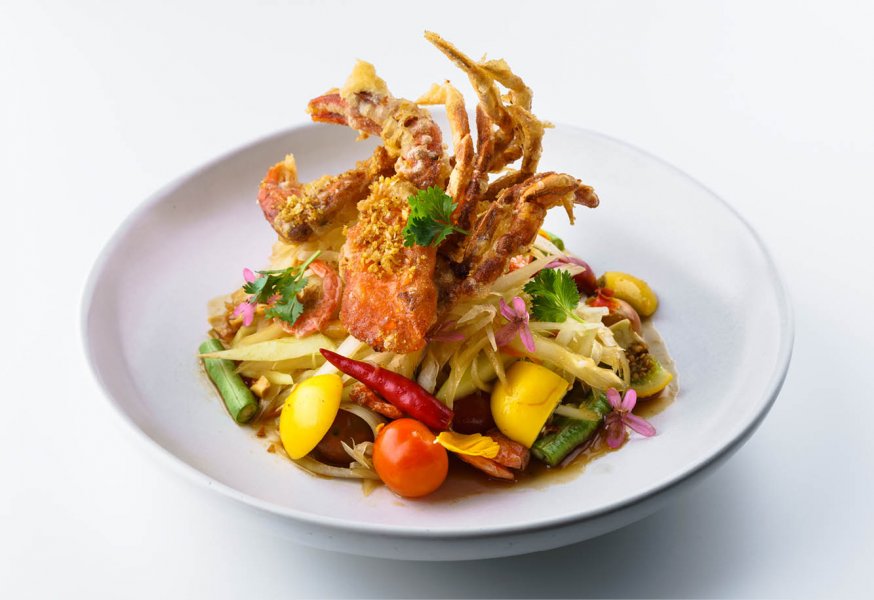 This bright, elegant space presents the East-meets-West approach by offering five variations of somtam staples (B140-B270) alongside a number of wines and beers to cool off the heat. Try the classic Thai-style (crispy shrimp, long beans and tomatoes, B250) or the creative pu-nim plara (B280)—green papaya salad with Thai anchovies and lightly fried soft shell crabs. Other options include the homemade beetroot gnocchi with beef ragu (B570) and pomelo salad with grilled prawns (B290).
88/333 Sukhumvit Soi 55, 020-909-052. Open daily 4:45am-10pm. BTS Thong Lo
You'll find both branches (Sukhumvit and CentralWorld) of this Isaan bistro buzzing with office workers day and night. We like the zesty tom saab (Northeastern herbal soup, B145) with crunchy baby pork ribs, and larb moo (spicy Northeastern salad with ground pork, B110). Don't forget to order the taro ice cream (B99), served with corn and roasted peanuts, to cool off the heat. Bonus points for the attentive service staff.
6/F CentralWorld, 02-101-8987. Open 10:30am-9:30pm. BTS Chidlom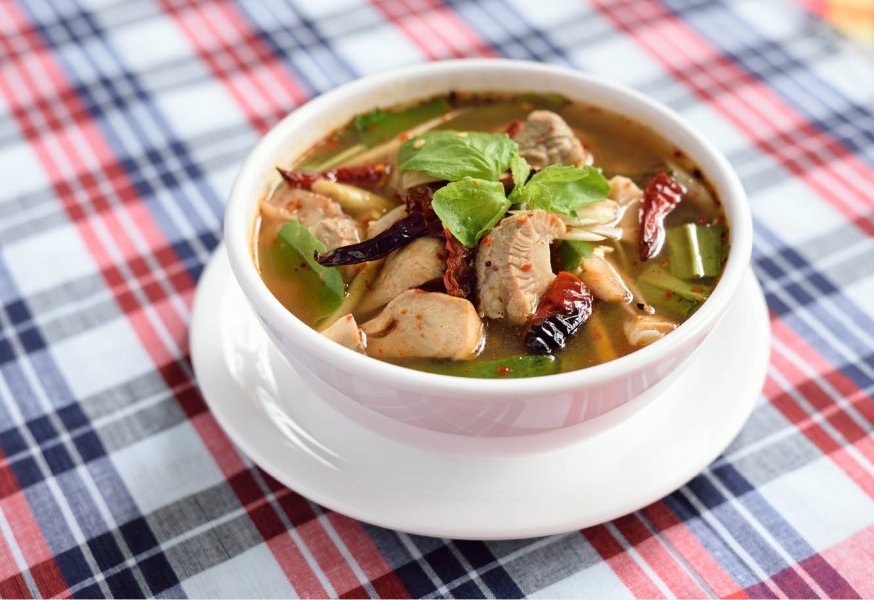 Here, together with chef Kornthanut Thongnum, Khon Kaen-native restaurateur Thanaruek Laoraowirodge has brought his Isaan roots to the capital with dishes that steer our taste buds back towards Northern Isaan. For somtam, choose between the tam sua Sakon Nakhon (B80), and tam pla dook foo (B90)—somtam topped with deep fried minced catfish. On the meaty end, the deep-fried chicken (B90) is still served with a lip-smacking jaew sauce. A basket of steamy sticky rice goes for B20.
Thonglor Soi 17, 02-046-4904. Open daily 11am-10:30pm. BTS Thong Lo
Exclusively for Citi credit card members:
Get 10% discount on food only (Thonglor branch only) 1 Mar – 31 Dec '20
This faux-retro, air-con Isaan joint pairs vibrant decor like cutesy tablecloths and hanging wicker lamps with extensive menu combining many Isaan-style street stalls into one: grilled stuff, fried stuff, somtam, larb, and yum that come in very shareable portions. The somtam Thai (B85) is solid—crunchy, spicy and not too sweet—and the somtam Lao Lao (B109) is flavorful and comes topped with small prawns, and kratin beans.
B/F Silom Complex, 02-231-3173. Open 10am-10pm. BTS Sala Daeng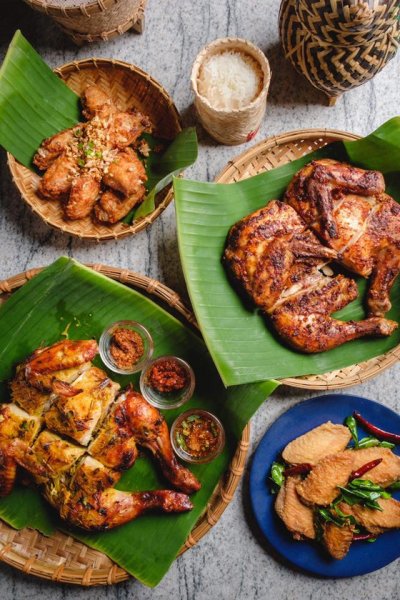 Flying Chicken
Isaan food with no-compromise flavors. You can start by trying the whole roasted chicken (BTK), which comes with deliciously crispy skin, chilli dip, and nam jim jaew (sweet and spicy dipping sauce). To round out the table, go with the fiery som tam kor tor mor (a spicy papaya salad with fermented crabs and acacia beans, BTK) or the hearty gaeng om (Northern Thai herbal soup, BTK) with meat options like baby pork ribs (our favorite), chicken, and beef shank.
1/F, CentralFestival Eastville, 02-553-6187. Open daily 11am-9pm
Exclusively for Citi credit card members:
Get 10% discount
1 Feb 20 – 31 Jul 21
With its colorful decor that references playful Thai truck slogans, wickerwork and garland bands, the food at Tum Thonglor is mouth-wateringly promising. Try the eponymous tum lai bua (B140), a spicy lotus stem salad that comes with two choices of dressings: the sweet and spicy, and one made with fermented fish. For desserts, opt for the super-creamy coconut ice cream (B145) served with a huge set of toppings.
Velaa Sindhorn Village Langsuan, 062-446-2422. Open daily 9am-9pm. BTS Chit Lom
Exclusively for Citi credit card members:
Get a complimentary Lod Chong valued THB 95 when spending 1,000 or more /sales slip (limit 1 serve / card /table /sales slip)
1 Mar '20 – 28 Feb '21
Sponsored by: