BK Brunch Club—BK Magazine's new dining series devoted to next-level weekend feasts—is open for booking! For five consecutive weekends starting Jun 15, we partner with over 20 of the city's lightest, brightest, most daytime-friendly dining spots to roll out sensational sharing menus of the finest produce.
We're talking at least four courses at every restaurant, most or all of them served family-style just for your table, with menus starting from just B1,000 per person.
Below we've listed restaurants taking part who fit under the broad banner of "Mediterranean"—expect fresh flavorful fare, and plenty of it!
---
---

The place: With its terracotta-tiled garden and spacious, Mediterranean-referencing dining room, this is far more than your average tapas bar. The menu and food covers all sorts of paella and different rice dishes with an authentic Spanish taste as well as different tapas and a fine selection of well known Spanish wines. Most of the ingredients used here come from Spain, which helps to keep the flavors authentic.
Price: B1,000++/Person
Date: 15-16, 22-23, 29-30 Jun / 6 Jul

The place: This next-gen rebirth of a family-run Greek restaurant from Sydney conjures an ouzo-fueled party atmosphere. A sharing feast of vibrant classics like eight-hour lamb shoulder, chicken souvlaki and char-grilled Mediterranean octopus will be followed by a full blown daytime party, inspired by summer on the Greek islands. In a hall made for big, boisterous gatherings, guests are encouraged to hurl crockery, as is Greek tradition, to a soundtrack of "Zorba's Dance."
Price: B1,250++ / Person
Date: 15-16, 22-23, 29-30 Jun / 6 Jul

The place: The backyard at Revolucion Cocktail and Clandestino Cantina has become Sathorn's newest tropical escape. Blue Parrot takes a more family-oriented route, opening from 11:30am six days a week to offer a brunch-y vibe amid trees and faux grass. On top of a bottle-shaped swimming pool and petanque strip, there's a dedicated play area to keep the little ones occupied.
Price: B1,000++/Person for All Options
Date: 29,30 Jun / 6-7, 13-14 Jul

The place: Find your way to Cagette Canteen and Deli for a bounty of fresh seafood, stinky cheeses, cold cuts and simple French comfort dishes. "Cagette" is French for crate, the wooden sort that evokes the bountiful fresh markets of yester-century France, and the decor is thusly themed—farmhouse transmuted by the industrial revolution. As well as being one of the 'hood's top French restaurants, Cagette also doubles as a grab-and-go deli.
Price: B1,490++/Person
Date: 15-16, 22-23, 29-30 Jun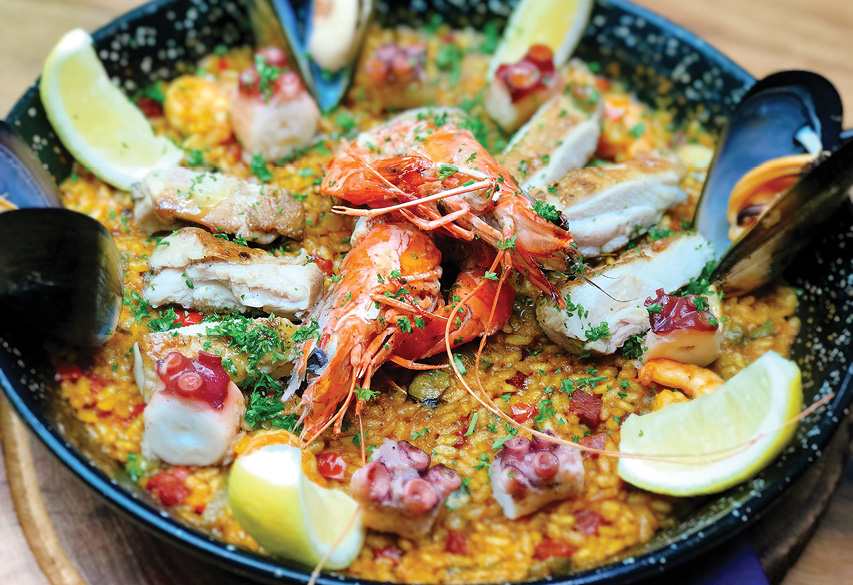 The Place: Cocotte's sister restaurant, Pesca Mar & Terra Bistro, ditches the farmhouse for the Mediterranean seaside and serves up imported seafood alongside hefty slabs of meat within a sprawling blue and white house. Inside, the open kitchen bustles with all the action of a fresh seafood market. A few steps away you'll find a market-esque deli counter and a small wine room.
Price: B1290++/Person / B1490++/Person
Date: 15-16, 22-23, 29-30 Jun / 6 Jul

The place: Northern Spain's Basque cuisine of coal-grilled meats takes the center stage at Taps by Nan Charcoal Grill. In the casual, soft-industrial space, complete with vast windows and some green visions, owner-chef Vimvadee Piyavanich and her team cook up imported meat and local seafood on a charcoal-fired Josper grill. The results give a beautiful smoky, char-grilled aroma to dishes like the Galician-style octopus served with confit potato and the Iberico pork presa.
Price: B1,000++/Person / B1,250++/Person
Date: 15-16, 22-23, 29-30 Jun / 6 Jul