Barbecue, sushi, burgers—all the good stuff.

The Dish: Signature Mussels
The Details: D'ark is playing with a bit of classic culinary controversy here: did the combination of mussels and French fries start in Belgium or France? Here, they're starting a new controversy by letting you choose between typical French moules mariniere (the most common way to prepare mussels and likely what you've had in a restaurant already) cooked in a creamy white wine sauce or Spanish-style "mejillones" (as Spaniards call mussels) with tomato sauce and diced Chorizo.
The Price: B490 net (includes one dish and 33cl. Of Estrella Damm)
GF, Emquartier, The Helix Quartier, 651 Sukhumvit Rd., 02-003-6013. Open daily Sun-Thu 9am-10pm (Public Holidays, Fri-Sat 9am-11pm)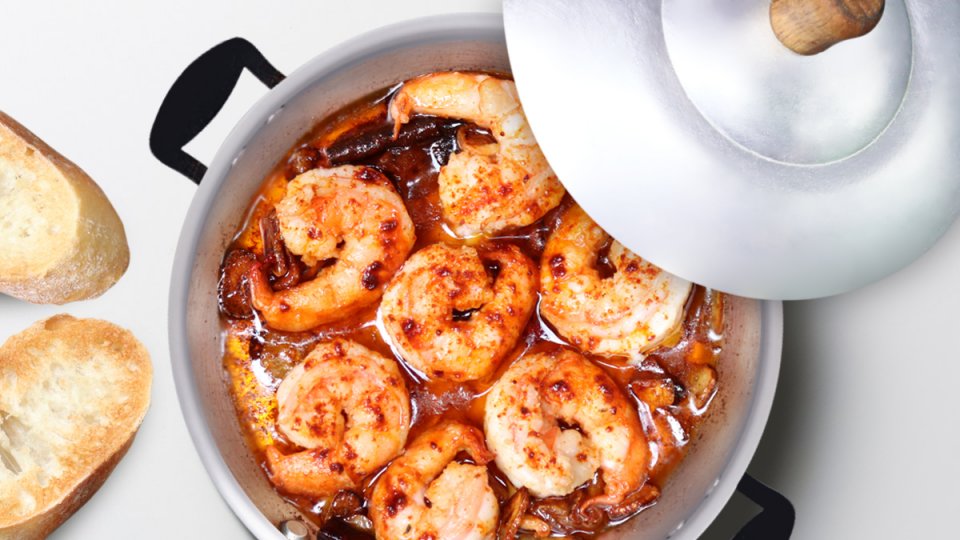 The Dish: Gambes a L'Allet
The Details: One of the more mouth-watering traditional tapas dishes out there. This is a classic gambes, where juicy shrimp gets served in a sizzling frying pan sprinkled in oil and crackling garlic. While you might have had this dish with wine in the past (a pairing that goes very well if you ask us) it's also just as good with a cool glass of beer.
The Price: B350 net (includes one dish and 33cl. of Estrella Damm)
Sukhumvit Soi 23, 02-661-7410. Open Mon–Fri 11am–11pm
The Dish: Mr. Steve Burger
The Details: bite into a juicy and tender wagyu beef or lamb patty nestled in a brioche bun with bacon, cheese, grilled onions, tomatoes, lettuce and Daniel Thaiger's famous Thaiger sauce. As far as pairings go, burgers and beer are basically the can't-mess-up mainstay of the whole scene. Here, two famous players join forces to add to the Estrella Damm event, Daniel Thaiger and The Beer Cap.
The Price: B600 net (includes one dish and 50cl. of Estrella Damm)
Market & Village Floor, The Commons, Thonglor Soi 17, 02-185-2517. Open daily 11 am-1am


The Dish: Isan Cheese Steak Burger
The Details: This is a fusion from more than two angles. The burger starts with a mixture of gourmet Thai Larb and premium US beef, which has a richer, deeper flavor than the traditional beef. It's seasoned with shallots, basil, coriander, rocket and toasted sticky rice to give it some crunchy texture and an assortment of fresh herbs plus cheddar-mozzarella cheese.
The Price: B550++ (includes one dish and 48cl. of Estrella Damm)
23 Sukhumvit Soi 61, 02-714-1998. Open Tue-Sun 10am-midnight
The Dish: Barbecue Pork Ribs
The Details: Traditional slow-cooked pork ribs lathered in the venue's homemade barbecue sauce, which they say is from entirely unprocessed ingredients. The result is extra rich, thick, smoky-sweet undertones and tangy barbecue flavors that would do the Southern U.S. proud. Obviously, this is another can't miss beer pairing—who eats barbecue without beer?
The Price: B459++ (includes one dish and 33cl. of Estrella Damm)
56-56/1 Sukhumvit Soi 63, 02-714-3924. Open daily 11:30am–midnight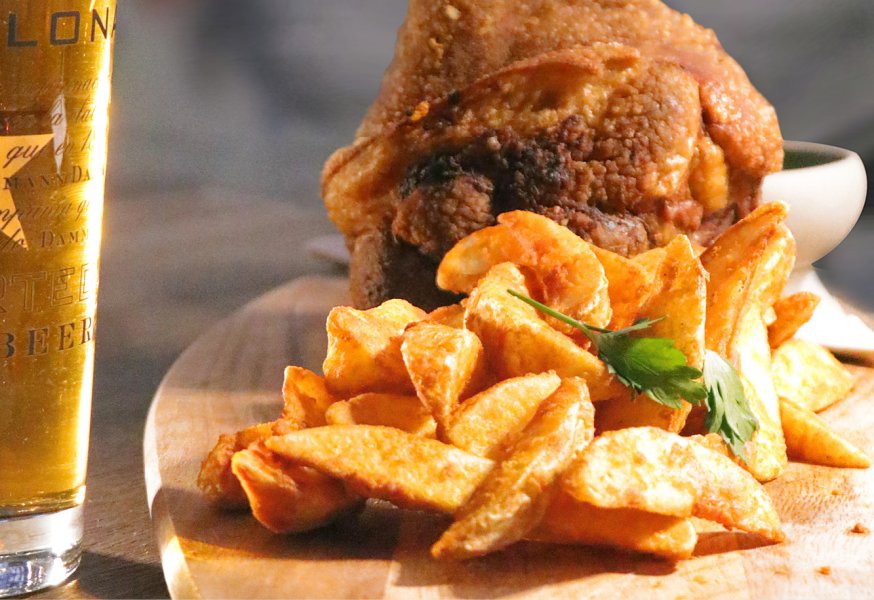 The Fox (Thonglor)
The Dish: Double Fried Pork Shank
The Details: Flavorful, tender and juicy pork knuckle wrapped in a salty and crispy skin with fried potatoes topped with paprika and ground spices. The dish undergoes several hours of boiling and double-frying before being served. Surprisingly, the chef only relies on salt and pepper to achieve the skin's salty taste, but mastering the art of simmering the pork knuckles until the meat is perfect is the hardest part, according to him. The finishing touch is when the second round of deep frying takes place to make the skin even crispier.
The Price: B700 (includes one dish and 50cl. of Estrella Damm)
209 Sukhumvit Soi 55, 083-287-9499. Open Tue-Sun 4pm-Midnight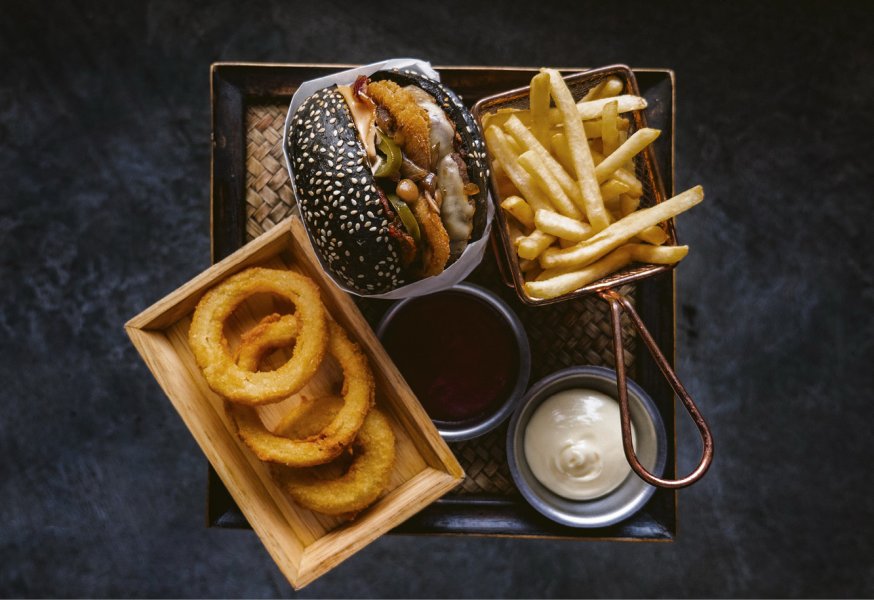 The Dish: Game Over Black Burger
The Details: To keep things a bit funky, Game Over serves these burgers with black charcoal brioche buns. Inside you'll find tender ground beef fillet, cheddar cheese, and flavourful housemade Game Over burger sauce for a pretty moreish combination. The bun is garnished with crisp sesame seeds and the sweet-and-spicy mustard that has a slightly smoky aftertaste, which suits the charcoal theme perfectly. Of course, a great burger deserves great fries. Burgers are accompanied by crisp, golden French fries and onion rings.
The Price: B499 net (includes one dish and 25cl. of Estrella Damm)
Liberty Plaza, 1000/39 Sukhumvit Soi 55 (Thonglor), 099-449-6266. Open Tue-Fri 5.30pm-2am, Sat-Sun 11:30am-2am


In the Mood for Love One
The Dish: Guilty but Happy
The Details: Described by the chef as "haute-gourmet fusion rolls" the promo offering at In the Mood for Love is a combination of iconic Japanese food—fried shrimp tempura, stuffed with tons of delicious fillings, cream cheese—and Ebiko, a tropical flying fish roe. It gets scallions sprinkled on top, wasabi mayo and teriyaki sauce to add just the right amount of creaminess and spiciness.
The Price: B600++ (includes one dish plus 48cl. of Estrella Damm)
69 Ekamai Soi 1, 02-392-8477. Open Daily 11.30am-2pm and 5.30pm-midnight


Big Mama Tapas
The Dish: Cold Cuts & a Pint
The Details: Italian strategic plating or party platters that are great for groups. These come with salami, Italy's trademark cured sausage, made from fermented pork meat, and pepperoni—which is spicier than salami and obviously found on pizzas worldwide. This version is fine-grained, lightly smoked, bright red and relatively soft on the palate. It also comes with Parma ham (also known as prosciutto di Parma) that has a sweet, soft, buttery goodness from a long dry aging process.
The Price: B799++ (includes one platter and 33cl. of Estrella Damm)
GF, Serm-Mit Tower, Sukhumvit Soi 21, (Asoke), 02-661-6608. Open daily 11am-midnight


Crêpes & Co.
The Dish: Grilled Australian Black Angus Beef Crepes
The Details: This is a real eclectic mix of food and cultures. Buckwheat crepes with striploin steak, sauteed spinach and mushrooms and topped with a blue cheese sauce. Crêpes & Co. has represented crepes and authentic Mediterranean cuisine in Bangkok since 1996. What you didn't probably expect is that these go great with beer.
The Price: B699 net (includes one dish and 33cl. of Estrella Damm)
Langsuan Soi 1, Phloen Chit Rd., 02-015-3388. Open Mon-Sat 9am-11pm, Sun 8am-11pm
The Dish: Australian Black Angus Striploin (200g)
The Details: One of Bangkok's most famous steakhouses is dishing out striploin steaks as part of the beer pairing promotion. What makes these different from the others you will find around town? Le Boeuf's "Café de Paris sauce" and walnut salad. You also get unlimited French Fries with this one. It goes without saying that this combo is basically made for a cold beer.
The Price: B859 net (includes one dish and 33cl. of Estrella Damm)
60 Soi Langsuan, Phloen Chit Rd., 02-672-1230. Open Mon-Fri 11:30am-11pm, Sat-Sun 11am-11pm
For more information, visit www.tapmapbkk.com
---
This native ad was created by Asia City Studio. We use storytelling to help brands of all sizes influence and connect with people who matter. Visit us online: studio.asia-city.com

Sponsored by: