Since 1999, Bawarchi (basement floor, Intercontinental Hotel) is one of Bangkok's longest-running Indian fine-dining restaurants. One of the keys to that longevity is a thorough focus on authentic Indian flavors, Indian-inspired cocktails and a little customer personalization (they have a special counter to let you cook your own curry with the chef's assistance!).
It's hard to stay sharp for 20 years, especially in Bangkok's ever-changing, ever more fickle dining scene. We recently sat down with the restaurant's vice president Vinay Chawla, and executive chef Darviyan Singh Rana, to chat about how to stay on top of the restaurant game in Bangkok for two decades.
How long have you worked in the restaurant industry?
Chawla: From 1989, I stepped into the world of hospitality and restaurants, starting with Taj Hotels in India, and never looked back. I traveled for work across continents and even worked on a cruise ship but now, Bangkok is home.
DS Rana: I joined the Bawarchi crew in 2004 so I will celebrate my 16th year with Bawarchi in this new decade! Before that, I worked as a chef for Sheraton group in Delhi.
What has been your most important key(s) to success?
Chawla: I take competition as an opportunity to improve and with this, a chance to grow together as I build the team across our restaurants. The restaurant managers are also the biggest contributors to our success. Most of them have been through so much with us, and together we are a family. To me, our people are the key to our success for Bawarchi as a brand, and I believe training our managers and leaders to be professionals is a strategy that will always work.
What are some of the challenges involved in running a restaurant in Bangkok?
Chawla: The trend currently is shifting to healthy eating and Indian cuisine is supposedly very heavy. Correcting this perception is important. We want to bring the food to the healthier side without disrupting its authenticity, and do it with beautiful presentation.
What are some of the trends occuring in the industry and how do you embrace them?
Chawla: Bawarchi uses rice-bran oil in most dishes to try and keep things light, and we also use ghee (a type of Indian clarified butter) which has been scientifically proven to be much healthier than regular butter. Authenticity is also a key, people that go to our restaurant enjoy original flavors so we embrace the vibrancy, but at heart we stay true to authentic Indian cuisine. Also, modern equipment such as sous vide and fine gastronomy are becoming popular since people love to have food that comes with good presentation. Less is more will be the trend for the distant future.
DS Rana: It is a trend to open an Indian restaurant. You can see many Indian restaurants in Bangkok that come and go. Our restaurants still stay on top because we never let our guests down with our quality and authenticity. We stick to original recipes. Only once in a while, during special events, we will do a bit of innovation.
What are some key factors for running a successful restaurant here?
Chawla: Teamwork and dedication, consistent quality control, standard recipes, and marketing team who are always eager to research and develop to satisfy people's taste buds. Also, you need to balance between opinions of the guests and those of the chef, since both are always right, and this is the most challenging part.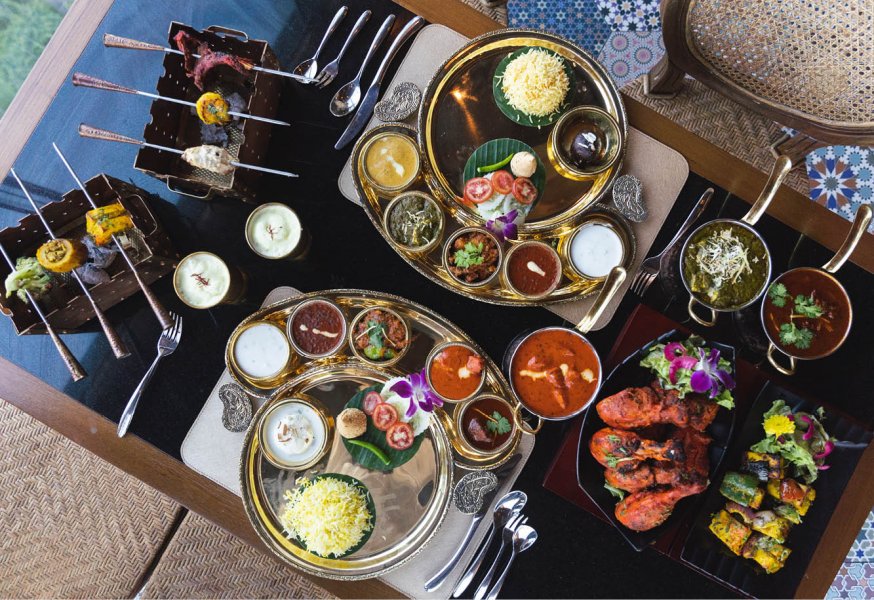 Your current growth strategy?
Chawla: We first opened in 1999 then kept expanding the chain since 2003. Now, we have six restaurants in Bangkok: four casual dining outlets and two fine dining venues. We also operate a restaurant inside Sky Kitchen in Impact Convention Hall. We also recently opened in Dubai, UAE, and another branch in Sukhumvit is coming up this February–so stay tuned!
What's one piece of advice you would give someone opening a restaurant for the first time?
Chawla: Follow your heart and make sure you are passionate about food or cooking—better yet, both. As long as there is passion, success will come. I believe there is still room for more Indian restaurants in Bangkok.
What is one thing most diners would not know?
Chawla: North Indian cuisine is what you find in most Indian restaurants. The Mughals brought it to India in the 14th century. And many dishes in this cuisine were modified by the British in later centuries. Moreover, the essence of Indian food comes from masala—the great combination of spices! That is why we have our own masala factory in Delhi and have them ship to Bangkok every month to enhance the flavor in every dish.
DS Rana: Indian food is spicy, but not just because of red chilli, which we only use for color of the curry. It is spicy due to many different spices, which makes the depth of flavor different from other kind of cuisines.
What's your favorite dish at the restaurant?
Chawla: Dal makhani (curry made of black lentils, red kidney beans, butter, and cream). I take long grain basmati rice with this special dal. As I eat it, and with every spoonful I am reminded how much effort and sweat have been put in by my chefs. To me, food is not just a recipe but a process, and this dish takes over 24 hours to make.
DS Rana: I love making jalebi (fried pretzel coated in syrup)—tricky and fun to make. I also love to eat hyderabadi lamb biryani (lamb and rice cooked with Indian spices gravy).
Visit https://bawarchiindian.com/ to learn more
Two fine-dining branches: Solitaire Hotel (02-081-3815), InterContinental Hotel (02-656-0102)
Sponsored by: