Every food connoisseur based in Bangkok (and beyond) has heard of R-Haan: the two-Michelin star fine-dining Thai establishment that utilizes local ingredients of the highest quality from across the country. Now, the two masterminds behind R-Haan, Piti Bhirombhakdi and celebrity chef Chumpol Jangprai, are adding another Thai dessert restaurant to their roster.
Located in Thonglor Soi 9, Waan Thai boasts the slogan "Thai cuisine, Thai dessert." While their dessert menu does hold its own (more on that in a minute), Waan Thai also has a savory a la carte menu that will make for a decadent multi-course meal out. The restaurant says that the idea is to pay homage to traditional Thai dishes and flavors via new and unique recipes.
As with R-Haan, Waan Thai's products are fresh and locally sourced as a means to highlight the best that various regions across Thailand have to offer. All the fragrant coconut used in the dishes, for example, was brought over from Banphaeo in the province of Samut Sakhon, while the black glutinous rice comes harvested from fields up in the north.
Naturally, the menu covers the classics: tom yum soup made with juicy river prawns, spicy pomelo salad with pork belly, fish cakes served with homemade sweet and sour sauce, and pad thai featuring freshly-grilled prawns. Other highlights on the menu include homemade pork sausage and steamed river fish served with betel leaves, coriander, and fresh dill, a rich Thai gravy stew made with pork and duck egg, Thai rice noodles mixed with vegetables, shrimp, and duck egg in a sweet and sour coconut milk curry, and the spicy kulao tak bai dried salted fish rice served with a sous-vide duck egg yolk.
Speaking of curries, there are also some delicious options that will particularly appeal to meat lovers, such as the Wagyu silver shank beef massaman curry and the Wagyu green curry, both served with a side of roti, and the Thai A5 Wagyu beef stir-fried with holy basil and topped with a sous-vide duck egg yolk.
We mentioned earlier that Waan Thai's slogan is "Thai cuisine, Thai dessert" and here is where we get to the (literally) sweet part. Like the appetizers and entrees, each dessert recipe has been meticulously crafted so as to put a wholly unique spin on traditional Thai flavors and dishes.
For diners who don't really have a sweet tooth, though, the restaurant's high tea package has four "savory" dessert options so you can still enjoy the full Waan Thai experience without upping your sugar intake. On the savory platter, you'll have a spicy tom yum croquette, caviar kanom krok (a Thai coconut pancake), steamed rice dumplings, and a pad thai crepe. The sweet package includes a traditional Thai crispy pancake, the Waan Thai darathong, fresh coconut milk cake, and Chiang Mai chocolate with Thai tea filling.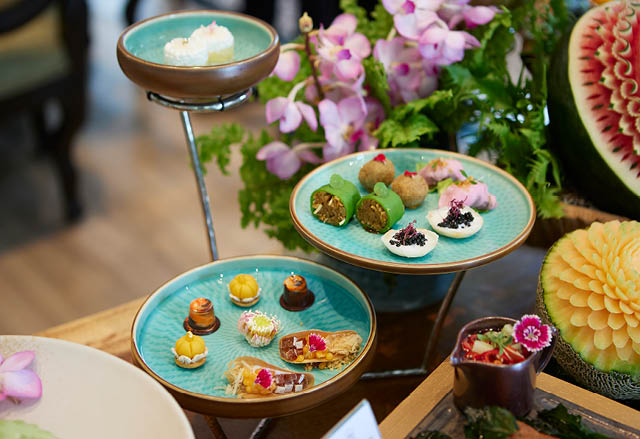 On the sweet side of things, many of the options are a blend of Western and Thai desserts. For example, there's a cheesecake made with monthong durian, muskmelon coconut milk souffle, taro custard mille-feuille served with homemade passion fruit sorbet, and a charcoal sweet pudding with aromatic coconut. There are also the usual favorite Thai desserts, such as young coconut pancake (sans the caviar), toddy palm cake with a toddy palm custard filling, and, of course, mango sticky rice.
If you're celebrating a special occasion (or just want to treat yourself, because why not?), round out your meal with the Waan Thai high tea. Dessert enthusiasts also shouldn't skip the signature Waan Thai darathong, which is made with dough and mung bean, topped with sugar-coated and fried watermelon seeds, and finished off with a small piece of gold leaf.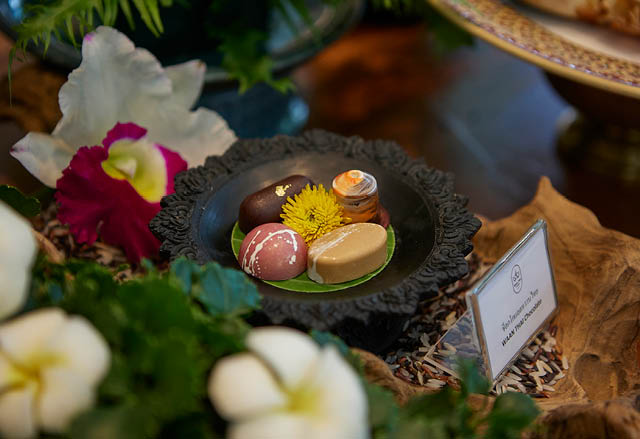 Chocolate lovers are in for a treat as chocolate from Chiang Mai also features heavily on the menu. Diners can choose to have chocolate with a Thai tea filling, or for the sweetest option, a lychee filling. For a stronger (read: alcoholic) taste, try the chocolate with Thai coffee and Thai whiskey, or with black galingale and Thai brandy.
But it's not just about the food at Waan Thai, where the drinks menu also deserves a shout-out. Diners will also be able to pair their food with drinks crafted exclusively in-house by expert bartenders. Coffee lovers can check out the signature iced coconut or iced orange coffees to cool them down at the end of a hot meal, and non-alcoholic drinkers will be glad to hear that there are also mocktails to choose from.
The true stars of the drinks menu that can't be missed, though, are the Waan Thai signature teas, all of which are made with special tea leaves from Singha Park Chiang Rai, and are available in hot or iced form. Pick from the herb, flower, or fruit blends, or for something more unusual, the premium tea mariage marco polo, or the pumuen silver needle white tea.
Waan Thai is open from 11am to 5pm every day, and is located on Thonglor Soi 9.
Reservations can be made via phone at 094-215-3945 or 094-215-4156, via email at reservation@waanthai.com, or through their website. They are also on Facebook, Line, Instagram, Twitter, and TikTok under @waanthaidessert.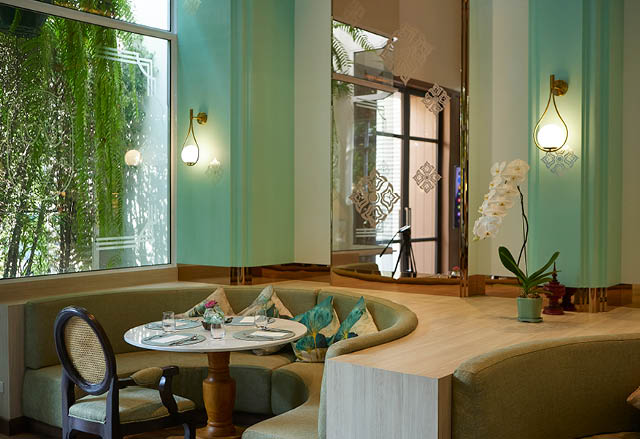 Sponsored by: