Diets don't exist on July 7.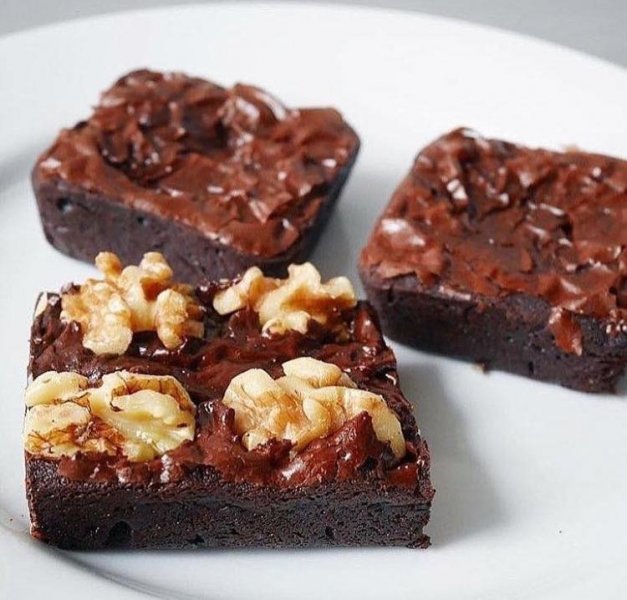 Credit: www.facebook.com/blackfuton
Black Futon
Found on the ground floor Emquartier, Black Futon serves up some of the best brownies you'll find in Bangkok. Their signature Valrhona brownies (B285/3 pieces) are packed with chunks of rich fudge mixed with 70-percent Valrhona dark chocolate—subtly bitter, not too sweet and melt-in-your-mouth good. For more creative options, try the Only God Forgives (B159/piece), topped with smooth peanut butter cream cheese and crispy bacon, or the Love Supreme (B179/piece) with a bourbon ganache filling.
G/F Emquartier, Sukhumvit rd., 081-692-2065. Open daily 10am-10pm. BTS Phrom Phong
Chocolab at SO Sofitel
The decor here is all brown (leather sofas, wood-paneled floors and a ceiling display that looks like a chocolate drop). Here, you can dive into—get ready for it—a chocolate buffet (B1,059) featuring loads of premium French Bonnat chocolate used to create intensely flavored desserts ranging from cakes, truffles, mousses and fondue to drinks like rich chocolate lattes with caramel sauce and almonds. Our pick is the chocolate dome served with a chocolate hammer to crush everything into a big chocolate mess. The volcano cake with vanilla ice cream and fresh strawberries is also a must-try.
G/F, SO Sofitel Bangkok, North Sathorn Rd., 02-624-0000. Open daily 10:30am-2:30pm, 6:30-10pm. MRT Lumphini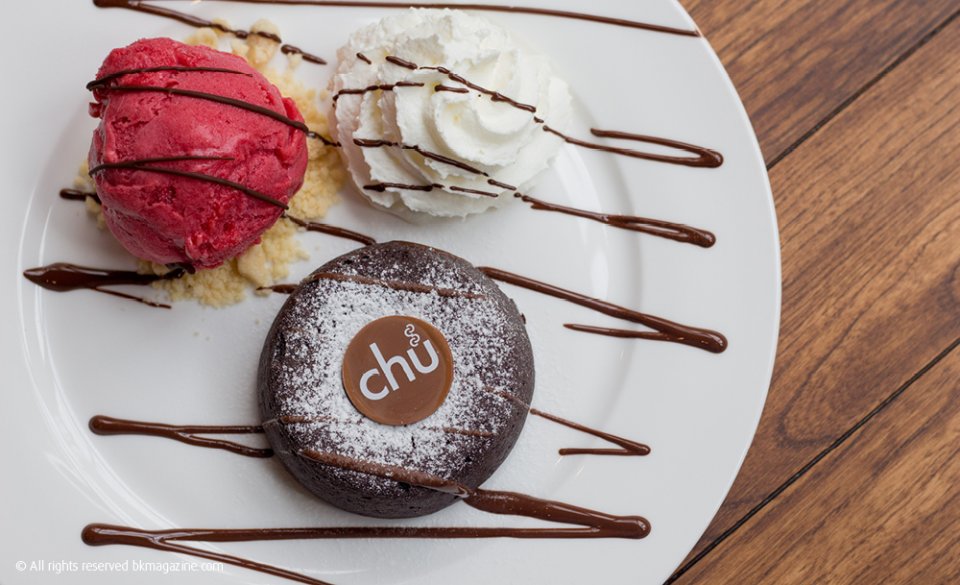 Located at Sathorn's Trinity Complex, this all-day dining spot whips up breakfast favorites like eggs Benedict (B250-290), chicken pesto salad (B220) and tuna melt sandwiches (B190), but what keeps us around is actually the uber-rich and deep-flavored 58-percent hot chocolate (B130). For dessert, choose between an oozing chocolate lava cake served with vanilla ice cream (B220) or its peanut butter variation served with a sour raspberry sorbet (B240). If you love Spanish churros, they have those too (B120), served with a creamy chocolate dip.
Trinity Complex, Narathiwas Soi 3, 02-636-8685. Open Mon-Fri 8:30am-9pm; Sat-Sun 8am-9pm. BTS Chong Nonsi
Exclusively for Citi credit card members: :
Get 20% discount on food only when spending THB 500 or more /sales slip (Mon-Fri) or get 10% discount on food only when spending THB 500 or more /sales slip (Sat-Sun) (after discount) Today – 31 Dec 18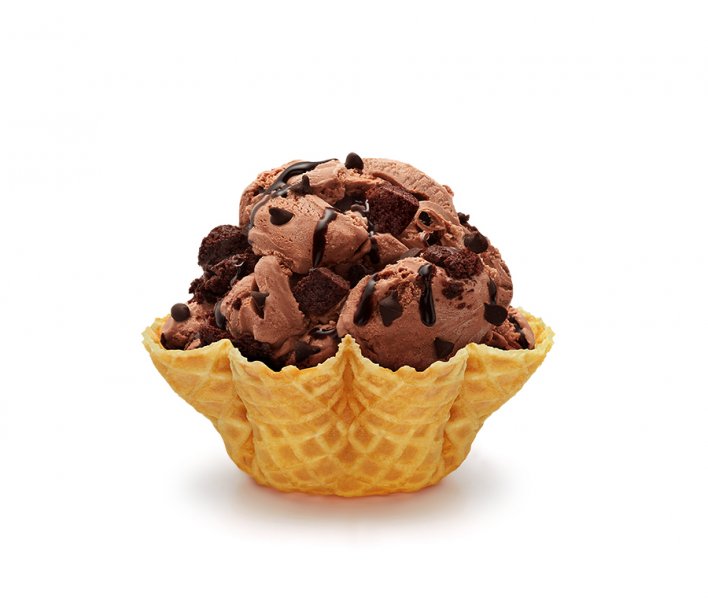 This premium American ice cream parlor lets you customize your ice cream, combining a flavor of your choice along with a range of toppings. The components get slapped onto a frozen granite slab and manhandled until they're all mixed in. Choose between the Chocolate Devotion (a combination of chocolate ice cream topped with chocolate chips, brownies and fudge, B169) or the Founder's Favorite (B149) with scoops of sweet cream mixed with brownie fudge and caramel sauce.
4/F, Siam Paragon, Rama 1 Rd. Open daily 10am-10pm. BTS Siam
Exclusively for Citi credit card members: :
Get 10% discount on ice-cream only Today – 31 Dec 18
It's no wonder why Crema secured first place of our chocolate gelato taste test. Their chocolate gelato (B89/scoop) has an elastic, dense texture that reveals a soft, creamy flavor that's almost too sexy. If you're up for something a little heavier, go for the brioche gelato (B199), which includes two gelato scoops and a signature butter-rich bun. The menu also features iced chocolate (B89) and affogato crema (B145) if you are looking for a kick of caffeine.
LG/F, Siam Square One, Rama I Rd., 061-716-9292. Open daily 10am-9pm. BTS Siam
Credit: www.facebook.com/ddbkk
Dean & Deluca Café
Skip the famous all-day dining specials like eggs Benedict (B295) and opt for various sweets ranging from ice creams, candies and savory cakes in the glass bakery showcase. Our favorites include the dark chocolate ganache cake (soft, velvety smooth and dusted in gold-colored powder, B145/slice), the super creamy 72-percent Belgian dark chocolate ice cream (B100/scoop) and the thick dark chocolate chip milkshake (B145/small, B160/medium, B175/large). If desserts can't satisfy your needs, order the Chocochino (B150), which is rich hot chocolate topped with hazelnut sauce, whipped cream and a handful of marshmallows. The brand also carries a wide range of artisanal chocolate items including its own private labels of chocolate covered nuts, raisins and cranberries.
G/F, EmQuartier, Sukhumvit Rd., 02-261-0464. Open daily 10am-10pm. BTS Phrom Phong
Exclusively for Citi credit card members: :
Get 5% discount when spending THB 200 or more /sales slip or get 10% discount when spending THB 500 or more /sales slip Today – 31 May 19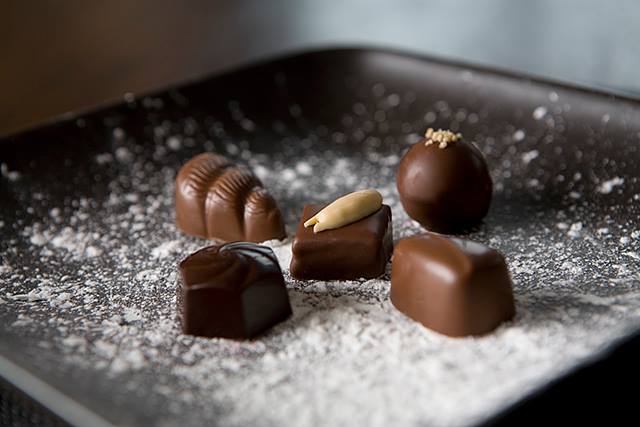 Credit: www.facebook.com/DucDePraslin
Duc de Praslin
Tucked inside Gallo's chocolate factory, Duc De Praslin is well known among chocoholics for its rich and mellow assorted sweets. The wide range of truffles includes an original Belgian flavor and delicious choco-fusions between homemade chocolate and Thai ingredients like coffee beans, macadamia nuts and tropical fruits. The drinks are also just as good, with blended beverages like dark chocolate malt muffin (B140), an iced piece of dark Belgian chocolate layered with chocolate muffins and sauce, or the dark chocolate & mint (B130).
16 Sukhumvit Soi 49, 02-392-1120. Open daily 9am-6pm. BTS Thong Lo
Belgium's 90-year-old brand is one of the world's most iconic chocolatiers. Their franchise stores, decorated with golden shelves, cream-colored sofas and granite countertops, offer more than just truffés (B970/100g) and biscuits to take home. To drink, choose the popular Chocolixir (B155 and B230) a delicious, decadent cold-blended chocolate drink topped with whipped cream and a drizzle of chocolate. If you're craving ice cream, grab the dark chocolate soft serve (B195 and B270), which is extremely smooth and creamy.
1/F, Siam Paragon, Rama 1 Rd., 02 129 4680. Open daily 10am-10pm. BTS Siam
Exclusively for Citi credit card members: :
Get a complimentary Godiva milkshake valued THB 195 when spending THB 500 or more /sales slip (limit 1 glass /card /table /sales slip) Today – 31 Dec 18
Step in inside this vintage-feeling shopshouse to get classic French desserts with some modern twists. The highlights include a light chocolate tart (B190)—milk chocolate mousse stuffed with creamy chocolate caramel cream—and the chocolate caramel (B180) with a range of complex flavors thanks to a rich chocolate sponge and hazelnut praline. Ice cream menu features some classics like dark night ice cream (B109/scoop) made from intense chocolate from Valrhona, and some creative twists such as the black forest & brownie (B109/scoop).
113/2 Thonglor Soi 10, 092-542-9900. Open Tue-Sun noon-9:30pm. BTS Thong Lo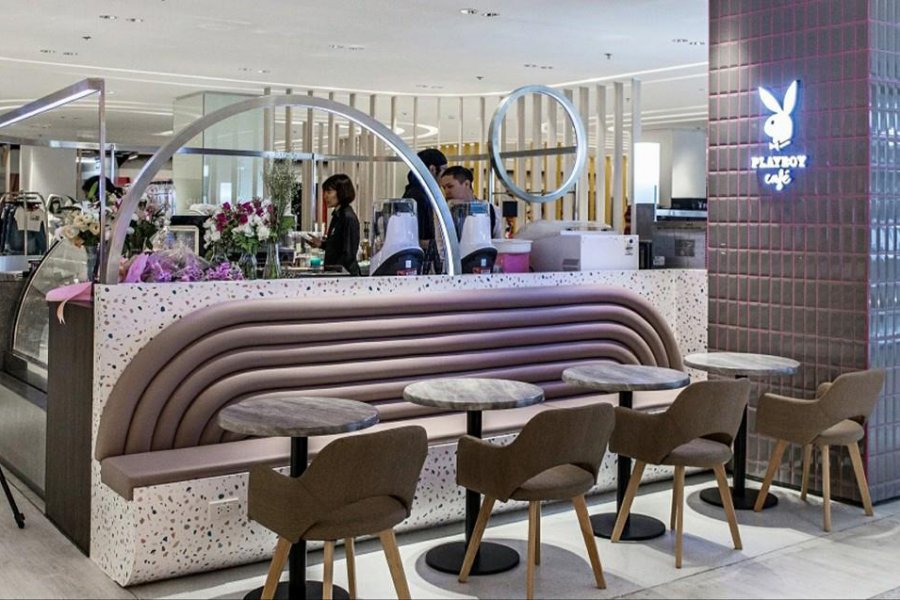 Credit: www.facebook.com/PLBYcafe
Playboy Café
Operated by the famous American brand Playboy, this pastry bar and cafe's retro-modern design feels stylish and in the moment. The dessert offerings include a delicious moka mousse featuring the brand's iconic rabbit head logo (a fluffy dark mocha cake served with whipped cream, B250). Don't forget to order the hot cappuccino (B130) served with a cloud of cotton candy perched over the top. Eat it on its own or melt it in the hot coffee cup to sweeten the coffee in an entirely new way.
2/F, Beacon Zone, Central World, Rama 1 Rd., 02-553-6239. Open daily 10am-10pm. BTS Chidlom
Exclusively for Citi credit card members: :
Buy 1 get 1 free for beverages Today – 30 Sep 18
Sponsored by: