The Meatchop fires up the grill for two nights. Apron and gloves required.
Since opening in late 2017, Silom's The Meatchop has forged a reputation as a carnivore heaven.
This Mar 23-24, they'll be stepping things up a notch with For the Love of BBQ, two nights where guests are given aprons and gloves and invited to make a mess over a range of premium meats.
For B1,500++, you can load up your tray with three choices from grilled pork and garlic sausage, BBQ Piri Piri Chicken Wings, BBQ short ribs, pulled pork burger and roast beef, as whipped up by chef Enzo De La Cruz and sous chef Christopher Santopinto.
You also get a choice of side (coleslaw, potato gratin or macaroni salad), all the brioche and house pickles you can handle and, to round it off, a white chocolate mousse for dessert.
There's also bound to be booze in full flow, a live DJ pumping out esoteric party tunes and plenty of souvenirs to giveaway.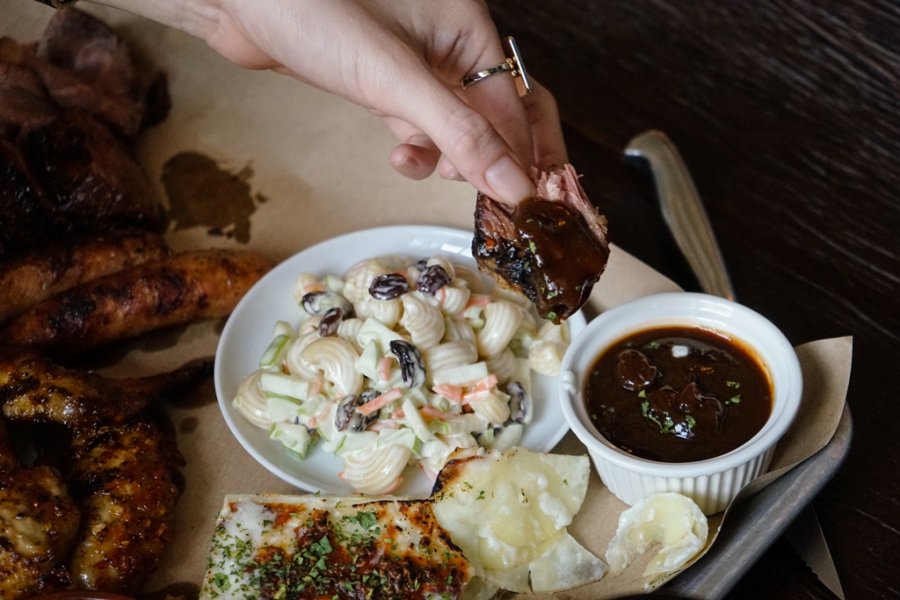 The full menu is as follows:
For the Love of BBQ
Free brioche and house pickles
Choice of 3 from the following:
Grilled Pork and Garlic Sausage
Smoked pork sausage
or
BBQ Piri Piri Chicken Wings
Buffalo Chicken Wings Marinated in House Piri Piri Sauce
or
BBQ short ribs
Grain-fed short ribs, classic bbq rub, bbq sauce
or
Pulled pork burger
Pulled pork, sriracha mayo, slaw
or
Roasted beef
Roasted Black Angus Ribeye (mbs 5)
One side dish:
Meatchop coleslaw
or
Potato gratin
or
Macaroni salad
Dessert:
White chocolate mousse
Callebaut white choc. Topped fresh local raspberries, biscuit crumbs
The event is part of BK's Top Tables Champions event running from Mar 21-Apr 7, in which we team up with over 20 of the city's top restaurants to offer amazing fixed price menus and other culinary experiences. See more information on Meatchop's barbecue night, as well as their One Beef 3 Ways event running from Mar 25-28, here.
The Meatchop Butcher and Spirits, 1/4 Sala Daeng Soi 1,02-033-2709. Open daily 11am-11pm