The final day of dining for BK Restaurant Week 2023 happens this Wednesday, November 15. That means you'll have until November 14 (Tuesday) to book a seat. If you have been on the fence about booking, or just haven't made your mind up yet, here are 14 more options to think about over the coming days.
As the main sponsor of BK Restaurant Week, UOB and TMRW card holders get a special complimentary item with each booking (check each menu for details). Also, select restaurant are dishing out free water from Perrier and Vittel as the event's water sponsors.
Check out some options below, or see the full list of restaurants here.

Rang Mahal
Rang Mahal has succeeded in bringing Bangkokians grand Indian dining in a stuffy yet opulent setting, with the menu exuding delicious and authentic flavors of Punjab. The beetroot shikampuri starter is made with a delightfully unexpected blueberry chutney. Get the special khamiri roti served with coriander chicken, and the flavor-packed tandoori gobhi steak with musallam gravy. Round off your meal with the tropical duo of baked mango yogurt and jaggery snap. A vegetarian menu is available.
Price: B1,199
See the full menu here
Fatboy Izakaya
Fatboy's menu is Japanese fare with a fun twist, which is also an apt description of the venue's lively vibes. Customers have three options across appetizer, maki, and a main course. The spicy avocado maki is always a crowd favorite, and you can opt for a slightly more traditional main dish via the wagyu fat fried rice, or something unexpected with the ramen cacio e pepe.
Price: B1,199
See the full menu here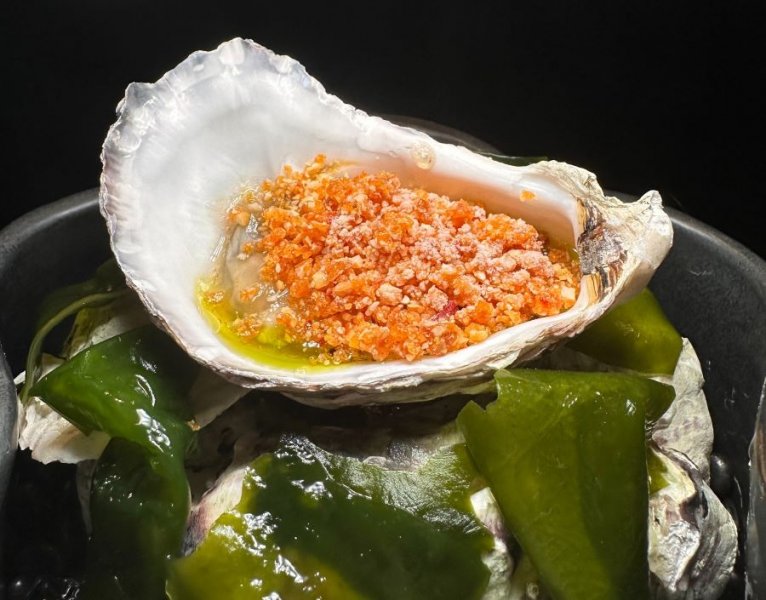 Mother BKK
The team behind "Mother" picked their name to allude to "mother nature," so it's no surprise that their menu features the freshest ingredients that mother nature has to offer. Your meal starts off with a light steamed baby pumpkin and the "oyster of the day" to prepare you for the expertly grilled catfish main. Finally, diners will be presented with the "9K" dessert—a smoked mascarpone cheese pie topped with a delicate balance of salted egg yolk sauce and earl gray ice-cream.
Price: B1,199
See the full menu here

Yamazato
At Yamazato (a counterpart of the Michelin-starred Amsterdam-based Yamazato), diners will be presented with their own shokado bento featuring an assortment of the restaurant's "haute Japanese" fare. All you have to do is pick your oshokuji (simmered vegetables, shirasu fish, or pickle and miso) and dessert (we recommend the matcha pudding) to accompany your bento, which includes otsukuri with three types of miso, and a sizzling salmon teriyaki.
Price: B1,199
See the full menu here
Cooling Tower Rooftop Bar
Get elevated in more ways than one at Cooling Tower Rooftop Bar, a stylish and chill-out rooftop cocktail lounge overlooking the Bangkok skyline. Here, you can choose from chicken satay quesadilla or octopus tentacle for appetizer, pork tenderloin or spaghetti al tonno for main course, and baked cheesecake with blueberry for dessert. The venue has high retractable ceilings and rising pillars that create a spacious and airy atmosphere. The bar also offers a variety of drinks and tapas to complement your rooftop experience.
Price: B1,199
See the full menu here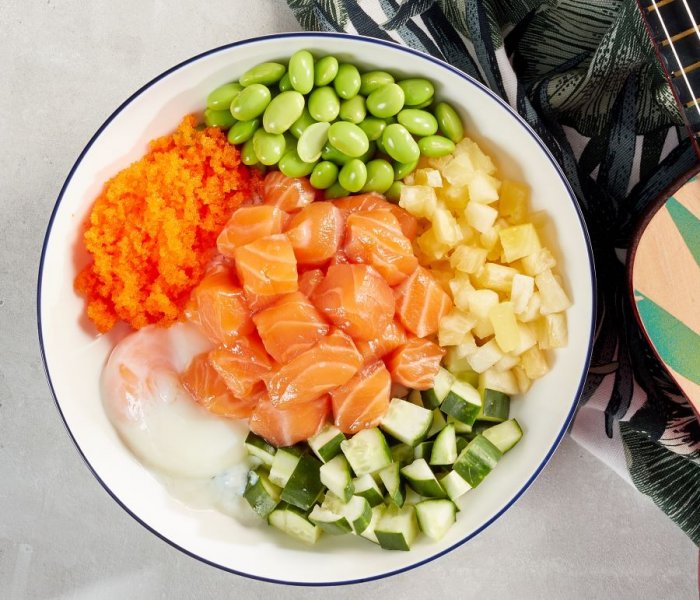 Ohana Poké (price covers two people)
Come as a pair (or more) and enjoy a fresh, tasty, and filling meal at Ohana Poké, which BK Magazine has crowned poké king in Bangkok. Be spoilt for choice of the healthiest ingredients as you pick out your cold pressed juice, medium poké bowls (with extra avocado), smoothie bowls, and coffee. The choice is all yours, so why not choose healthy?
Price: B999
See the full menu here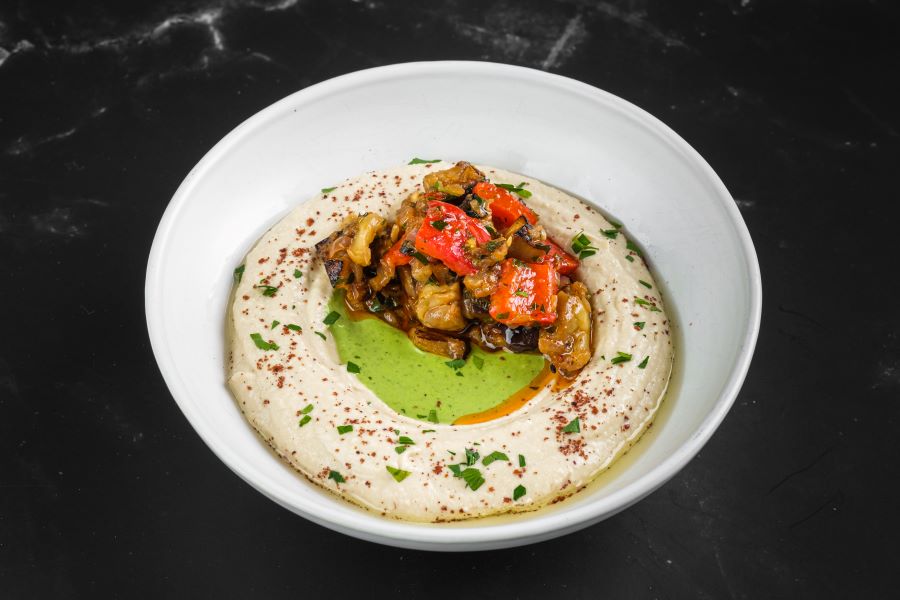 Fest
No frills; just great pizza at Fest. This is a lively and versatile space that serves as both a restaurant and a hotel lobby. Start with the roasted garlic tofu hummus, topped with caponata and served with wood-fire homemade flatbread. Then, to the main event, as you savor the Italian sausage pizza with tomato base, scamorza cheese, confit onion, and salsa verde. Finish with the classic tiramisu — a creamy and decadent affair.
Price: B1,199
See the full menu here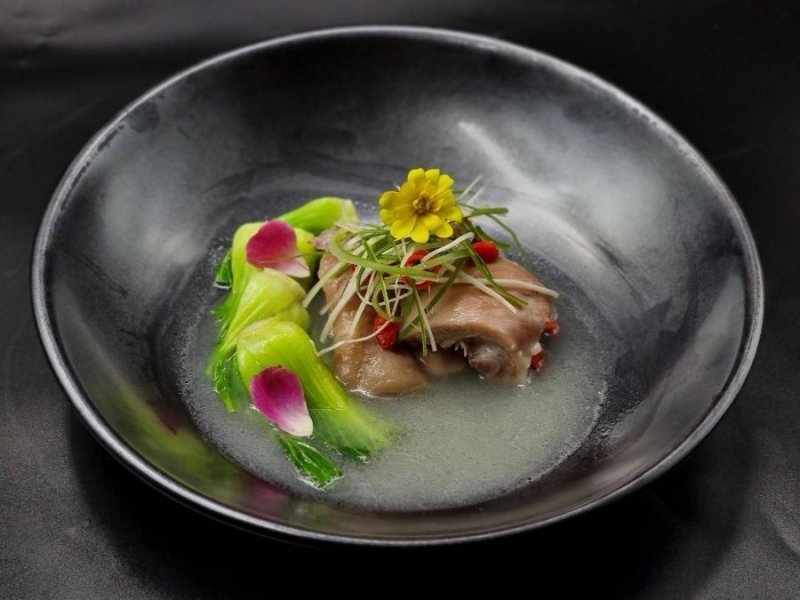 Red Rose Chinese Restaurant and Jazz Lounge
Eclectic yet harmonious. Red Rose Chinese Restaurant and Jazz Lounge is a hidden gem in Bangkok's Chinatown, where you can experience the charm and elegance of the jazz age. The restaurant boasts a stunning Art Deco design, creating a sophisticated and cozy atmosphere. Amid all that, indulge in a feast of Chinese classics, such as the crispy fried shimeji mushrooms, the Chinese celery salad, the emperor chicken stew, and the stewed pork belly. To top it off, you can enjoy a smooth live jazz performance and sip on a delicious cocktail.
Price: B999
See the full menu here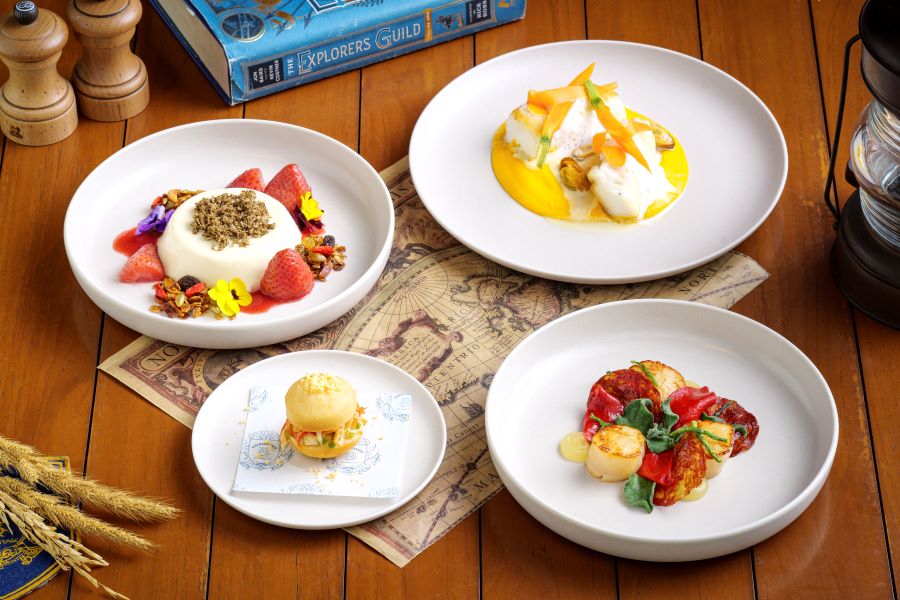 Sirimahannop
Step aboard the Sirimahannop and travel back to the golden age of Thai trade and heritage. Enjoy a sophisticated dining experience on the Chao Phraya River, where history and gastronomy meet. Indulge in the king crab donuts with coral crust, the seared Hokkaido scallops with roast chorizo, and the roasted Atlantic halibut with carrot puree and mussel velouté. Sail away to dessert dreamland with the Nordic honey panna cotta with cloudberry compote and summer black truffle.
Price: B1,199
See the full menu here
China Table
This is easily one of the most contemporary and fun Cantonese dining rooms in town, with a menu that approaches the classics with a harmonious blend of heritage and contemporary fusion techniques and flavors. Start with the Taiwan abalone appetizer, which pairs well with the bird's nest soup with minced chicken. For your entrée, pick between stir-fried kale and crispy pork, or scallop and egg white fried rice. Dessert is simple but delightful: chocolate ice-cream with a fresh fruit salad.
Price: B1,199
See the full menu here
Cantina Italian Kitchen Soi 11
Cantina Italian Kitchen is your cozy and friendly neighborhood spot, inspired by the wine cellars of Italy. Enjoy a glass of fine wine and a plate of homemade Italian food, made with love and skill. Start with the pomodoro or sausage salad, then choose between the fettuccine with mushrooms and truffle or the spaghetti bolognese with your preferred pasta. End with the panna cotta or tiramisu, and feel like you're in Italy.
Price: B1,199
See the full menu here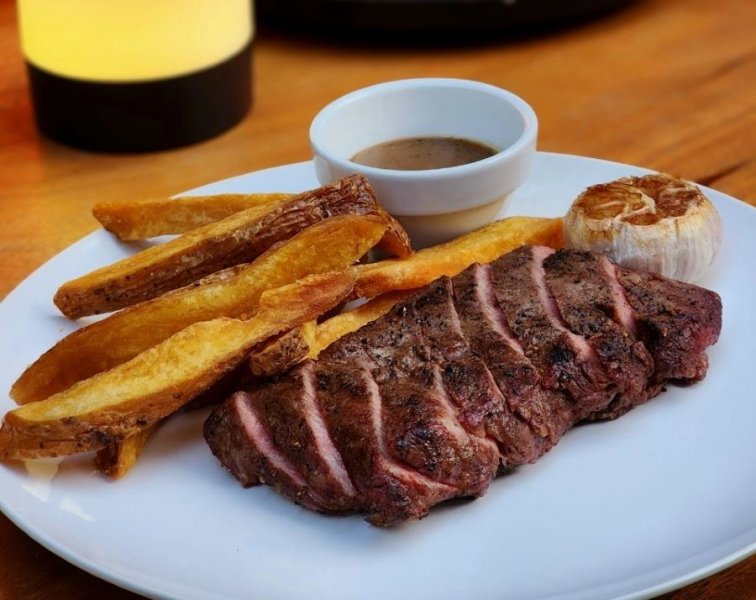 C.A.L.M Bar and Guingette
For those curious, C.A.L.M is an acronym for comme a la maison ("like home" in French), while "guinguette" means a drinking spot that also serves as a restaurant and dance venue. And that's exactly what you get here. The food is unpretentious and well-executed, and covers an array of meats and cuisines. Starters include crab tapas, Korean chicken bites, and eggplant caviar; mains range from good ol' burgers to cheesy lasagnes or lighter salads; and desserts go heavy on the chocolate. There are also several vegetarian options available.
Price: B999
See the full menu here
Mexicano
As one of the city's original Mexican restaurants that still provides some of the best authentic Mexican food, Mexicano is nothing less than a Bangkok legend. The non-vegetarian menu includes chicken wings, rancho salad, and your choice of sweet BBQ pork ribs or spicy chicken fajitas. The vegetarian menu swaps wings for a quesadilla, and the main is a stuffed vegetable burrito. Dessert for both menus is crispy churros with a homemade chocolate sauce.
Price: B1,199
See the full menu here