The next time you visit the upscale Lang Suan neighborhood, treat yourself to a break from the city's buzz. Situated within the sophisticated and modern Sindhorn Midtown Hotel Bangkok, which is a stone's throw from Ratchadamri and Chit Lom stations, Sip & Co. is a new eatery that invites you to experience western comfort foods and premium coffee in a warm, calm setting complete with stylish Scandinavian furniture.
Cosmopolitan life in bustling Bangkok can get quite intense, especially in the city center. If you ever fancy a change in scenery, visit this Insta-worthy cafe that nestles its guests in elegant and comfy NORSE Republic furniture, which carries leading Scandinavian designer brands. Be inspired as you admire the balletic lines and discerning tones of vaunted furniture labels such as HAY and &Tradition.
This refreshing hideaway is popular among couples and digital nomads. Groups of friends and families too can be seen unwinding in Sip & Co. and relishing western delights like Braised Beef Cheek, and Applewood Smoked Grilled Pork Neck. Re-energize in Sip & Co.'s casual ambience, while you are plied with hearty dishes from an all-day menu. If you fancy a light and refreshing meal, opt for Sip & Co.'s Avocado and Tofu Vegan Poke Bowl, or Thai Tossed Quinoa Salad. Sweet tooths will love Sip & Co.'s freshly baked pastries too! You can't miss their irresistible scents wafting through the air.
For those with a hearty appetite, this quaint cafe and kitchen also boasts a mouthwatering Midtown Caramel Toast, an Egg & Sausage Wrap, Walnut & Banana Pancakes, and a Cheese Quesadilla. Pair your meal with one of Sip & Co.'s handmade beverages — enjoy high-quality coffee made from CoffeeWORKS beans or take your pick from a diverse range of hot and iced teas, handmade milkshakes and refreshing smoothies like their Somchoon Soda, Mango Smoothie and Passionfruit Smoothie.
If you can't get enough of the chic vibes of Sip & Co., the good news is, you can bring pieces of Sip & Co. home with you! Browse Sip & Co.'s NORSE Design Kiosk, which purveys an array of Nordic-style designer homeware. Take home eye-catching dinnerware, glassware and table lamps as a souvenir of your trip to Sip & Co.
Next time you're in need of respite from the hustle and bustle of city life, duck into Sip & Co., for a stylish sanctuary tucked away in a serene nook of central Bangkok, where sumptuous epicurean experiences meet designer living.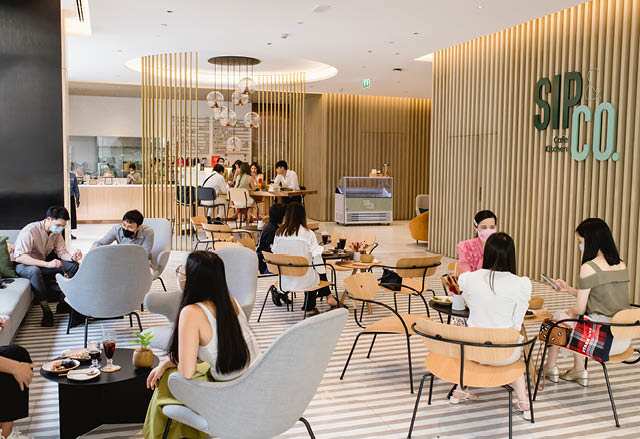 Sponsored by: