The fourth edition of the Michelin guide in Thailand is out and Blue by Alain Ducasse has won its first Michelin star after just one year of opening. It's the second award the restaurant has won in December, the first was the top ranking in the Interior Design Awards' fine-dining category. In a statement, Alain Ducasse thanked Siam Piwat owner and chief executive Chadatip Chutrakul.
"Thank you for your vision," he said. "All my thoughts go to the team in place since the opening: Wilfrid, Alex and Maxou. These guys have done a formidable job! Thank you and your teams for your commitment despite the rocky times we are going through."
Led by Wilfrid Hocquet, who has a long roster of cooking in Michelin-starred kitchens ranging from Daniel in New York to three-Michelin-starred Le Louis XV by Alain Ducasse in France, Blue, uses carefully selected ingredients combined with the French know-how and techniques, and complements the magnificent location of the restaurant, taking guests on an unparalleled culinary journey.
"To be awarded a Michelin star is an amazing endorsement of the hard work put in by both our culinary team and front-of-house service staff," said Chef Hocquet. It is also a fantastic validation of our commitment to delivering an exquisite culinary experience to our guests."
Ducasse's global restaurant empire now holds a staggering 20 Michelin stars, with Blue being his first in Thailand. Despite the pandemic, the team at Blue has consistently reinvented the restaurant's menu and maintained momentum through a year that rocked the global restaurant industry.
The award from Interior Design magazine in December was a cherry on top for a restaurant group that puts considerable effort into the interiors of all its restaurants and is no stranger to international accolades on that front. Designed by Jouin Manku – a Parisian spatial design studio led by French designer Patrick Jouin and Canadian architect Sanjit Manku who have designed all of Alain Ducasse's 3 Michelin star restaurants – Blue is a luxurious but still informal setting where blues, golds, creams, and natural wood dominate the palette, putting patrons at ease and enveloping them in comfort.
1/F, ICONLUXE, ICONSIAM, 02-005-9412. Open Thu-Mon noon-10 pm.
For information, contact 02-005-9412 or enquiries@blue-alainducasse.com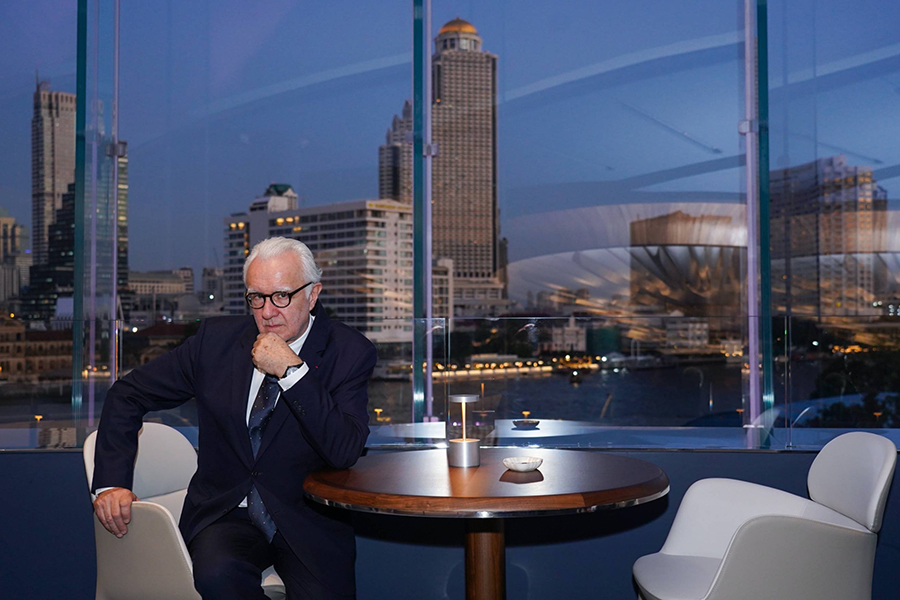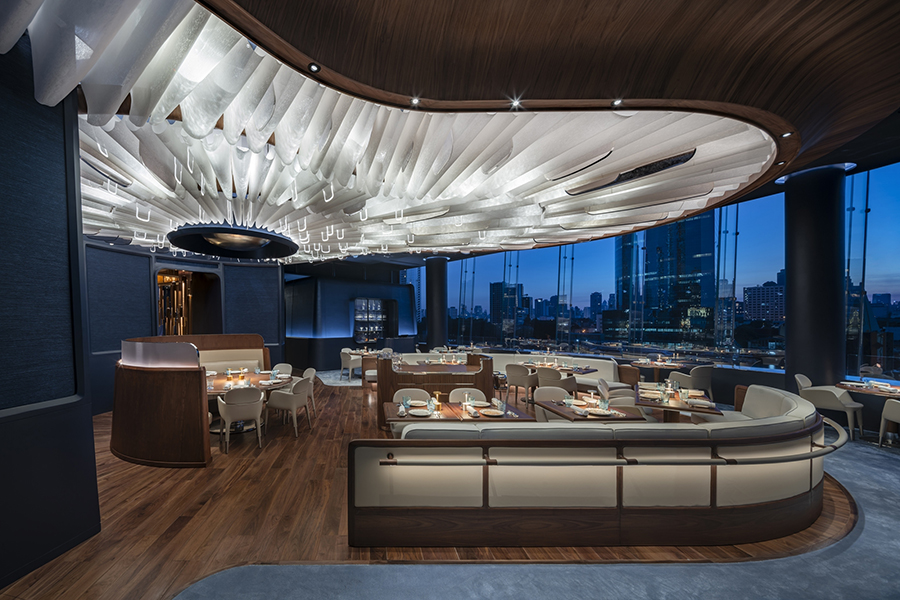 Sponsored by: