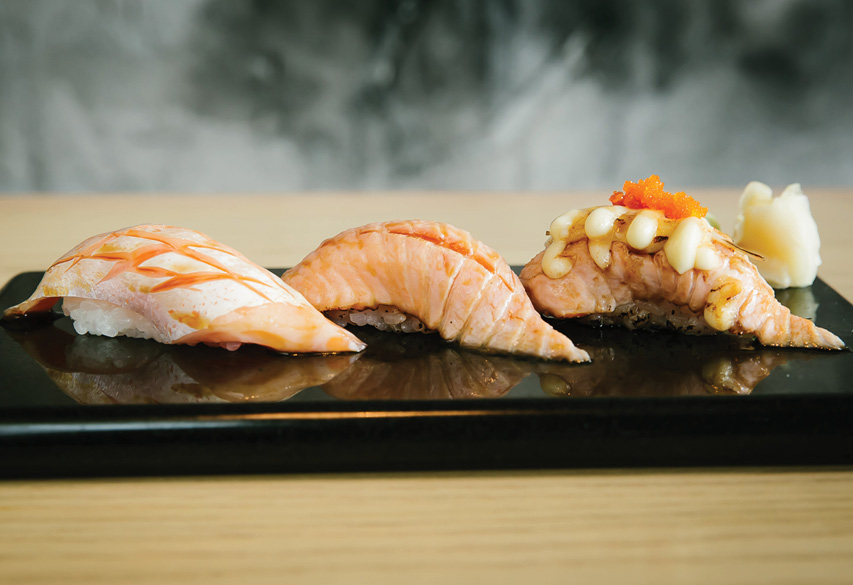 One of Ari's favorite affordable sushi places just got a new home. Now located on Ari Soi 4, the new spot still offers up chunks of fresh fish in various forms. On top of classic nigiri sushi, you can find fusion ingredients like snow crab and Thai mud crab roe. They also constantly roll out new dishes, taking inspiration from several sushi places in Japan.
The deal: Sousaku regularly has promotions going on with different set dishes. Catch the Sashimi Icedome featuring otoro, chutoro, hon akami, salmon toro, hotate and rotating white fish at B1,499 with a free crispy salmon roll or salmon sandwich right now.
This Sathorn office-crowd favorite is nestled on the mezzanine floor of Sathorn Square building. The decor combines metal and wood, a red-lit bar and smoke-patterned screens for a look that stands out from your average Japanese opening. While the main focus is sushi and sashimi using fish delivered every other day (plus daily-delivered Norwegian salmon), there are also plenty of hot dishes.
The deal: The up-to-50-percent deals rotate across different dishes and are offered on a bi-weekly basis. From now till Jun 15, you can get the Stamina Bowl (fresh quail egg, salmon roes, uni, surf clams, akami and pickled wasabi, B600) and Super Salmon Crunchy Roll (B380) at just half these prices.
Situated in the heart of busy Sathorn, this welcoming white house surrounded by a Japanese garden is a haven for sushi lovers. The imported ingredients are delivered fresh daily and put together as both the classics and tweaked dishes. Some of creative options include the salmon pizzado (B650), featuring a thin naan-like crust topped with fresh salmon, shallots, tomato, Japanese chili and a special creamy dressing. Expect first-class service, too.
The deal: Here, they always offer changing, produce-based discounts. For now, it's Hokkaido king crab dishes at half prices, like taraba sashimi and grilled taraba. Till Jun 30.
The sushi empire has been dramatically growing in the past year. (They now have 10 branches and counting.) You may still have to queue up in front of some branches though. Known for its fresh produce dished up simply, Sushi Hiro takes its fish so seriously, they hold a fish-filleting show regularly.
The deal: They have a strong Line account worth following, which they use as a direct way to communicate some really amazing deals including regular discounts of up to 70 percent. Act fast though; they're only valid for a couple of days.
Now with six branches in town, the chain is backed by a big importer of Japanese produce. Our favorite joint though is the two-story Nippon Kai Market comprising a sushi bar and Japanese market on the first floor where you can buy premium imported seafood either to take home or have the chef whip up right there. Head up to the second floor for a cozier dining area that feels less like a shop.
The deal: Another solid Line user, Nippon Kai offers weekly-rotating deals to those who follow its account. There are also daily deals highlighting different dishes, like B180 foie gras sushi from the regular B300 every Thursday.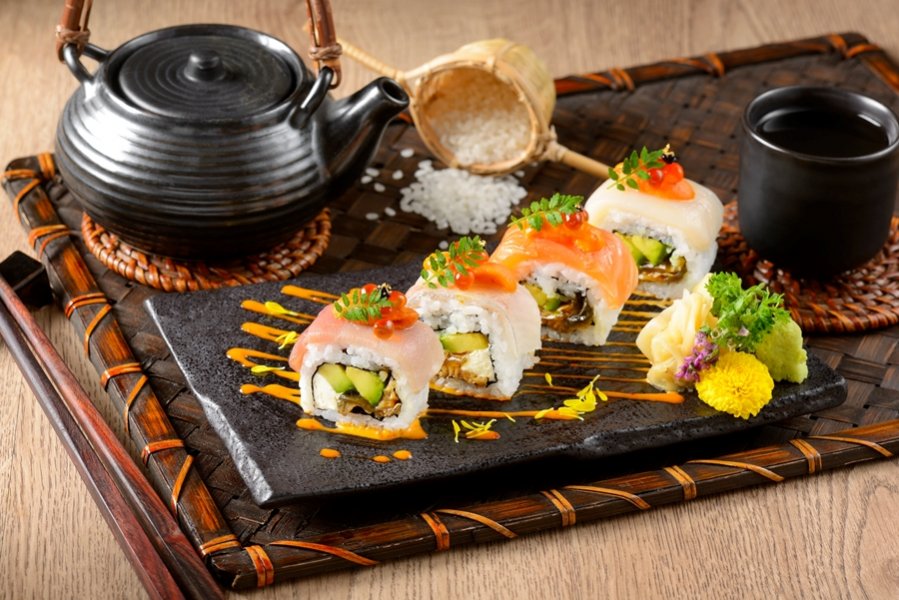 Sendo Sushi
This new sushi contender hides away on the second floor of a new mall, Maze Thonglor. Here, the focus goes straight to the sushi and rice dishes while there's also some space for the likes of grilled fish and salad. Try the recommended salmon saikyo roll, featuring aburi salmon, avocado and miso mayo sauce (B350) and yakuza roll (fresh scallop, chutoro, salmon, and hamachi on top of eel and avocado roll, B700).
The deal: Right now they're offering 40-percent discount on every item on the menu. Get there quick, we don't know when this deal's going to end.
Young Bangkokians just can't get enough of this sushi bar, which combines affordable raw fish, a host of deals and a decor of pale wood that evokes Muji's minimalism. The popularity isn't just down to its actor-owner, Pakorn "Boy" Chatborirak, either. Sashimi and classic sushi options coexist with signature pieces that don't shy from tempura crumbs, a bit of blow-torching, a sprinkling of shrimp eggs and a dollop of freshly chopped wasabi.
The deal: Each month there are different deals. This month, for example, you can get salmon sashimi at B145 instead of B290 and Poseidon sashimi set at B1,360 from B2,723.