1. Kodang Talay Seafood
Set in a renovated warehouse with nautical-meets-modern-industrial decor (think heavy wooden tables and ropes hanging from the ceiling), this laid-back seafood restaurant boasts a massive outdoor seating area right by the river. Although locals tend to order the deep-fried sea bass and garoupa, the restaurant also makes good hard-to-find dishes such as the Southern-style gaeng som kai pla dook talay (sour and spicy soup with sea catfish eggs)—perfect with an ice-cold beer.
Room Warehouse 7, Asiatique the Riverfront, 2194 Charoenkrung Soi 76, 092-2845610. Open daily 5pm-midnight
2. Laem Charoen Seafood
This Eastern seafood chain has been a local favorite for over thirty years thanks to fresh fish and generous portions. Its atmosphere is straightforwardly industrial with a pop of green that isn't too overpowering. Although the menu comes with a variety of choices, we recommend that you stick with the simplest options such as grilled cockle in spicy dipping sauce, fried rice with crabmeat and deep-fried sea bass in sweet and sour sauce.
4/F, Siam Paragon, 991/1, Rama 1 Rd., 02-610-9244. BTS Siam
3. Samyan Seafood
Set in a colonial-inspired building, the round tables inside this longstanding Thai-Chinese seafood joint are always bustling with large parties sharing family-style dishes. Clanking silverware, happy conversations and a few loud "cheers" provide the soundtrack to dinners of Chinese-inspired seafood. Try the pu song kradong (steamed double carapace crab), along with some non-seafood dishes such as the moo hun (grilled pork) and the yuea phai toon (steamed bamboo fibers in clear soup).
151-159 Narathiwat Ratchanakarin Rd., 02-678-2020. Open daily 11am-2pm, 5-10pm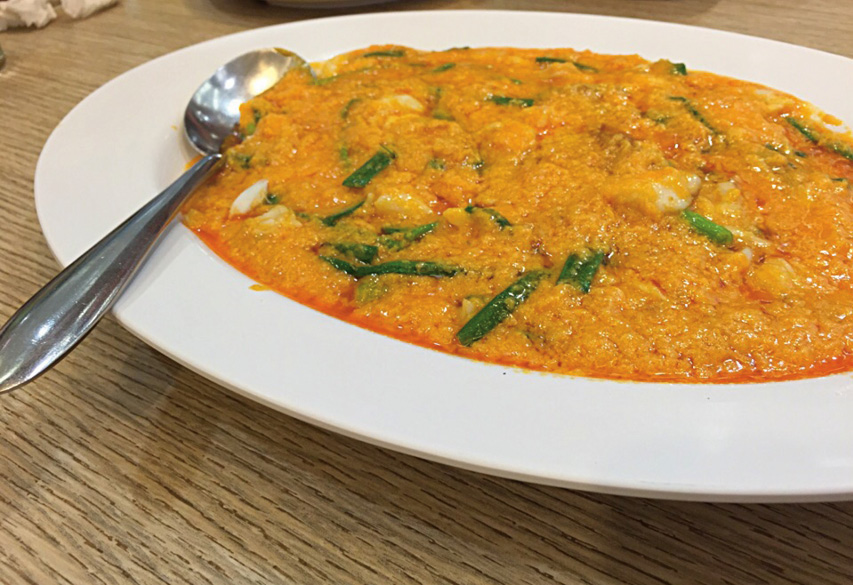 4. Somboon Seafood
This hugely-successful, long-standing seafood chain dating back to 1969 has one of the most loyal followings in town and abroad—former Japanese PM Junichiro Koizumi even ate there. This new shopping mall branch makes it even easier to visitors to seek out their succulently-rich puu pad pong gari (yellow curry crab), goong ob woonsen (prawns baked with glass noodles) and steamed whole seabass with soy sauce. Be sure to call ahead for reservations, as the busy restaurant typically carries a 20-minute wait time otherwise.
5/F, Central Embassy, 1031 Phloen Chit Rd., 02-160-5965. Open daily 11am-10pm. BTS Phloen Chit
5. T&K Seafood
This street-side Chinatown seafood joint whips up reasonably priced and reliably fresh dishes to an always-busy crowd. Expect a 20-30-minute wait if you arrive during prime dinner hours, when hungry locals and in-the-know tourists congregate in equal measure. The menu spans seafood of all sorts. Be sure to order the grilled prawns with spicy dipping sauce, tom yum goong (spicy coconut soup with shrimp) and steamed fish in lime sauce.
49-51 Soi Phadungdao Yaowarat Rd., 02-223-4519. Open Mon-Sat 4:30pm-2am