Perched high atop the 34th-floor on newly minted Carlton Bangkok Sukhumvit Hotel, Cooling Tower is the property's breezy new rooftop bar along the city's most famous street. It's part of a small batch of openings recently as Bangkok starts to work its way back to a normal nightlife scene. Originally scheduled to launch in February, the project was pushed back until its soft launch on Aug 21.
The name itself comes from the cooling towers that sit on almost every Bangkok skyscraper. Carlton Bangkok's towers sat in the same place the bar does now, so the owners named the joint after them. But it's a bit more than a catchy name, the concept also works its way into the cocktail menu — the main focus here, but the food options more than hold their own.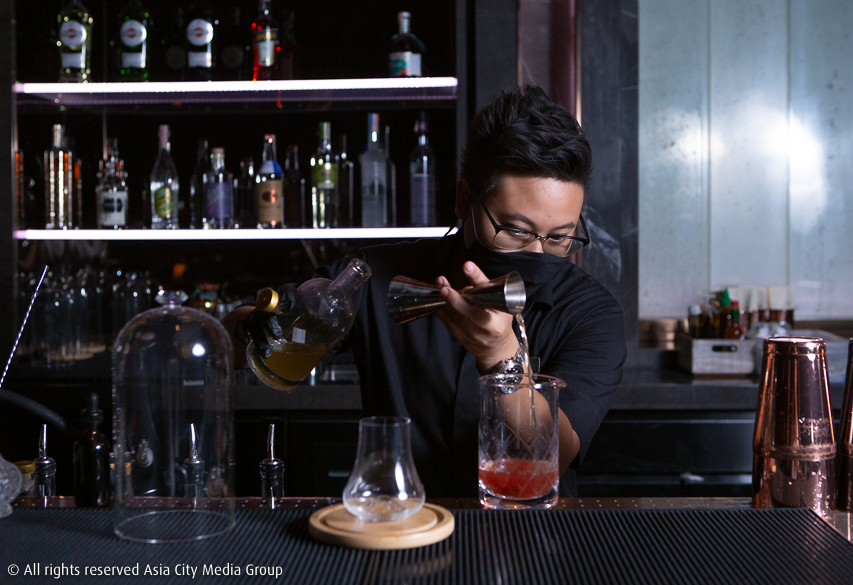 The design itself straddles the line between high-brow cocktail bar and casual drink spot. Large stone beams loom across the sides and top of the space, with the majority of the air on the sides and ceiling exposed to help get the breeze flowing. If it rains, a rooftop automatically swings over the space to block it out. The bar is huge, running almost the entire length of the venue, with a mixed selection of alcohols and craft beers across the back wall. During the day, the backdrop is lit with hundreds of tiny lights that soak the bar in an orange hue. When night time comes, those lights change to blue to match the tone of the night.
"There are a lot of cocktail bars and a lot of rooftop bars already," said Bolgarka Galberki, Food and Beverage Development Manager of Carlton Bangkok Sukhumvit Hotel. "But few of them really have an identity, so for this place we wanted to really be known for cocktails."
The hotel brought in mixologist, Supharat "Junip" Thongmeesuk, to handle the drinks menu, which follows a loose concept of "air and water", again leaning on the cooling tower theme. The menu is presented using a sort of scale system to help customers understand what they are ordering. Instead of just listing ingredients and hoping people know how it will taste, each drink gets a rating on two scales — spiritous-to-refreshing and comforting-to-adventurous. All of those ratings are listed under the names and ingredients for each cocktail.
In terms of the drinks themselves, they span a globe-trotting range of ingredients, alcohols and inspirations, like the "Eternal Cosmos" (Kraken Spiced Rum, bitters, a griotte de kelparow cherry and a dried orange peel, B390), which resembles a good old fashioned but with a sweeter bite from the rum — it's also ranked on the spirituous side for those that want some bite. Less alcoholic and more adventurous would be something like the "Golden Hour" (Ketel One Vodka, Campari, homemade date syrup, orange bitters and lime juice, B350), which is a bit tangy and makes a great summer drink. In total, the signature cocktail list spans 12 drinks, with a handful of those to be rotated in and out every six months or so. There are, of course, classic cocktails if you, say, wanted an old fashioned done the old fashioned way.
"Sometimes it's challenging when you go somewhere, and they have a cocktail menu, but you don't really know what to expect simply based on a list of ingredients," said Gelberki. "Is it sweet? Is it crazy creative with things sticking out? Is it going to be something too light, or too strong? Making our menu the way we do allows us and guests to get a quick idea of what they want."
Food isn't the main focus of Cooling Tower, said Gelberki, but that doesn't mean there aren't a few good eats to be had — in fact, the menu is exclusive to Cooling Tower. The food leans heavily on grilled dishes inspired by Meddeteranian flavors (think grilled beef kebabs, mussels and French fries, burrata salads, pizzas) to counter the heavy Asian focus of the hotel's signature Cantonese restaurant Wah Lok. The plates are designed to share as well, and the brand is trying to strike a balance between cocktail focused bites and some more substantial dishes for people that need to eat dinner as well.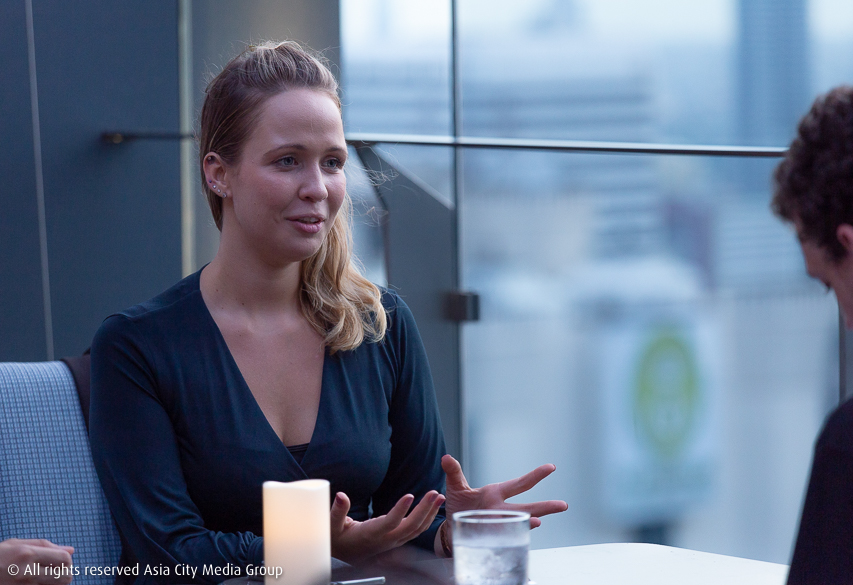 The Cooling Tower does plan to do some events in the future as well, like a Halloween Party in October possibly, and some bartender collaborations with other cocktail hotspots—which Gelberki believes will help to nuzzle Cooling Tower into the cocktail scene a little better. Atmosphere-wise, you are looking at a mix of expats and locals, usually on the well-off side. There's also a live DJ every night. On our last visit, the tunes were a mixture of soothing house and the occasional loud pop tune (a Tekashi 69 song being one of them last time).
The Cooling Tower is currently in a soft launch phase. To learn more or make a reservation, visit carltonhotel.co.th/dining/cooling-tower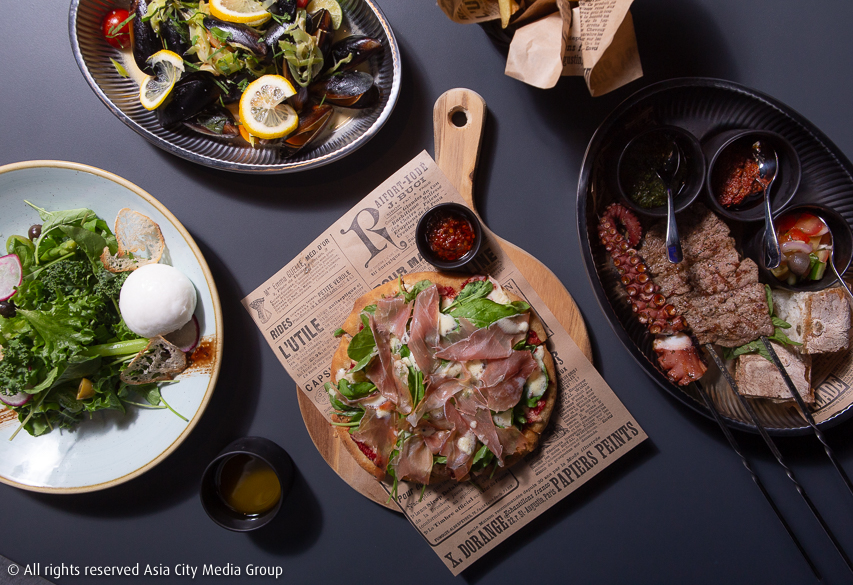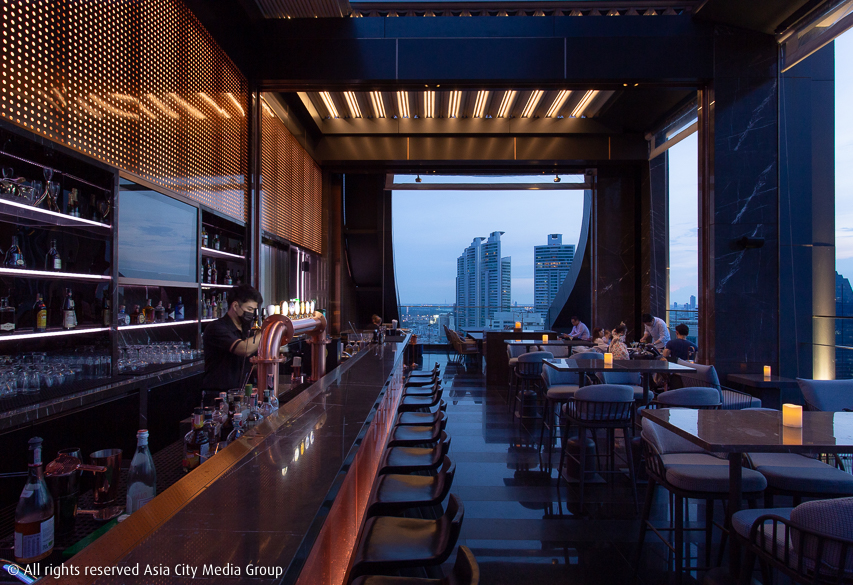 Sponsored by: