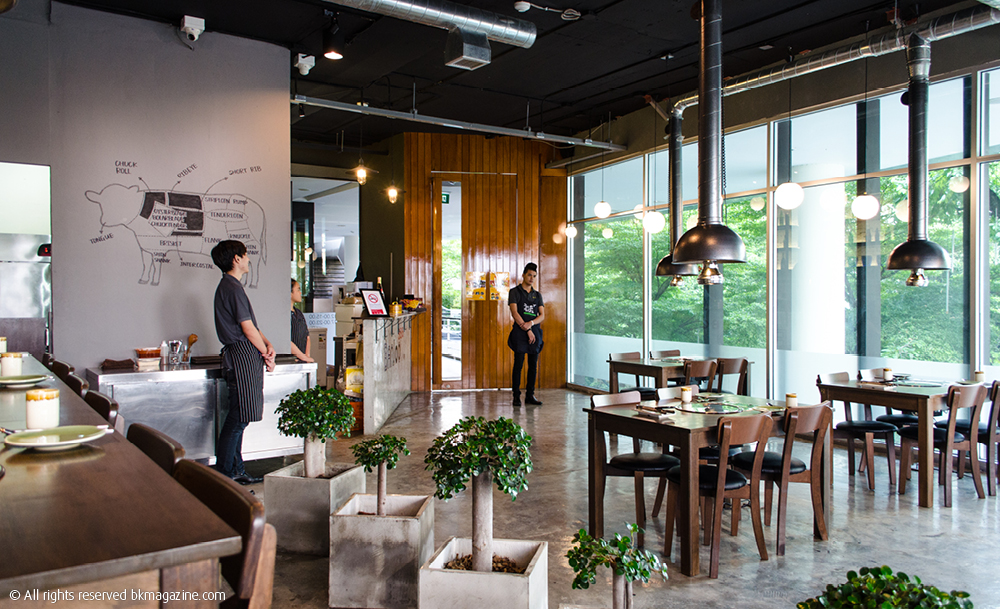 Located on the second floor of Mille Malle (a quiet Sukhumvit Soi 20 community mall) Banjoo BBQ puts the focus squarely on authentic Korean barbecue and premium meats. With an in-house fermentation program, Banjoo makes it's own kimchi, sauces and a variety of Korean staple dishes. If you are going to grill, you can go all out on a two-person feast with the "Glimpse of Korean Barbecue" set menu (a collection of the crew's select wagyu cuts with 10 Korean-style sides, B1,500), or hit up the a la carte menu filled with all kinds of beef cuts (from B490 to B1,350), our favorite being the onyoung-style bolgogi (thinly sliced and marinated beef, B550). Fresh seafood, like Hokkaido scallops and tiger prawns, come in at a reasonable B150 to B490. There is a mountain of sides to pile up along with your grilling action, like gyeranjjim (a steam egg souffle, Korean-style, B150) and jangajji (soy-pickled veg, B120).
2/F, Mille Malle, 66/4 Sukhumvit Soi 20, 081-949-4851. Open daily 11am-2pm, 4-10pm
Exclusively for Citi credit card members:
Get 10% discount on food and non-alcoholic beverages
1 Aug '19 – 31 Jul '20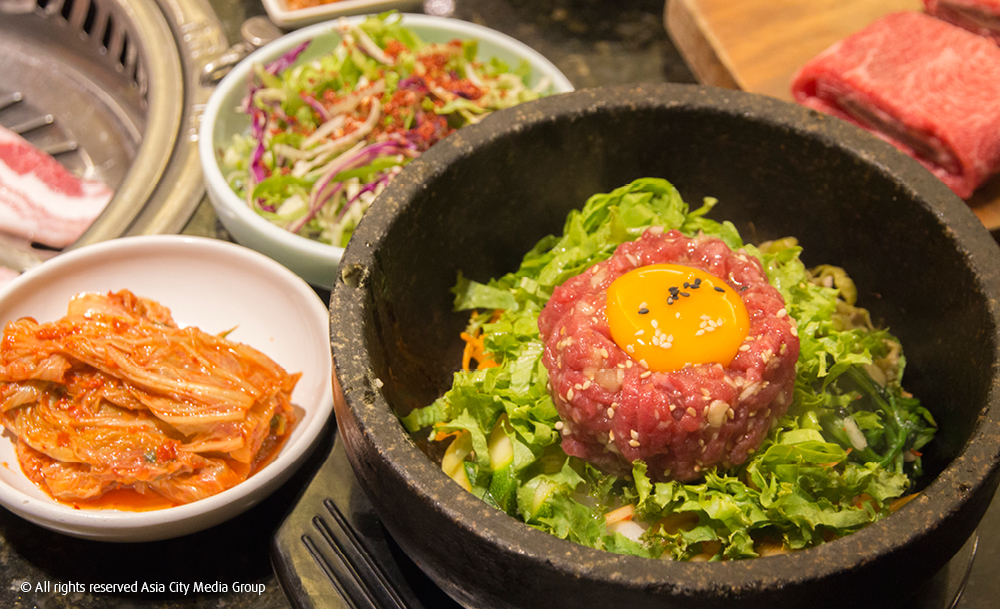 Located in "Korean Town" (Sukhumvit Plaza on Soi 12) Doorae has long been one of the area's most buzzing Korean restaurants. Here, the smell of sizzling meats and veg waft through the air as guests man their tabletop cooking stations. The menu varies from tender and nicely marbled sirloin beef to juicy and highly flavorful marinated short ribs on the grill. Buffet prices range from B350-450. On top of grilled meat, Doorae also offers traditional favorites like zesty bibimbap (rice with meat, vegetables and egg in a hot stone pot, B250), hearty hae mool pa jeun (a kind of seafood pancake with spring onions) and flavorful kimchi ji gae (kimchi soup with tofu and pork). Bonus points goes to the servers: They are friendly, prompt, well-informed and attentive.
1/F, Sukhumvit Plaza, Sukhumvit Soi 12, 02-653-3815. Open daily 10am-9pm
There are all kinds of nice Korean touches spread across Ehwawon's spacious two floors, including the beige-colored wooden walls and tables finished with barbecue stoves to a window display of traditional dresses and Korean bits and bobs. The prices here are uber reasonable (about half of what you can expect to pay at Korean Town at Sukhumvit Soi 12) and you can still expect a solid meal. Their Korean grilled meat is pretty flavorful with a wide range from pork, beef ribs and seafood (B130/B200/B140 per dish). For some classic Korean dishes, opt for crispy haemul pajeon (Korean seafood pancake, B110), well-balanced jajangmyeon (Korean noodles with salty black soybean paste, B110), or steamed chicken in ginseng soup (B200).
71 Soi Yothin Pattana, Lad Phrao Rd., 02-149-4625. Open daily 10:30am-1:30pm, 4-10pm
Hobak
The décor will take you back to 1980s Korea with faux windows the "look out" on to sepia pictures of the homeland and recipes inspired by the owner's desire to advertise Korean culture through food. For the grilled stuff, try their deungsim (rib eye beef, B650 per dish), samgyeopsal (grilled pork belly, B290 per dish), Moksal (grilled pork neck, B320 per dish), or sak maeun gui (grilled spicy chicken, B250 per dish)—they're all the best sellers. Guests can also devour some other authentic Korean dishes like beef brisket and soybean paste stew (B250) or japchae (fried glass noodles and vegetables, B350). If you have the chance, the whole chicken soup (exactly what it sounds like, B1,300) is a must try—it's needs a full hour to cook so make sure to order in advance.
Sukhumvit Soi 12, 02-039-4945. Open daily 9-5am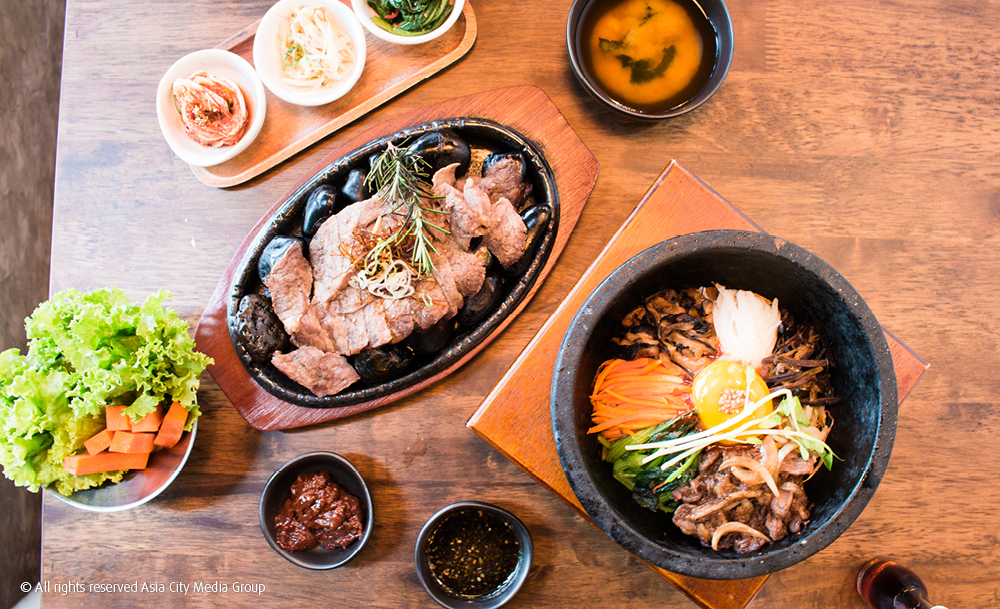 At Joha, guests can devour their way through some Korean classics in a funky looking restaurant lined with Marshall speakers, copper wire frames and turquoise accents. The venue serves up Korean staples like tteokpokki (stir-fried rice and fish cakes, B180) or flavorful kimchi fried rice (B250) served on a skillet surrounded by a ring of melted cheese. Their bibimbap (B200) in a hot bowl is seasoned with a similar gochujang seasoning and is super tasty. The dakgalbi is also hits the spot with its tender chicken thigh pieces soaked in a fully-flavored hot, peppery sauce and melted cheese it comes smothered in (B250). If you're looking for the rare balance of salty and sweet flavors, try the impressive bulgogi (stir-fried marinated beef, B280). There are truckloads of soju here too if you feel like getting a little wobbly (B40-B220).
111/1 Phahonyothin Soi 7 (between Ari Soi 3 and 4), 083-177-5533. Open daily 11:30am-9:30pm
Exclusively for Citi credit card members:
Get 10% discount on food and non-alcoholic beverages when spending THB 1,000 or more /sales slip
1 Sep '19 – 31 Jul '20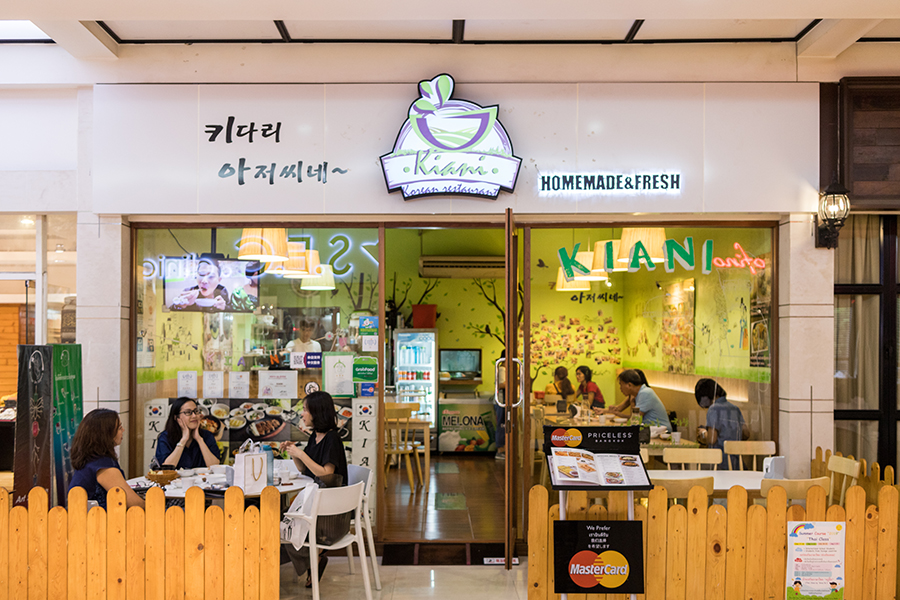 Kiani
Cheery fonts and cartoon forest murals set the mood here, that should tell you all you need to know about the vibe. Even if that's not your style, this is a welcoming venue with good food. For appetizers, try dak kang jeong (sweet and spicy fried chicken, B99/189) or kan jang chicken (soy garlic chicken wings, B109/199). If rice is more of your thing, then be sure to dig into a bowl of bibimbab (rice mixed with vegetables, spicy sauce, and egg in hot bowl), kimbab (seaweed rice rolled with vegetables, fishcakes, crabsticks, chicken and sausages, B159), or jumeokbap (Korean rice ball, pork B139, beef B149, tuna B129). Kiani also serves juicy grilled Korean BBQ pork and beef at a wallet-friendly price (B239-289). Wash things down with a glass of refreshing barley water.
90 Sukhumvit 55, 02-714-7730. Open daily 11am-8pm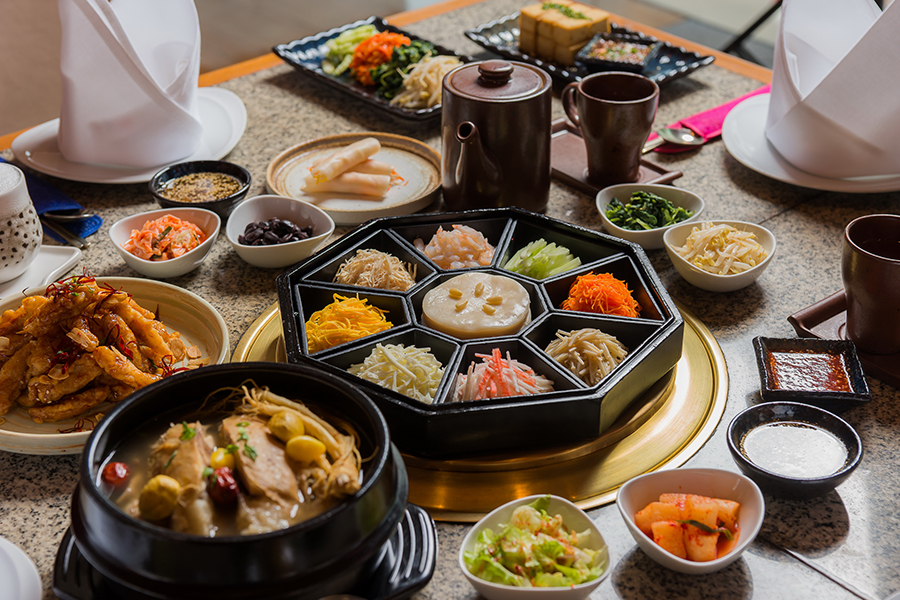 Kongju has long been applauded as one of the best Korean restaurants in town and still lives up to its reputation for more than 20 years. With the modern décor of booths, back-lit partitions, and porcelain Korean art pieces, guests will be greeted with staff dressed in hanbok, traditional Korean dress. The venue is famous for its Korean barbeque with dishes like doe gee kalbi (marinated pork spare ribs, B340) and bulgogi (marinated sliced beef, B390). The venue is also packed with other traditional dishes including a hard-to-find dish with its elaborate cooking process including ho bak kal bee tchim (stewed beef/pork ribs served in a pumpkin, Pork B390/Beef B590) or sweet dak kang jeong (fried chicken with garlic and chili, B360).
2/F, Pathumwan Princess Hotel, 444 MBK Center Phayathai Rd., 02-216-3700 Ext. 20230. Open daily 11am-9pm
Exclusively for Citi credit card members:
Get 20% discount on a la carte menu or special price THB 680 for buffet from normal price THB 850
1 Jul '20 – 30 Jun '21
Kosirae
Tucked at the back of Thonglor, this Korean barbecue joint is popular among local and Seoul expats. The inexpensive meats of pork and beef, ranging from fresh beef sirloin (B550 per dish) to pork belly (B270 per dish) is what keeps the crowds pulling in on regular days. For those who want to enjoy the Korean grilled meat at a friendly price, opt for a pork barbeque buffet (B299 per person) with a generous spread of side dishes. Kosirae's bibimbap is praised as one of the best in town as it is healthy and delicious (B170). Be sure to follow that up with a bowl of hot soup from their wide selection of hotpot menu (B200-B300). For desserts, the restaurant offers Korean's favorite sweet and snowy bingsu (B89).
97 Sukhumvit Soi 57, 02-714-8683. Open daily daily 11:30am-10pm
Hailing from Korea, global fried-chicken chain Kyochon now has six branches in Bangkok. They import their sauces and main ingredients from Korea, making for a more authentic and traditional taste. Choose from signature flavors soy garlic, the "red hot series" and the honey option; and slather it atop wings, drumsticks, or even a half or whole chicken. They do some pretty interesting flavor experiments, like basting chicken wings in "red sauce" with a hint of strawberry for sweetness–they've done the same thing with watermelon as well. You come here for the chicken, but there's also a decent stable of sides to round things out, like Korean-style fried, and refreshing drinks like the delightfully fizzy yuzu mango soda.
Kyochon (Mega Bangna), 2/F, Mega Bangna, 063-901-1005, Open daily 10 am-10 pm. 2 other branches across Bangkok.
Exclusively for Citi credit card members:
Get 10% discount on food only when spending THB 500 or more /sales slip Today – 31 Aug '20

Nammaejip
Nammaejip's original branch in the heart of Seoul, South Korea has been one of the city's dinning institutions for over 40 years. The first Thai branch focuses on the same winning strategy as the original: authentic, unpretentious barbecue and boatloads of ingredients to choose from. The decor is to be expected from a Korean barbecue joint: cooker hoods and plain wood tables. For the grill, highlights are spicy marinated pork neck (B289), pork belly (B295) and beef brisket (B420). They also serve up some traditional dishes like kimchi stew (B200) and bibimbap in a stone bowl (B180).
2/F, Seacon Square, Srinakarin Rd., 084-028-5207. Open daily 10:30am-9:30pm
Exclusively for Citi credit card members:
Get 10% discount when spending THB 600 or more /sales slip
1 Apr '20 – 31 Mar '21
Sponsored by: