Bangkok isn't known for being pet-friendly, especially compared to dog-mad Hong Kong, but more and more restaurants are warming up to our furry friends. Check out these pet-friendly places the next time you want to go out without leaving your best friend at home.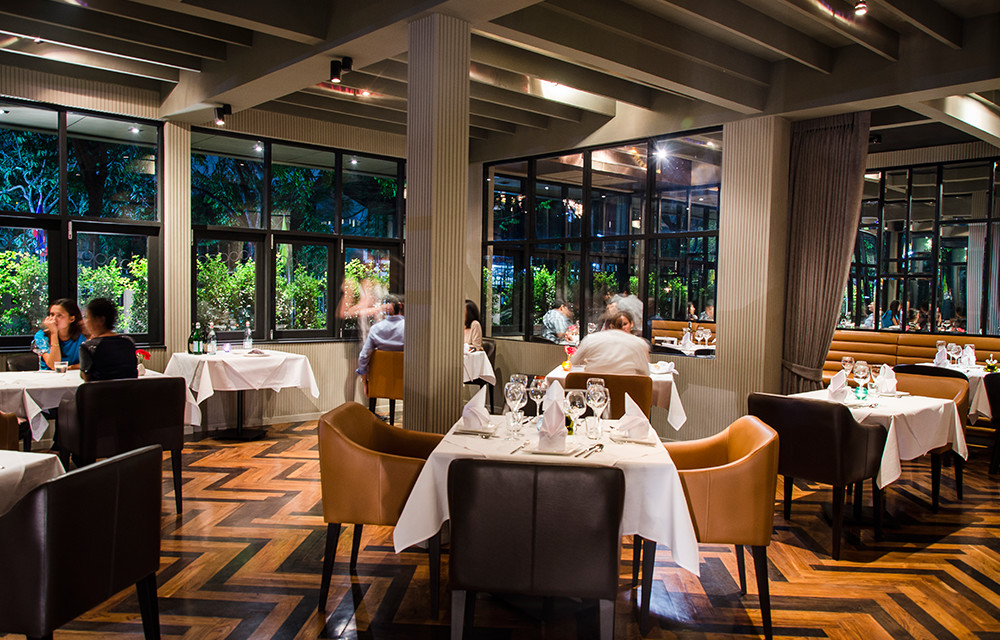 Sathorn's long-standing Italian joint, formerly known as Sensi, now welcomes your furry friends on the weekend. Here you'll find the kind of food that's made for a sunny afternoon with an Aperol spritz in hand, with hearty dishes like pasta and meatballs (B410), signature desserts like their Lemon Km 687 (B340) and a bunch of excellent wood-fired pizzas (from B310). Your four-legged companion will also get a "free doggie pizza treat."
Bigoli by Sensi, Narathiwat Ratchanakarin 17 Yaek 5, 02-117-1618. 02-676-4466, Open daily 11:30am-10:30pm
Craft
Grab a seat by the coffee counter at Kimpton Maa-Lai's first-floor cafe-bar and order a brew made with high-quality beans sourced from Thai and foreign suppliers (from B90). The siphon-filtered coffee (B180-B260) and the Turkish-style brew (B170), meanwhile, offer a more sophisticated sip than your regular espresso. What's going on behind the bar is just as impressive, with a focus on cocktails ranging from the Vesper martini (B320) to coffee-based drinks (from B220).
Kimpton Maa-Lai Hotel, 78 Soi Ton Son, 02-056-9999. Open daily 7am-midnight.
Pull up a seat outdoors, facing the mall's central courtyard and large waterfall, and enjoy dishes like salmon eggs Benedict (topped with hollandaise sauce on a toasted English muffin, B350) paired with a piping hot americano (B110) at this hot-spot for dog-lovers. With the mall's courtyard being mercifully shaded, this means for once you can visit the mall without leaving your faithful friend out in the heat, too.
G/F, The EmQuartier, 651 Sukhumvit Rd., 02-003-6013. Open daily 10am-10pm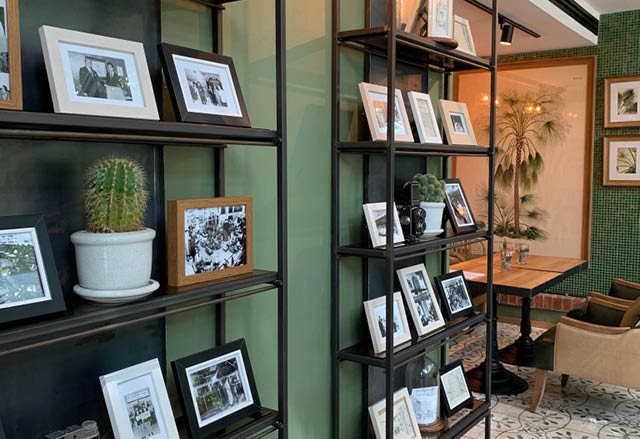 With the Dusit Thani Hotel still under renovation, the Dusit Gourmet has relaunched in pet-friendly digs on Soi Saladaeng. Food-wise, the bright and tangy soba noodle and kimchi bowl (B270) stands out among their all-day-dining dishes. Want to take your pup out for some high tea? They serve afternoon tea sets (B390) every day, featuring premium organic teas from the Monsoon Tea Company in northern Thailand.
Dusit Gourmet, Baan Dusit Thani, 116 Saladaeng Rd. 02-200-9009. Open daily 7am-11pm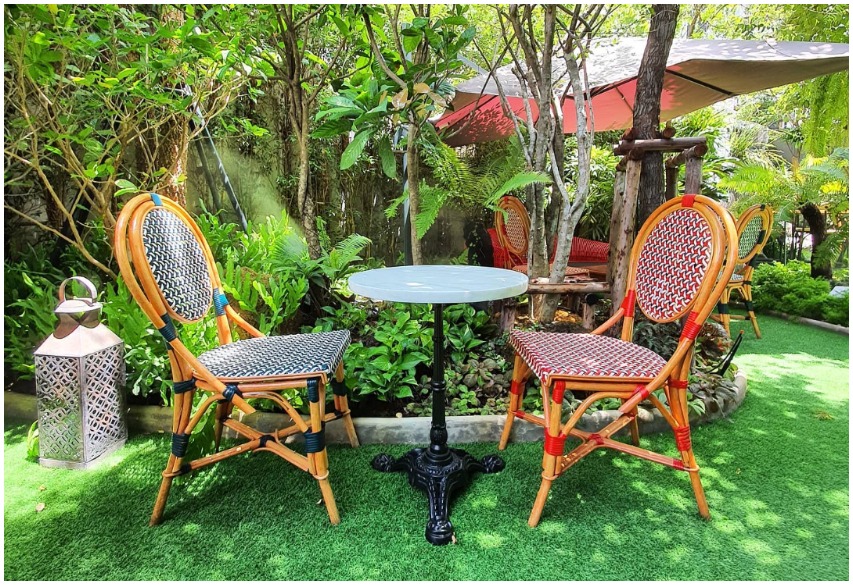 This pet-friendly garden may be animal-oriented, but they are not playing around with their food for humans. Grab a seat amid the trees and mini waterfall, and indulge in the Egg in the Park (a poached egg with hollandaise sauce, sauteed mushrooms and red spinach; B300) or a burger made with Australian wagyu (B380). Top it off with a glass of wine (from B280/glass) or the energy-boosting Wake Me Up (carrot, cucumber, apple, beet; B180).
Hide Park, 122 Sathorn Soi 12, 02-235-7127. Open Mon-Thu 3-10pm; Fri 3pm-midnight; Sat-Sun 8am-10pm
From the gorgeous 1960s house to the verdant garden, weekend dog walkers have it good at this northern Indian institution. Since 2006, Indus has been dishing out staples like butter chicken (B390), nawabi raan (seven-hour slow-cooked mutton leg, B990/1,690), and bhagare baingan (curried baby eggplants, B320). Recently, it began to welcome pets on the weekends, so now you can bring your pooch with you to satisfy for itch for awesome Indian food.
Indus, 71 Sukhumvit Soi 26, 086-339-8582. Open daily 11am-10:30pm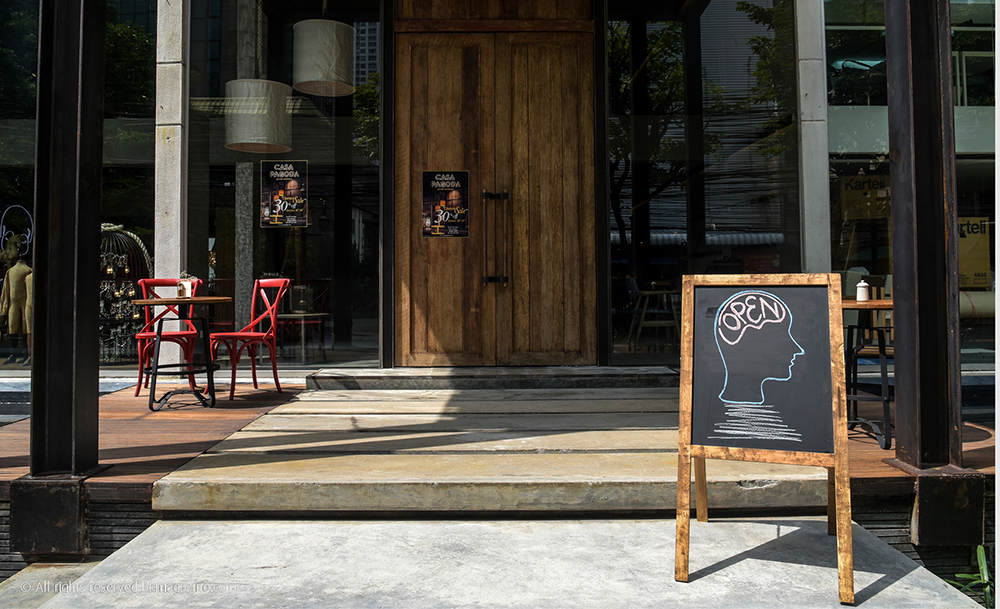 The Pan Road and Thonglor branches of this brunch mainstay—the Phloen Chit outpost at Siri House is currently closed—say yes to dogs. That means by 9am, you can be eating your breakfast burrito, packed with organic eggs, cheese, Sloane's sausage and more (B310), while sipping on a peppermint green tea (B120) as your pooch runs wild in the designated outdoor areas.
Luka Bangkok, 64/3 Pan Rd., 02-637-8558. Open daily 9am-6:30pm; Luka Moto, The Taste, Thonglor Soi 11, 02-050-0469. Open daily 9am-5pm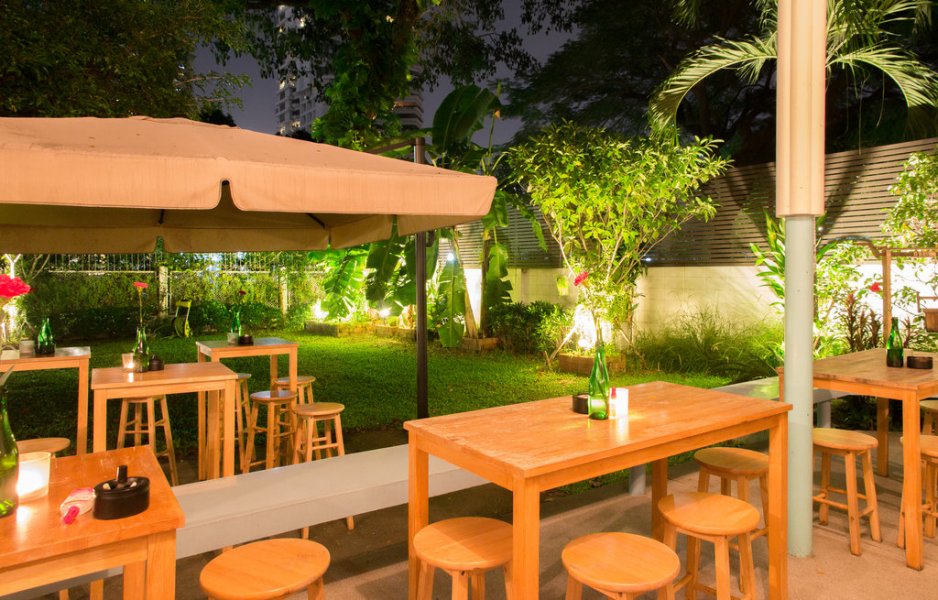 Ekkamai's craft beer mecca boasts 30 rotating taps and hundreds of cans and bottles in the Tasting Room in the shed behind the bar. It also has a spacious frontyard garden, ideal for lazy afternoons and evenings out with your dog, cold one in hand.
26 Ekkamai Soi 10, Yaek 2, 02-381-9891. Open daily 5pm-midnight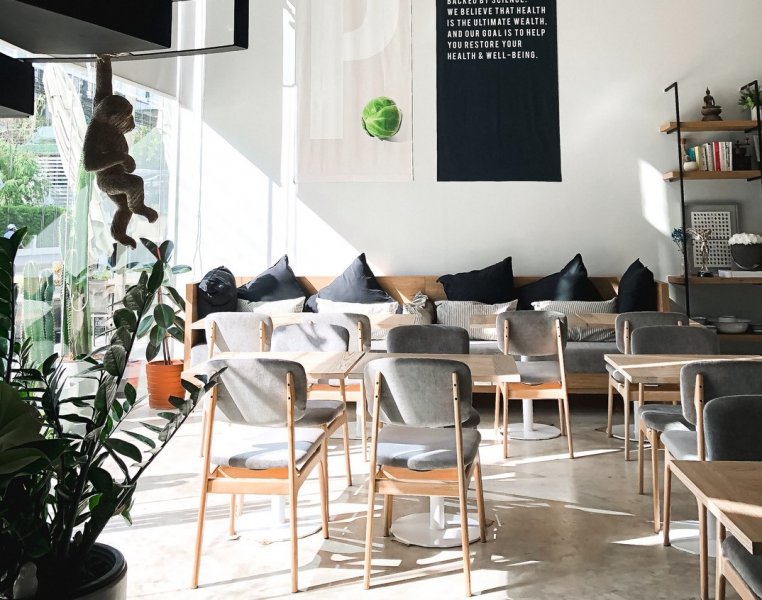 Image from Facebook @Plantiful
Ekkamai's new plant-based cafe is also a pet-friendly paradise. All dishes are 100-percent based on unrefined and minimally processed plant sources, like the Bibi Bowl (spinach, shiitake mushrooms, bean sprouts, carrot, Japanese cucumbers and riceberry with a bibimbap dressing; B240). Grab some fresh-pressed juice (B120) or coffee (from B80) while you chill out on the terrace with your most loyal friend.
The Residence at 61, Sukhumvit Soi 61, 091-715-5247. Open daily 8am-5pm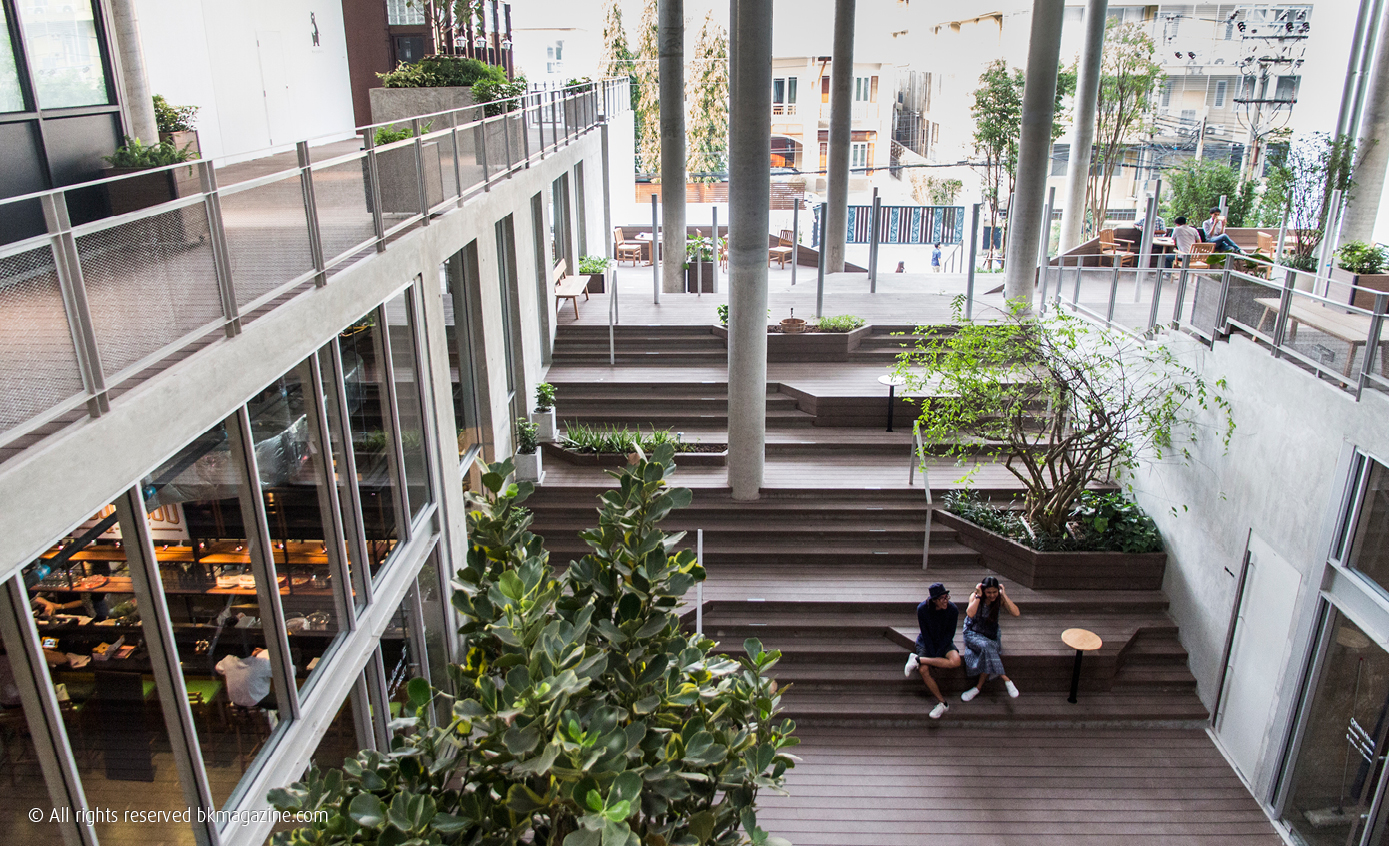 Thanks to their indoor-outdoor, open-plan design, the common areas at both branches of the hip community mall have become dog-friendly paradises. While your loyal companion gets acquainted with other four-legged friends, you can catch up with your besties while munching on Fowlmouth's awesome fried chicken burger (B250) or a classic brownie ice-cream sundae from Guss Damn Good (B160). If the night's still young, you can sip on ice-cold beers like Oranjeboom (B140) from Tap Room or Limburgse Witte (B140/B240) from The Beer Cap.
The Commons Thonglor, 335 Thonglor Soi 17, 089-152-2677. Open daily 8am-midnight; The Commons Saladaeng, 126 Sala Daeng Soi 1, 089-152-2677. Open daily 7am-midnight
Did the name give it away? In any event, Sathorn Soi 10's Japanese-style cafe The Running Dog is (obviously) dog-friendly. It boasts an outdoor space where your pets can run and play around while you enjoy a lemon meringue tart (B150) or slice of strawberry cheesecake (B150) with a cup of caramel macchiato (B120), blended from three different local beans.
The Running Dog, 55 Sathorn Soi 10, 02-077-6144. Open daily 10:30am-10pm
Head to either of Toby's two pet-friendly branches—Sukhumvit Soi 38 and Saladaeng—for a hearty, Aussie-inspired mid-morning meal with your pets. The photogenic, sun-kissed spot draws crowds, pet owners or otherwise, for their flat whites (B100), cold-pressed juices (B180) and brunch staples like the Egg Mikado (sourdough topped with two poached eggs, cured salmon and yellow hollandaise sauce, B320) and crispy French toast (B280).
Toby's on Sukhumvit 38, 75 Sukhumvit Soi 38, 02-712-1774. Open Tue-Sun 9am-10:00pm; Toby's at Saladaeng, 14/1 Soi Sathon 2, 02-121-4954. Open 9am-7pm
When cocktail hour arrives, let your hipster hound tag along to Charoenkrung's Tropic City. The bar crew are happy to let your pet lounge around on the terrace while you knock back drinks like Welcome to the Jungle (Plantation dark rum, aged Havana Club rum, pimento dram liqueur, apricot, pineapple, orange, lime and vanilla; B380) and Hotline Bling (pomelo-infused gin, Demonio de Los Andes pisco, dry vermouth, maraschino and Fernet Branca; B410).
672/65 Charoenkrung Soi 28, 097-242-2890. Open Tue-Sun 7pm-1:30am
By Veerabhatr Sriyananda and Dhipkawee Sriyananda Selley