We're not talking street food, either. We went searching for this city's top, special occasion-worthy dining spots where you can be in and out safe in the knowledge that, when time comes to pay the bill, it won't break B1,000 a head—and yes, that includes the plus-plus.
All prices are based on two people sharing, and include service charge and tax.
---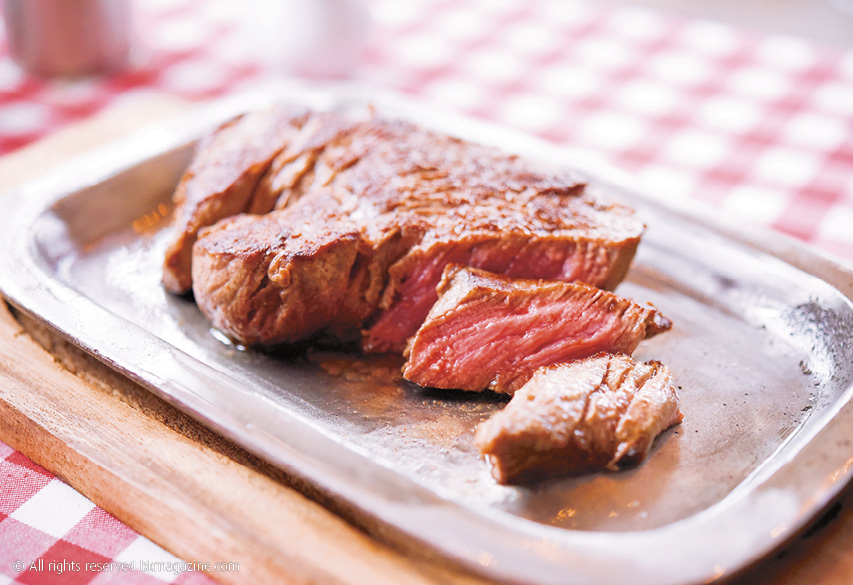 The place: Narathiwat's French bistro with the cheapest quality steak in the city.
The order: Make sure your dining partner doesn't get distracted by the wagyu T-bone (B5,900/kg), and instead limit yourselves to the delicious, 45-day aged sirloin. Half a kilo for B850 should do you both just fine, when paired with a plate of their fries (B120) and some macaroni and cheese (B150)—guilty, junk food pleasures. With an artichoke salad (B95) on the side, you'll still have enough for two glasses of wine (B185) before this budget expires.
The bill: B977/head with two glasses of wine each
2090/2 Narathiwas Soi 20, 02-678-8340. Open daily 11:30am-11pm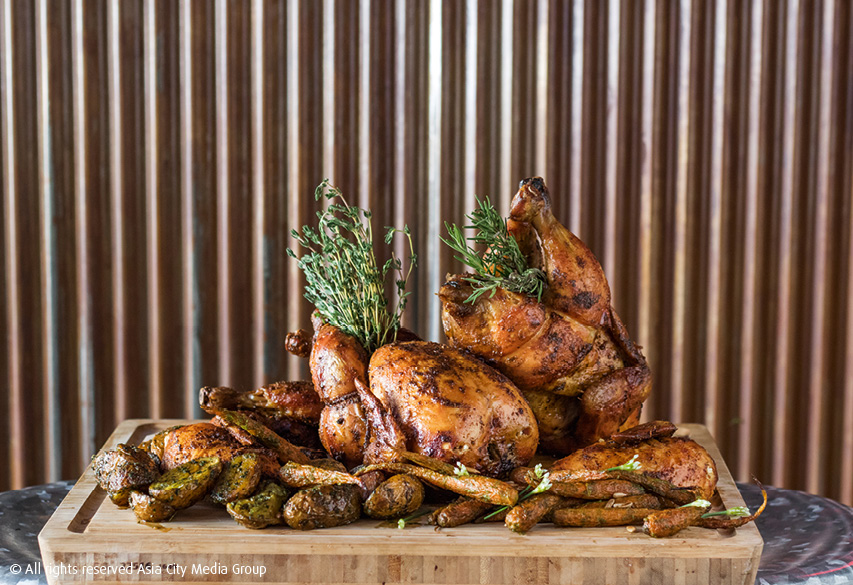 The place: Nang Linchi's industrial, rotisserie chicken specialist.
The order: Grab yourselves a half chicken, which will cost just B430, plus another B120 for more potatoes than you can eat and some dipping gravy. You'll want the super-tasty—and generous—chicken Caesar salad (B270) to go with, as well as a couple of glasses of the perfectly drinkable house white (B140).
The bill: B807/head with two glasses of wine each
Soi Amon, Nang Linchi Rd., 095-594-6675. Open Tue-Sun 5:30-10:30pm; Sat-Sun 11:30am-3pm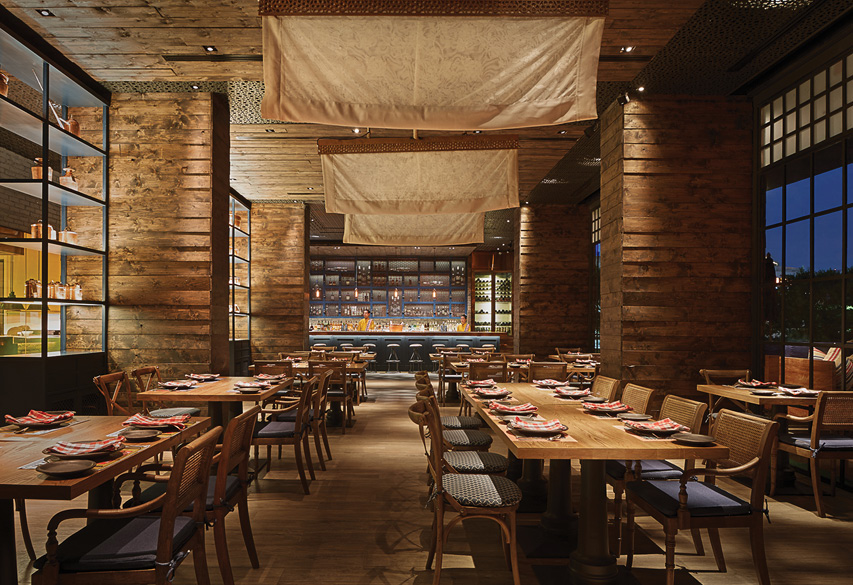 The place: Sukhumvit Soi 11's swanky, kebab-specializing Indian.
The order: The murgh malai kebab (B400 for five pieces), dal Charcoal (urad lentils, tomatoes, ginger and garlic, B200), lamb sheekh kebab (B390 for three pieces), a biriyani (B500) and two naan (B100 each) will make a feast for two. But now the bad news: you won't have any cash left over for the Indian spiced cocktails.
The bill: B988/head with no alcohol
5/F, Fraser Suites, Sukhumvit Soi 11, 089-307-1111. Open daily 6pm-midnight. BTS Nana
The place: Thonglor's tapas restaurant with origins in Madrid.
The order: Visit between 5-8pm daily, when 50-percent off one-
liter pitchers of sangria (otherwise B550) sets a boozy foundation for intensely moreish Spanish classics, like the tostas of pickled anchovies (B195), gambas al ajillo (B150) and spinach and cheese croquetas (B150/5 pieces). Steer clear of the pricier paella, and go to town on the delicious huevos rotos (B250), full of crisp-like potatoes, and the excellent homemade pork meatballs (B150). Even things out with a rocket, melon and Serrano ham salad (B220).
The bill: B974/head with a pitcher of sangria—or B813 during happy hour.
159/10 Sukhumvit Soi 55, 02-052-0656. Open Sun-Thu 11:30am-11pm; Fri-Sat 11:30- 1am. BTS Thong Lo
The place: Thonglor's eye-poppingly aquamarine pasta house.
The order: Kick off with a starter of deep-fried truffle, sage and ricotta cheese balls (B190), before getting down to business with a rigatoni carbonara (B360) and a duck ragu with fresh-made pasta (B360). Add a crabmeat bruschetta (B290) for a burst of freshness. End the carb-fest in explosive style with a Nutella-stuffed bomboloni (fried Italian donut, B190/two). Pair it all with a couple glasses of B220 sauvignon blanc.
The bill: B979/head with a glass of wine each
161/6 Thonglor Soi 9, 02-392-8688. Open daily 11am-2:30pm, 5:30-11pm. BTS Thong Lo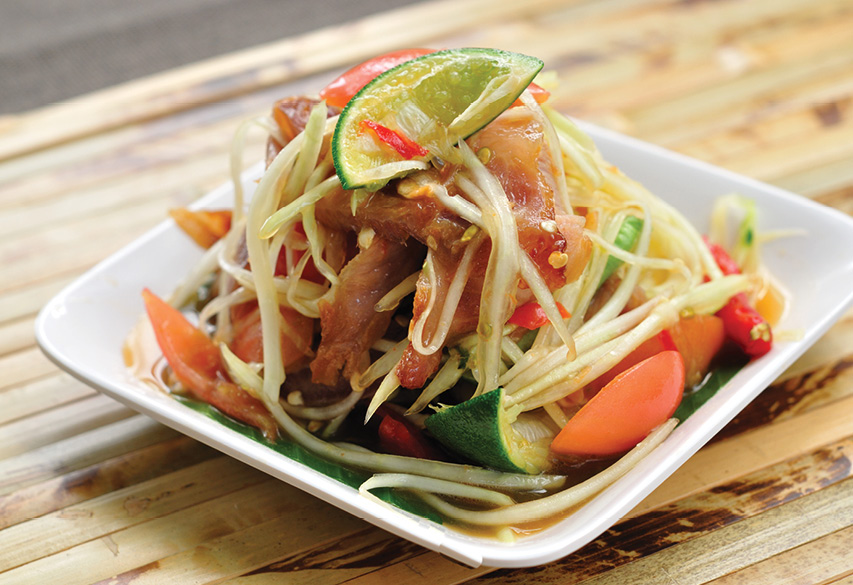 The place: Silom's original indoor Isaan bistro—with an expanding international empire.
The order: Go straight for the deep-fried laab balls (B95)—simply the best in the city—and marinated beef steak (B105). As for somtam, we like the tum kai kem (salted egg, B80) and tum pla dook foo (crispy catfish, B95), but switch one out for the fermented fish tum poo plara (B60) if you're that way inclined. Throw in an Isaan pork cartilage soup (B110) as well as two portions of sticky rice (B20) and you have yourselves a feast. Beerlao is B95/bottle.
The bill: B487/head with two bottle s of Beerlao each
5/5 Sala Daeng Rd., 02-632-4499. Open daily 11am-2:30pm, 4:30-10pm. MRT Silom
The place: Sala Daeng's low-key, bohemian Spanish tapas joint.
The order: The croquetas de jamon Iberico (B170/4 pieces) are a must, but also tiny. Throw in the fidena (Catalonia's noodle-based alternative to paella, B380) to ensure a hearty fill, while other small-plate essentials include the empanadilla de cordero (a succulent lamb confit wrapped in filo pastry, B170), grilled octopus (B355) and patatas bravas (B130). That'll leave you change for a pitcher of sangria (B380), too.
The bill: B888/head with a pitcher of Sangria to share
5/6 Sala Daeng Rd., 096-145-4563. Open Mon-Sat 11am-2:30pm, 5-11pm. MRT Silom