" I don't think I could come to eat at my own restaurant every day"
---
80/20 is back. After placing fifth in Top Tables 2018 (just one spot behind Gaggan), the local-ingredients upstart of Bangkok dining closed earlier this year for a makeover that sees it offer just one tasting menu at B3,000 per head and a chef's table-style counter around the open kitchen. Head chef Napol "Joe" Jantraget, 35, explains why now is the right time for bold restaurant concepts in Bangkok.

How much of the restaurant you opened in 2016 still exists today?
None. I have different goals. Of course I always dreamed of opening a fine-dining restaurant, serving tasting menus. When we first opened 80/20 it was a neighborhood spot: easy, simple. We had a mix of locals, tourists, backpackers coming here. I have always had many ideas for restaurant businesses and 80/20 was a quick one. I now have it to thank for getting us here.
You mentioned the words: fine dining, tasting menu. What's given you the courage to do it now?
We are ready, that's what people expect from us, and I believe those expectations have shaped themselves naturally. In our first year, I'd say we cooked French cuisine using Thai ingredients. Now, the flavors have become more Thai. I know now in myself what cuisine I want to cook. If you'd asked me three years ago, "what is your cuisine?" I would say I highlighted local ingredients, blah blah blah. I'd take five minutes to answer that question.
So, what is your cuisine?
I call it reinterpreted Thai cuisine. We encourage cooks, including myself, to do four things: to rethink, to reapproach, to rediscover and to revise.
The partnership with Foodie Collection [the restaurant group that owns Il Fumo, Via Maris and La Dotta]: what's that brought to the table?
They've helped us a lot on the PR and drinks. We have a great guy like Palm [head barman at Vesper] taking care of cocktails and now our wine program is from the Il Fumo sommelier. Having them means we can spend more time in the kitchen.
Which restaurants do you love in Bangkok right now?
It's good to see Thai restaurants opening that do regional cuisine—places like Sorn. I went recently and would say it's one of the best.
Do you think the Michelin thing has elevated Bangkok's standard?
Absolutely, but it's mixed. Some have raised their standard but I also see places opening just for Michelin, to get that exposure. For me, we still have to do what we do, focus on one table, one plate at a time and put out food that matches the standards we talk about every night. I don't know when, but we will get there.
What frustrates you about food in Bangkok?
I don't know why all good Thai food now has to come with fine linen, good service, wine glasses. I think real food doesn't have to be from a high level set-up. I would love to see more of that.
Yet here we are—tasting menu, wine glasses, linen...
Yes [laughs]. We can enjoy food on many different levels. Honestly, I don't think I could come to my own restaurant every day. I would love to do a more casual set-up, too.
If you could collaborate with anyone in Bangkok right now, who would it be?
Chef Ton from Le Du, chef Yod from Sorn, and my big brothers chef Prin [formerly of Nahm], chef Num [Samuay & Sons] and chef Chalee [100 Mahaseth, Surface] for sure. They really were big brothers to me during the time we were closed.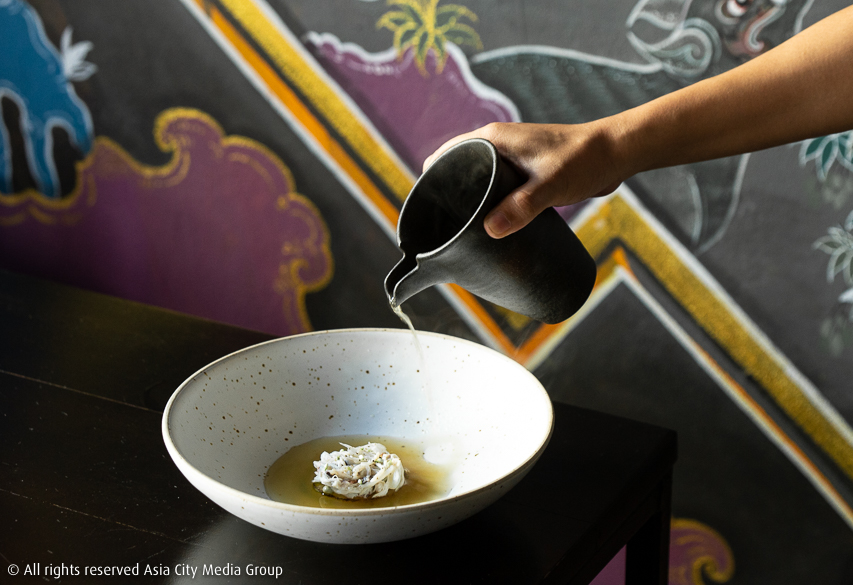 80/20, 1052-1054 Charoenkrung Soi 26, 099-118-2200. Tue-Sun 6-11 pm.