From city centers like Silom and Thong Lor to the suburban Phutthamonthon and Saphan Sung neighborhoods, Bangkok is flooded with a never-ending wave of new-opening cafes. If you're a die-hard cafe hopper, this is a handy guide for you. So get ready, grab your cameras and go!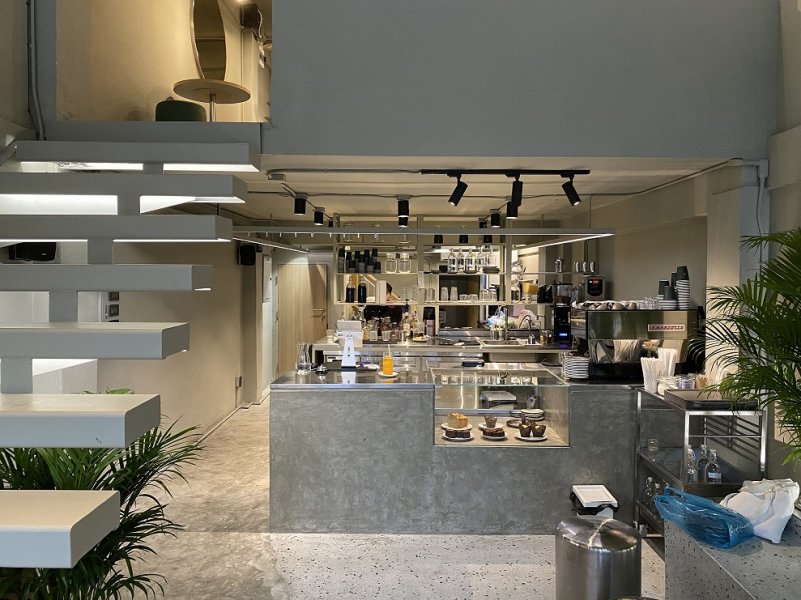 Tucked away at the end of Silom Soi 8, this clean-looking two-story shophouse features a deconstructed, minimal interior courtesy of a mono stringer staircase and the unfinished-style terrazzo and concrete floor. With a vibe this cool, you can expect many Silom office workers come here to get their morning coffee fix and fresh-baked pastries.
Order: Canele (B80), carrot cake with cream cheese (B140), orange tonic (orange, espresso, tonic soda, B120).
130/7 Silom Soi 8, 092-299-1424. Open daily 9am-5pm
Run by multidisciplinary design studio Trimode Studio, this cafe and retail store has been given a next-level creative touch through its raw and futuristic aesthetic. On the first floor you'll find an iridescent metal staircase seating area alongside an array of super sleek furniture, while the second floor evokes a dystopian desert vibe thanks to piles of sand, rocks, tree branches and stainless steel seats.
Order: Croffle (croissant waffle B85), lemon tea (B80) and iced americano (B90).
Soi Mata Nuson, Charoenkrung, 081-376-0402. Open Wed-Mon 9am-6pm
Housed in the former space of Ralph Bangkok Hostel in the quaint neighborhood of Tha Tian, Soul Coffee features a striking, yet stripped-down industrial design that screams Instagram worthy. Think sleek black coffee grinders and coffee machine lined over the long white countertop, while the net-like wire lighting hanging from the ceiling adds a cool finishing touch.
Order: Dirty (B120), black yuzu (espresso shot and yuzu B130) and premium matcha (B140).
109 Soi Tha Ruea Daeng, Maha Rat Rd., 086-387-0452. Open Tue-Sun 10am-6pm
With deep forest green walls accompanied with plenty of natural light, this clean loft-style cafe in Suan Phak serves up locally and internationally sourced beans that are roasted and blended in house. The relaxing and down-to-earth vibe of this place will make any coffee geek want to enjoy cups of third wave coffee for hours on end.
Order: Black amber (espresso shot with pineapple juice B120), hazelnut chocolate (B100), red yuzu shakarano (grapefruit juice, yuzu concentrate and espresso shot with tonic B150).
194, 14 Suan Phak Rd., 087-999-5452. Open daily 8am-5pm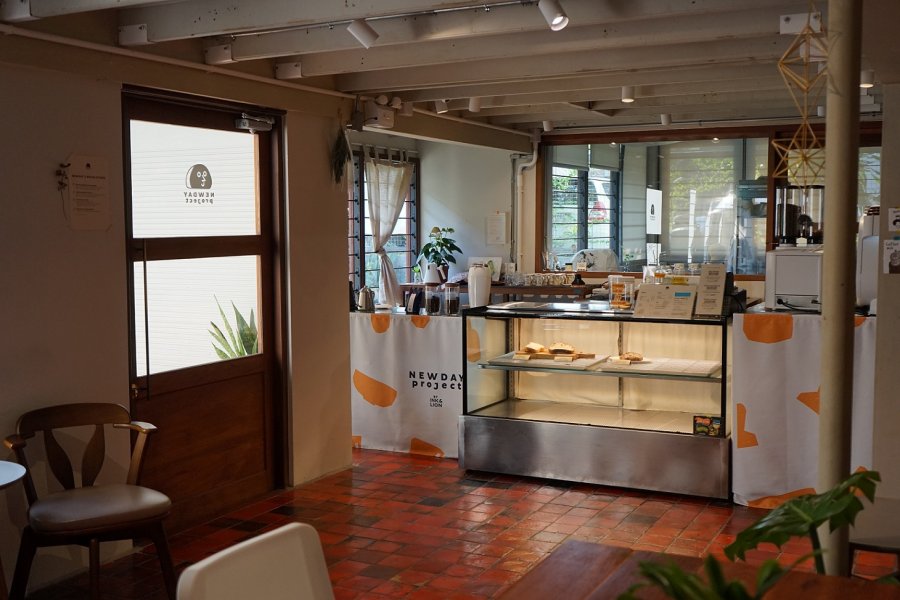 Nestled in a cozy old house down Soi To Sak in Thong Lor, this cafe looks like something straight out of Kinfolk. While the house's charming structure remains mostly unchanged, the green leafy plants, see-through white curtains and the smell of fresh-brewed coffee help add a youthful vibe to the space.
Order: Sourdough country bread (served with butter and marmalade B110), iced matcha clear (B140), happy bear (Espresso, soy milk and honey, B110).
53 Soi To Sak (Thong Lor), 091-559-0994. Temporarily closed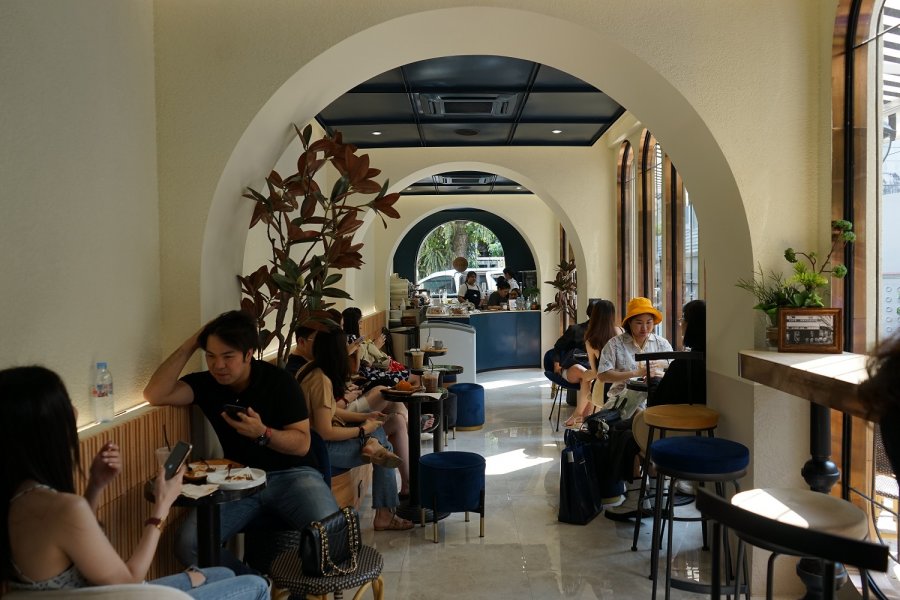 Located nearby to Newday Project, this 'grammable Parisian-style shophouse is one of the exciting new additions to Thong Lor's cafe scene. From the eye-catching white-and-navy colorblock with hints of orange bricks and awnings to the rounded windows and curved archways, Season Bangkok's level of chic is easy to make any cafe hopper go gaga.
Order: The rotating selection of bakeries like original cheesecake (B150) and dark beer cake (B140). For drinks, go for the peach tea (B75).
59/1 Soi To Sak (Thong Lor), 095-362-8789. Open daily 9am-6pm
Taking over a narrow three-story building, this cafe shakes up cocktail-inspired coffee from house-roasted single origin and blend beans. Decked out with rustic dark wooden countertop, cabinets, tables and a little hint of green, CherryDog strikes the right balance between a vintage Irish-pub and indie cafe vibe.
Order: Old fashion royal (just like old fashioned but with coffee B150), legend of union (matcha topped with lime whip B165) and the way of musashi (matcha and wasabi B165).
85/2 Motorway 5 Rd., Saphan Sung, 089-361-4462. Open Tue-Sun 9am-6pm
Warm golden tones of wooden fixtures and polished grey concrete floor dominate this airy cafe, where chef Pachara "James" Takerngkiat, the winner of Iron Chef Thailand, whips up an array of french pastries with his own twist. Beyond bakeries, the cafe also offers savory dishes like fish and chips, fried calamari and caesar salad.
Order: Chocolate kouign amann (B85), almond croissant (B95), iced caramel macchiato (B105) or one of everything on the pastry menu.
172 Prannok-Putthamonthon Sai 4 Rd., 064-958-9588.

Temporarily closed until Jun 23