Though we wish we could care more about Thailand's soft power—conveniently viewed by Thailand's officials as some sort of mystic vehicle that transports Thailand to the next stage of progress—seeing Prayuth eat khao soi makes us crave it, too. Even CNN ranked khao soi (along with the Thai crab omelet and Isaan sausage) among the top
50 best street foods in Asia
. Here are the places in Bangkok you should stop to get the most out of your khao soi.
Tucked away in a modest shop-house just a stone's throw away from BTS Ekkamai, Hom Duan packs out at lunchtime and draws long queues from rows of homemade khao gaeng, spicy sai oua, and khao soi gai—all at rock bottom prices. With brushed concrete floors, hanging ferns and metal lampshades, this is a cut above your average streetside diner. The place was so successful that it opened another branch next to Silom Complex.
Ekkamai Soi 2. Tel. 085-037-8916. Open Mon-Sat 8am-8pm
Authentic khao soi gai, housemade nam prik noom (green chili relish), and nam prik ong (chili, tomato and ground pork dip) here are presided over by Chiang Mai-native Chinnanan Sethachanan. Discover rare dishes like khao ngiao (steamed rice with pork blood and herbs in banana leaves) and stir-fried pak chiangda (a northern vegetable) with egg.
125/24 Sukhumvit Soi 55 (Thonglor). Tel. 02-019-6515. Open daily 11am-10pm.
Down a quiet soi off Sukhumvit, this family-run restaurant dishes out pleasantly light khao soi, refreshing pomelo salads, and home-style kua kae (stir-fried vegetables with chicken) in a Lanna-inspired setting: potted orchids, hanging tung (northern flags), bright pink walls and dark-wood furniture. With its friendly prices, this chilled-out spot is the perfect place to escape the city madness.
Taweewan Place Sukhumvit Soi 33. Tel. 02-662-0501. Mon-Sat 11am-2pm, 5-10pm
From a down-to-earth, country-style wooden house, Lumphon-raised owner Anchalee Prommart dishes out flavor-packed home recipes. On any given day there are 30-40 different curries and a self-service fresh vegetable station. Their khao soi starts cheap and offers an option where you can have the noodles deep-fried, offering a crunchier sensation to the usual khao soi. Order this along with the kong kao wai, a platter of northern-style hors d'oeuvres covering sausage, crispy pork belly, and minced pork stuffed in fried northern green chili.
Sammakorn Village, Ramkhamhaeng Rd. Tel. 02-729-6275. Open Wed-Mon 10am-9pm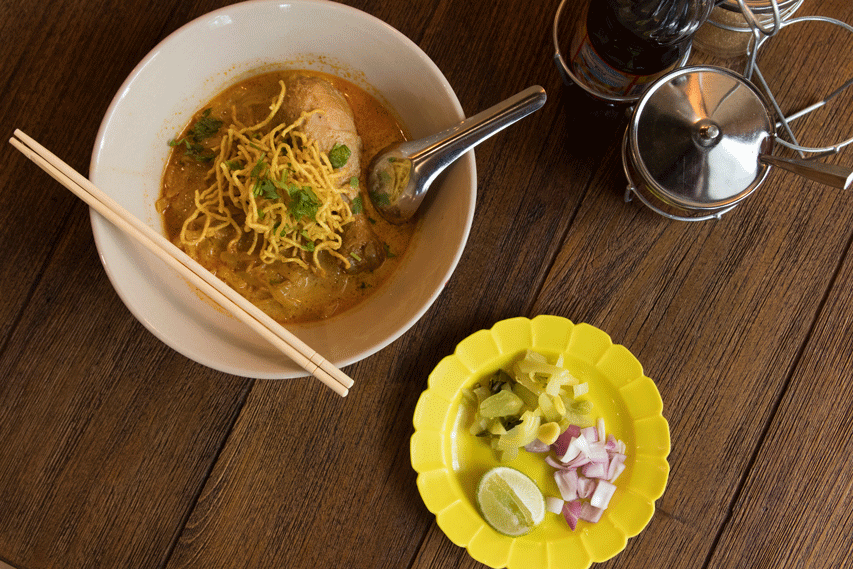 The people behind Chiang Mai's beloved Ong Tong noodle shop have sprouted up in Bangkok. The highlight khao soi gai comes with a creamy yet spicy soup and a tender chicken drumstick, while the khao soi haeng sai oua is a stir-fried version starring homemade northern-style sausages. Do also try the deliciously moist puu ong (a mash of grilled rice-field crabs' eggs and egg).
21 Phahon Yothin Soi 7, Tel. 02-003-5254. Open daily 10:30am-8:30pm
This little bistro delivers the big, bold flavors of Chiang Mai near BTS Phaya Thai. A pot of fiery nam prik nom is the centerpiece of a northern tasting platter served with the works. Other regional favorites like khao soi, jin som mok kai (fermented minced pork with egg in a banana leaf), and hang lay are also represented, alongside fusion-y offerings like sai oua spaghetti.
69/34 Phayathai Rd. Tel. 061-464-7917. Open Thu-Tue 11am-9pm
Though this restaurant specializes in dishes from all the kingdom's regions, it's included here for one simple reason: its incredible sai oua. The owners follow their own recipe, ensuring a juicy and unique flavor. A glistening gold and red sign welcomes you into the two-level space, where you'll also find pork ribs in Isaan tom saep (spicy soup), Chiang Mai deep fried pork belly, southern classics, and more.
Mahatun Plaza, 888/28-29 Phloen Chit Rd. Tel. 02-044-1010. Open Mon-Sat 11:00am-8pm
Khao Soi Lumduan Fah Haam
Originally hailing from Chiang Mai, this legendary 70-year-old khao soi joint is run by the daughter of founder Auntie Lamduan and is still formidable among Bangkok's khao soi ranks today. If you prefer your khao soi dense, spicy, and salty, then this is the place. We like the crunchy, fresh deep-fried noodles and we always get a bowl of slow-cooked baby back ribs.
16/54 Vipawadee-Rangsit Soi 58. Tel. 085-916-9905, 02-579-6403, 081-919-0951. Open daily 8:30am-4pm (except the last Sun of the month)
Originally opened as a fine dining restaurant focusing on Northern food—a rare find in Bangkok's fine dining scene, considering there are only two establishments specializing in the cuisine—North boasts a century-old heritage house complete with lush green garden. Their newly unveiled menu, however, is not your average khao soi. The Lampang-style khao soi features creamy and deeply fragrant coconut broth and sizable slices of pink medium rare wagyu beef. The recipes have been passed down through the owner's family, swapping the usual curry powder with pulverized chaco black cardamom, lending a strong piquant flavor.
8 Sukhumvit Soi 33. Tel. 061-426-2642.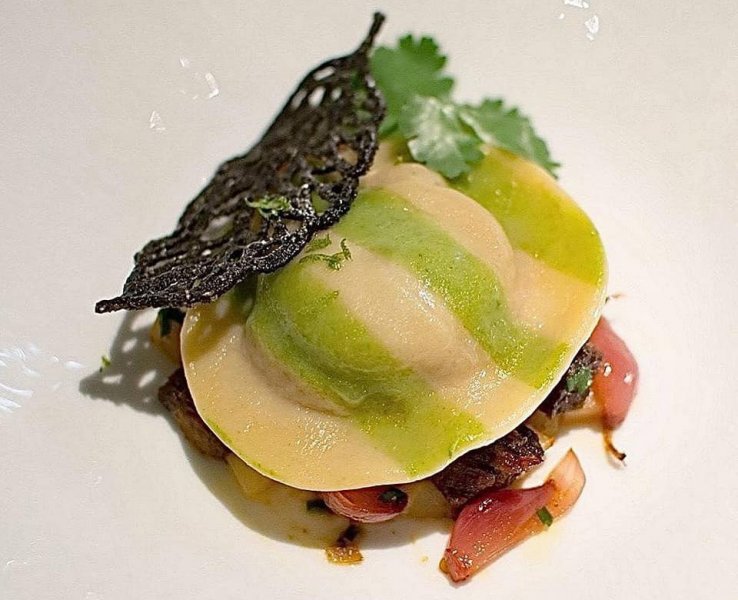 Lanna flavors meet western ingredients at Phaya Thai's Northern cuisine specialist. Run by chef Phattanat "May" Thongthong—runner-up in the first season of Top Chef Thailand—Maze dazzles diners with bold Thai flavors and an elegant design bursting with teal and gold for the better part of our pandemic years. Her khao soi is reimagined in the form of ravioli oozing umami-filled northern curry sauce.
114/3 Setsiri R, Samsen Nai, Phaya Thai. Open Tue-Sun 11:30AM–2:30PM, 5:30–9:30PM
Ginger Farm Kitchen
Another famous joint from Chiang Mai, this organic farm-slash-eatery brings their home-style Northern cooks to Punnawithi. Here, they source organic produce from Saraphi farmers for their fresh vegetables. Their chicken khao soi, catering as it does to modern taste buds, is still worth a stop on our list.

3/F 101 The Third Place. Sukhumvit Rd. Tel. 082-034-7576. Open daily 10am-10pm.