The openings have come quick and fast—from big and bold to sweet and homey, with many helmed by teams boasting serious hospo pedigree. Lucky we're hungry. Whether you're looking for classic dishes in lavish surroundings, a cup of matcha in a garden, or a sprawling menu on a rooftop, we've got you covered.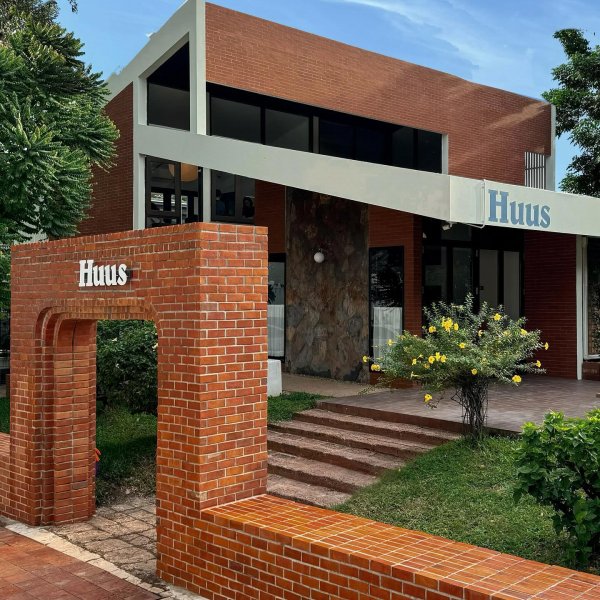 Huus Plate, from the famous cafe Huus of Bread, recently opened on Sukhumvit 60. With the exposed brick and vintage color scheme, the more than 100-year-old house gives off a homie and vintage atmosphere with three levels and each room offering seating space. The menu is a blend of Asian and Western comfort food, featuring everything from a hearty breakfast selection to pasta, freshly baked goods, and desserts. We recommend trying the Huus super corn cheese toast that's packed with corn cream cheese filling and paired with corn puree. Another option is the Huus signature breakfast, which gives you options of bread, eggs, and sausage from Sloane's.
Sukhumvit 60., 098-283-6520, Open daily 9:30am-6pm.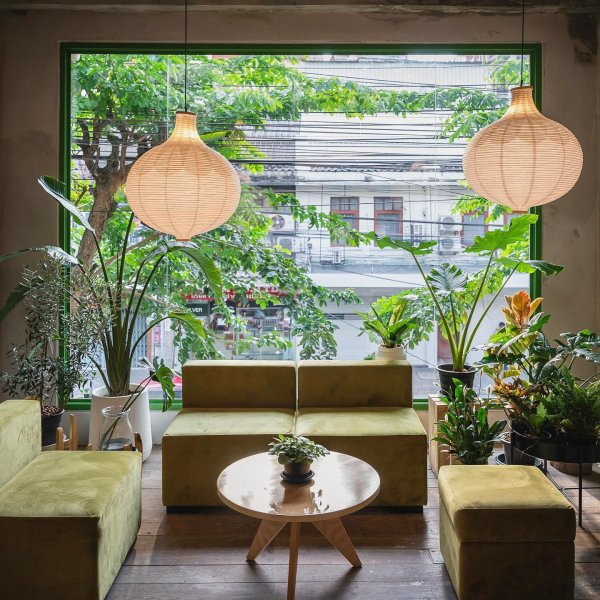 Matcha fans, this one's for you. Ren Cafe and Goods is the newly opened specialty matcha shop in Charoenkrung serving both drinks and desserts. Their matcha latte (ranging from B110-190) contains ceremonial-grade matcha powder where you can choose from three different types of matcha: ren, mizumi, and yama. For a twist, try their innovative matcha drinks with fruits and chocolates, and don't forget to pair it with their homemade matcha tiramisu or strawberry shortcake dessert. The second floor of the cafe is complete with sofas and trees, providing a nice little sanctuary to relax and sip your matcha.
1111, Charoen Krung Road., Open Tues-Sun 10am-5pm.
What started as an online cookie shop has finally upgraded to a brick-and-mortar store that feels like a little slice of South Korea. If it is your first time, try the crowd-favorite creme latte (B115), a cold latte topped with thick, soft whipped cream. Don't forget to treat yourself to the fudge chocolate mousse (B160) or their freshly baked cookies (dark chocolate walnut, white choc cranberry, or brown butter, B85). The interior here is decorated with soft tones and white and orange exposed brick, which creates a contrast with the naked plasterwork to give off an industrial vibe.
87, Soi Ladprao, 099-445-4493. Open daily 9am-6pm.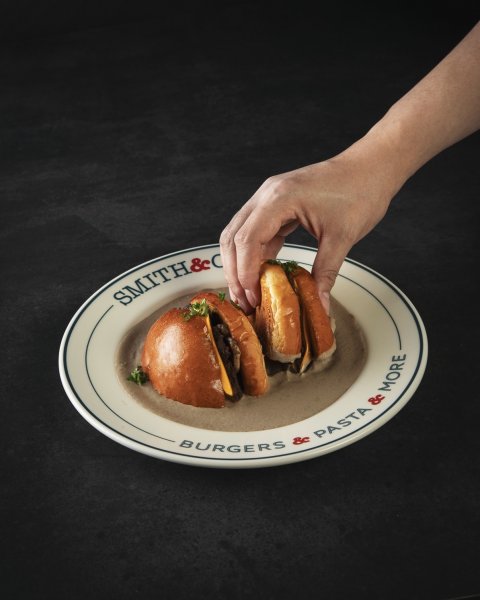 Smith and Co is an American-Italian restaurant that focuses on burgers and pasta, but with a twist: each dish comes with an unusual presentation. The atmosphere here is decorated with American diner-style furniture and color schemes, and the burger buns and pasta are made fresh daily. We recommend the truffle mushroom burger (B319), which is drenched in a truffle mushroom sauce, or try their sweet and smokey bacon beef burger with hash browns and sweet potato fries (B457). For Italian dishes, we recommend the carbonara (B239) with fresh guanciale and a raw egg to make it extra creamy.
1/F Mercury Ville., 090-918-1710, Open daily 10am-10pm.
Holiday Pastry has opened a new branch at Central World with a "Dining Room" concept, flouting Wes Anderson vibes with its sunshine yellow color scheme, archways, and large-scale lighting. They serve an all-day hearty brunch and a dessert menu, like the New York spicy rigatoni vodka (B320) which seems to be all the craze lately (and for good reason). There's also the grilled crispy pork risotto topped with sweet and sour apple glaze sauce (B420). But save some room for dessert and try their No.1 Signature Pancake or the Best French Toast Ever, the names speak for itself.
F/7 Central World., 065-993-8583, Open 10am-10pm.
Sitting on the 33rd and 34th floors of the Innside Hotel Bangkok Sukhumvit by Melia. Luz Tapas Bar, helmed by Chef de Cuisine Laia Ferrer, combines her Barcelona heritage with Thai ingredients and Spanish flavors. The venue, which soft opened mid-September, offers two spacious areas: the Luz terrace and the Luz rooftop. For food, highlights include suquet de peix amb romesco (B850), a daily catch stew with romesco sauce, fideus a la cassola (B950) a slow-cooked pork ribs in a noodle stew served in a paella pan, and the tiradito basque (B950), which showcases the catch of the day with Basque seasoning. Come for date night dinner or cocktails - but just make sure you're there for sunset.
Innside Hotel Bangkok Sukhumvit By Melia, 1472, Sukhumvit Road., 02-340-5499. Open daily 4pm-12am.
168 Yi Liu Ba in Yaowarat is a new dining establishment in a historic building that combines Chinese and Thai traditions. Chef Por, an internationally awarded chef, leads the restaurant, offering a menu that blends Chinese and Thai cooking techniques. The venue features a bar, restaurant, and a live music area. Highlights from the menu include a melon and mint-infused watermelon salad (B340) which is a unique twist on a Thai salad, brown rice noodles with gyoza veggie soup (B280) which is a comforting dish with brown rice vermicelli vegetarian gyoza in a goji berry-infused broth, shiitake mushrooms, and zesty lime chili sauce. After your meal, head to the bar for a curated selection of craft cocktails, fine wines, premium cognacs, and Japanese whiskies.
605, Charoen Krung Road., 093-110-2889, Open Tues-Sun 5pm-late.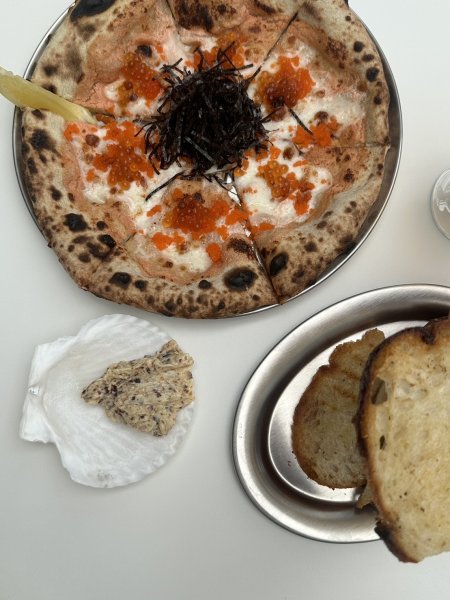 The Aglio Store, established in 2021 as a famous sauce brand, opened as part of the Degree Square Project. The restaurant boasts a Nordic-inspired interior with a minimalist design, featuring warm white tones and light brown wood accents. Their specialty is Neapolitan-style pizza, known for its soft, fluffy dough compared to the Roman-style counterpart. What makes the restaurant unique are its unconventional toppings. For instance, the mentaiko ikura pizza (B450) combines Japanese flavors with salt-cured roe of Alaskan pollock, cream, butter, and parmesan, resulting in a burst of umami. If you prefer a creamier white base, consider the carbonara pizza (B380), or for vegetarians, the supreme truffle champignon (B390)
Degree Square Project, 39, Soi Sukhumvit. 098 963 5644. Open Mon and Wed-Sun 11am-10pm.
Chef Sujira "Aom" Pongmorn, celebrated for winning Michelin's first Young Chef award and previously renowned for her talent at Saawaan, has opened her newest culinary venture, Khaan. The restaurant's opulent red and gold interior pays homage to traditional Thai design, setting the stage for an 11-course gastronomic tasting menu priced at B3,850. Drawing inspiration from Thai street food, Chef Aom's creations are an ode to traditional cooking techniques, and her commitment to sustainability ensures minimal waste.
14, Soi Somkid., 092-441-6547, Open daily 5pm-1am.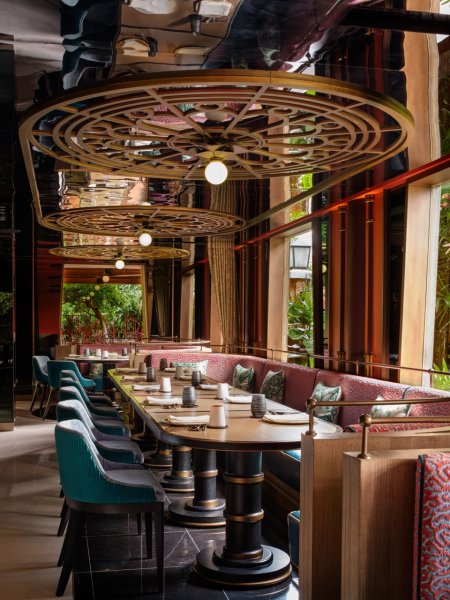 Jim Thompson, Thailand's famous iconic lifestyle brand, is fully embracing hospitality. The restaurant is located in the Jim Thompson Museum and celebrates the legacy of the eponymous entrepreneur and spy. Guests will also be able to treat themselves to an afternoon tea with views of the Jim Thomspon House and garden. The menu consists of progressive Thai cuisine crafted by Chef Pepe and a selection of exquisite wines. Try ordering their inky pad thai with Spanish chorizo (B480), their Waiting for News (B380) which is charcoal grilled baby onions wrapped in newspaper, and the Khao Pad Socarrat (B480) featuring a unique twist on fried rice paella style. Save room for dessert and try their Thai basque cheesecake (B320) with Thai tea and pistachios.
6, Kasem San, Wang Mai., 02-612-3601, Open daily 12pm-4:30pm.