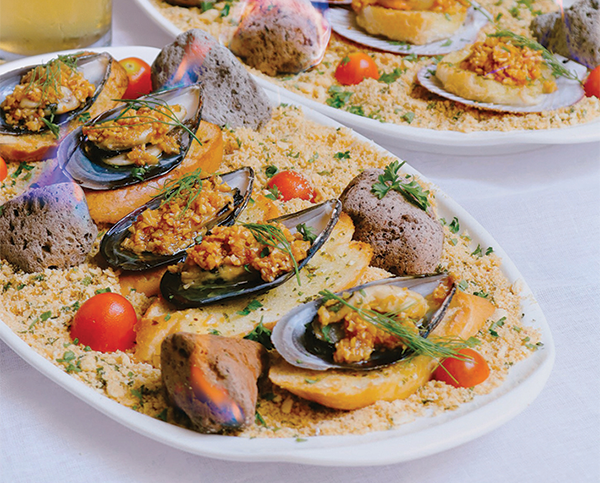 Wishbeer Silom
The Dish: Mediterranean Beurre d'Ail
The Flavors: Here, the crew at Wishbeer harness the power of the Mediterranean through a simple combination of butter and garlic (known as beurre d'ail in French). It's pretty simple: a base of French garlic bread topped with the shellfish of your choice (in this case Hokkaido scallops or Chilean mussels). While cooking, the chefs flambé the seafood with vodka to develop the flavor—of course burning off all the alcohol in the process.
The Price: B690 for scallops, B590 for mussels (both come with 50cl. of Estrella Damm)
Silom Soi 2/1, Bang Rak, 02-002-5766. Open daily 8am-1am. BTS Sala Daeng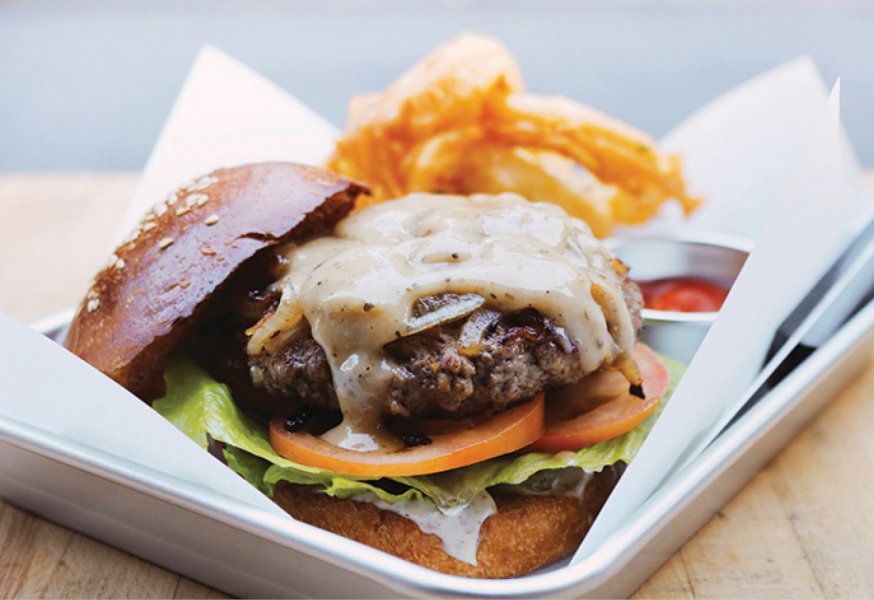 Wishbeer Garden at Vue
The Dish: Wish-Burger
The Flavors: A rich and tender patty made from Pone Yang Kham, the Thai-French beef that some argue is the best in Thailand at the moment. The burger overall focuses on simple layers of great produce—caramelized onions, fresh tomatoes and romaine lettuce. The chefs top the ensemble with some indulgent truffle mayonnaise to take things over the top. It's served with a side of crunchy, piping hot beer-battered onion rings.
The Price: B640 (includes 50cl. of Estrella Damm)
110 Soi Charoean Nakorn 13, Vue (Unit B03), Khlong San, 02-108-0499. Open daily 5pm-midnight
Loulou Forks & Glasses
The Dish: Marinated Pork Chop
The Flavors: Tender and balanced thanks to a generous marinating process and a careful seasoning with salt to level out the acidity. A decent sear in a pan gives it a nice crispy caramelized crust. The side of moist and dense polenta, butter-fried mushrooms and homemade BBQ sauce round things out for complete dish.
The Price: B700 (includes 50cl. of Estrella Damm)
459/61, Suan Phlu Soi 8, Thung Maha Mek, Sathon, 02-116-1142, 095-469-1142. Open Tue-Sat 10am-1am (lunch and dinner)
Wallflowers Upstairs
The Dish: Crispy Gyoza Camembert Truffle Salsa
The Flavors: Heavily floral, herbaceous and earthy. The camembert cheese sees a healthy dose of truffle oil while baking inside a Danish-Japanese-style gyoza dumpling. It's crispy on the outside and gooey in the middle for something a little new.
The Price: B520 (includes 33cl. of Estrella Damm)
37 Soi Rammaitri, Pom Prap Sattru Phai, 096-727-6789. Open Tue-Sun 6pm-midnight
Craft Home
The Dish: Pizza
The Flavors: Just like the name, Craft Home's pizza focuses on a handful of simple, quality ingredients. It starts with Italian Tipo "00" flour and a careful mix of yeast, salt and dash of olive oil. Fifteen minutes in the oven and it becomes crispy on the outside and soft enough on the inside to tear apart a la a food commercial. You can cover it in any toppings you want.
The Price: B399 (includes 48cl. of Estrella Damm)
167/1 Soi Rama II 33, Bang Mot, Chom Thong, 02-499-3195, 063-870-8777. Open Tue-Sun 10am-10:30pm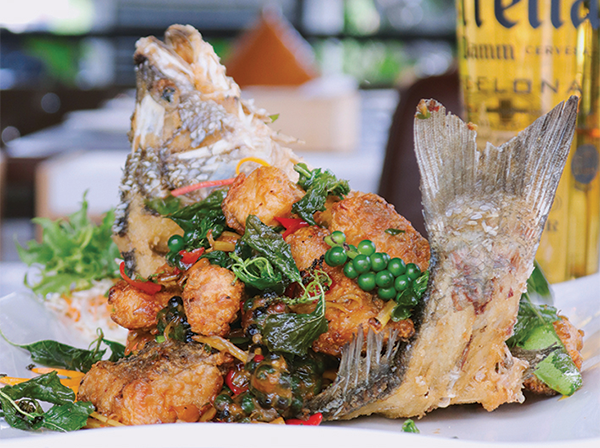 Station618
The Dish: Deep Fried Barramundi with Thai Spicy Herbs
The Flavors: Hot, herbaceous and robust. Barramundi fish (known as pla kapong in Thai) is a ubiquitous here, usually steamed or fried. This version takes things a step further by batter-frying it for some extra crunch. It's coated with a simple seasoned flour, roasted with fingerroot, kaffir lime leaves, green pepper and chili until fragrant oil spills down and the spicy flavor infuses with the fish meat. It comes topped with ziggy herbs and some fried Thai basil to round out the textures and flavors.
The Price: B450 (includes 50cl. of Estrella Damm)
Soi Anamai Ngamcharoen 25, Bang Khun Thian, Rama II Rd., 097-138-7832. Open daily 11am-2pm, 5pm-midnight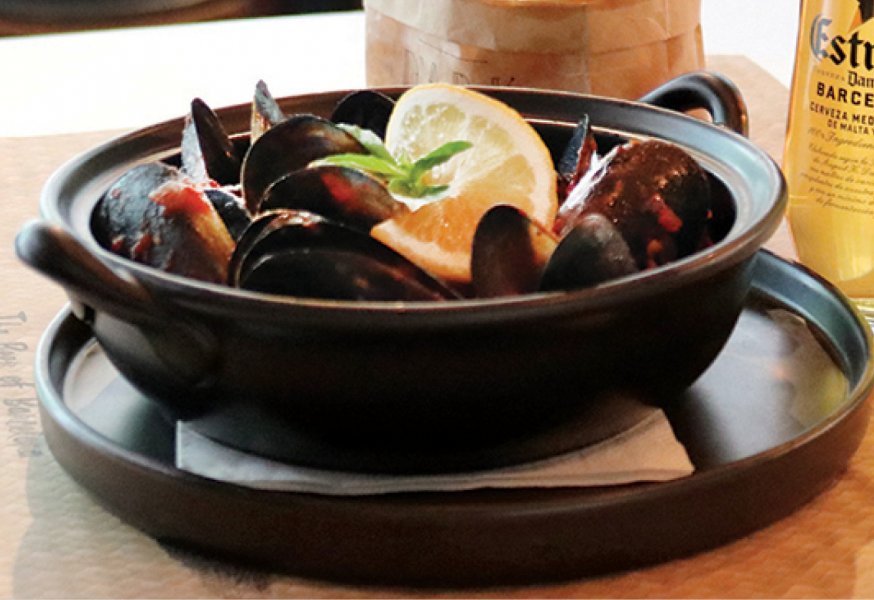 D'ARK Iconsiam
The Dish: Signature Mussels
The Flavors: There are actually two options here. The first is French-style moules mariniere (steamed mussels in white wine sauce), while the other is Spanish-style mejillones (also steamed, but this time in a tomato-based sauce with diced bits of chorizo). Both are served in half portions and come with a side of French fries.
The Price: B490 (includes 33cl. of Estrella Damm)
Iconsiam Shopping Center, Ground Floor-Veranda, Charoen Nakhon Rd., Khlong San, 02-010-1879. Open daily 10am-10pm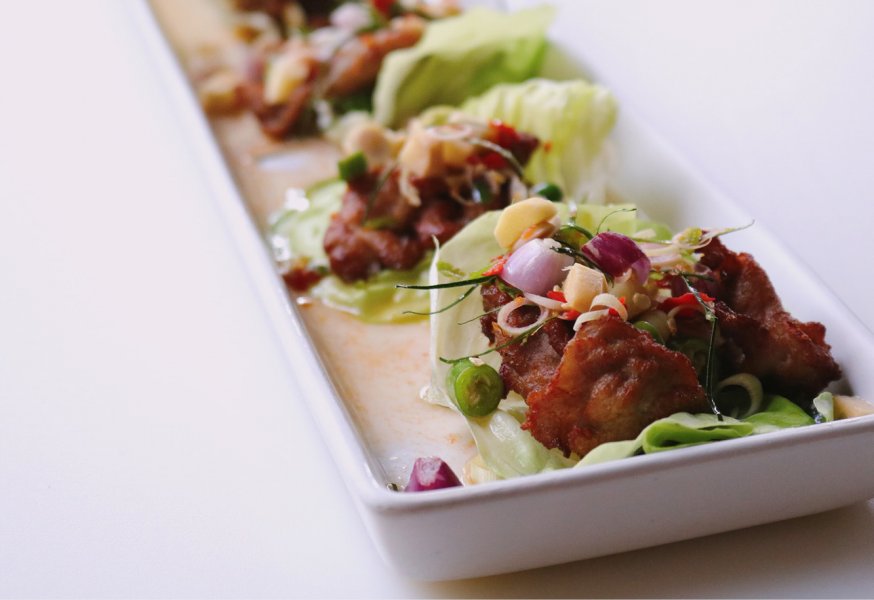 Anya's Place
The Dish: Moo Lui Suan - Pig in the Garden
The Flavors: Punchy and loaded with herbs, as you would expect from a traditional Thai salad. The pork is deep-fried for some extra crunch (it's free-range pork as well). It's topped with lemongrass, garlic, shallots and sliced chilis to round things out. It's a healthy-feeling snack that comes in perfect bite-sized portions for a beer pairing.
The Price: B299 (includes 33cl. of Estrella Damm)
152 Thawi Watthana Rd., Salaya, Phuttamonthon, Nakhon Pathom, 02-800-3533. Open daily 11am-midnight (kitchen closes at 10pm)
Zodiac Café & Home Decoration
The Dish: Grilled Lamb Rack with Lamb Jus
The Flavors: Juicy, gamey and tender. The rack of lamb is coated in rosemary and thyme with a lathering of butter, garlic and olive oil. Then it gets a heavy sear on a charcoal grill before putting it in the oven to roast, letting the juices collect in a pan. The chefs at Zodiac Café turn this into a velvety au jus gravy. Pour it on top and you have yourselve a uber-indulgent, savory dish.
The Price: B970 (includes 50cl. of Estrella Damm)
57/18 Ratchaphruek Rd., Pak Kret, Nonthaburi, 082-130-4554. Open daily 10 am-11pm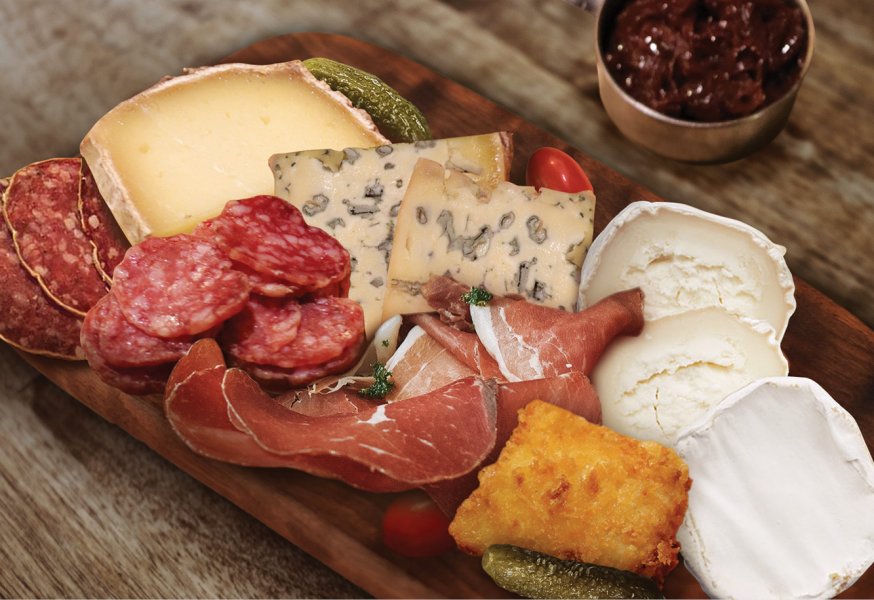 Le Coq en Pâte
The Dish: Cold Cut and Cheese
The Flavors: The name says it all. Nothing beats a platter of cold cuts when your hanging with a couple of friends for drinks. Here, the folks at Le Coq dish out a range of pan-fried Parmesan cheese, chorizo, and imported cheeses from France and Iraq. Iraqi cheese such as baladi cheese, jameed or jibneh arabieh are served when available.
The Price: B480 (includes 33cl. of Estrella Damm)
331 Chan Rd., Soi 18/7 Thung Wat Don, Sathon, 095-209-8439. Open Mon-Sat 11am-3pm, 6pm-11pm
---
This native ad was created by Asia City Studio. We use storytelling to help brands of all sizes influence and connect with people who matter. Visit us online: studio.asia-city.com

Sponsored by: