Sourdough? Wasabi crab toast? Vegan-friendly pastry? This is the way to start your day in Thonglor.

Bartels has people queuing up for its fresh-baked sourdough bread. Opened by a Scandinavian baker, the bakery has an airy, minimalist Nordic feel. Stop by for sourdough loaves (B250), baguettes (B100), and breakfast rolls (B50), as well as cafe favorites like the Blue Heaven, a smoothie bowl that consists of blue spirulina, banana, pineapple, and mango (B250). Heartier bites include the sweet ham and brie baguette sandwich (B200) and the open-faced Pestocado (B250), packed with pesto, avocado, cucumber, tomato, and kalamata olives.
760/1 Sukhumvit Rd., 061-745-2121. Open daily 7am-6pm
Moo ping and sticky rice are a common Thai breakfast, and for over 30 years Fat Bro's stall has been making lines around Silom late into the night, but now you can also grab these meat-on-sticks in Thonglor during the day time. On top of his original moo ping (B15 per stick), he has expanded his selection to beef (B28 per stick), chicken (B18 per stick), and chicken liver (B18 per stick). Don't forget to grab the sticky rice (B10), too.
The Fox Thonglor, 209 Sukhumvit Soi 55 (Thonglor), 092-886-2121. Open daily, 24 hours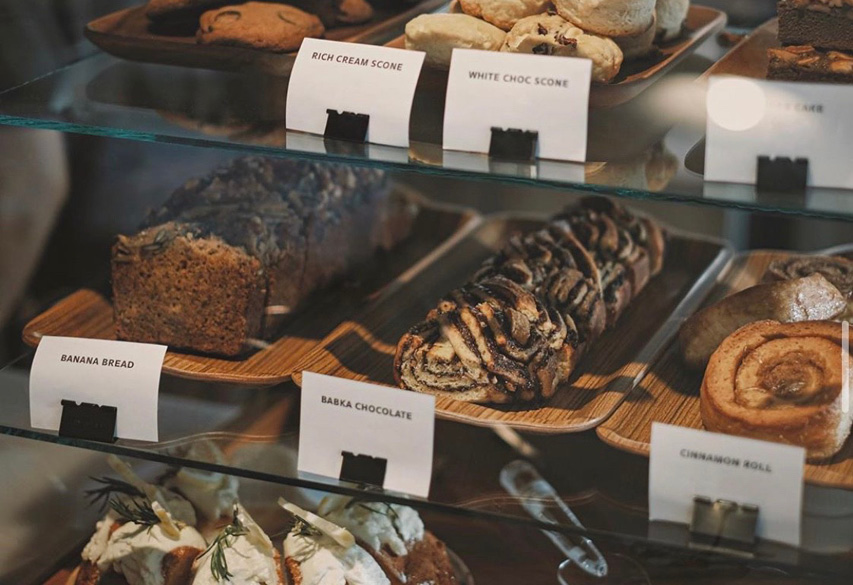 From the same owners of the minimalist Hands and Heart coffee shop comes H Dining. The kitchen is overseen by young chef Kanta "Toiting" Siddidharm, who has a CV packed with stints at fine-dining stalwarts like Gaa, 80/20, and Noma. Considering her background, the food is a mix of Thai and Nordic touches. Heartier dishes include the pork sandwich and kimchi (B260) and burnt onion pasta (B320) with miso sauce and pickled mushrooms. For coffee, try their filter of the day (B160).
4 Sukhumvit Soi 38, 02-058-2699. Open daily 8am-10pm
Nico Nico NEW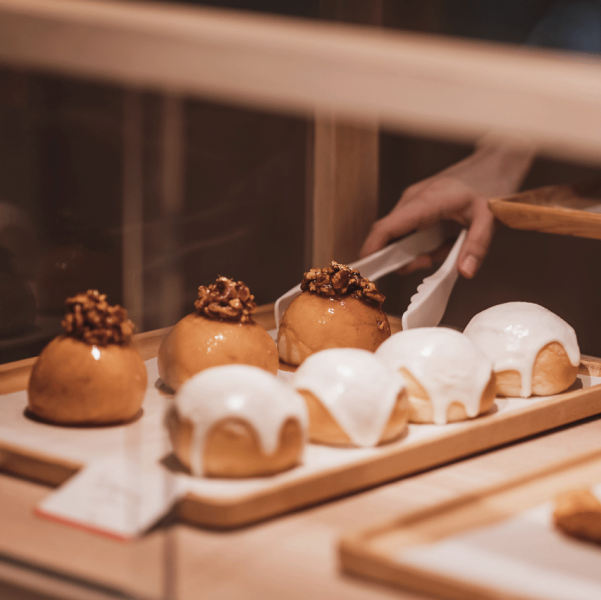 Image courtesy of Nico Nico
There are countless cafes in Thonglor but this cute, new Japanese spot is impressive. Nico Nico in Japanese means "a smile", and this cafe serves food that will make you do just that. Decorated in a mix of Japanese and Scandinavian, you'll find fusion comfort breakfast dishes like curry scrambled eggs (B260) with soft bacon and homemade bread. For something lighter, try their wasabi crab toast (B260) combining chunks of crab meat with wasabi mayo. Try their Signature No.1 (B110), an espresso shot made with beans from Chiang Mai mixed with icy cold milk.
555 Sukhumvit Soi 55 (between Thonglor Soi 19 and 21), 097-054-6827. Open daily 8am-6pm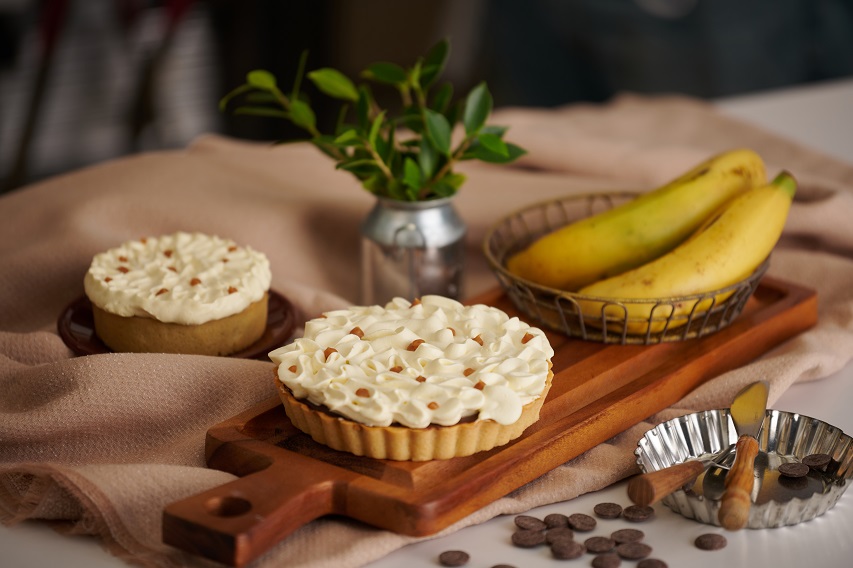 Located in a standalone house in the heart of Sukhumvit Soi 24, Nine Pastry specializes in sourdough and pastries with Mediterranean influences. Baker-slash-owner Nir Netzer spent over two years baking and experimenting in his home kitchen to come up with an extensive line of vegan-friendly sourdough loaves, like the classic (B200), multiseed (B220), and olives and herbs (B220). The result is a natural and earthy flavor with a moist texture and crisp crust. You can also grab sweets like tahini cookies (B350/10 pieces) or chocolate fudge and sea salt cookies (B350/10 pieces).
68/1 Sukhumvit Soi 38, 02-712-1774. Open daily 9am-5pm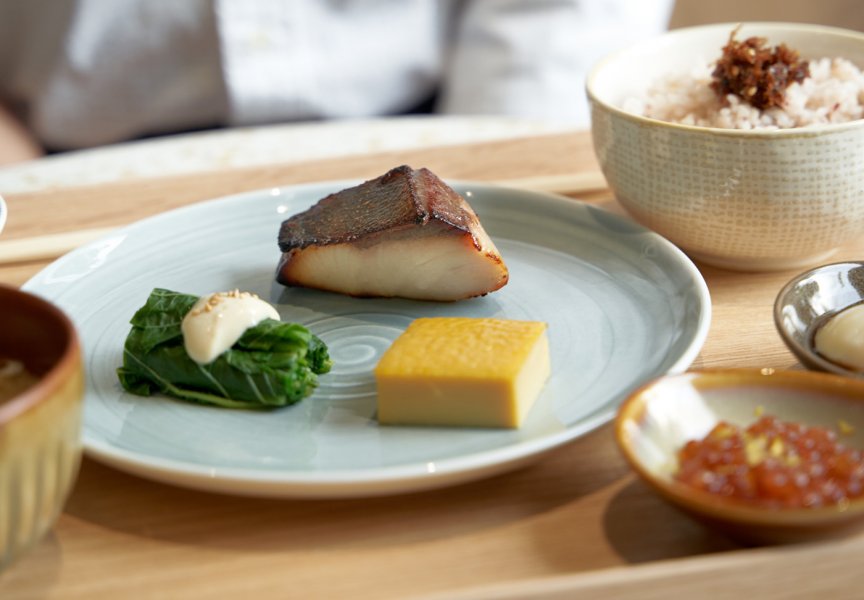 For a distinctly Japanese brekkie, hit the two-floor Okonomi. There are two types of ichiju sansai options (B550 each): Misozuke Hamachi, featuring miso-marinated hamachi (amberjack), and Konbujime Madai, with red seabream in a seaweed marinade. Each comes with a soup, pickled vegetables, rice, and tamago (Japanese omelet). To drink, choose from a selection of tea-based drinks, like a hot matcha latte (B140) made with Uji green tea or an iced hojicha latte (B140), as well as unique riffs like the kuromitsu macchiato (B140), made with black sugar syrup. Cashless payment only.
2/F, Hair of the Dog, 593/27 Sukhumvit Rd., 02-258-1461. Open daily 7am-11pm
Popular Hua Hin shopping center Plearnwan came to Bangkok with Plearnwan Panich. The vintage and industrial hints courtesy of galvanized steel and reclaimed wood don't detract from a pretty polished feel overall. The food is old-school: Thai snacks and breakfast bites such as khai luak (half boiled egg, B40), steamed bread with egg custard (B60), or roast duck in a bun (B110).
Plearnwan Panich, Thonglor Soi 13, 084-541-4565. Open daily 6am-7pm
Roast remains high on most brunch-goers' checklists, which means that, come the weekend you can face some crazy queues. It's with good reason, too. On top of the great coffee (starting at B80 for an espresso), the menu packs genuine crowd-pleasers like the Crab Cake Benedict (B360) and smoked salmon with rosti matched with lemon creme fraiche (B320).
The Commons, Thonglor Soi 17, 02-185-2865. Open Mon-Thu 10am-8:30pm; Fri-Sat 9am-11pm; Sun 9am-8:30pm
Tang Meng
Get off at BTS Thonglor and walk past Broccoli Revolution to a family-run shophouse that sells the slightly unusual combination of khao mun gai and noodles. The proprietor—a woman known as Auntie Kim, who's usually found sitting in the corridor overlooking the business—notes that her family has been feeding people for over 60 years. The must-try dishes are yentafo (B50), khao mun gai (B50), and longan juice (B15).
887 Sukhumvit Rd., 02-258-7202. Open Mon-Sat 8am-5pm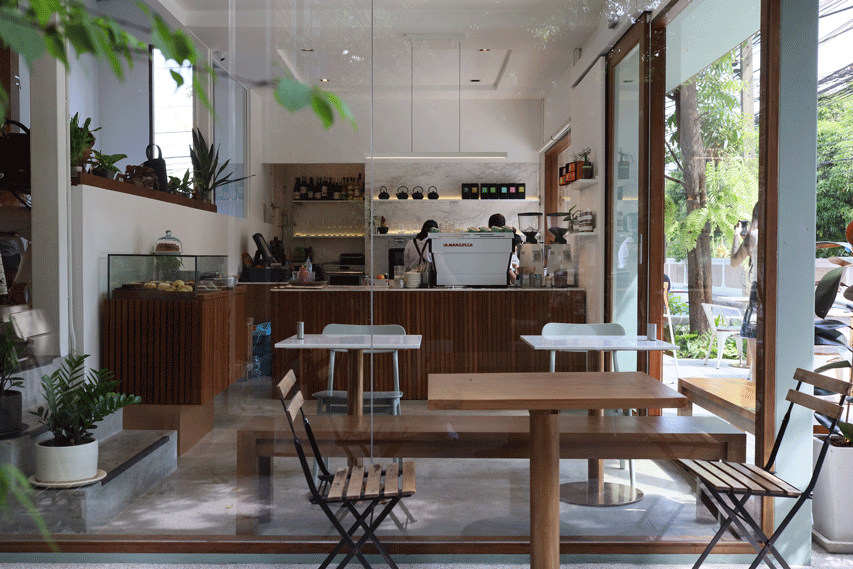 This mid-2015 opening is one of Bangkok's very best brunch spots. Crowds pack out the airy, sun-drenched spot for flat whites (B100), cold-pressed juices (B180), and egg-centric fare, all prepped with good produce and an eye for detail. Try the Egg Mikado (B320), sourdough topped with two poached eggs, cured salmon, and yellow hollandaise sauce. Pro tip: if you don't want to be hangry, avoid weekend mornings as they tend to get pretty crowded.
68/1 Sukhumvit Soi 38, 02-712-1774. Open daily 9am-5pm