---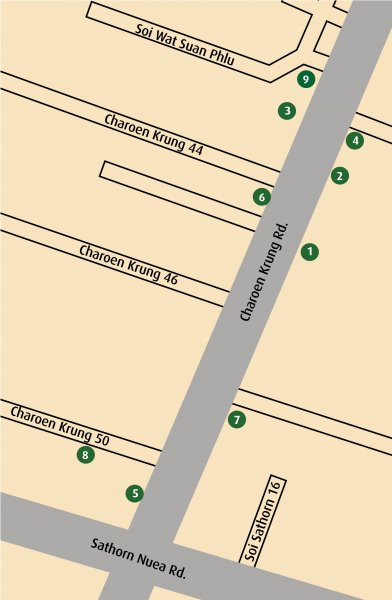 Click map to enlarge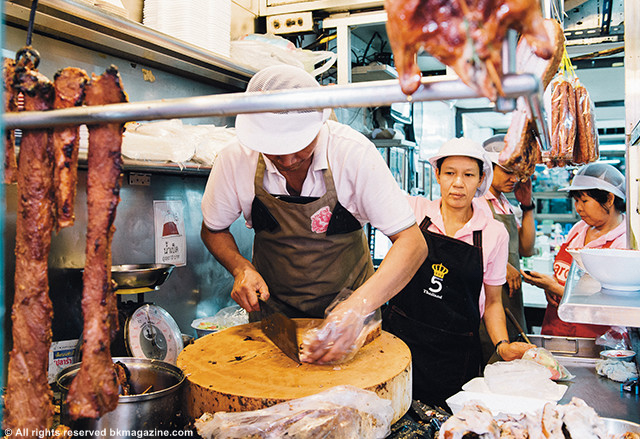 1. Prachak
Of all the Chinese roasted duck and pork places in the area, Prachak is the longest standing. Currently in its 106th year, the fourth generation owner says he roasts the delectable duck just the way his great-grandfather did. Order the kao chepo (B70) and you'll get roasted duck, pork, pork belly and stuffed pig tail, all in one dish. For a slightly younger pit-stop, head down Charoen Wiang Road for Saenyod's roasted pork on rice (B55).
1415 Charoenkrung Rd., 02-234-3755. Open daily 7:30am-8:30pm. BTS Saphan Taksin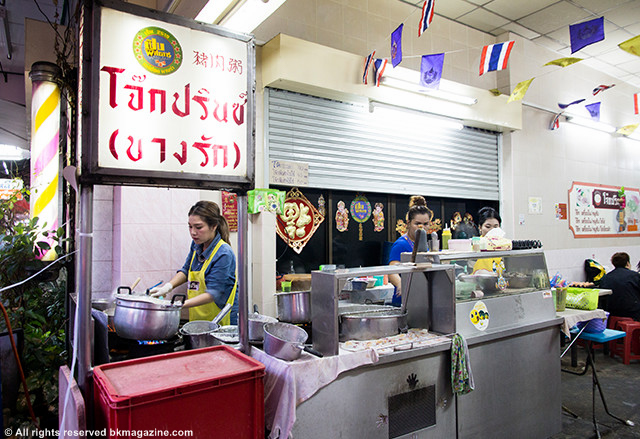 2. Joke Prince
This famous spot located on the ground floor of the now-defunct Prince Cinema is known for its congee with signature burnt notes. A big bowl of plain congee with pork balls is priced at B40 while an additional egg costs you B5.
1391 Charoenkrung Rd., across from Robinson Bangrak, 089-795-2629. Open daily 6-10am and 5-11pm. BTS Saphan Taksin
3. Jao Long/ 4. Jae Lee
When it comes to street food, no rivalry is fiercer than between Jao Long and the stall standing opposite, Jae Lee, who both do fish ball noodles. If it came down to the fish balls, we'd be on team Jao Long, but Jae Lee's soup wins hands down.
1456 Charoenkrung Rd., 02-234-7499. Open daily 7am-9pm. BTS Saphan Taksin
5. Kanom Krok Pa Aew
Located on the footpath right near Robinson Bangrak, this kanom krok (small box/large box, B25/30) vendor's limited selling hours (7-10pm) make it a bit of a cult favorite. The crispy flour shell retains gooey coconut milk that's slightly salty and not overly sweet, making this the definition of the perfect kanom krok. But if you're looking for something similar at breakfast time, seek out the cart on the connecting alley between Charoenkrung Soi 40 and 38.
In front of Bata shop. Open daily 7-10pm. BTS Saphan Taksin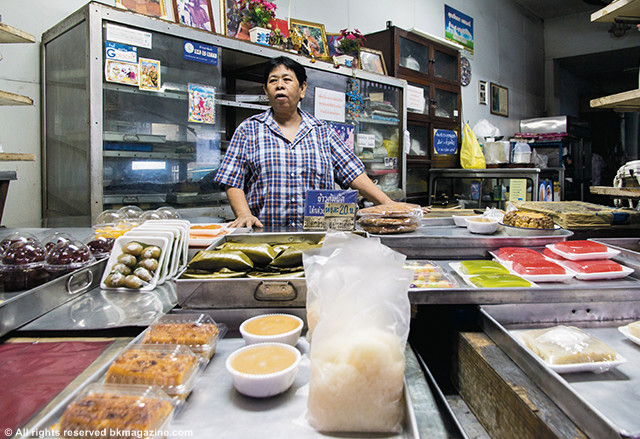 6. Sor Boonprakob Panich
This dessert shop has been operating for more than 80 years now, selling various kinds of Thai treats from yolk-based thong yord (B40) and foi thong (B50) to kanom chan (B25), kaotom pad (sweet sticky rice filled with banana, B20) and rare finds like kanom kai nokkrasa (steamed sago filled with mung beans, B20). The real highlight is the oh-so-good khao neaw moon (sweet sticky rice, B150 for 1kg), which can be eaten with mango and egg custard (B35).
1474 Charoenkrung Rd., 02-235-3442. Open daily 5am-6pm. BTS Saphan Taksin
7. Jae Yai Guay Teaw Lord
Operating for more than 40 years, this noodle stall is located right on the corner of Charoen Wiang Road. The specialty guay teaw lord (noodles in brown soup with tofu, mushroom and Chinese sausage, B40) is one of the best around; light and refreshing without being too sweet.
Corner of Charoen Wiang Rd., 089-493-3361. Open daily 11am-8:30pm. BTS Saphan Taksin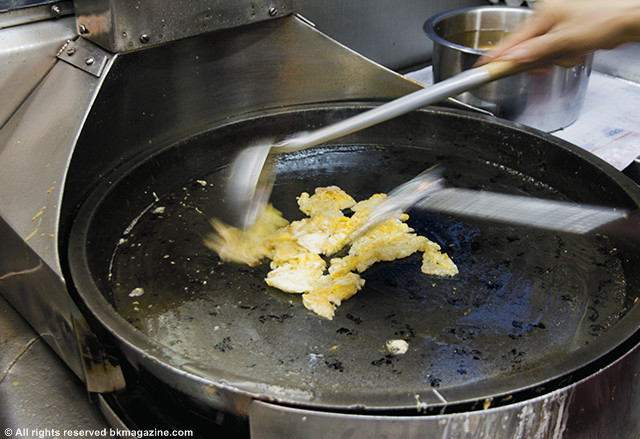 8. Thip Hoy Tod Pukao Fai
Translated directly as "volcano fried oyster," the shop's specialty is deep-fried and crispy batter topped with a choice of plump oysters or mussels (B80). Delicious.
3 Charoenkrung Soi 50, 02-233-1116. Open Mon-Sat 9:30am-7:30pm. BTS Saphan Taksin
9. Kanom Kai Pa Sri
The lady sitting in front of this compact stall with a cake iron sends a sweet smell around the area. But her little sponge cakes are not all that soft, boasting a uniquely rough exterior made brown and crispy through the use of a charcoal-heated iron. This, the owner says, gives her cakes a more interesting aroma than gas-baked ones.
In front of Mengmeng pawnshop on Charoenkrung Rd., 081-458-5283. Open daily 12-7pm