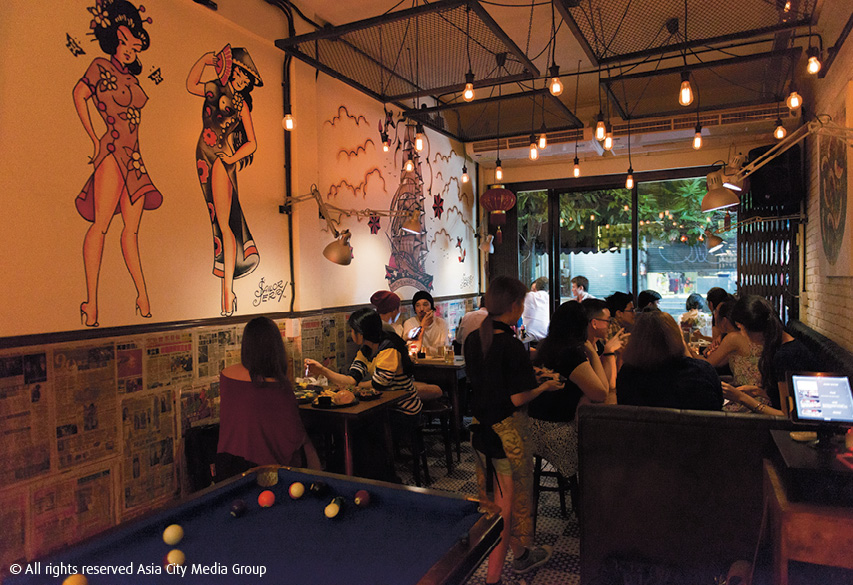 The Suan Phlu cocktail bar known for its cheap prices (everything's under B300 net) has given its menu a shakeup that's all about fresh ingredients, especially fruit. The Mai Lu (B270), for example, throws banana into the mix of Bacardi white rum, ginger rum, lime, spicy mango syrup and black pepper. Another standout from head bartender Passapong "Bard" Phetpradit's menu is the Tea Time (B280), which sees Bombay Gin mixed with chamomile Cointreau, green tea and watermelon. For something a little different, S@j Magarita (B240) mixes house-brewed green tea with Jalapeno tequila, triple sec and lime juice.
454 Suanphlu Soi 1, 085-100-3608. Open Tue-Sun 3pm-midnight
Menu refreshes are expected at The Commons' vintage train carriage-evoking bar, which switches up its destination-themed drinks list every three months. The one right now runs till April and takes on the spirit of Chicago (last time it was Mumbai) with four cocktails priced at B370 each. The Green Street Smoke takes inspiration from a well-known barbecue place for its smoky blend of bacon-infused Buffalo Trace bourbon, Averna Amaro liqueur, dark corn syrup and smoked spiced bitters. For a twist on the bloody Mary, grab Brunch at the Bean (ginger-infused vodka, honey syrup, Dijon mustard, tomato juice, lemon, pink salt and celery bitters), or for something sweet, Pilsen's Farm uses jalapeno-infused tequila, Alipus San Juan mezcal, banana liqueur, raspberry puree, orange juice, simple syrup and lime juice to reflect the Pilsen neighborhood market's Mexican flavor.
1/F, The Commons, 355 Thonglor Soi 17, 02-101-4525. Open daily 5pm-1am
Bunker's menu is a continual work-in-progress, and the drinks you'll find served today are completely different from the ones it opened with. Head barman Kiattikoon "Toon" Auengkum takes his influence from whichever ingredients are being used in the kitchen, which right now results in must-try drinks like the Siam Sipper (B280), a balanced mix of Plantation 3 Stars Silver rum, aloe vera juice, pandan syrup and lime. Don't think you like whiskey? Let Toon try and change your mind with the easy-to-drink Yuzu Whiskey Sour (B320), which balances the mild flavor of Japanese Suntory Kakubin whiskey with Yuzu orange puree, passion fruit and lemon juice.
118/2 Sathorn Soi 12, 092-563-9991, 02-234-7749. Open Sun-Wed 5:30pm-1am; Thu-Sat 5:30pm-2am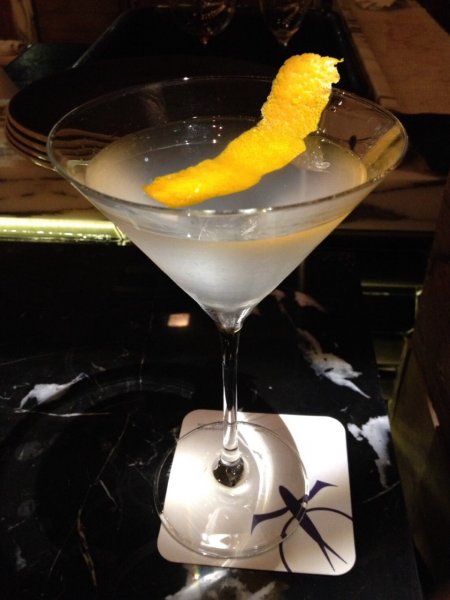 We love the simplicity of the new menu at Phrom Phong's standout new restaurant. Rarely using more than just four ingredients, each drink is designed to be minimal yet not at all boring. For example, the Salon Prive (B320) features homemade butter-infused vodka, gin and Cointreau chamomile. Yellow Flower (B320), meanwhile, has chrysanthemum-infused dry vermouth, Benedictine liqueur and absinthe. For something refreshing, the Skyway (B340) balances Colombian white gin with green apple syrup, citrus and sweet basil.
28 Sukhumvit Soi 47, 02-662-4936. Open daily 5:30pm-midnight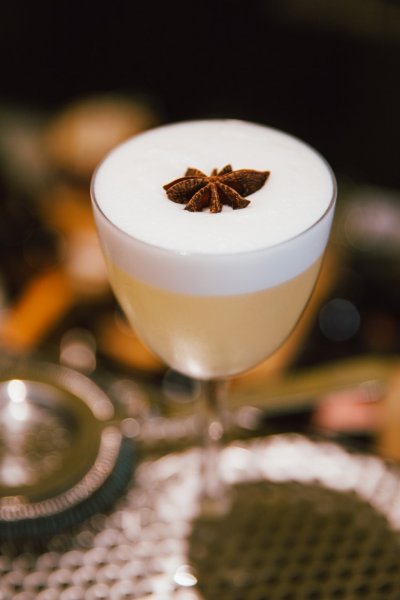 The new menu here is called The Art Book and takes the form of a ring-bound tome styled after Phaidon's cult publication of the same name. It's also one of the most ambitious cocktail menus we've ever picked up, charting 14 boozy creations each inspired by a famous work of art. In there you've got heavy, spirit-forward flavors like "The Treachery of Images"—which sees Rene Magritte's painting of a pipe interpreted as a smoky, potent blend of Moonshine unaged whiskey, Alipus San Baltazar mezcal, Carpano Bianco vermouth and tonic bitters (B390)—along with the lighter, more spritely profile of things such as "Composition VIII," which references the work of Wassily Kandinski in its mix of Pimm's, Punt e Mes vermouth and Fentimans Rose lemonade.
10/15 Convent Rd., 02-235-2777. Open Mon-Fri noon-2:30pm; Mon-Sat 6pm-1am; Sun 6am-midnight