Some say that a true great city has to at least have a few parks. And Bangkok, being the great city that it is, and despite its abundance of concrete, has plenty of green spaces for you to enjoy a picnic on the weekends, a casual stroll in the shade or a jog for your after-work cardio session. Here is your guide to Bangkok's best parks and green spaces.

Benjakitti Park
Opened in 2004 on land formerly owned by the Thai Tobacco Monopoly, Asoke's Benjakitti Park is best known for its large, oval-shaped lake and relatively well-maintained cycling and running tracks. Against a backdrop of glass-fronted office towers and condos, the park welcomes tons of runners, walkers and cyclists each day. Most come in the early morning, before the blazing sun bears down on the 1.8km running track, and the evening, when the sunset reflects off the surface of the lake and paints the surrounding buildings.
Ratchadapisek Rd. MRT Queen Sirikit Convention Center, BTS Asoke.
Benjakitti Forest Park (Suan Pa Benjakitti)
The scenic green space and lake next to Queen Sirikit Convention Center welcomes a herd of runners, bikers and picnic-goers daily. But unbeknownst to many is the second, huge park tucked away in the back. The extension of the original park, dubbed Benjakitti Forest Park (Suan Pa Benjakitti), has been unofficially open since August 2016. Clusters of trees are mustered up in blocks in the 61-rai space, just like its name suggests. Around these blocks, a concrete pathway provides space for runners and bikers. The opening of the Benjakitti Forest Park is the inauguration of a three-phase plan to transform the remaining land further. Phase 2 will see the addition of another 170 rai of greenery, and Phase 3 a further 89 rai expected to open by this year.
Ratchadapisek Rd. MRT Queen Sirikit Convention Center, BTS Asoke.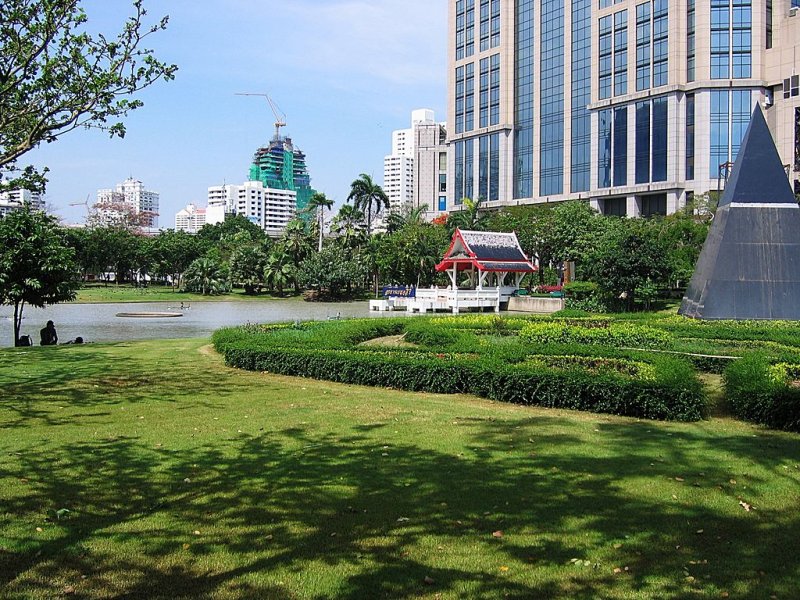 Benjasiri Park
Benjasiri Park, or the "Queen's Park," might not be as big or well-known as Lumphini Park, but it has a more tranquil edge to it, making for a pleasant escape around Phrom Phong. Covering around 28 rai of land, it houses 12 contemporary art sculptures, including a large commemorative coin depicting Queen Sirikit (thee park was opened on Queen Sirikit's birthday in 1992, hence the connection). With a children's playground, a lake, fountains, gardens and pavilions, it's an ideal place to relax. For those looking to break a sweat, there are designated fitness areas and sports courts where you'll find skillful locals playing takraw, football and volleyball. In true Bangkok style, you're never too far away from food, with street stalls out in front and refreshment kiosks inside.
Sukhumvit Soi 22-24. BTS Phrom Phong.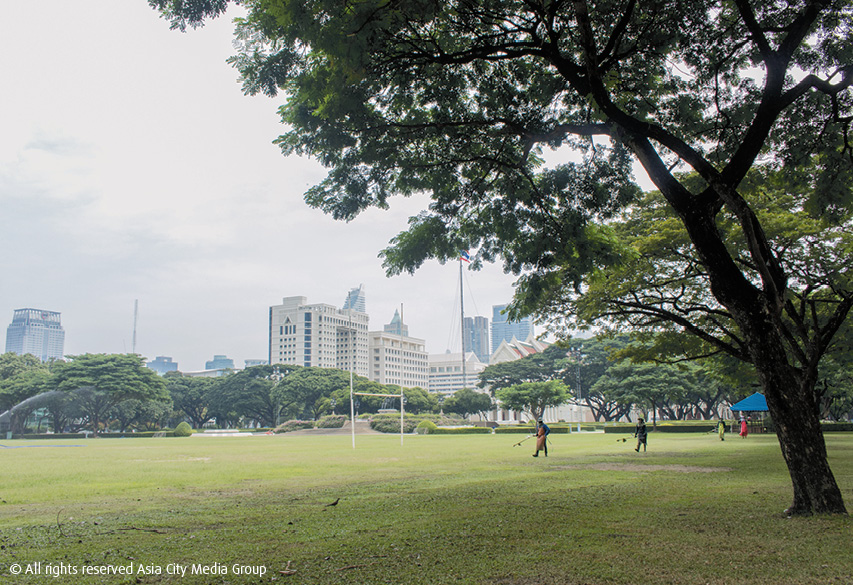 Chulalongkorn University
Take a stroll through Thailand's oldest university's very own 595-rai campus that's sandwiched between Henri Dunant and Phayathai Roads. During March and April, the blossoming bauhinias showers the campus pink. Wait for the flowers to drop, and you'll find stretches of walkway briefly carpeted in petals, a sight that's Instagram-worthy in itself. What's more, the university also owns the nearby Park at Siam in the heart of Siam Square. Its relatively small size is ideal for a brief back-to-nature break if you've spent the last hour shuffling your way through the shopping district. It has a beautiful, 100-year-old banyan tree and a lovely greenhouse occupied by Amazon Cafe. In need of a caffeine boost to go with your park-sit? Come to the cafe early on the weekends or you'll likely find yourself queing up behind industrious, textbooks-wielding college students.
254 Phaya Thai Rd. BTS Siam.
CU Centenary Park
Chulalongkorn University's CU Centenary Park 30-rai green space commemorates the university's 100-year anniversary and is central to the massive redevelopment of the 290-rai Samyan neighborhood, spanning from National Stadium to Rama IV Road. The plan here is to create Bangkok's very own "mini Silicon Valley"—a "smart city" home to innovative businesses and startups. In the details, the park has a specially designed wetland complete with a rain garden, big pond, an underground water drainage system, and a green bike lane rimmed by tropical trees on Chula Soi 5
Soi Chulalongkorn 5, Rama 1 Rd. MRT Sam Yan.
Chatuchak Park
The Chatuchak neighborhood is more than just a magnet for shoppers. The spacious Chatuchak Park, right next to Chatuchak Weekend Market, is a hub for runners, walkers, couples snuggling up in the grass on bamboo mats and the occasional oddball find, like bartenders practicing their flair routines. The park has a murky-looking pond with canals running through it that are home to fish, ducks and monitor lizards. There are also tennis courts, soccer fields and pavilions where you'll find Zumba-like outdoor aerobic classes.
Kamphaeng Phet Rd. MRT Chatuchak Park, BTS Mo Chit.
Lumphini Park
With its 360 rai of greenery, massive lake and broad pathways plucked right in the middle of the CBD, it's easy to see why Lumphini Park is dubbed Bangkok's version of Central Park. The first public park in Bangkok is a welcome retreat from all the hustle and bustle, where you can join locals on their morning jog, cycling or tai chi. Afterwards, you can have a Thai or Chinese-style breakfast near the King Rama VI Statue, courtesy of the street food stalls and markets that line the park. If you don't have a date to paddle across the lake in a swan boat with, you can retreat to the shade and engage in some bird- and/or cat-watching—the park has a sizable, and adorable, cat population. In the evening, Lumphini Park teems with aerobics enthusiasts and runners.
Rama IV Rd. MRT Silom, BTS Sala Daeng.
King Rama IX Park
Spanning over 500 rai, King Rama IX Park, also known as Suan Luang, is Bangkok's largest green space. Although it's not free like the other parks in Bangkok (entrance fee is B10), it houses not only a botanical garden, but also internationally-inspired gardens, making it worth the price of admission. Here, you can hop about from Italy, America, Japan and then back to the ornate Thai-style botanical garden and lotus pond. During the Flower Festival in December, the park comes alive with hundreds of colorful blooming flowers. Believe it or not, water activities like sailing and kayaking are also available daily. Next door, you will find the Nong Bon Reservoir, which boasts a massive cycling track around the namesake water feature.
Chaloem Phrakiat Ratchakan Thi 9 Rd.
Phuttamonthon Park
Even though Phuttamonthon Park is technically in another province, about 40 minutes from downtown by car on the border of Bangkok, it is worth the trip. This tranquil, 2,500-rai park-slash-religious site has a stunning 52-foot tall statue of the Buddha, where the devout regularly come to pay respect, and also sites representing the Buddha's four main life events. It's also home to a large lake where you can feed fish with your family, a canine shelter for dog lovers and long, winding roads perfect for a morning or an afternoon cycle or run. It's an equally pleasant destination to wander down tree-lined roads in your car with the windows down, relax on the grassy fields or enjoy a picnic next to the park's lake.
25/25 6 Phutthamonthon Sai 4 Rd., Nakhon Pathom.
Credit: Bangkok Metropolitan Administration
Rama III Park
Although this riverside sanctuary has a much longer name (Public Park in Commemoration of His Majecty the King's 6th Cycle Birthday—rolls right off the tongue), it is best known simply as Rama III Park. Located beside the towering Rama IX Bridge, with a nearly 800-meter jogging path and a large, undulating grassy space, this park is a local favorite. So much so that only an online petition helped to save it from closure last year, as the space had been earmarked by the Expressway Authority of Thailand for a road project.
Rama III Rd, Bang Khlo, Bang Kho Laem.
Rama VIII Memorial Park (Suan Luang Rama VIII Park)

Located under the gold-cabled Rama VIII Bridge, one of Bangkok's most stunning suspension bridges, this park flies under the radar. Predominantly popular among Thonburi residents, the small green space draws locals, young and old, who come to run laps around the metal statue of King Rama VIII, as well as nimble futsal players and skaters perfecting their craft in the open concrete area under the bridge. The 35-rai green space is an equally popular spot for photographers, especially at sunset.
Arun Amarin Rd., Bang Yi Khan.
Next to Chatuchak Parks lies its leafier, larger cousin, Rot Fai Park (also known as Wachirabenchathat Park). The 380-rai space houses a butterfly garden, a youth center, a vegetable garden, and tennis and basketball courts, but it's most popular among runners traversing its 2.4km loop and cyclists zooming along its dedicated bike lane. Here, can rent pedal boats or bikes, have a picnic beneath shady trees, and bring your kids to the newly built playground in the center of the park. If you go to the parks in March, you can admire the colorful pink trumpet blossoms, saving you the trip to Japan to see the sakura blossoms.
Kamphaeng Phet Rd. MRT Chatuchak Park, BTS Mo Chit.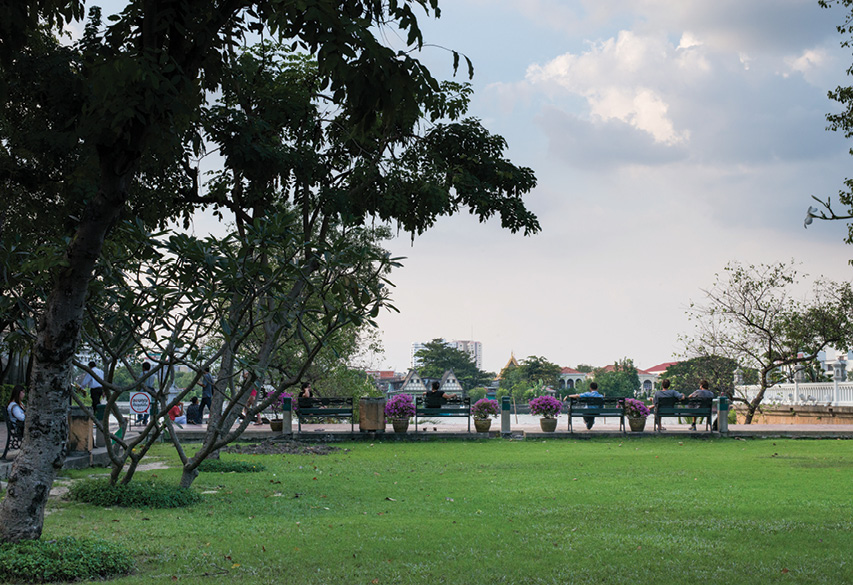 Santi Chai Prakan Park
Although it's smaller compared to most of the other green spaces in Bangkok, Santi Chai Prakan Park, or Phra Athit Park, holds the cards of having a prime location by the Chao Phraya. It's also situated near Phra Sumen Fort, one of Bangkok's two remaining forts, and boasts an iconic, wooden Thai-style pavilion. From here, you can take a stroll to the nearby historic
Bang Lamphu
area, or you can enjoy the sunset over the river before setting off for some cold craft beers along
Phra Athit Road
.
Phra Athit Rd., Chana Songkhram.
Bang Krachao / Sri Nakhon Khuean
Universally dubbed Bangkok's Green Lung, the sprawling Bang Krachao area is a de facto park in itself, although it does house the Sri Nakhon Khuean Park, too. Even though it's technically in Bangkok's neighboring Samut Prakarn, it's only a short boat ride away from downtown. Cycling around the area is undoubtedly the most popular activity, but that's not the only thing you can do. Across the district, you can watch birds and snap Instagram-worthy shots, visit the Siam Fighting Fish Museum, taste local food at Bang Namphueng Floating Market (only open on the weekends) and even try your hand at making herbal joss sticks.
Phra Pradaeng, Samut Prakan.