Just around the corner from Khaosan, Phra Athit Road has always been a happening hood. Thanks to a perfect mix of cafes, restaurants, live music, fresh bars, historic sites and picturesque riverside views, this charming strip has us coming back again and again.
Like Italy
Coffee & Breakfast
Made popular by regular appearances at local flea markets,
Jaywalk Cafe
(90 Phra Athit Rd., 092-564-2068) does modern American dishes. Try the fluffy blueberry cream cheese pancakes (B150). Go all out with a grand breakfast set—eggs, ham, bacon and toast (B200)—at
Chillax Heritage Hotel
(10 Phra Athit Rd., 02-281-8899). For light bites, there are ham and cheese sandwiches (B55) and hot lattes (B65) at
Latte Bua
(138 Phra Athit Rd., 082-599-0959), or thick fudge brownies (B55) and caramel frappes (B140) at
Like Italy
(96 Phra Athit Rd., 089-776-6264). Veggies can get poached eggs and avocado on toast (B160) or mushroom cheese omelettes (B150) at
H Cafe
(12/142 Phra Athit Rd., 092-564-2068).
Sheepshank
Joy Luck Club
Lunch & Dinner
For modern Mediterranean, like seafood paella with Spanish saffron (B360), head to industrial-chic riverside restaurant
Sheepshank
(47 Phra Athit Rd., 02-629-5165). Some of the neighborhood's best slices are the Napolitana (from B290) and Four Cheeses (from B360) at
Pizza Pazza Phra Athit
(24 Phra Athit Rd., 084-654-3223). For vegetarians, check out the stir-fried morning glory with rice (B65) at
The 112 Phra Athit
(112 Phra Athit Rd., 096-964-4979) or the homemade Indonesian soybean
tempeh
with Thai sweet and spicy veggies (B140) at
Joy Luck Club
(18 Phra Sumen Rd., 02-629-3112). Go for Vietnamese rice noodles topped with eggs and mushrooms (B40) at
Khun Dang Guay Jub Yuan
(32 Phra Athit Rd., 085-246-0111); stewed pork noodles (B45) at
Nai Chart Moo Tun Phra Nakhon
(64 Phra Athit Rd., 087-667-3346) or beef roti
mataba
(B44) and chicken
biryani
with green Thai curry (B79) at
Karim Roti-Mataba
(136 Phra Athit Rd., 02-282-2119).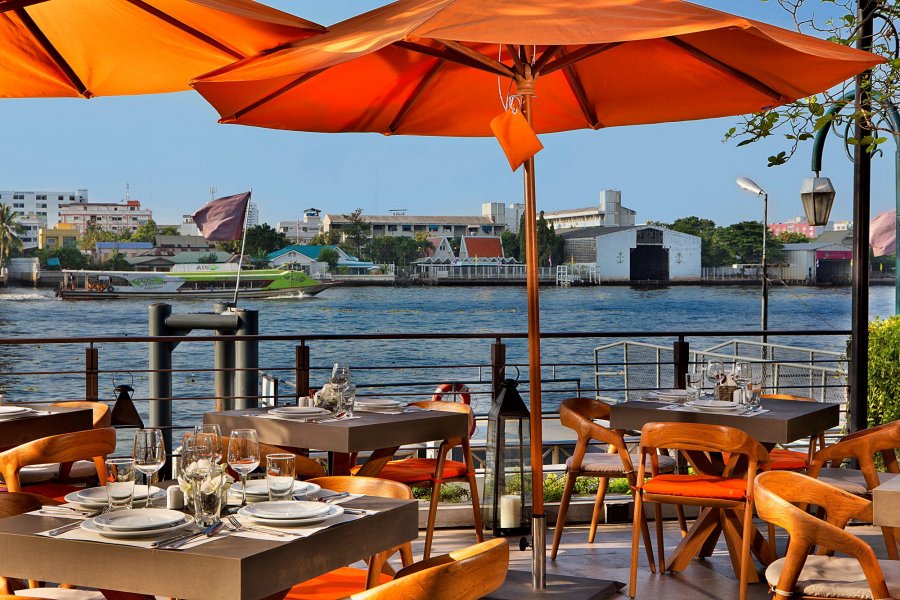 Babble & Rum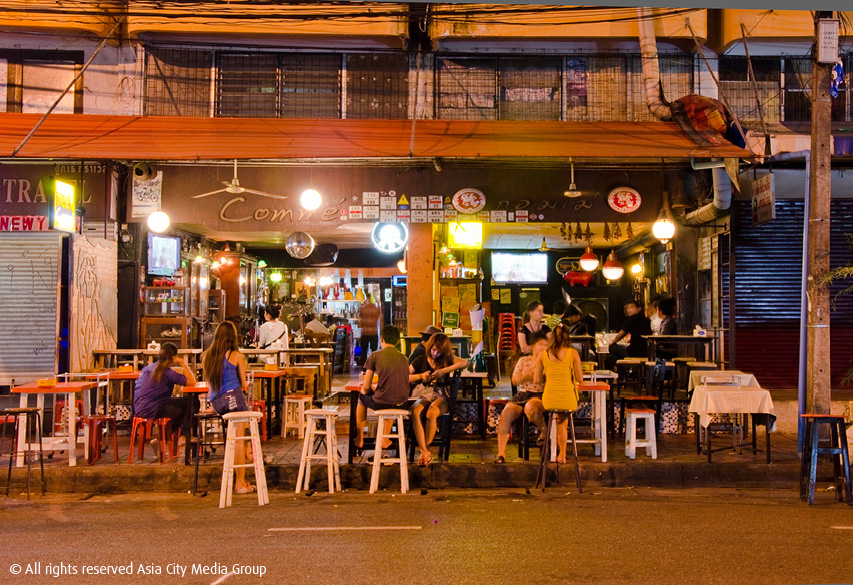 Comme
Drinks
A night out isn't complete without mojitos (B200) and margaritas (B180) over live snare drums at
Jazz Happens!
(62 Phra Athit Rd., 084-450-0505). Hit up the street's busiest bar,
Comme
(100/4-5 Phra Athit Rd., 081-860-9187) for spicy
gab glaem
(drinking snacks) and affordable drinks (beers from B110). If you're tired of Chang, you'll find Hitachino (B230) and Hoegaarden (B190) among others, at
Good Story
(72-74 Phra Athit Rd., 093-051-7254). Chill by the river at craft beer specialist
Dock No. 13
(49 Phra Athit Rd., 02-629-5165); Riva Surya's
babble & rum
(23 Phra Athit Rd., 02-633-5000); and Navalai River Resort's laidback
Aquatini
(45 Phra Athit Rd., 02-280-9955).
Transport
A ferry from Sathorn Pier (BTS Saphan Taksin) takes you straight to Phra Athit Pier in less than 25 minutes.
Accommodation
Just a 10-minute walk away,
Juan Manee Apartment
(276 Samsen Rd., 02-628-5800) has studios for B5,500 a month.
Juldis River Mansion
(Samsen Soi 3, 02-281-0776) offers 74-sq-meter two-bedrooms for B25,000/month. Across from Phra Athit Pier,
Rattanakosin View Mansion
(Soi Charoen Phanit, 02-434-0892) features units from B50,000-75,000/month.
The Trapeze Swingers
Visit
Revel in views from the Koh Rattanakosin landmark,
Phra Sumen Fort
at
Santi Chai Prakarn Public Park
. Hidden in an alley connecting Phra Athit and Ram Butri roads is a treasure trove of hip vintage pieces, at
The Trapeze Swingers
(15 Soi Chana Songkhram, 086-332-1045). Venture further for
The National Gallery
(4 Chao Fa Rd., 02-281-2224) and the royal temple
Wat Chana Songkhram
(Chakrabongse Rd., 02-281-9396).
---
BK ASKS
What makes Phra Athit Road special?

Nu Vudthivichai, owner of Jazz Happens!
"Its long and rich history, combined with its unique community vibe—shop houses and apartments—make it one of the most iconic neighborhoods in the Old Town."

Somkiat Pairojmahakij, Chef-owner of Sheepshank
"This area is just so charming—it's lively day and night, plus it has a great mix of old architecture along the river, and diverse groups of visitors. Traces of the local way of life can also still be found."

Anchalee Phirunthong, owner of Jaywalk Cafe
"Even though it's a short walk from Khaosan, Phra Athit feels less touristy, and more vibrant. It's "Old Town" but the atmosphere is lively thanks to a nice balance of cafes, jazz bars and restaurants."