On Apr 18, news surfaced about the BMA's plans to officially clear Bangkok entirely of its street food stalls, while keeping heavily-regulated Yaowarat and Khaosan roads as the only two exceptions thanks to their tourist appeal. Citing improvements in traffic congestion, road cleanliness and proper use of public sidewalks, the BMA insists that this decision is for the greater good of Bangkok and its citizens.
While it may seem like the battle has just started, the BMA's scheme has actually been under way for some time now, resulting in the clearance of some of the city's favorite foodie hubs including Sukhumvit Soi 38 (Jan 2016), Samyan (June 2013), On Nut (Oct 2015) and the latest victims: Thonglor, Ekkamai and Phra Khanong over the Songkran holidays. What used to be buzzing hot spots that people could rely on at all hours of the day for cheap kao mun gai and somtam have now become empty pavements.
Thanks to CNN's recent ranking of Bangkok as the world's street food capital and the impending arrival of the Michelin guide, the city's reputation as a dining destination has conceivably never been higher. But while this decision threatens to cast a shadow over Bangkok's global image, we must not overlook the biggest victims: locals who rely on street food as both a means of income and a source of convenient, affordable food. To clear Bangkok of its street food is to change the very essence of our lifestyle.
That said, it's widely agreed that some regulation is welcome. Had the BMA placed the focus of its scheme on stricter regulations regarding food hygiene and space allocation, it would surely have had more widespread public support. If done right, these regulations would more than likely see vendors willing to compromise rather than face eviction.
But with that also comes the risk of over-regulation, which many fear will happen to Yaowarat and Khaosan roads in the near future. If they truly must clear the rest of the city, the BMA should tread very carefully as to not ruin the appeal of what will be Bangkok's only two remaining spots for street food, which from the very beginning have had colorful chaos as part of their charm.
With all this in mind, we talked to some of the people in Bangkok's dining scene to get their opinions on the future of street food.
---
BK Asks
Yaowarat street vendors
Lek, Shark fin soup vendor
"I can't afford to rent a shop-house. Prices here can go up to B300,000 [a month] for a space on the main road. I've already started seeing officers coming to regulate and it's terrifying knowing we can't do anything but oblige."
Nok, Pa tong go (fried dough) vendor
"I guess we should consider ourselves lucky that we are only getting regulated but not cleared. Right now, we vendors have to help each other. We have to listen to what they say: stop having stalls that stick out into the road, stop washing dishes on the road. If not, they might clear us out altogether."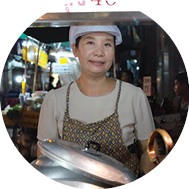 Jeng, Jui guay (steamed rice cake) vendor
"If you remove street food everywhere else, there will be a lot more people here and wouldn't that make things even more disorderly? Plus, this is not the only tourist destination in Bangkok. Tourists want to go all over the city. They need street food elsewhere too."
---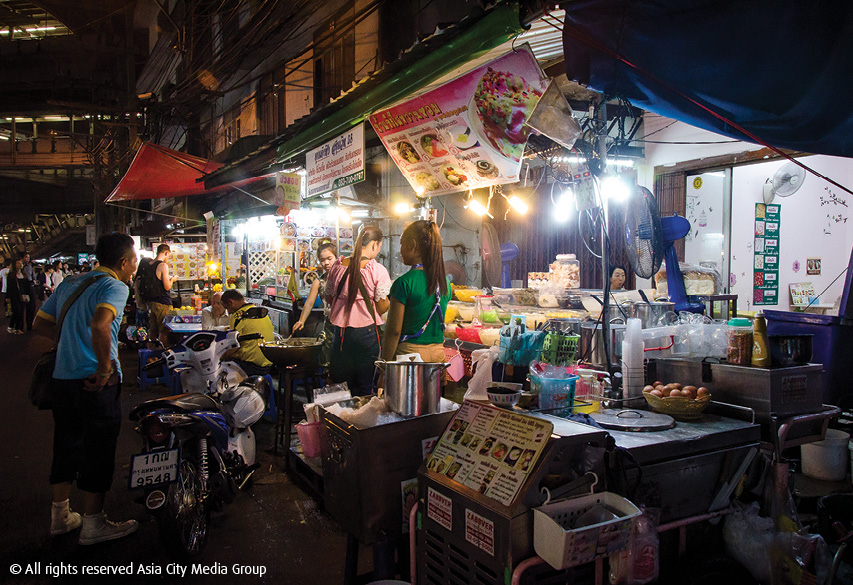 Sukhumvit Soi 33 street vendors
Nui, Somtam vendor
"We're poor. We can hardly afford to rent a home, let alone a shop-house to sell our food. The government needs to care about Thai people and Thai culture, not tourists. Thai people love street food. Somtam is our national food. People rely on it to be accessible everywhere they go."
Tae, Grilled fish vendor
"They say they want to clear street food to improve traffic, but street food is only one of many factors. Why don't they prevent people from parking their cars and blocking up a whole lane? What about trash on the street or bad traffic organization? Taking away street food won't make the traffic any less awful.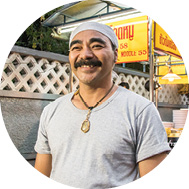 Nuad, Pork broth vendor
"Thai people need street food, People already suffer when there's no street food on Mondays. Not everyone wants to eat from 7-Eleven and not everyone can afford to eat in restaurants. If vendors can sell at Yaowarat and Khaosan then we should be allowed to sell here too."
---
EVENT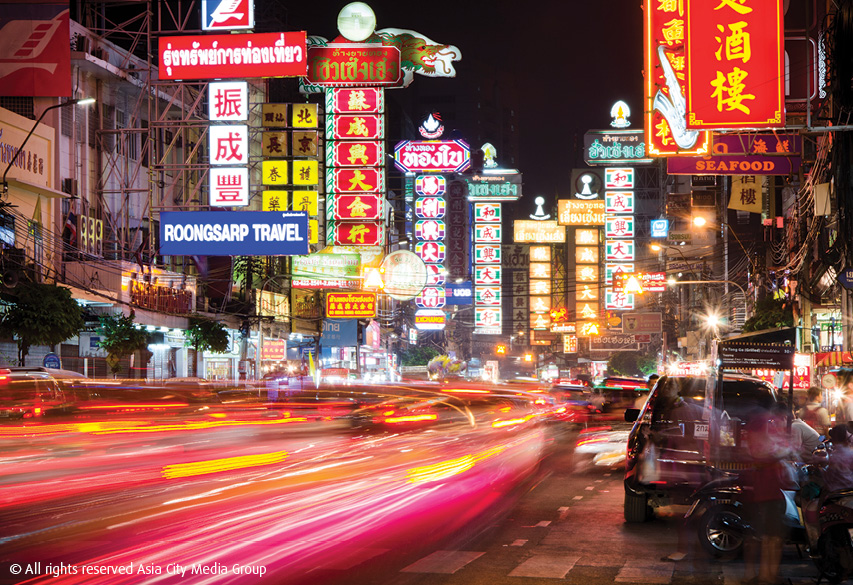 Bangkok's Street Food Future
This May 17, the Foreign Correspondents' Club of Thailand hosts a special panel discussion dubbed "Bangkok's Street Food Future," which aims to discuss allegedly misreported comments from the BMA that started a series of online fake-news accusations and heaps of coverage in Western media regarding Thailand's street food future. The talk will also touch on what defines "street food" in the BMA's eyes.
The panel includes important members of Bangkok's foodie scene, including Chawadee Nualkhair (see page 8), Piyaluck Nakayodhin (publisher of Street Food: 39 Great Places Under 100 Baht), Philip Cornwell-Smith (author of Very Thai: Every Day Popular Culture) and David Thompson (chef/owner of Nahm restaurant and author of Thai Street Food).
May 17, 9pm. B450 for non-members. Free for members. FCCT, Maneeya Center, 518/5 Phloenchit Rd., 02-652-0581
---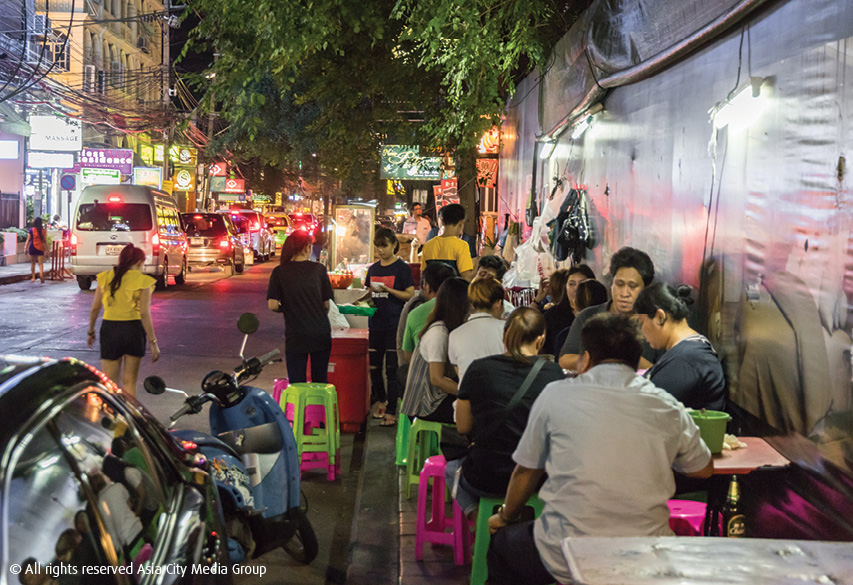 What are the possible alternatives?
Since this topic has entered public discussion, many suggestions have been shared on social media as alternative solutions to clearing out street food altogether.
Drawing a line in the street for where vendors are allowed up set up their stalls—for instance, a green line to designate space allowed during the night and a yellow line for during the day. This keeps the charm of street food in the city while controlling the space, if the primary concern is that street food interferes with traffic flow.
Charge vendors for the space they take up. If it's a matter of the government not wanting vendors to take advantage of public space, then they should be charged for what they use. While this is not ideal for vendors who are already struggling to make a living, it surely will cost less than having to rent out a shop-house or stop selling altogether.
Hawker Centers have become the primary solution for street food vendors in other Southeast Asian countries, including Singapore, Indonesia, Malaysia and Hong Kong. Unlike food courts, which are usually owned by a private company, hawker centers are government-owned and made up of independent stalls that pay rent for the space. That independence preserves their unique character and low prices. While the stalls benefit from getting a permanent spot, in an arguably more comfortable location, the public benefits from having one-stop destinations for quality street food. At the same time this makes it easier to control licensing and hygiene for the government.
---
CHAWADEE NUALKHAIR
Author of Bangkok Glutton
What are your thoughts about keeping the stalls on Khaosan and Yaowarat alive simply because these are "prime tourist spots"? Is tourism being prioritized over local convenience and the jobs of local people?
Of course. Let's not be so sure that Khaosan and Yaowarat will remain unchanged, however. We are still unsure of what this "strict regulation" means for vendors, and whether it will be so much of a hassle that vendors will make less money than is worth it for them to stay on the streets. Some of the smaller vendors may end up giving up. But I hope that, from a tourism point of view, not even Bangkok is this short-sighted. I hope they are slowly realizing that tourists want to see street food, not nice Thai restaurants with dancers and fruit carvers or whatever. Thai restaurants are ubiquitous enough back home—people want something different. I'm not so sure about loss of jobs, but it's possible that it will have an impact. Someone at one of the investment banks is probably already looking into this.
How will the new regulations affect street food as we know it?
How much money are they willing to spend? Where will it come from? That is what is interesting to me. So far, it looks like a Donald Trump-ian promise to "come up with a better healthcare plan" or "bring coal back again". Will it simply be telling police to harass vendors, and will they actually follow through? It depends on so many different things. The ultimate result is the same: a chilling effect on new vendors and innovation in the streets, and fewer options for everyone.
DYLAN JONES
Co-founder of Bo.lan
What are your thoughts about the potential ban?
It's not a bad idea. Obviously it's going to affect the livelihoods of street food vendors which isn't good, but I think regulating, educating and bringing up standards of the street food here is a good thing. I feel that recently the quality of street food in Thailand has dropped. The actual price that they are selling for has not gone up, but the prices of the ingredients have—this means vendors are having to cut corners to make their food, resulting in the quality rapidly declining. I think regulation is a step in the right direction. At the end of the day, people have to realize that if you want something good, you'll have to pay more money. Besides, you can go into shop-houses that sell similar things as street food.
What do you think needs to change or be improved in Thailand's street food scene?
We need to go back to a period when the vendors were making food from scratch. Now, they're all sourcing it from the same place–for example, tub tim grob is made in a market in the Old Town that sells tub tim grob to hundreds and hundreds of vendors who then just resell it across the city. It means everything tastes the same and takes away from the charm that Thailand's street food used to have.