Bangkok opened its new canal park as a "gift" to the people, but for now, it's only for those with full use of their legs.
After the first phase of the
Khlong Nonsi Canal Park
opened Saturday, one disabled rights activist said this morning that the city has once again spent a great sum of taxpayer money on public works that are inaccessible to all taxpayers.
"I saw that people are talking about the project online. I saw that the project claimed to be inclusive and equally accessible for citizens to go and relax. I am a citizen, and I have my right to use the space as well," said
Nalutporn Krairiksh
, who advocates for disability rights on
Thisable.Me
.
She today described the numerous obstacles she faced attempting to visit the project, where millions have been spent to remake the smelly canal. Those able to reach the park will find its design leaves areas off-limits to visitors with disabilities.
For Nalutporn to get that far from public transportation, she had to pilot her wheelchair across eight lanes of busy traffic at an unmarked crossing with a motorcycle escort helping her avoid cars. Someone arriving by vehicle could reach its upper areas by crosswalk across Naradhiwas Najagharindra Road.
Nalutporn's struggle began as soon as she exited the BTS Skytrain. Seven years after the Supreme Court ordered City Hall to make all stations accessible – kicking off years of foot-dragging – plenty of barriers remain.
There is no wheelchair access to the park from the Chong Nonsi Skywalk – a rampway is under construction but did not open with the park – so Nalutporn rode the elevator down from BTS Chong Nonsi to the street level, where she was confronted with the impossible.
"I came out of the elevator, and I was in the middle of the road. And when I crossed the road, there was no wheelchair access to the footpath," she told BK.
Accessibility was a principal complaint of critics who accuse the city of funding a costly boondoggle with little ecological benefit. The billion-baht project is set to beautify the canal running 4.5 kilometers down Naradhiwas from Surawong Road to the Chao Phraya River.
"Why build a park in middle of the road, where air pollution is very bad?" Niramon Serisakul of Chulalongkorn University's Urban Design and Development Center said in a recent interview. At a meeting held earlier this month, Prapas Luangsiri, city director of transport and traffic, said 12 future entrances would be designated – half of which would be zebra crossings with traffic lights.
As Coconuts reported earlier this month, there is no wheelchair access to the BRT station by which visitors can access the park.
Famed landscape architect Kotchakorn Voraakhom, whose Landprocess firm has worked on the project, said there will eventually be more than adequate access. The ramp connecting the Chong Nonsi Skywalk to the park is expected to open next month. BK has reached out to her for comment on Nalutporn's objections.
Manit Inpim, who fought City Hall in court for years to make the BTS Skytrain accessible, was brought in as a consultant on its project.
He told BK this morning that he advised the project's designers and City Hall to include wheelchair access along with other features such as a raised crosswalk and CCTV cameras.
Manit said he would visit the park himself after New Year's.
As the head of disability rights group Accessibility is Freedom, he said Nalutporn is right to raise the accessibility issue as the ultimate goal is for all people – regardless of physical ability – to be able to access public venues.
"It's a basic human right that everyone can travel," he said.
The way is shut
Nalutporn documented her frustrating attempt in
more than 40 photos
, which have been shared by tens of thousands.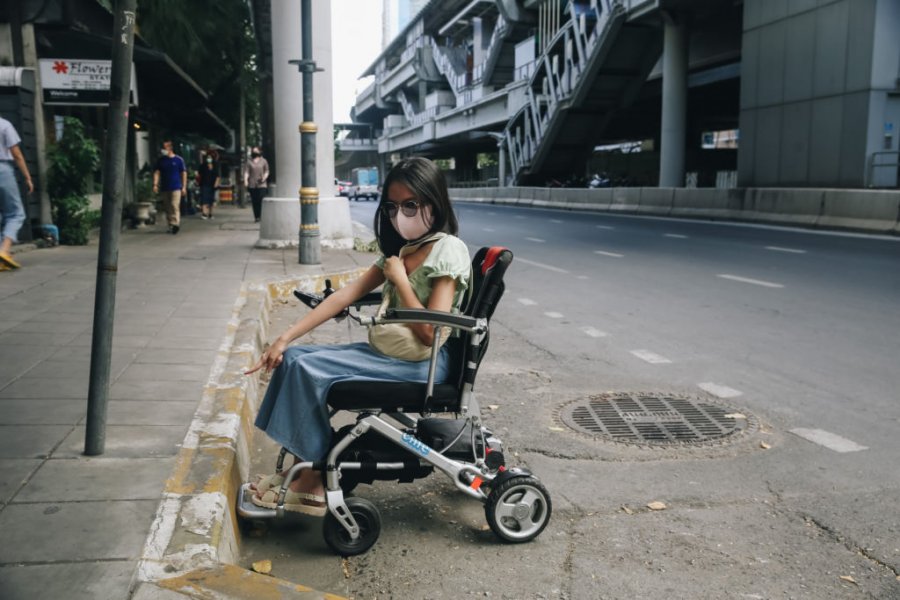 Nalutporn shows the lack of a curb cutout preventing her from getting out of the street. Photo: Nalutporn Krairiksh / Courtesy
From the traffic-bound BTS lift, she took her wheelchair west on Naradhiwas toward Sathon Road.
There, the 28-year-old activist had no choice but to risk it all crossing all eight-plus lanes of Sathon – not something anyone would risk if they weren't trying to make a point.
Further insult to injury: The sidewalk was blocked by poorly placed traffic sign poles.
"It's not just that I had to worry about crossing the road, but I couldn't even come down from the footpath, because there were poles in my way," she said.
Nalutporn's journey into traffic peril blocked by two inconsiderately placed signposts. Photo: Nalutporn Krairiksh / Courtesy
"When a friend helped me down [from the footpath], I had to wait for a long time until I could figure out how to cross the road with so many cars," she added. "I thanked one motorbike who assisted me by slowly riding next to me until I successfully crossed the road."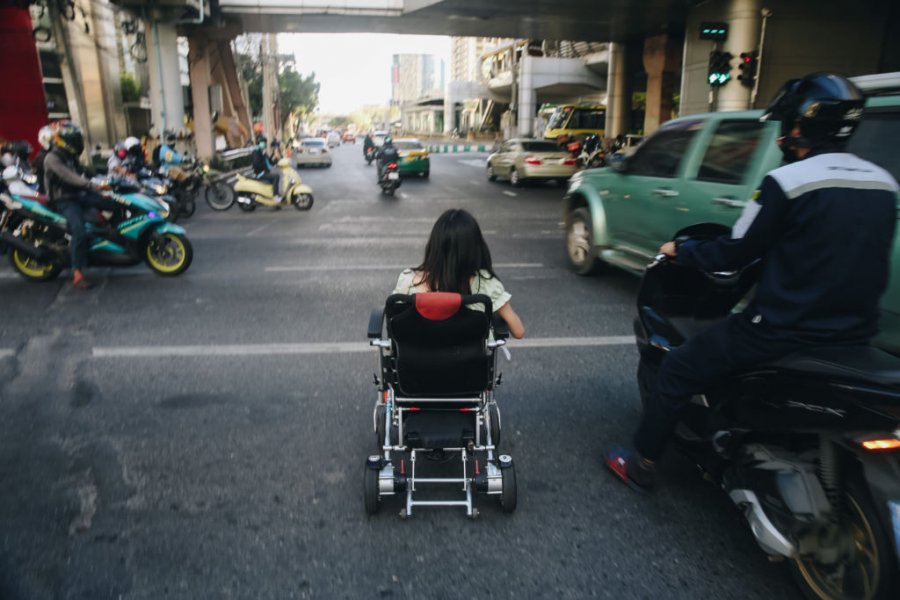 Nalutporn crosses the Sathon-Naradhiwas Intersection with a Good Motorbike Samaritan slowly escorting her. Photo: Nalutporn Krairiksh / Courtesy
From the south side of Naradhiwas, she was able to use a zebra crossing to reach the canal park – at least part of it. Its tiered design did not bother to include a means of navigation for those who can't climb steps.
"If I were to come here with my friends, where would I hang out with them? Where would I be without blocking other people's way?" she said.
Asked what could have been done better, Nalutporn said the city needs safe and walkable footpaths for everyone, not just for people with disabilities.
"Having a good footpath is a basic right of people. Some people told me that I have to wait until the skywalk is completed, but I think this shows how narrow-minded they are. It means that disabled people cannot come to see the canal project yet?" Nalutporn said.
Nalutporn said if the project's next phases are better thought out and accommodating, she would visit again.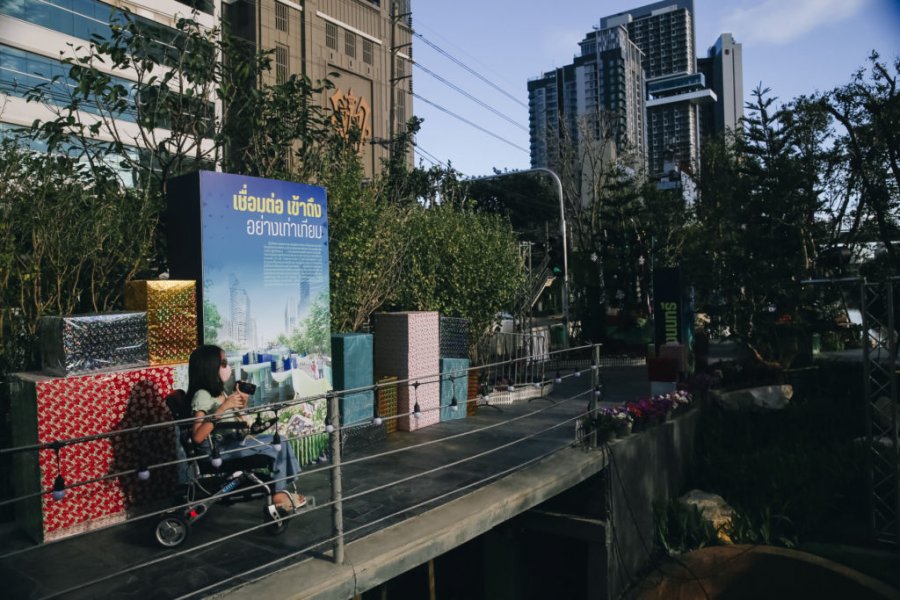 Equally connected and accessible" reads a sign at the Khong Chong Nonsi project. Photo: Nalutporn Krairiksh / Courtesy