Frustrated with being locked out of the BTS elevator at Asok station on Mar 11, a disabled activist punched and cracked the glass of the entrance. He then reported his actions at a police station.
Manit Intharapim, the rights activist behind the Facebook page Accessibility Is Freedom, said he acted out of anger with the inconvenient and lengthy process required for wheelchair-bound persons to get access to elevators.
"I found that the door was locked and waited a while, then tried to find the security guard to open the door but the only guard who was around was the guard who was checking the bags near the entrance," Manit told the press on Mar 12. "I was just done waiting, so I punched it."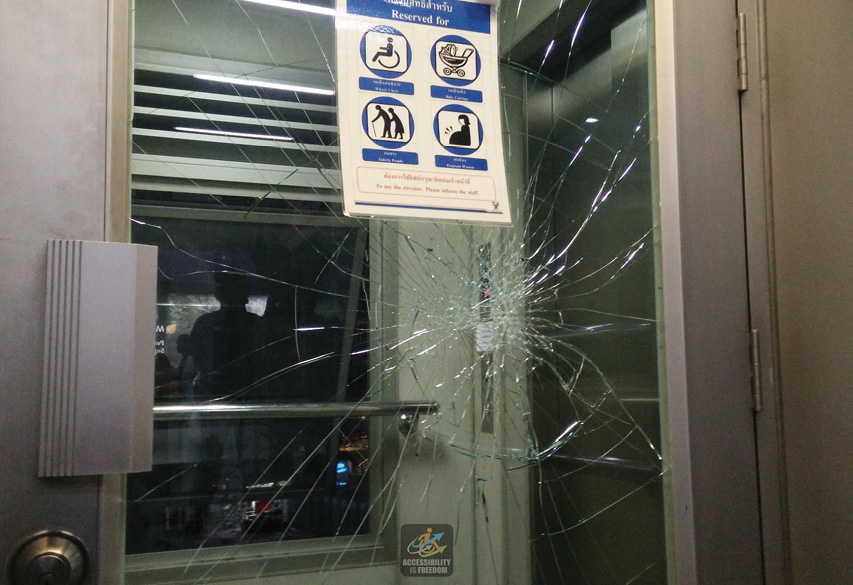 The smashed elevator door at BTS Asok. Credit: www.facebook.com/AccessibilityIsFreedom
The BTS has been operating since 1999. Manit was a part of a group of activists who campaigned to make public transportation accessible. In 2015, the courts ruled in the favor of disabled persons, requiring elevators to be installed at all stations. Despite this, access to many elevators remains difficult (read our 2017 interview with Manit.).
"They keep telling us to be patient," says Manit. "Well, we've kept our cool for over 20 years now and we have to commute every day. I think that to be able to get from place to place is a basic human rights. I am human, too."
Recounting Sunday's incident, Manit said he was asked to sign a form to confirm he was disabled in order to use the BTS for free. After refusing to complete the form, Manit offered to buy a ticket himself but authorities still would not open the elevator. "Free or not doesn't matter to us. We want access [to the elevator] without anybody's help."
Manit also threatened to sue the Ministry of Transport, the Bangkok Metropolitan Administration and the BTS in the absence of any change of policy.