Your complete guide to the spaces that make Bangkok a work of art.

Wacky illustrations, furniture, graphic designs and product designs from local names are what you'll find in this designer-run gallery and design studio that acts as a space for showcasing design work rather than canvas art. The space is crisp, white and sexy, and extends to a pop-up speakeasy that often plays host to boozy art parties for exhibition openings serving up cocktails themed around the current artwork on display.
---

100 Tonson Gallery
100 Soi Tonson, Phloen Chit Rd., 02-684-1527. BTS Ratchadamri
One of the foremost contemporary art galleries in Bangkok, this gallery is located in a beautiful modern building designed by renowned French designer Christian Liaigre, and regularly welcomes such high-profile artists as Rirkrit Tiravanija and Prateep Suthathongthai. The gallery's greatest pride is its ability to take Thai artists abroad: it was the first Thai gallery to participate at Art Basel in Switzerland.
---
Adler Subhashok Gallery
160/3 Sukhumvit Soi 39, 02-662-0299. MRT Sukhumvit
This unique space actually offers a gallery within a gallery, thanks to the Subhashok Art Center joining forces with Parisian gallery Adler to become the Adler Subhashok Gallery. Expect plenty of big name contemporary international and local artists showcased here, given Adler's connections with artists like Helmut Newton and David LaChapelle.
---

2198/10-11 Narathiwas Soi 22, 094-454-5955.
Venture down to the hinterlands of Naradhiwas Road and you'll come to N22, a budding creative space comprising art galleries and artist studios that includes Gallery VER. It's also home to this little project from curator-artist-gallerist Angkrit Ajchariyasophon, who also founded Angkrit Gallery in Chiang Rai. Artist+Run acts as "a living room where artists are invited to present their work." Since opening in 2016 the space has featured abstract painting exhibitions by local big names, debuting with an exhibition from abstract painter and sculptor Thaiwijit Puengkasemsomboon titled "Rebirth of the Cool."
---

Set in the bustling area across the road from Siam Square and MBK, the city's foremost art center lacks a permanent collection but hosts temporary contemporary art exhibitions across its nine floors. They can vary wildly in quality, but regularly offer glimpses of the country's best privately-held contemporary art collections. The center also contains small, design-centric stores, ranging from cafes and restaurants to book shops, and a movie theatre on its top floor.
---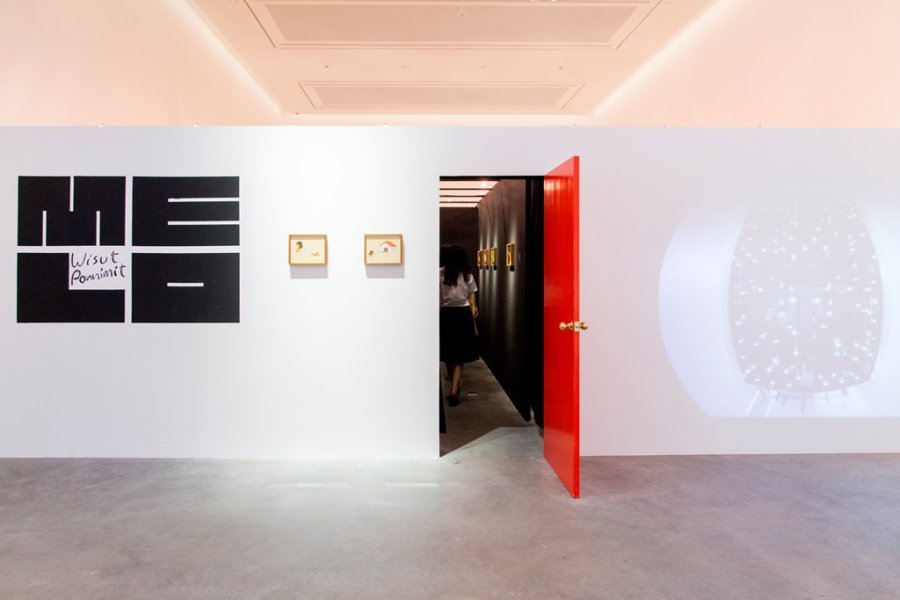 This purpose-built white cube right by Lumphini Park facilitates all forms of art, whether it's paintings, video installation or live performances. The owner is young and rooted in Bangkok's art, skateboard and design subcultures, ensuring a cool if sometimes clique-y crowd.
---

Bridge
Charoenkrung Soi 51, 086-986-9421. BTS Saphan Taksin
This four-story cafe-slash-art space hosts both group and solo exhibitions which have featured a mix of established and new locally-based artists. The tastefully decorated front-of-house (whitewashed brick walls, filament bulbs, blond wood) is a prime spot for breakfast, while there's also a charming rooftop that just about manages a river view. It's run by a small group of creative types with diverse backgrounds in PR through to videography.
---

Narathiwat Ratchanakarin Soi 22, 089-988-5890
Don't let the size of this gallery fool you. The single-room space owned by contemporary artist Mit Jai-Inn sits tightly next to Gallery VER, sharing its roof with other artist-led initiatives. This art nook is formidable for showcasing the latest, boundary-pushing contemporary art and design works with a socio-political bent. It's previously hosted work by the Guerrilla Boys and Tada Hengsakhul.
---
2/F, Broccoli Revolution, 899 Sukhumvit Soi 49, 02-662-5002. BTS Phrom Phong.
Sitting above Thonglor's upmarket vegetarian restaurant, Broccoli Revolution, this art space has a socially conscious slant. Its partners include Manipa Jayawan, chairperson of Bangkok University Gallery, and Naya Ehrlich-Adam, of Broccoli Revolution, as well as Sakson Rouypirom, who also founded the Sati nonprofit organization. In collaboration with Sati, the art space provides an outlet for learning multidisciplinary subjects through exhibitions and activities for the public.
---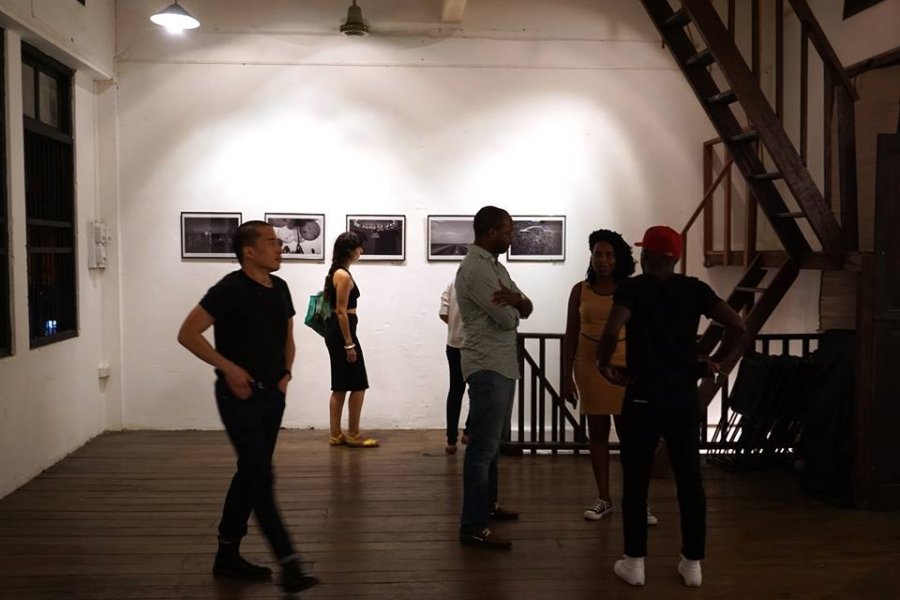 Cho Why
17 Soi Nana, Charoenkrung Rd. MRT Hua Lamphong.
Set in the city's old town, this multi-floored and multi-disciplinary art space promises everything from informal art gatherings to photography exhibitions to documentary screenings to rooftop paella nights. Run by a sizable team of creative minds, they've also organized the unique block-market dubbed the Soi Nana Craft and Jumble Trail.
---

The Ferry Gallery
Tha Tien Pier, Maha Rat Rd. Phra Nakorn
Founded by artist Kawita Vatanayankur, this gallery is possibly the coolest art initiative in town, hosting art installations on four privately owned ferries operating on the Chao Phraya River. The gallery's mission to bring art to the masses does so by taking advantage of the high number of daily cross-river commuters who can now appreciate artworks as they travel to and from the piers. Previous exhibitions have included thought-provoking photography projects by both foreign and Thai artists.
---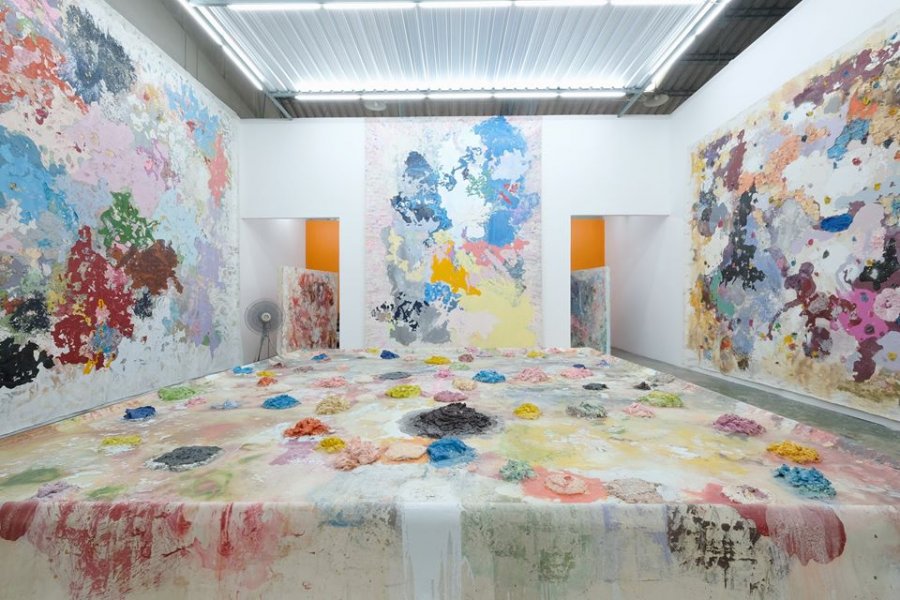 Gallery Ver
Narathiwat Ratchanakarin Soi 22, 089-988-5890
Sathorn's latest contemporary art gallery comes in the form of a warehouse-turned-art unit that includes a gallery and exhibition space by artist Rirkrit Tiravanija and an art studio by artist Takerng Pattanopas. Also attached to the building is
Tentacles
, a high-ceiling art space-slash-cafe by Henry Tan that frequently hosts art workshops, exhibitions and activities while serving up coffee and snacks.
---

Goja Gallery Cafe
5/2 Pridi Soi 3, 085-848-7576. BTS Phra Khanong
Set in a renovated old shop-house boasting a clean and very cool Japanese feel, this gallery's two plain white walls are lined with art pieces, while the minimally decked out venue also serves as a cafe with drip coffee and drinks for art enthusiasts to enjoy at the slender window-side counter. It also plays host to frequent live music nights featuring Thai and Japanese DJs.
---

H Gallery
201 Sathorn Soi 12, 085-021-5508. BTS Chong Nonsi
Set in a beautiful late-19th century Anglo-Thai mansion, H Gallery's exhibitions represent emerging contemporary Asian artists and are curated by Brian Curtin, one of the foremost experts and critics in this field. Upstairs is home to H Project Space, a floor dedicated to more experimental projects and live performances. One of Bangkok's more daring art spaces, it's not afraid to host provocative or controversial work.
---

Ekkamai Soi 8, 095-478-9987. BTS Ekkamai
The three-floor photography gallery also includes a bookstore and co-working space, and regularly offers photography workshops. With links to the non-profit charitable organization Lucie Foundation, based in the US, the gallery's aim is to promote the art of photography worldwide by honoring masters like Henri Cartier-Bresson, Jean-Paul Goude and Steve McCurry.
---

Jam
41 Charoen Rat Soi 1, 083-5451-833. BTS Surasak
This modest and homey shop-house makes for a hip urban refuge in an unlikely residential setting. It is home to the weekly Cult Movie night, retro gaming night, live music performances and frequent art and photography exhibitions by Bangkok-based artists that take place upstairs.
---

The Jam Factory
41/1-41/2 Charoen Nakorn Rd., 02-861-0950
Duangrit Bunnag's stunningly designed riverside compound comprises of restaurants (Never Ending Summer, The Summer House Project), a bookshop (Candide), a showroom for Anyroom furniture, a cafe (Any Cafe) and a gallery that often features works from the city's most trendy young artists. The space also regularly hosts the popular Knack Market and concerts in the open-air courtyard.
---

The former home of CIA agent and savior of Thai silk Jim Thompson is a beautifully preserved complex of six traditional Thai-style houses from all over the country, containing his art and antique collection of sculptures, paintings and porcelain. There is also an exhibition space, restaurant and shop.
---

The welcoming homeliness of this gallery is explained by the fact that it was formerly the home of Thai sketch artist Wal Chirachaisakul and his family before he renovated it into this gallery-slash-art studio. It comes combined with plenty of chillout space for artist meet-ups and frequently showcases works from emerging Thai contemporary artists.
---

Manit Sriwanichpoom's two-floor gallery sits in a restored pre-war shop-house and includes exhibition space, lounge area as well as a book store specializing in Hinduism and Shamanism. Open since 2006, it's still Bangkok's preeminent photography gallery, with a focus on Thai society's transformation and urbanization. Kathmandu also preserves and rediscovers the works of forgotten masters of Thai photography. Customers interested in acquiring one of Manit's works can also browse them from a folder, just like in photo-art shops of days long past.
---

Boonchai Bencharongkul's five-story building is Thailand's biggest private museum and the country's first significant permanent modern art collection open to the public. The works are mostly post-1990s, often focusing on realism and surrealism depicting rural life, religious Buddhist scenes or mythological motifs from the Ramayana, though a few more political and controversial pieces have made their way into the collection, too. Unlike other exhibitions which usually focus on young emerging artists, the temporary exhibition space on the first floor is dedicated to rare collections from Thai masters, either from the archives of Boonchai's personal collection or on loan from other institutions.
---

Mahadlek Luang Soi 3, Rajdamri Rd., 090-910-6863. BTS Ratchadamri
Tucked in an unlikely space on the ground floor of the luxury Baan Somthavil complex, this super-sleek and minimal white cube comes from Sutima Sucharitakul, who opened Nova Contemporary after living in London and New York (she has a gig at the Museum of Modern Art [MOMA] and The Met under her belt). Her gallery specializes in contemporary art, exhibiting the work of both Thai and international artists, as well as offering educational talks from well- established artists and collectors.
---

Neilson Hays Library
195 Surawong Rd., 02-233-1731. BTS Chong Nonsi
As well as being home to some 20,000 books, this beautiful wood-clad library designed in 1922 by Italian architect Mario Tamagno is also home to the Rotunda Gallery and Garden Cafe Gallery that exhibits works ranging from paintings to ceramics. The space was given "Historic Landmark" status in 1986 by the Association of Siamest Architects and serves as a great, slow-life spot to enjoy art and literature.
---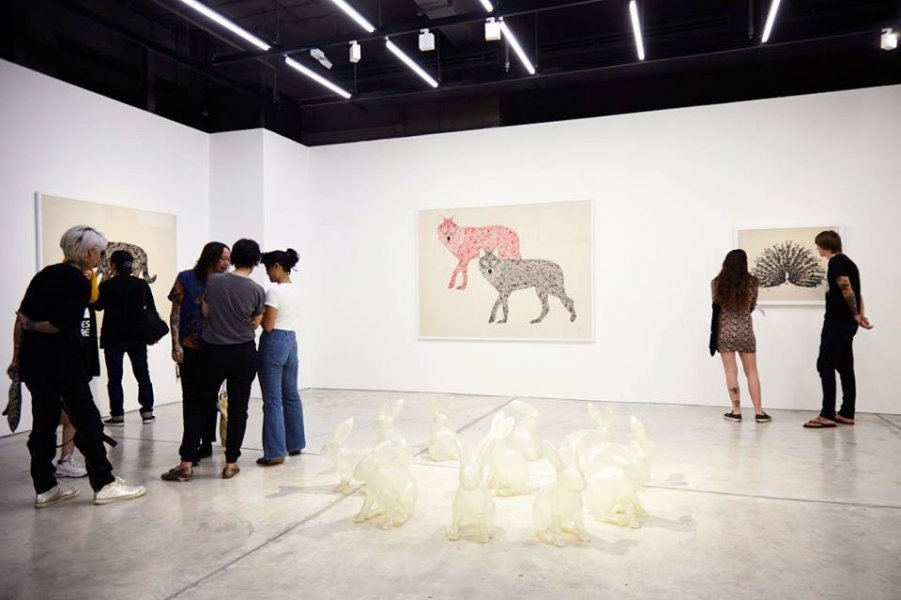 Mahadlek Luang Soi 3, Rajdamri Rd., 090-910-6863.
BTS Ratchadamri
Founded by young, stylish gallerist Sutima Sucharitakul, who boasts a gig at the Museum of Modern Art (MOMA), New York under her belt, this white-cube art space with an industrial twist sits on the ground floor of a luxury complex in the heart of the city and aims to expand understanding of what contemporary art is. The gallery was named one of 15 new galleries putting new cities on the global art map by
Artsy
, only a couple of months after opening.
---

Numthong Gallery
72/3 Ari Soi 5, 02-617-2794. BTS Ari
A spacious, minimal gallery that focuses on promoting the works of local artists, whether emerging or internationally acclaimed. Now also come to be considered an idea-sharing space for artists, curators and art collectors, the gallery also features a libary for art-related research as well as an information desk sharing details on upcoming exhibitions, current contemporary art news and artist interviews.
---

Rebel Art Space
10/5 Sukhumvit Soi 67, 087-112-7774. BTS Phra Khanong
The brainchild of controversial social activist-cum-artists Vasan Sitthiket and Wannaphon "Sai" Chimbangchong, alongside curator Bee Jiratti Kuttanam, this space is not just about selling canvases but also aims to serve as a platform for art lovers exchange ideas through artist-run talks. In addition, it serves as an art archive for Vasan's works, many of which were banned and never exhibited, including protest paraphernalia, such as megaphones and shields. On the first floor is the main exhibition room with high ceilings, white walls and a few seats. The second floor and rooftop are more raw, with concrete floor painted gray and Vasan's permanent collection. The outdoor space on the rooftop has a view of the city and will soon host film screenings, poetry readings and the likes.
---

RMA Institute
238 Sukhumvit Soi 22, 02-663-0809
Although largely known for its unique photography exhibitions, this cozy house-turned-art-space also hosts frequent art workshops, film screenings such as the Future Shorts Cinema event, artist talks, spoken word nights from Bangkok Lyrical Lunacy and live music and dance performances. Attached to the gallery is Gastro 1/6, a popular garden cafe that serves up quality coffee and all-day breakfast dishes featuring some of the best poached eggs in town.
---

S Gallery
Sofitel Bangkok Sukhumvit, 189 Sukhumvit Rd., 093-582-6588. BTS Nana
The luxury hotel has launched its own 100-sq-meter gallery inspired by French contemporary art and design. It hosts a new exhibition every two months, featuring the work of Thai and French painters, photographers, sculptors and installation artists.
---

Sathorn 11 Art Space
404 Sathorn Soi 11., 085-251-6672. BTS Surasak
Emerging in an unlikely residential alley of Sathorn Soi 11, this gallery is a two-story space that provides an outlet for the work of aspiring local artists as well as a residency program.They've got four atelier studios above the gallery, which are given to Thai artists selected from across the country, meaning art lovers and visit and watch artists work through their creation process.
---

Schemata Gallery
1/F, Liberty Tower, Sukhumvit Soi 55, 088-088-8066
This one-room gallery by the well-known Thai artist and designer Anon Pairot focuses on creative design works. Set in Thonglor, expect a well-dressed crowd that mostly consists of the city's wealthiest designers.
---

Serindia Gallery
3201, OP Garden, 4-6 Charoenkrung Soi 36, 02-238-6410. BTS Saphan Thaksin
Besides running a Chicago-based publication company of the same name, Shane Suvikapakornkul hopes to capture the art and culture of Asia, specifically the Himalayan region, and put them on display in Bangkok. Shane's many artistic connections enable him to put on world-class exhibitions right here in Thailand. Occupying the grounds of the former office of the Association for the Conservation of Wildlife, the gallery still gives out the vibe of a minimalist post-colonial house. The high-ceiling interior features pristine white walls, a seating area and a flat screen showing Serindia's digital catalog. There's also a mezzanine level displaying dozens of art-related books.
---

Silom Galleria
919/1 Silom Rd., 02-630-0944. BTS Surasak
This arts and jewelry-focused mall recently restructured to put all the jewelry traders in the basement and the art galleries on the fourth and fifth floors. No bad thing, since the gallery spaces are now bigger and they all sit next to each other. Highlights include Thavibu, which represents big names like Vasan Sithiket and Navin Rawanchaikul, and Tang Gallery, which many consider to be the top dog of Bangkok's art scene.
---

Soy Sauce Factory
11/1 Charoenkrung Soi 24, 061-835-6824
This diverse art space is set in an actual old Chinatown soy sauce factory. Downstairs operates like a bar pouring basic but stiff drinks and a Thai restaurant in a very bare-bones environment—open plan, concrete floor, industrial lighting. Head upstairs to see exhibitions, often centered around photography.
---

Speedy Grandma
672/50-52 Charoenkrung Soi 28, 089-508-3859. MRT Hua Lamphong
Founded by Lee Antawat and Thomas Menard, this raw-looking shophouse-turned-gallery settled in a Charoenkrung alley boasts a quirky, down-to-earth vibe that is unlike many traditional collector-orientated galleries in town. With its eclectic curatorship, this space offers everything from experimental film screenings to performance art.
---
Sala Daeng Soi 1, 089-826-2299. MRT Lumphini
Located inside the sleek, building home to Bangkok Screening Room indie cineman and indie establishments like ice-cream parlour Guss Damn Good and clothing retailer, B Store, this large open-plan space is the ultimate blank canvas. Here, freshly painted white walls are waiting for creatives to showcase their latest and most innovative creations.
---

WTF Gallery and Cafe
7 Sukhumvit Soi 51, 02-662-6246. BTS Thong Lo
Tucked inside a narrow lane, this cool, intimate bar-slash-gallery is favored by Bangkok's local and expat hipsters and combines art and booze. The gallery, located upstairs from the retro bar decorated with old movie poster and vintage flowery tiles, comes in the form of a minimal corridor that exhibits some of the city's best contemporary conceptual art.
---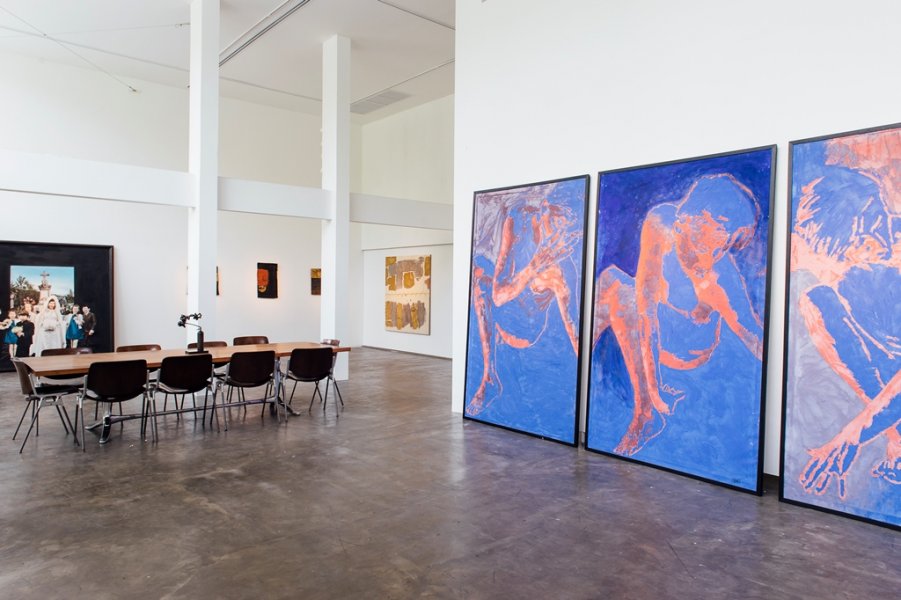 Yenak Art Villa
69 Soi Prasat Suk, Yen Akat Rd., 02-235-9800. MRT Khlong Toei
This multi-purpose, by-appointment-only gallery hosts art from both local and visiting international artists. The modernist building's soaring ceilings, expansive use of glass and a crisp white facade take influence from the work of 1930s European architecture, while out front you'll find a 600-sq-meter sculpture garden. Since opening, it's become something of a meeting point for artists, critics and collectors thanks to regular arty dinner events. The rest of us can only visit the gallery by appointment—but it's worth it.
---

20/2 Kasemsan Soi 1, Rama 1 Rd., 098-469-5924. BTS National Stadium
Nestled near the BACC, right beside Sansab Canal, Yelo House transforms an old publishing house into a two-story hub of art and design. A team of creative types—Hans Werner Muller (creative director of HWM consultancy firm), Sallayawate Prasertwittayakarn (co-founder of Atelier of Architects), Suwanni Suwansaengroj (of Chamni's Eye production house) and Tanat Singhasuwit (photographer)—have banded together to turn the building into a gallery, co-working space, studio and cafe.The co-working space will be opening soon, but it's not all art and design. The space is also home to one of Siam's best new cafes as well as a cute little eatery. Popular Sukhumvit cafe Hands & Heart manages Hungry Me restaurant, offering fusion bites like deep-fried pork belly (B130), while Thirsty You specializes in teas and coffees. The Aussie-style iced coffee (hot latte with vanilla ice cream at B140) is devilishly good, while the iced raspberry oolong tea (B80) is a lighter alternative. Filtered coffee, beer and breakfast are also coming soon.
---