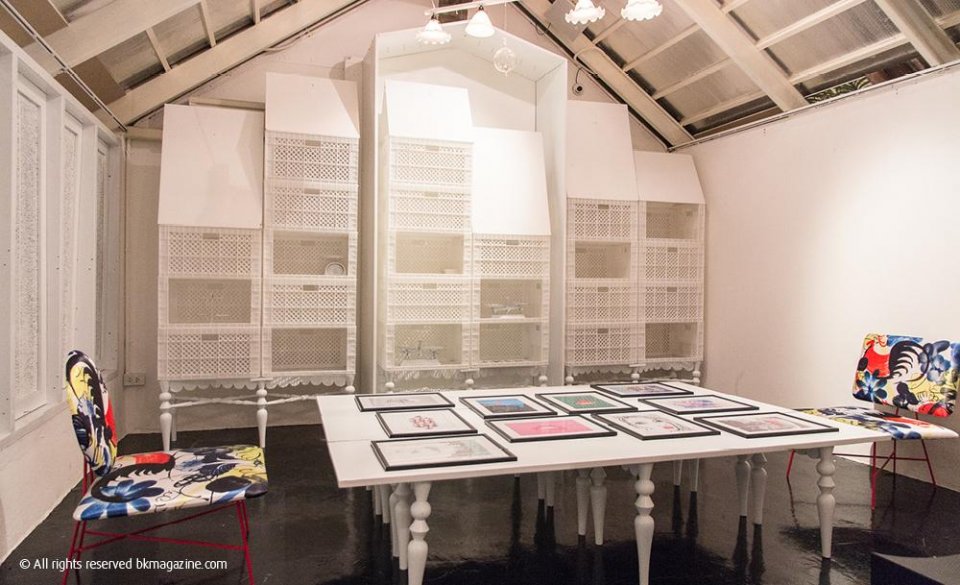 56th Studio & Private Gallery
Wacky illustrations, creative furniture, unique graphic designs and new products from local names are what you'll find in this designer-run gallery. It's a design studio, first and foremost, and it eschews canvas art in favor of design work. The space is crisp, white and sexy, and extends to a pop-up speakeasy that often plays host to boozy art parties for exhibition openings. It even serves cocktails based on the art themes on display.

One of the city's foremost contemporary art galleries, this venue is located in a beautiful modern building designed by renowned French designer Christian Liaigre. It regularly welcomes high-profile artists including Rirkrit Tiravanija and Prateep Suthathongthai. The gallery's prides itself on taking Thai artists abroad; it was the first Thai gallery to participate at Art Basel in Switzerland.

This unique space is actually a gallery within a gallery—the Subhashok Art Center joined forces with the Parisian gallery Adler. Expect plenty of big name contemporary, local and international artists—given Adler's connections with artists like Helmut Newton and David LaChapelle.

Venture down to the hinterlands of Naradhiwas Road and you'll come to N22, a budding creative space with art galleries and artist studios (including Gallery VER). It's also home to Artist+Run—curated by Angkrit Ajchariyasophon, founder of Chiang Rai's Angkrit Gallery. Artist+Run acts as "a living room where artists are invited to present their work," he says. Since opening in 2016 the space has featured sculpture and abstract painting and big local names like Thaiwijit Puengkasemsomboon, Udom Udomsrianan, and more.

This 120-year-old Chinese school turned sprawling multi-purpose art, retail and F&B hub was beautifully renovated with reclaimed wood, tiles and bricks, and exposed teak ceilings. The first floor is retail—e.g.; Japanese ceramics and Indonesian necklaces—and the grounds include a bar and restaurant. The exhibition space is upstairs; by the eaves. Its stated aim is the present and past—contemporary art and Asian antiquity. The Attakanwong family (of neighboring Lek Gallery) owns and operates it.

BACC (Bangkok Art and Culture Center)
Set in the bustling area across from Siam Square and MBK, the city's foremost modern art center lacks a permanent collection but hosts temporary art exhibitions spread across nine floors. The shows can vary wildly in quality, but they regularly offer glimpses of the country's best privately-held collections. The center also hold art activities and workshops for all ages. Small design-centric stores—ranging from cafes and restaurants to book shops and an art library—share the first floor.


This gallery sits in a 19th-century landmark heritage home designed by Italian architect Mario Tamagno (of Neilson Hays Library and Anantasamakhom Throne Hall). The three-story structure was also once occupied by Thailand's "Father of Modern Education"—Chaophraya Thammasakmontri. Today it hosts art residencies and public events, live music and workshops, and the zero-waste Na Cafe—which brews with homegrown beans and offers suspended beverages (the option to pay ahead for those in need). "People have visited and asked, 'Where's the museum?' We're not a museum." laughs Susannah Tantemsapya, the Thai-American founder and director. She likens the concept to places like Strelka (Moscow), Islington Mill (Manchester) or Land Foundation (Chiang Mai)—multi-purpose open houses that draw you in "to pursue the lost art of leisure."
134 Nakhon Sawan Rd. Open Tue-Sun 10am-7pm. Website

This purpose-built white cube set by Lumphini Park facilitates all forms of art—paintings, video installation, live performances and more. The owner is young and rooted in Bangkok's art, skateboard and design subcultures, ensuring a cool if sometimes clique-y crowd.

This four-story cafe-slash-art space hosts both group and solo exhibitions and features a mix of established and new local artists. The tastefully decorated front-of-house—whitewashed brick walls, filament bulbs, blond wood—is a prime spot for breakfast, and there's also a charming rooftop that just about manages a river view. The gallery/cafe is run by a small group of creative types with diverse backgrounds, including PR and videography.

Cartel Artspace
Don't let the size of this gallery fool you. The single-room space owned by contemporary artist Mit Jai-Inn sits alongside Gallery VER—they even share a roof— and is a close neighbor to several other artist-led initiatives. It's an art nook, but a formidable one. It showcases boundary-pushing contemporary pieces and also design works with a socio-political bent. It has even previously hosted work by Phanjapon Nanuaml, titled "The Collector 0.01%."
Case Space Revolution
Sitting above Thonglor's upmarket vegetarian restaurant, Broccoli Revolution, this art space has a socially conscious slant. Its partners include Manipa Jayawan, chairperson of Bangkok University Gallery, and Naya Ehrlich-Adam, of Broccoli Revolution, as well as Sakson Rouypirom, who also founded the Sati nonprofit organization. In collaboration with Sati, the space provides an outlet for multidisciplinary subjects, public exhibitions and activities.
This renovated shophouse boasts a clean and cool Japanese feel. The gallery's plain white walls are lined with art pieces, and the minimalist vibe plays well for the venue's cafe and frequent live music nights. Come for a drip coffee and some enriching Thai art—stay for a drink and Japanese DJs.
Duangrit Bunnag's stunningly-designed riverside compound includes a bookshop (Candide), a cafe (Any Cafe) anyroom furniture's showroom (stylishly lowercase), restaurants (The Never Ending Summer, The Summer House Project)—and last but not least—a gallery. The space also hosts Knack Market and regular concerts in its open-air courtyard.
The former home of CIA agent and savior of Thai silk Jim Thompson is a beautifully preserved complex of six traditional Thai-style houses. Thompson was also an architect and had them moved to Bangkok (from all over the country), where he rebuilt them as one. He then filled his new house with art, antiques, sculptures, paintings and porcelain. There is also an exhibition space, restaurant and silk shop.
If this gallery feels comfortable and homey, that is because it was once the home of Thai sketch artist Wal Chirachaisakul and his family. He has since renovated it into a gallery and art studio. There is plenty of space for artist meet-ups and it frequently hosts gatherings, and showcases by emerging Thai contemporary artists.
Manit Sriwanichpoom's gallery sits in a restored pre-war shop-house and includes exhibition space on two floors, a lounge area and a book store specializing in Hinduism and Shamanism. Open since 2006, it's still Bangkok's preeminent photography gallery, with a focus on Thai society's transformation and urbanization. Kathmandu also preserves and rediscovers the works of forgotten masters of Thai photography. Customers interested in acquiring one of Manit's works can also browse in folders, just like in photo-art shops of days long past.
Sala Daeng's multi-story hub has a rooftop bar with lush park views, exhibition halls, an independent cinema, office space, restaurants on the ground floor and a fleet of street vendors out front. The five-story building is in tree-lined Sala Daeng Soi 1, on the fringes of Bangkok's financial district. It hosts around six exhibitions per year—including edgy photo shows, Mad Magazine retrospectives, paintings, illustrations and more. (Spanish illustrator Joan Cornella brought in 10,000 people in three weeks). Corporate events are more frequent and profitable, and include fashion shows, Netflix castings, and even a skincare laboratory for the Australian brand Aesop. Thai-British entrepreneur Jay Spencer and his wife, Jareyadee are the masterminds. "Interspersing art with commercial ventures in one space helps people feel more comfortable. We're not an uptight art space; we're versatile."