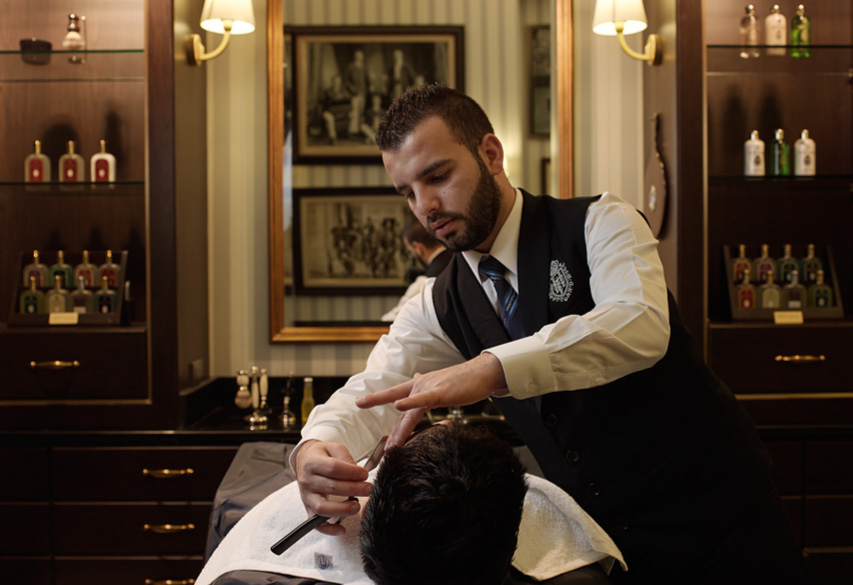 Thailand's four-and-counting branches of what claims to be England's oldest barbershop conjure images of gentlemen's boutiques around St. James Park and inexplicably posh shop assistants. Needless to say, the Royal Cut at B1,100 is really rather luxurious. Your head and shoulders get soothingly cajoled during the hair wash, while the cut takes place in easily the most comfortable barber's chair in Bangkok with a coffee by your side (or a single malt, if you book in the evening). It's all so lovely that we had a hard time keeping our eyes open. Although each store has its own master barber, the Emporium spot is home to a guy called Sawad Laard, who has over 50 years of experience as a barber. He has even cut the hair of various Thai prime ministers and politicians over the years—but don't hold that against him. The stores also offer B35,000 "membership," which is really just B35,000 credit with a couple of other perks thrown in.
4/F, Central Embassy, 1031 Phloen Chit Rd., 098-363-6146. Open daily 10:30am-8pm.
1/F, Gaysorn Village, 999 Phloen Chit Rd., 089-512-6642. Open daily 10:30am-8pm.
1/F, Anantara Siam Bangkok Hotel, 155 Ratchadamri Rd., 02-126-8866. Open daily 10am-7pm.
The notorious Black Amber—BK readers' second favorite barbershop, according to our last readers' survey—now has two barbershops: one in Empire Tower in Sathorn, and the original on the first floor of an old, four-story Thonlgor shop-house barely visible from the main street. Inside both outlets, the leather sofas and retro barber's chairs attract a young, pompadoured clientele keen to embrace some gentleman's club style. At B700 for a cut and shampoo, there's a lot of attention to detail, but don't try going if you're a tom—these wispy-moustached dudes in white shirts and fedoras don't do any women's haircuts. Overall, though, it's a neat little spot which offers a great experience for the cash.
Black Amber Building, Sukhumvit Soi 55 (Thonglor), between soi 5 and 7, 081-869-9393. Open daily noon-9pm.
Tew's Babershop comes from a time when Siam Square was the barbershop capital of Bangkok with around 30 or more stores. Twenty years later it still stands strong, offering that same classic Siam Square-style service (in a private room with a drink in hand) to this generation. Owner/barber Suwanda Kaya has been cutting hair since she first arrived in Bangkok from the countryside age 17 (though now she only cuts for her regular customers). Inside, you'll find the same electric chairs they've had since day one, and nothing else seems to have changed much, either. But despite the heritage and long-standing clientele, the place feels relaxed from the moment you walk in, and the staff have a rather casual approach to things. The service itself is top notch, and at just B600 for a cut, shampoo, condition and set, we didn't mind the background noises from muay Thai on the television. We also like the fact you can wrap things up with a cold beer. Nice touch. Make sure you book in advance.
432/4 Siam Square Soi 9, 02-252-3989. Open daily 11am-8pm.
595/16 Sukhumvit 33/1 (2/F O'Shea's Irish Pub), 097-919-5654. Open daily 11am-8pm.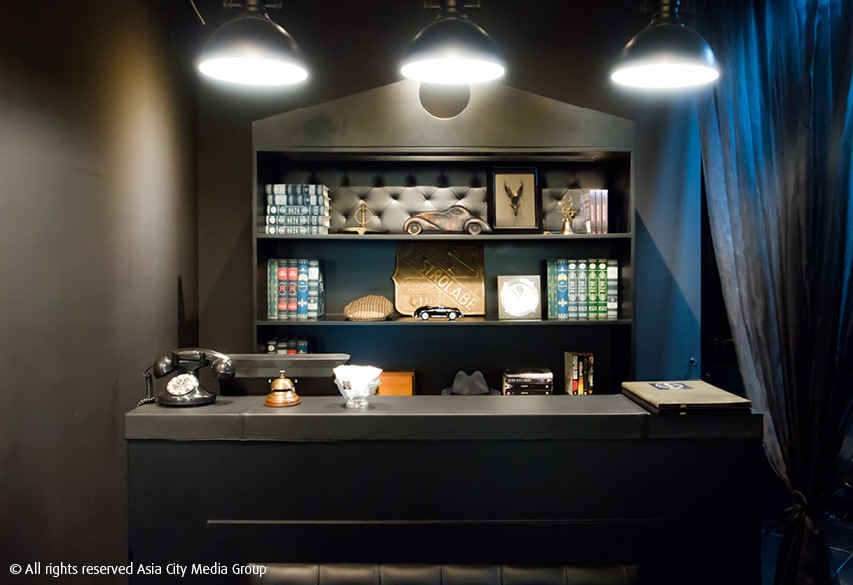 Barberford Noir is undoubtedly the sexiest barbershop in Bangkok, not only because it's home to the most handsome barbers, but also for its intimate service in a dimly lit private room. To Barberford, the most important thing is your privacy, and that really comes across. Despite it's shopping center location, the store is rather quiet inside and the staff make a point of being gentle and professional, adding to the already intimate environment. A standard cut costs B880 and includes a shampoo, condition, scalp massage and set. The barber dims the lights before placing a wet towel over your eyes, then lets you put your feet up as he gets to work with the shampoo finished with a shoulder and arm rub. Everything here feels all about you—we like it a lot.
M/F, Siam Discovery, 061-680-8822. Open daily 11am-8pm.
G/F, Eight Thonglor, Sukhumvit 55 (Thonglor), 091-720-1888. Open daily 11am-8:30pm.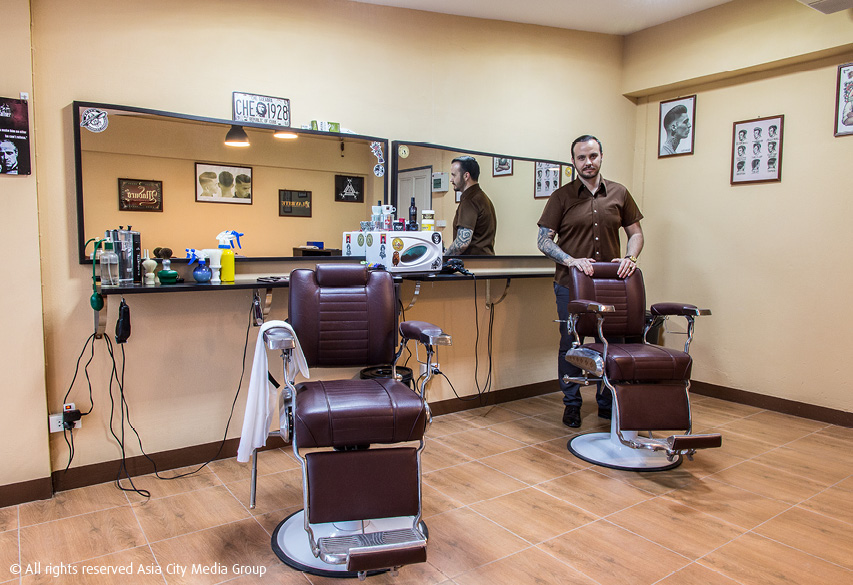 At the vintage-style Rod Fai Market, we found this small two-seat barber shop run by Allan Nonnenmacher, an Australian barber with more than 15 years of experience with the scissors. His tiny store, styled with 1950s pompadour pin-ups and vintage barber chairs, offers cuts along with a hot towel to the neck, some warm Italian shaving lather and straight-blade finish at no extra cost—which we loved. Hot towels are amazing, and nothing is better than it being followed up with warm shaving lather. Allan is always on for a chat, and with the long playlist of country tunes, you'll feel like you've walked into a small-town American barbershop. There's no running water, which means no hair washing or cut-throat shaves, but at just B400 for a cut with his signature hot towel finish (B500 for a proper skin fade), there are no complaints from us. You can even pick up his own branded pomade (B380) and rum aftershave (B200) to keep yourself looking (and smelling) fresh. From Mon-Wed the store is open by appointment only. Thu-Sun walk-ins are accepted during market hours (5pm-midnight).
51 Sri Nakarin Train Market, Soi C2/8, Bang Na. Open Mon-Wed 11am-7pm Thu-Sun 5pm-midnight.
fb.com/madurobarberbkk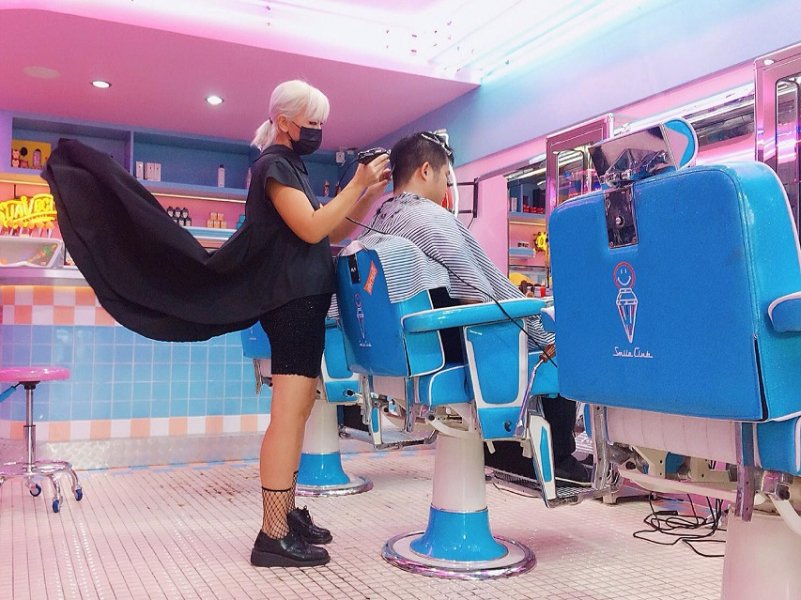 Smile Club Thailand, Smile Club Hair Diner
Smile Club has two branches: one at Siam Square One (Smile Club Thailand), kept in a classic vintage style, and another at Ekkamai Shopping Mall (Smile Club Hair Diner), all glitzed up in a 1950s American diner vibe, with neon lights, striking colors and vintage posters. Among the shareholders is actor/professional hairdresser Toni Rakkaen, which gives the shop a little cachet. Step in, and the place oozes a youthful, playful vibe, a contrast to the more grown-up alternatives in this list. Services include the traditional barber cuts (starting from B900-1500), as well as a specialized shoe cleaning service for everything from leather shoes to sneakers (B350-850). You can also walk out with a tattoo (from B1,000), which will really help you overhaul your look.
Smile Club Thailand: 230 Siam Square Soi 2, 085-999-6615. Open daily 11am-7pm.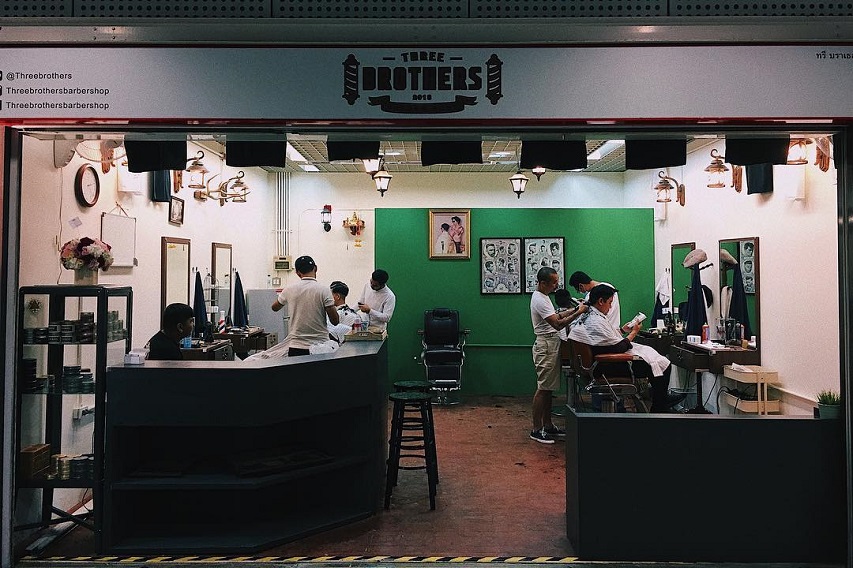 Don't be intimidated by the gang of tattoo-clad barbers. Three Brothers is all about retro rockabilly hairdos. With an air of masculinity and a no-frills approach, this place will make you feel like you're dropping by a retro Thai barber. The three easy-going brothers (naturally) all have plenty of experience in men's cuts, specializing in Elvis Presley-esque 1950s quaffs and undercuts popular with college kids and even the older dudes. A shampoo and cut starts at B600. The shop also sells imported men's pomade from famous names like Suavecito, Layrite and Murray's.
If looking hi-so isn't up your avenue, opt for the New York-style and hip-hop-inspired Never Say Cutz, owned by Thai rap legend Way Thaitanium. While it's not as vintage as the others in this list, this is the place if you want to make a statement with edgy, head-turning line designs. On top of the classic skinhead and pattern shaved looks, they also offer smart casual cuts. The price for a shampoo and cut starts at B400, while a close shave with old-school straight razors starts at B250. The shop also sells CDs from Thai and international hip-hop artists, as well as urban, hip-hop-style clothing and accessories geared towards the younger crowd. The original Never Say Cutz shop is in Siam Square, but there are
several branches
at different locations around the city.
---