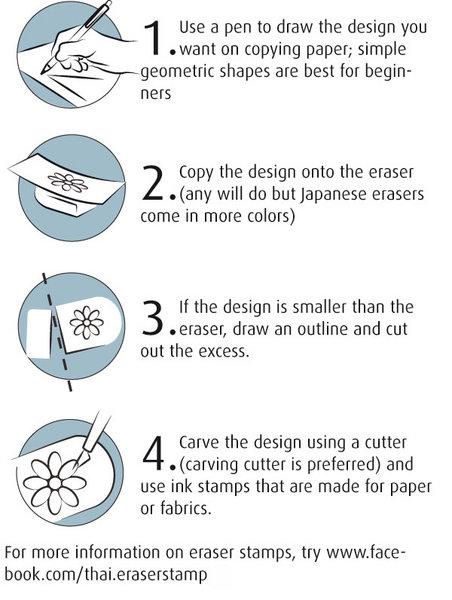 In Japan, almost every little convenience store carries little kits to sculpt personal stamps (hanko). They include prints of mirrored characters (which will appear with the proper orientation once stamped), a little chisel to sculpt the stamp, sandpaper, etc. In Thailand, the hanko craze is finally catching on.
Thai Eraser Stamp Community
Formed on Facebook in June 2012, the Thai Eraser Stamp Community now comprises over 2,000 members who takes the Japanese art of hanko to a whole new artsy-meets-adorable level. The page gathers all you need to know about eraser stamps through how-to guides and lists of the best places to buy your tools and the latest design patterns.
Eraser Stamp 101
If you want to get started, the basic tools include an eraser, a cutter and an ink stamp. The process is simple (shown above); the real trick is in carving the small details—with various patterns, erasers and ink colors to choose from, the results can be a work of art.
Cute Crafts
The best places to get your eraser stamp tools
Alphabet Happiness
Prices: erasers from B165, carving cutters from B220, ink stamps from B55
Order online at www.facebook.com/alphabet.happiness
Cutie Craft
Prices: erasers from B5, carving cutters from B80, ink stamps from B95
Order online at www.facebook.com/CutieCraftstarff
Nadda Craft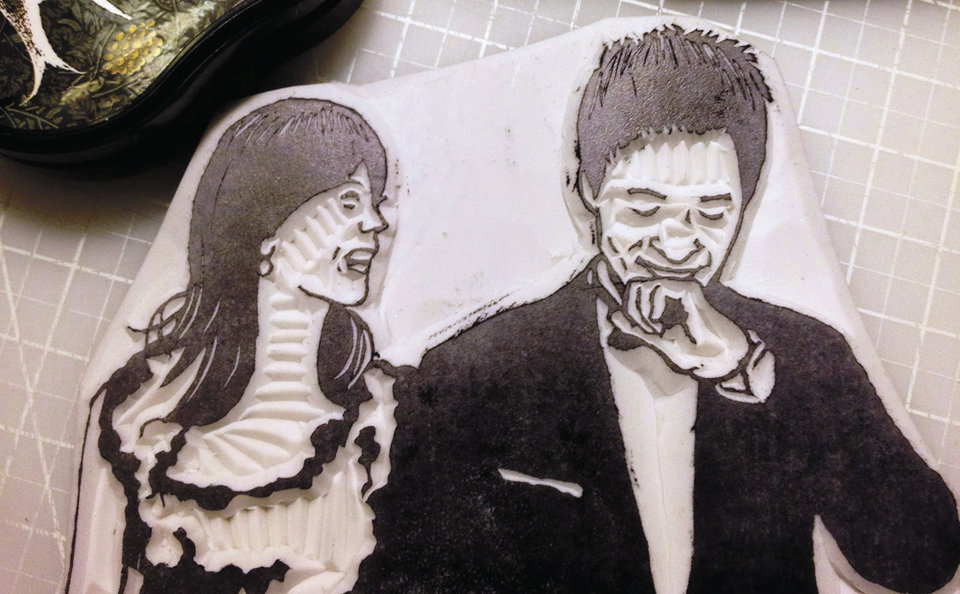 Prices: erasers from B15, Japanese erasers from B400, carving cutters from B250, ink stamps from B100
Order online at www.facebook.com/Naddacraft
Hancoholic
Prices: Japanese erasers from B400, carving cutters from B75, ink stamps from B120
Order online at www.facebook.com/hancoholic​