Nat Kanokvaleevong
As the founder and designer of menswear brand Leisure Projects, Nat Kanokvaleevong is like Siam Center royalty. Here he shares his favorite spots from his favorite neighborhood and beyond.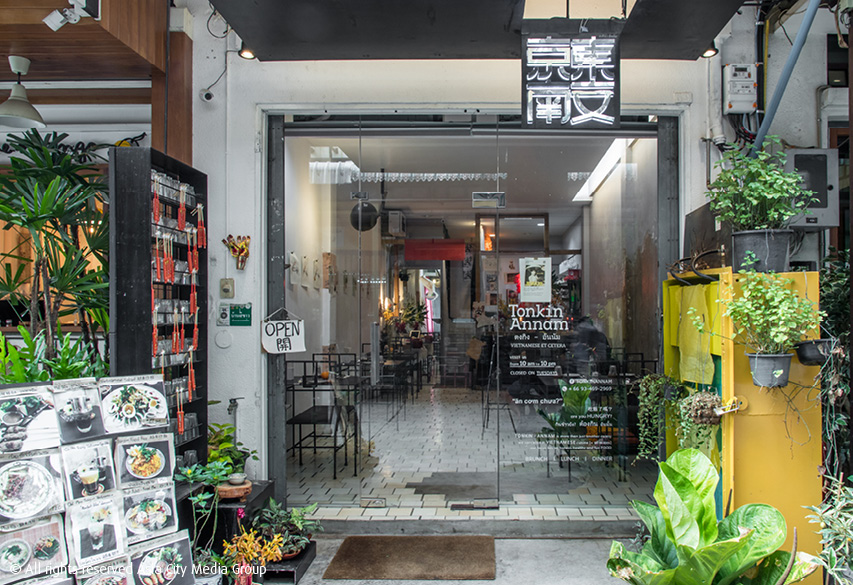 Tonkin Annam
Restaurant:
Now I'm obsessed with
Tonkin Annam
(69 Maharaj Rd.). It's truly the place to find authentic Vietnamese dishes—not Thai-style Vietnamese. It's not far from my home in Thonburi too.
Cafe: I'm not that much of a coffee person. I let my friends take me to interesting new openings sometimes but that's it.
Bar:
Good topic. I have to visit Siam many times a week to check on my store, so
Niche
at Siam Kempinski (991/9 Rama 1 Rd.) is one of my favorite places to hang out. Amid buzzing Siam, the hotel offers true serenity with its beautiful garden and Kempinski's house red wine is very nice at just around B1,000 for a bottle. I also like the bars around Soi Nana and Charoenkrung. Yes, because it's also not far from Siam, especially
Ba Hao
(8 Soi Nana). l love their tao-huay pudding. Another place like is
Revolucion Cocktail
(Sathorn Soi 10), if I'm in the mood for Latin dancing.
Shopping: Honestly, even though I'm a designer, I don't shop much here. My weekend ritual involves walking around Siam to check on the trends, otherwise it's Chatuchak for vintage shopping—you can find great military clothes.
---
Wongsarond Suthikulpanich
Wongsarond "Menn" Suthikulpanich's good taste needs no further affirmation: he's an interior designer at Armonia Group, a Thonglor native and a co-founder of Silom's indie theater
Bangkok Screening Room
. Here he shares his favorite spots from his favorite neighborhood and beyond.
Neighborhood: I wouldn't say favorite, but an area I want to explore more is Charoenkrung. During Bangkok Design Week 2018, I saw a street light installation that allowed visitors to explore the hidden community in Talad Noi and Charoenkrung. It revealed the area's old charm. I wouldn't have known about the beautiful riverside shrine had it not been for the event.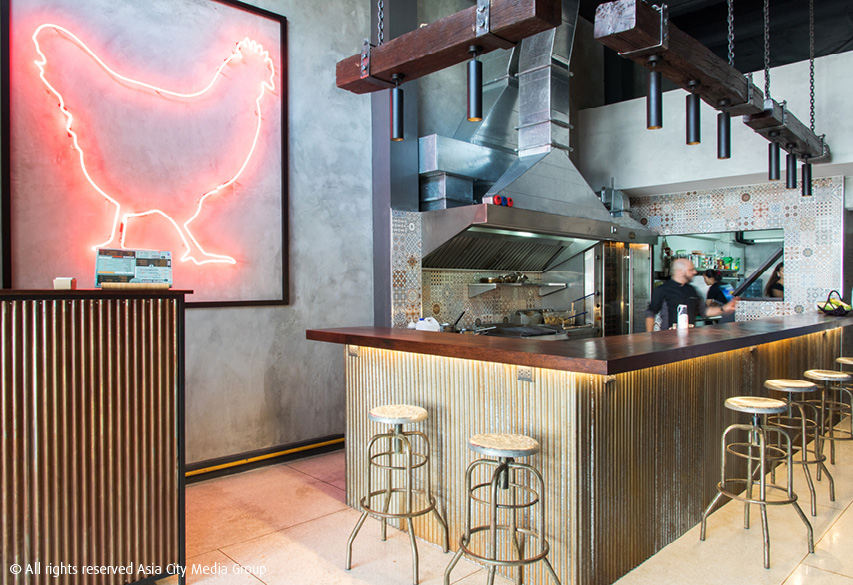 Bird Rotisserie
Restaurant:
Recently, it's
Bird Rotisserie
(378/1 Nang Linchi Rd.). Their roasted chicken is the best and the side of potatoes is superb too.
El Mercado
(490 Rama 4 Rd.) is another nice place that I picked for the supplier of the cheese and cold cuts served at
Bangkok Screening Room
.
Bar:
Thaipioka
(44/7 Thonglor Soi 1) has great drinks, good vibes and it's near home for me.
Shopping: I love Maison Martin Margela and Saint Laurent, and they're both at Central Embassy (Phloen Chit Rd.)
---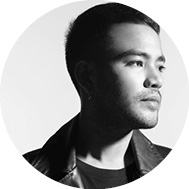 Takara Wong
Takara Thakorn Wannawong, founder and designer of the much-hyped streetwear brand Takara Wong, shares his favorite spots around his home on Charoenkrung and beyond.
Restaurants: I'm not really into luxurious venues, so my favorites are old shop-house places and street vendors, like Tuang Dim Sum (2029/9 Charoenkrung Rd.) and Guay Jub Mr. Joe (46 Chan Soi 44). They were both just listed in the Bib Gourmand section of Michelin.
Cafes: I don't drink coffee but I do love Brave Roasters (3/F, Siam Discovery, Rama 1 Rd.) where I can enjoy Bangkok's best chocolate frappe and look out over Siam Square with the BTS passing by. The views are really great at dusk.
Soulbar
Bars: I prefer laid-back vibes over fancy decoration and complicated cocktails. Recently, you would find me at Old Town bars like Studiyo Bar (Phra Arthit Rd.) and Hippie de Bar (Khaosan Rd.) for good '80s-'90s music, yummy nibbles and friendly-priced booze. I also go to Soulbar (Charoenkrung Rd.) to catch good live bands in a friendly crowd.
Shopping: The third floor of Siam Center because it's only for Thai designers. For vintage clothes, of course it has to be Chatuchak Market but I'd like to recommend one non-Bangkok market—San Pha Koi Market in Chiang Mai is amazing for vintage treasure-hunting, too.
Check out Takara Wong at Gin&Milk, 3/F, Siam Center or online at www.takarawong.com
---
Dhun Packpongphanchai
Dhun "Gab" Packpongphanchai, co-founder and creative director of chic, minimalist swimwear brand Studio Common, shares her favorite spots from her home neighborhood, Ari, and beyond.
Neighborhood: Ari. It has everything you could possibly ask for, not just restaurants and cafes, and it's not as crowded as Thonglor or Sukhumvit. Also, it's nice and walkable.
Restaurants:
I like places that are not too crowded.
The Commons
(Thonglor Soi 17) is good during weekdays. In Ari, I'd definitely pick
Hanazen
(42 Ari Soi 5),
Baan Puengchom
(Phahon Yothin Soi 7) and
Krua Chum Sai
(31 Phahon Yothin Soi 5).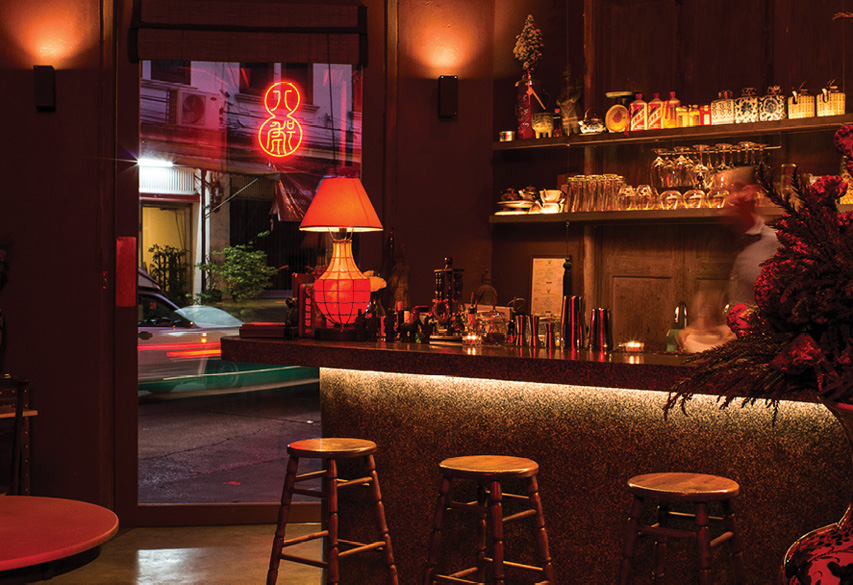 Ba Hao
Bars: Method to My Madness
(Lad Phrao Rd.) for cheap Leo beer,
Walden
on Sukhumvit Soi 31 for when I don't feel like meeting a lot of strangers,
PrumPlum Umeshu Plum Wine Bar
(35/2 Sribumphen Rd.), owned by my friend, for when I want to hangout with friends,
Ba Hao
(8 Soi Nana, Maitri Chit Rd.) and
El Chiringuito
(221 Soi Nana, Charoenkrung Rd.) when I have overseas visitors.
Shopping: When I shop I go to EmQuartier (Sukhumvit Rd.) and overseas. Usually I have my clothes tailor-made at For Chong (between Sukhumvit Soi 49 and 51) since I have weird body proportions.