To help curb the outbreak of Covid-19, the Thai government announced on Mar 17 that bars, nightclubs and entertainment venues of all sorts in Bangkok and its periphery must close temporarily for 14 days through Mar 31.
According to ABC News, deputy prime minister Wissanu Krea-ngam stated: "Under the current circumstances, prevention and protection measures against COVID-19 are Thailand's first priority... The effects on the economy, tourism, exports and trade come second... We don't know yet how serious this battle will be. We are putting in everything to deal with it."
Meanwhile, restaurants in Bangkok are required to adopt strict disinfection methods and comply with health and safety measures. Several have already paused table service and are now offering takeout and delivery as alternatives. But what exactly do the owners and managers have to say about these measures?
Pailin "Milk" Sajjanit, bar manager of 008 bar
"There is both good and bad in this decision. What's good is that it will curb the spread of the virus, but what's bad, however, is that it will affect a lot of businesses. For example, if the business is still relatively small, they will suffer the most. Some employees will even bear the brunt by getting their salaries reduced, or even getting shifted to other departments. I also have my doubts about it (the closures) lasting for 14 days. I mean, it may last even longer. The government should build more trust between them and the citizens as well."
Dylan Jones of Bo.lan and Err
"If the city were officially shut down, it would mean there would actually be laws in place and the government could offer assistance—that's what social security is for. It would also mean this thing wouldn't go on for six months. The long term effect on small businesses would be lessened.
Already, we're seeing an 80 to 90 percent downturn. We went from having 45 tables a night booked in advance to having two or three tables a night. The government has limited incoming tourists, which is fine, and we still get local diners. But now they're telling them not to go out to restaurants, either, so it's difficult.
We're giving everyone [on our staff] the opportunity to reduce their pay or reduce their load. If the business survives, then these 75 people (at Bo.lan and Err) will have their jobs [when this ends]."
Passapong "Bas" Phetpradit, owner of Junker and Bar
"I follow the news a lot, so I actually anticipated this before it became really serious in Thailand, which meant I wasn't that surprised that something like this eventually happened. But I guess what sucks the most is that the government seems to not have a solid long-term plan to ease the situation. I also think the lack of communication from the government to the citizens—business owners included—has left a lot of us feeling unsure of how to plan ahead. Now, we offer delivery services for both food and alcohol, and we're also very serious about our health and safety measures. We've got all the gear for that."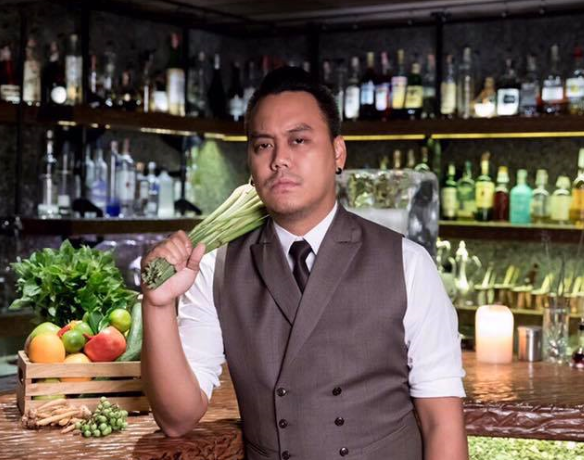 Buntanes "Pop" Direkrittikul, bar manager of Eat Me Restaurant
"Even though it will take a great hit on everyone in the industry, I think we have to comply with the government's decision. I guess the 14-day closure is the safest solution for now. As a restaurant/bar, we are still open, but we follow the health and safety measures for the safety of both our customers and staff. "