Caturday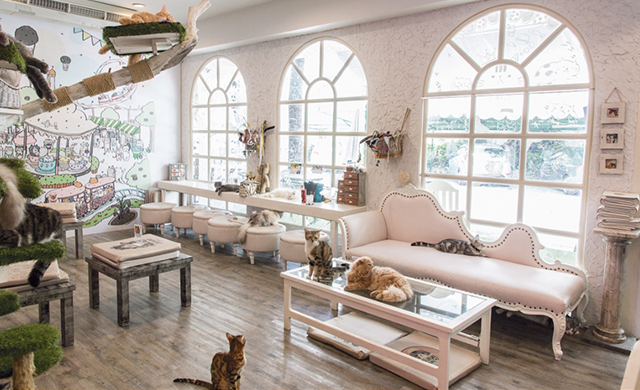 Cocowalk. BTS Ratchatewi exit 2. Open daily noon-10pm.
This new cat café recently opened at Cocowalk, right next to the BTS. Run by veteran GTH director Paween Purijitpanya, the café is decked out with cutesy cat-themed gimmicks while the white house also has many colorful paintings on its walls and glass doors. Outdoor seating is in a faux garden with astroturf and black steel bench sets. Coffee starts from B118.
True Love Café
153 Ari Samphan Soi 2, Paholyothin Soi 5. 090-101-9669. Tue-Sun noon-9pm.
Run by folks behind Neverland Siberians breeders, True Love Café is a breeder-turned-café that's home to 17 full-grown Siberian huskies of different colors and sizes sat deep into Phahon Yothin Road. As you enter the venue, the dogs are visible through a black fence. Unlike other places here, you are not allowed to bring your pet. This café is more of a petting zoo where you can get up close and personal with the dogs during the following hours: 1:30-2:15pm, 4:30-6pm, and 8-9:15pm. While watching the dogs roam around and pose, enjoy treats from their small menu, like the moo yang phrik Thai dum (grilled pork seasoned with pepper, B140) and their chilled raspberry drink (B60).
Cataholic Café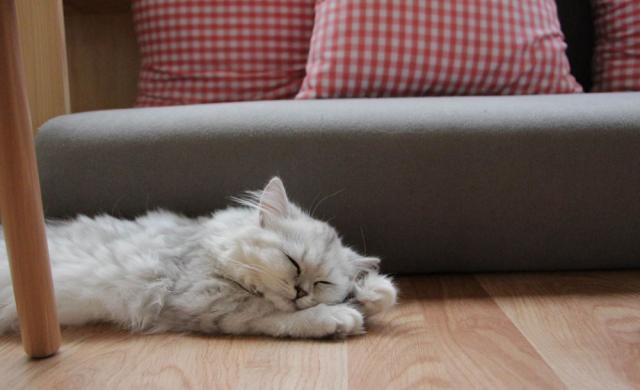 2/F, Ozono, Sukhumvit Soi 39. 089-851-6500. Open Tue-Sun 11am-9pm.
From the outside, Cataholic seems like an ordinary café, but step inside and you'll find yourself in the presence of countless cats. Sit on the floor level cushions and stroke Felix and pals while you munch on honey toast or sip the signature drinks Matcha Maew Maew (green tea with soda) and Let Me Fishing (strawberry creamcheese taiyaki with whipped cream). The shop also has a little décor/accessories section as well as clothing from local designers. Dessert starts from B35 and drinks from B65.
Purr Cat Café Club
Sukhumvit Soi 53, 02-108-3604. Open Tue-Thu 11am-8pm and 11am-9pm on weekends.
Started by celebrity Ploy Rattannarat and a friend, the place has a cat grooming salon, café and gallery with a cat hotel. Grooming starts from B450 and a signature groom for pageant competitions starts from B500. The café itself serves bakery treats (for us) and cat food. There are actually two zones: one for owners to bring their own cats and one where people can play with the store's own furry friends. In the gallery, you can purchase cat-themed artworks created by the owner.
Lucky Bunny Café
Ladprao Soi 101 (End of Yaek 28), 085-195-5465. Open Tue-Sun 10:30am-8pm. tinyurl.com/l5rphd6
This truly homey café in Ladprao Soi 101 came into being when owner Gullayanee Jiamsinkul decided to turn her own house into a place for people to come and play with her bunnies while enjoying a good meal. Decorated with colorful quilts, it also doubles as a rabbit hotel for those who need someone to take care of their long-eared pals. It's B150 per person for a visit and, if you bring your own bunny, they'll charge B100 per furry guest. This fee can be redeemed for food and beverages, though. Recommended nosh includes the scrambled eggs with prawns (B99) and strawberry waffle (B149) to wash down with Italian soda (B79). You can also find bunny-themed accessories and home décor here, too.
Cat Café By Dome
One Udomsuk. Sukhumvit Soi 103, BTS Udomsuk. Open daily 10am-9pm. 086-393-2757. www.facebook.com/CatcafebyDome
The latest cat café in town, located in community mall One Udomsuk, invites you to spend an afternoon amid the colorful cushions and their small army of cats—one of whom has a fondness for sleeping on top of the stereo. Try a slice of freshly baked milk cake in flavors like cherry, mixed fruits or oreo (B60) along with their signature iced milk tea.
Coccola Café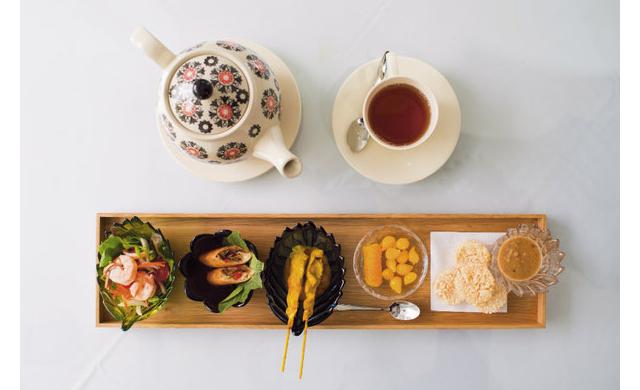 111/1 Thonglor Soi 5, 02-712-8225. Open daily 10am-6pm. www.coccolapet.com
Run by the people behind the Coccola online pet shop, this new pet-friendly café has turned its downstairs into a pet product display complete with a space where you can have lunch with your dog. Amid the simple white décor, enjoy fusion Thai dishes like chicken green curry spaghetti (B150) and chicken with cashew nuts (B120). The herbal drinks (B45) and panna cotta with your choice of sauce (B85) are worth a try, too.
The Coffee Cat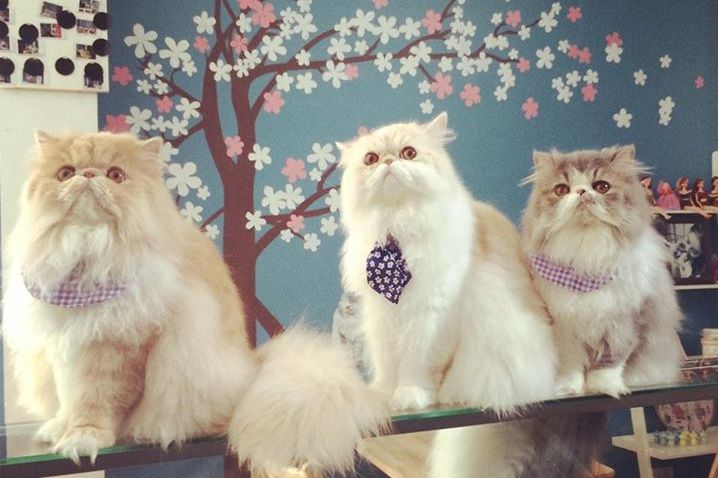 55/619 Sukhothai Avenue, Muangthong Thani, 087-998-5653, 083-976-7553. Open Tue-Sun 10am-8pm. http://ow.ly/A5TYq
Another place to drink with fluffy friends has just popped up a bit out of town at Muangthong Thani. The Coffee Cat offers a homey ambience with over 20 cats, from the popular long-hair Persians to short-hair breeds. Food and desserts span spaghetti carbonara and bolonege (starting from B120) to strawberry fresh cream (B150-B250) while drinks start at B45.

Wagging Tail Pet Bakery
Free delivery to Sukhumvit, from B35 for other areas. 081-816-2541. www.facebook.com/WaggingTailPetBakery.
Rubber chew toys just don't cut it anymore. You've got to treat your little ones with healthy made-to-order treats from the online Wagging Tail Pet Bakery. Here, you'll find a variety of pastries, made to give your pet all the vitamins they need. Sample a crunchy salmon biscuit (B135/120g bag), liver paste or pumpkin cheese cupcakes in small or large (B35/65) and frosted sunny side up tuna biscuit (B155/120g). They also do customized birthday cakes (B220).
Coffee Puppy
36/4 Chaeng Watthana Rd, 02-982-6519. Open Tue-Sun 11am-8pm. www.facebook.com/coffeepuppy
This real "pet cafe" is truly for our four-legged friends (although, there is a separate human menu). Recommended doggy dishes are the famous cheese burger (B120), with real beef topped with grated parmesan and melting cheddar, the amazing dog sushi (rice and liver paste wrapped in seaweed, B140). Be warned, the food is so good looking, you might find it hard to tell which is which.
Doggielicious
Paradise Park, 61 Srinakarin Rd, 086-359-9988. Open Mon-Thu 1pm-8pm, Sat-Sun 1pm-8pm. www.facebook.com/ doggielicious.dogbakery
At Doggielicious, your dog's health is their first concern. All dishes are gluten-free, with no white sugar, salt or preservatives that can harm your pooch (or humans, either, actually). They have all sorts of cartoon-shaped biscuits (B15), "pup" cakes (B35) in flavors like chicken paste, tuna, salmon, carrots, pumpkin and plain yogurt. Pizza (B70) is also available, and the customized creamy dog face-shaped cake (B660/pound) is too cute to resist, perfect for little one coming birthday.
Ko Ca Cafe
Pet Paradise Park, 5/5 Moo 18, Borommarat Chachonnani Rd, 02- 448-1282. Open Tue-Fri 10am-6pm, Sat-Sun 9am-6pm.
After all that running around and splashing about in the swimming pool at Pet Park Paradise, this is just what your dog (and you) might need. The doggy dishes include beef steak (B80-B150) which your friend can follow up with yummy goat milk ice-cream (B40) in liver flavor. And on that special day, you can spoil your four-legged friend with a two-pound pastel birthday cake (B600) in flavors like liver, carrot, strawberry and artificial chocolate. No sugar or salt added—they use honey instead. Get your own feast right outside at White Cottage Restaurant & Bakery.
After all that, does your pooch need a work-out? Check these out, too:
Summer Dog Pool
Pridi Banomyong Soi 42 (Yeak 5), Sukkhumvit Soi 71. 081-625-5803. Open Tue-Sun 9am-5pm.
This dog-loving community encourages you to get your furry friend swimming with you, in the same pool. Not only theres a 4-by-10-meter salt water pool, there's also a Poolside Coffee Club to lap up some drinks in between swimming laps.
Ozono
Sukhumvit Soi 39, Sukhumvit Rd., BTS Phrom Phong, 02-259-2788. Open daily 10am-8pm.
Situated in Phrom Phong, this is an animal loving community mall and a park for pets. The three-rai space is home to furniture stores, cafés, beauty parlors and eateries; while the remaining two-rai space provides a park for your pets (both cats & dogs members only), membership fee is B300 per day and B1,500 per month.